Complete Review of Wondershare's FamiSafe
Published Date :
Aug 09, 2022

If you are confused between a variety of parental control apps available online and want to learn about FamiSafe you are on the right page. The guide below will help you get an in-and-out overview of the application. Before you make any financial commitments to purchase the premium version of the software make sure you have an overview of all the advantages and disadvantages.
Let us begin with a basic understanding of What FamiSafe is and its usage.
What is Wondershare FamiSafe?
Living in different geographical locations and poles apart, parents are often worried about their children. But necessity is the mother of invention for technology too. The Wondershare FamiSafe application is one such application that was developed with the thought of making a safe space for children.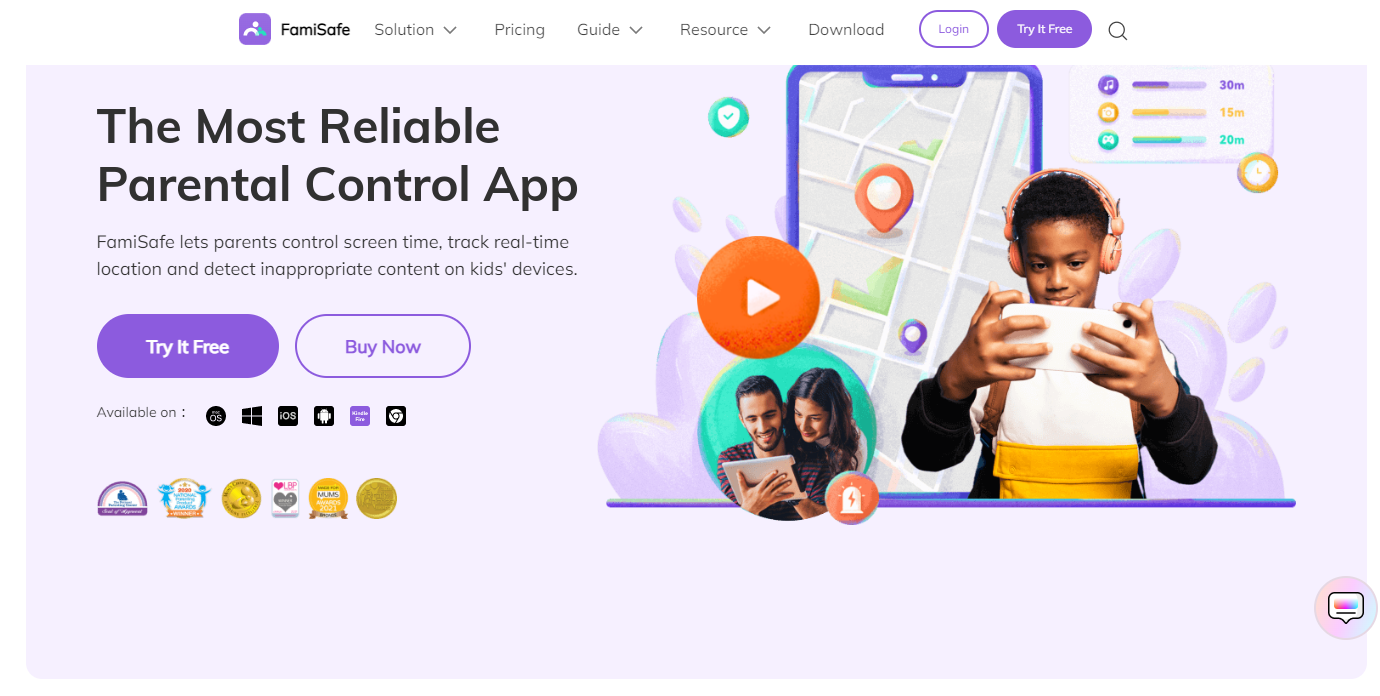 Users of the app can monitor the information of sites accessed by their children, and restrict the content that is not recommended for their age. In addition to this, you can easily customize the accessibility of websites and other content.
Overall the parenting control application is one stop solution to keep your child safe and away from all unwanted content. Many websites that seem innocent track the user data and can sell it to advertisers. And even worse can happen when this data is leaked to online predators and there's a threat to your personal information.
According to the data available online 9 of the 10 students online accept that cyber harassment exists. Over 60% of users of social media face cyberbullying. But thankfully the FamiSafe app blocks all this content and makes the internet a safe space for your child.
Also Read: Wondershare Repairit Review 
---
Steps to Set Up Wondershare FamiSafe
Depending upon your device the steps for FamiSafe installation vary. Below are the steps that can be followed while using the toll for Android and Windows.
Download the FamiSafe App for Windows, Android, or macOS from the given link below.
Once the file is downloaded follow the given steps
Step 1: Create your account and choose your identity as parent. Through this, you will be able to generate a unique code that will allow you to link device with your children's device.
Step 2: Now download the application on your child's phone or computer.
Step 3: Click on the option for Pair with code. And it's done. You can monitor all the web activities of your child from your phone.
Additionally, you can also control the accessibility. Use the app for free for the trial period i.e for 3 days. However, to unlock all the features of FamiSafe you must switch to a paid plan.
---
Features of FamiSafe
The below-listed features are the ones that make FameSafe different from the other parenting tools.
1. App Blocker
With the help of the App blocker feature, you can easily regulate the application usage of your child's device. Most of the applications are classified into different age groups. With the help of this feature, you can approve or block software applications.
In addition, you can limit access to these unwanted applications for a particular time interval. This is a useful feature when trying to limit your kid's distractions during exam times and developing online habits that are not harmful.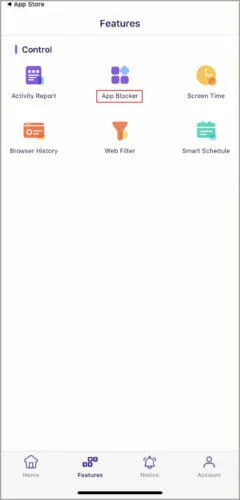 2. Web Filter
It allows users to restrict websites that are dangerous and can be harmful. You can filter the content on the basis of different filters such as adults, drugs, religion, unethical or more. Moreover, for each category exceptions can be added.
For this categorization, the application is reliable on your browser i.e Chrome or Safari. And hence this filter does not work on other browsers.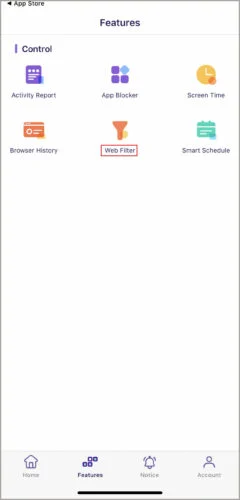 3. Activity Reports
With the help of activity reports, you can keep a track of the entire activity of your child. This includes the chronological order of app usage and browsing history. Moreover, searches on different search engines can also be monitored. This helps in learning the interests of your child and the challenges faced.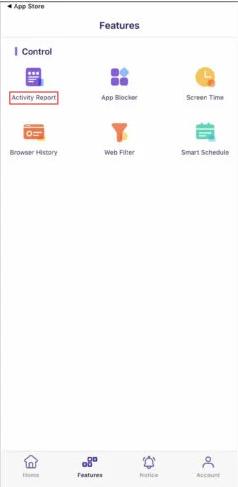 4. Location History
The FamiSafe app provides complete tracking through Google maps of where your child has been. In addition to this, you can also Geofence particular areas. You will be notified every time the child enters this area without your permission.
Also Read: Wondershare Recoverit: Complete Review
5. Smart Schedule
Depending upon the age of your child WHO has released the usage guidance mentioned below
Age 2-4 yrs: not more than one hour a day
Age 5-18 yrs: Not more than 2 hours a day
If the usage exceeds the threshold value it can hamper your child's health, make them sleep deprived, lower their productivity and lead to mental problems like anxiety & depression.
The application FamiSafe gives power to the parent to restrict the screen time and block the child's device as the limit exceeds. Also, you can whitelist the apps that are educational or useful and exempt them to be used beyond the prescribed screen time.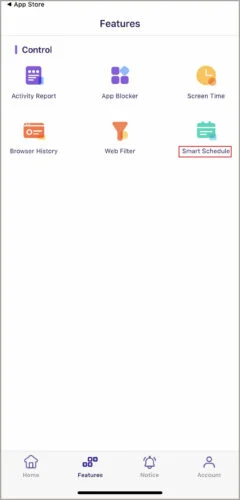 6. Real-time Location
Track the whereabouts of your kids in real-time through the real-time location tracker feature of the app. No need to call your kids over and over to inquire that they have reached out. For Android devices, this feature can also be used to recover your phone in case of loss.
7. Suspicious Text and Photo Detection
You can monitor if your child is sharing explicit content. This works for both in-person and social media sharing. Also, if someone sends or receives texts that are offensive you will be notified.
If you are monitoring through an Android device you can remove these photos or other content too. Also, it allows you to add words that are not safe to the library of FamiSafe.
8. Monitor Youtube
Through this feature, you can monitor the Youtube activity of your child. If the content is disturbing it also allows you to block specific Youtube channels or restrict content related to specific topics.
9. PIN
To protect your account you can set up a Personal Identification Number. This will help you maintain the integrity and keep all your settings inaccessible to your kid.
10. Reporting Driving History
Through FamiSafe you can track the driving habits of your teenager. After each trip, the app creates an in a detail report. This report has specifications like the maximum and average speed of the trip and the total distance covered.
Also, the app generates a weekly summary to define the driving routines and performance behind wheels. As it allows tracking the history you can end these bad driving habits before it's too late.
Also Read: WonderShare Dr.Fone Review
---
Pricing Plans for FamiSafe
A free trial of 3 days is available to use Wondershare's FamiSafe. It is available for download on both the Google Play store and the Apple App store. You can choose from any of the following three plans available for the application depending upon your needs
Monthly Plan
$9.99
Available for up to 5 devices
Includes all the features
Quarterly Plan
$19.99 i.e around $6.66 per month
Available for up to 10 devices
Includes all the features
Yearly Plan
$59.99 i.e $4.99 per month
Available for up to 30 devices
Includes all the features
---
Pros of FamiSafe
The software has exceptional features for monitoring your family members and children.
The GPS tracking of the application has no flaws and is very effective.
It is compatible with different OS platforms.
Can link up to 30 devices
Manufacturers release regular updates to improve the performance and bug fixes.
Multiple plans are available depending on different user requirements.
The interface is user-friendly and quite interactive.
Cons of FamiSafe
The text filter in the software has some space for improvement.
The trial version is available for a very short time period i.e 3 days.
Some users reported the issue of blocking safe pictures by the website filter.
Security concerns as you can pause the software from your monitored device.
Also Read: Detailed MobileTrans Review with Features, Pros, and Cons
---
Verdict on FamiSafe:
Wondershare's Famisafe is a decent choice to make when looking for an option to supervise your family members, children, or friends. The best part is the software does not violate anyone's privacy. Along with this, you don't need to jailbreak or root your device in order to install the application on your device.
The software is compatible with both Windows and macOS. This might be an exceptional feature but you cannot overlook its incapability to track calls, monitor messages, or scan notes and other relevant events. The Premium version is available at affordable rates with a free trial for 3 days.
Wondershare has multiple applications with varied capabilities. Do try the FamiSafe app if it fits in well within your requirements. Do let us know if you find any other outstanding features of the app. Moreover, if you need more assistance leave your concerns in the comments below. Subscribe to our blog for more review guides, technology updates, and news. Follow us on Facebook, Twitter, Instagram, and Pinterest to never miss an update.
Akshara is an Engineer turned Technical Writer. She is a tech reader who aims to deliver the best of her knowledge to the readers without complicating it. If not writing you can find her in the kitchen, because no place serves the good tea.
Subscribe to Our
Newsletter

and stay informed

Keep yourself updated with the latest technology and trends with TechPout.
Related Posts