Wondershare Recoverit: Complete Review

There's a high possibility that at some point in your life you have lost one or more files from your computer. This can be annoying and troublesome at the same time. However, various tools present online claim that the data lost from your hard drive can be recovered.
One such software is Wondershare's Recoverit. The Data Recovery software is a cross-platform alternative trusted by billions of users across the Globe. It assures that any data (files, photos, videos, audio, email, etc) lost or accidentally deleted can be recovered on your device.
The guide below mentions a complete overview of the data recovery software Recoverit. Read on to find out everything that you need to know before using the software for your concern.
What is Recoverit?
The data recovery software was developed by Wondershare. With more than 1000 file types and 2000+ storage device support, the tool can recover files on both internal and removable devices. The tool is available for both Windows and Mac. Additionally, it can also be used to recover mobile data by connecting it through USB.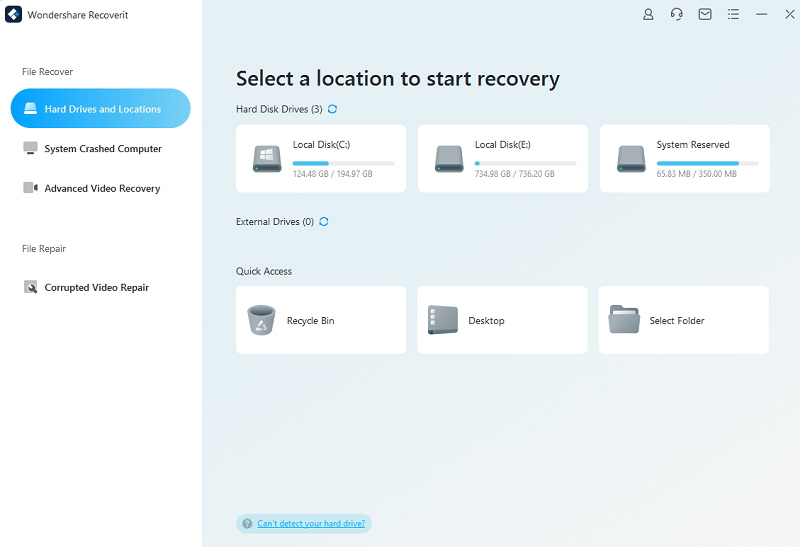 Being one of the most reliable experts in the industry, the tool is 100% secure to use. The software also offers 24*7 assistance from trained technicians to resolve all the user queries.
It can recover data from the following devices
Windows PC or Mac
Hard drive/ disk
Memory Card
Digital Camera
USB
Removable drives
From all these devices it can recover more than 1000 file types.
Document: DOC, DOCX, PDF, PPT, XLT, XLS, XLSX, RTF, XLSB, PPTX, PDF, DOT, DOTX, PPS, PPSX, POT, etc
Photo: JPEG, CRW, PNG, JPG, RGB, RAW, 3DMF, 3DM, 3FR, ABM, AFX, ART, BIZ, ANI, BLD, etc.
Video: MP4, ASF, ASX, AVI, WMV, FLV, FLA, MOV, M4V, 3GP, 3GPP, 3G2, ANM, AMV, etc.
Audio: AC3, AA, PCM, ACC, AIFF, WAV, AFC, ALAC, WMA, AIF, FLAC, A52, OGG, MP3, etc.
Archive: WAR, exe, 7Z, 7zip, etc
Other files such as KEY, ABD, MSG, LOG, 3TF, 3WS, MBOX, OST, 3DA, 3DS, EML, EMLX, ETC.
Also Read: WonderShare Dr.Fone Review
---
Pricing of Recoverit:
The pricing model of Recoverit is designed in a way that the yearly plans are more cost-effective than the monthly ones. Given below are the pricing details of Recoverit for Windows and Mac users.
Recoverit Plans for Windows
Monthly: $79.99
Yearly: $99.99
Lifetime: $159.99
Recoverit Plans for Mac OS
Monthly: $109.99
Yearly: $139.99
Lifetime: $169.99
Recoverit also has a free version available but it doesn't really solve the purpose. The free version of the software allows users to scan their PC and provides a list of files that can be recovered. But these files cannot be recovered unless you have the paid plan.
However, complete money-back guarantee is available to users for up to 7 days in case the results are not satisfactory.
---
3 Step Data Recovery Process of Recoverit
The process of data recovery via Recoverit is not at all complicated. It is a simple procedure that can be carried out through the simple three steps that follow
Step 1: Scan your storage device for removed, deleted, or lost files.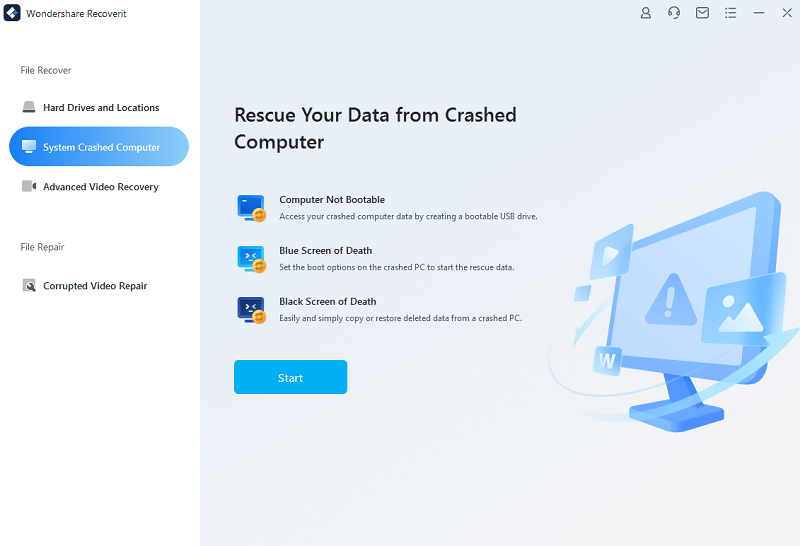 Step 2: Preview the data and select the files that need to be recovered.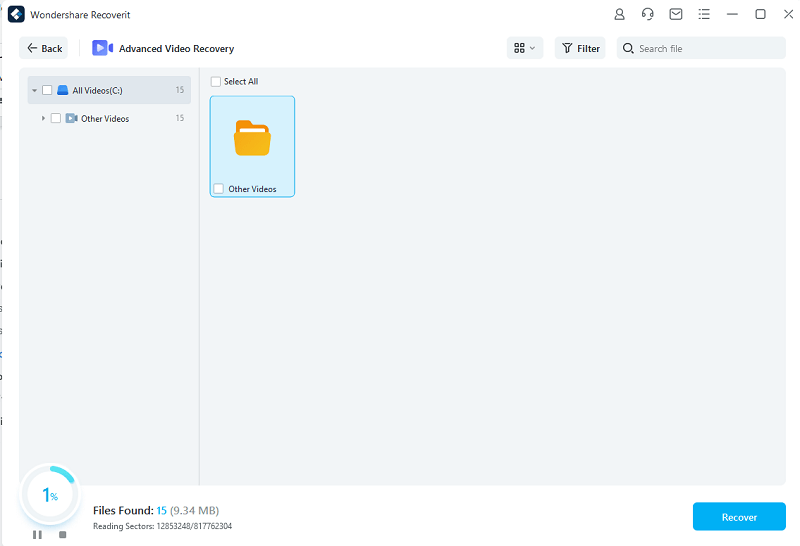 Step 3: Click on the Recover option to retrieve and save all the deleted data again on your storage drive or device.
Also Read: MobileTrans Review
---
Features of Recoverit
The tool is helpful in recovering data lost on your device with some exceptional features listed below.
1. File Recovery:
It allows users to scan folders, hard drives, or external devices to search and recover the removed files. The data recovery is possible only when the source of the file is not corrupted. You can easily scan the desired folders and recover files.
You can choose the location to restore files. It is recommended to move the restored file to a safe folder or location to avoid the repetition of the recovery process.
All the files are stored in the File Manager. These files can be rearranged or sorted on the basis of the size of the file, date, type, and name.
2. Crashed Computers
Many users faced issues such as hard drive failure, or even system crashes. This is followed by problems while trying to Reboot your PC. The Recoverit app works in both scenarios and can save all your data. It allows you to open the failed drive on your bootable device just as any other drive.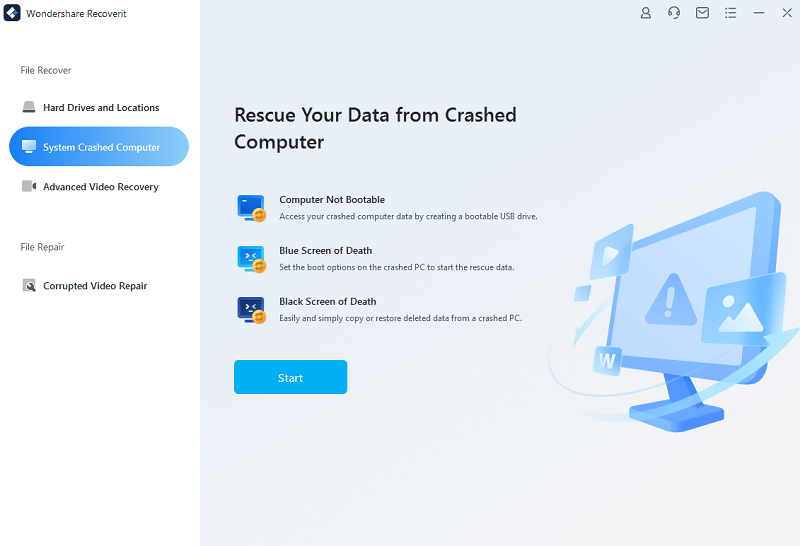 All the files that are not deleted permanently can be scanned and retrieved through this software. For such cases, all you need is a secondary machine that is healthy and can be used as a location to restore your data.
As you finish the instructions to Reboot and all the files are recovered install Windows. This should be done manually.
3. External Device
The software is not biased with the internal drives as it can easily scan and recover files on external devices too. If your PC detects the device and can read its data, Recoverit can restore the deleted data.
These external devices include the following
Cameras
Compact Disks or DVDs
Mobile devices via USB
Electronic devices
SD card
External Hard drives
Phone:  Although there's an option for Android in Wondershare Recoverit to recover phone data this can only be done through USB. Your text messages or contact list can be recovered through the app.
Whereas for iOS only images and music data can be restored. It cannot repair the system file.
Emails: All the data on your Microsoft Outlook account can be recovered through the Recoverit App. It supports many file formats such as MSG, EMLX, PST, MBOX, OSG, etc. Restore emails or merge them with different accounts.
4. Backup
Along with data recovery, you can use the Recoverit software to keep a backup of your data to specified locations. Although this feature is a bonus as it still holds space to add scheduled backups.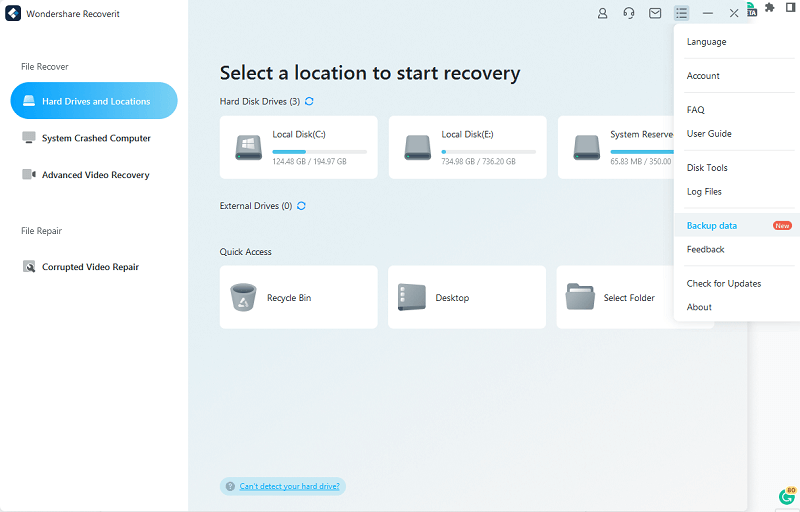 5. Recover Recycle Bin
A known fact is that once you delete files from your PC and Recycle bin it's gone forever. But the hard drive still holds these files until they are overridden. Recoverit can restore these files, click on the Recycle Bin option in the main window of the software and follow the instructions.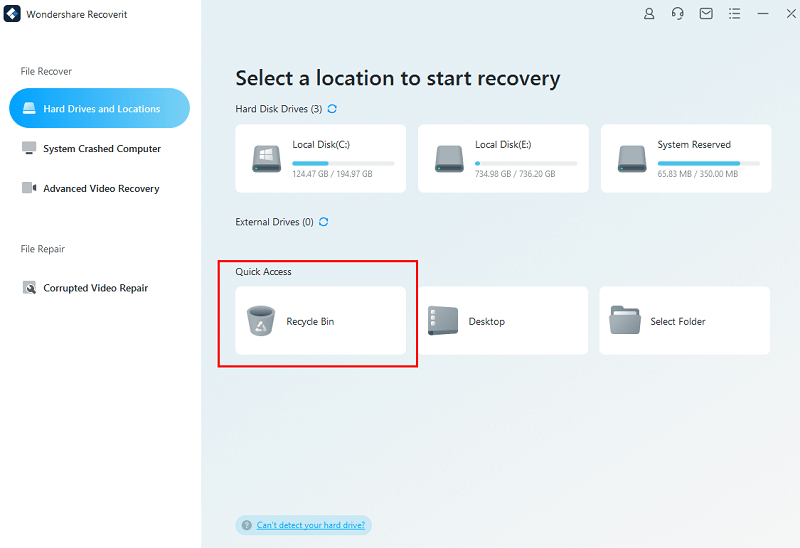 There are two available options to recover data from the Recycle Bin Deep Scan and All Around Scan. The process of Deep Scan takes more time as the process is long and thorough.
6. User-Friendly Interface
The usability of the software is so simple that you don't need a learning curve. As you launch the software it automatically displays the hard disks or other devices that are connected to your PC.
These files can be Pen drive, memory cards, or cameras. If these devices are readable for your computer they are readable for the tool. The scan process begins as soon as you hit the Scan option for the desired task. The execution of the command is quick and efficient. However, the time depends on the amount of information and the power of your PC. But the overall time taken to scan is comparatively lower than the other applications of a similar domain.
7. Improved System Performance
The software uses a very small amount of system memory. Therefore no need to worry about the resources being drained by the tool. It can easily run in the background while performing basic tasks.
8. Customer Support
The software has a direct section to contact the trained professionals and get all your queries addressed. Support executives are available around the clock to assist via different modes of communication such as email, live chat, or phone calls.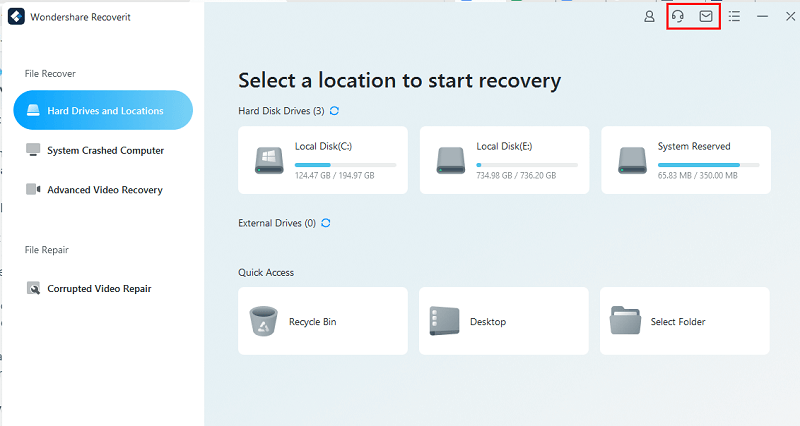 ---
Pros of Recoverit
Although there are plenty of advantages that Recoverit offers we have listed the notable ones that make it different from similar alternatives.
Preview files before recovering
More than 1000 file formats are supported by the software
The data recovery process is quick and effective
Free trial
---
Cons of Recoverit
Just like every other software Recoverit tool has some limitations. Given below are the common cons that we could figure out for the tool.
Limited features available in the Free version
The monthly license price is high
Consulting and Integration services are available only in the Premium version
Phone support is limited
Also Read: Wondershare Repairit Review
---
Frequently Asked Questions:
Q1. Is Recoverit Free?
Ans. Yes, the free version of Wondershare Recoverit is available. However, the free version only allows you to scan for the files. Therefore, the software is not really useful without a license.
Q2. Is Recoverit a Good idea?
Wondershare's Recoverit is definitely a good deal as it has the potential to recover all the deleted files. The tool holds a large user base of satisfied customers. When compared to other similar tools, the interface is easy to navigate and scans are quicker.
Q3. How much is the cost of Recoverit?
For Windows users, the Recoverit plans are as follows
Monthly: $79.99
Yearly: $99.99
Lifetime: $159.99
For Mac users
Monthly: $109.99
Yearly: $139.99
Lifetime: $169.99
Q4. Is Recoverit safe to use?
The tool has no toolbars that are hidden. In addition, it requires no extra installations to add on. If you are a premium version user you will not receive any ads or spam. Most of the reviews available online are positive.
---
Closing Lines on Wondershare Recoverit:
A platform-independent tool Recoverit is one of the most reliable software to recover data. It can quickly scan your drives and does not really impact the performance of your PC. As the tool allows the previews you can easily segregate the files that need to be restored. All the utilities can be performed with a few clicks and no extra learning is required.
That's it. We hope the above review guide on Recoverit was helpful. If you have any questions or suggestions for us feel free to reach out to us in the comments. Also, don't forget to subscribe to our newsletter to never miss an update on tech news and write-ups.
Akshara is an Engineer turned Technical Writer. She is a tech reader who aims to deliver the best of her knowledge to the readers without complicating it. If not writing you can find her in the kitchen, because no place serves the good tea.
Subscribe to Our
Newsletter

and stay informed

Keep yourself updated with the latest technology and trends with TechPout.
Related Posts