Wondershare Repairit Review 2022: Features, Price, Pros & Cons

Today, we are going to review an amazing software to fix corrupted or damaged videos- Repairit. Keep reading for more information!
Have you ever faced a situation where your photo or video files got corrupted and you are unable to open them? Encountering this issue is very common these days. Also, this can be extremely annoying, especially if the files are important to you. Even though most people avoid fixing their crucial files due to lack of time, several software all over the web browser can facilitate getting your corrupted videos or photos repaired in just a few simple steps.
Repairit by Wondershare is one of the most powerful software to look out for if you are experiencing such issues. It is well-known for its video repair capabilities but also works in repairing other format files like audio. In this blog post, we will talk about everything like how Wondershare Repairit can help you in repairing your files with its potentially advanced features.
Wondershare Repairit: A Powerful Tool to Fix Corrupted Videos
Developed by Wondershare, Repairit is one of the best file repair software currently available in the market. It is globally recognized for its easy-to-use and aesthetic interface by which any user can effortlessly fix their corrupted files in no time. Its highly advanced features can also restore severely and minor damaged files regardless of how the problem happened in the very first place.
Repairit boosts the productivity of your work through its useful features like batch repair, allowing you to repair multiple files at the same time. The tool also provides you with a special feature for previewing the file before saving the new changes just to make sure it is up to your requirements or standards.
The success ratio is one of the significant reasons which place Wondershare Repairit on top of its opponents. It handles all the corrupted files correctly and hassle-free and lets you get your video clips, or photos back.
Click on the button below to try Wondershare Repairit for Free, and to unlock the advanced features check the pricing of the software.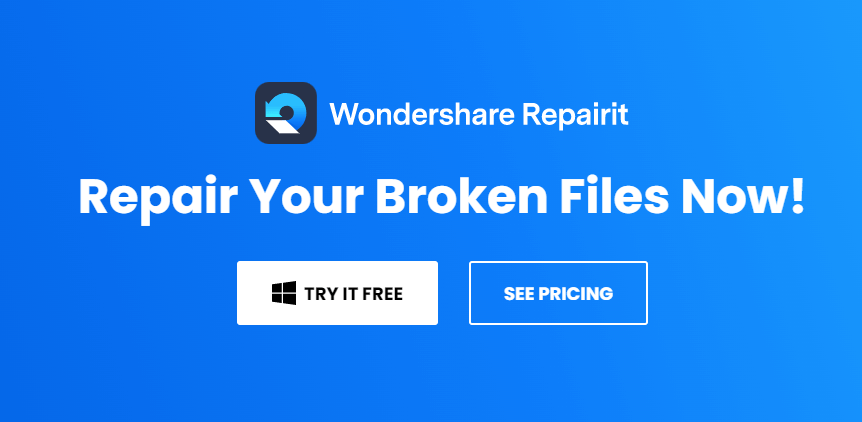 ---
Full Specifications
Operating System: Windows (7, Vista, 8, 10, and 11) & macOS (10.10 – 10.15)
Software Developer: Wondershare
Minimum Disk Space: 700MB
Supported Formats: MP4, MOV, M2TS, MTS, MKV, 3GP, FLV, AVI, MXF, M4V, and INSV.
---
Prominent Features of Wondershare Repairit
The following are the top features that make Wondershare Repairit worthy of your lookout. Let's read them!
Supports Major File Types
Use Wondershare's Repairit to repair corrupted videos of M2TS, MKV, MTS, 3GP, INSV, M4V, WMV, MPEG, MOV, MP4, 3G2, 3GP, AVI, FLV, and ASF formats. The tool supports almost all major file formats.
Wondershare Repairit's user interface is pretty easy to use. All you have to do is just choose the corrupted video or other file and click the Repair option. The rest will automatically be done by the tool.
While testing the software, we just came to know that it comes with a much-needed feature called Preview Option. This allows you to preview the repaired files in all popular formats, incorporating AVI, MTS, FLV, MKV, and M2TS.
This feature of Repairit lets you load and repair multiple files of different formats simultaneously, without any hassles. This will save you a lot of time and manual effort.
The tool is also an excellent way to repair even a blurry video or photo from a wide range of media types. Its success rate in repairing corrupted files makes it more worthy of your attention.
Users also get to notice an auto-update option within the tool which is good because manually looking for the site and downloading and installing the available updates is pretty frustrating as well as time-consuming. So, you will be prompted whenever there's an update available and the tool will automatically install it.
Unlike other file repairing software, Wondershare Repairit is only available on two of the most accessed platforms in the market i.e, Windows and Mac. That means the tool can be used on both operating systems.
Also Read: WonderShare Dr.Fone Review
---
Advantages & Disadvantages of Using Repairit
Indeed, it provides the features with maximum clarity and without any complexities. And, while reviewing the Wondershare Repairit, we have not found any major shortcomings of this particular file repairing software. Below mentioned are a few pros & cons of Repairit:
Pros:
Lightweight tool.
Quite optimized user interface.
Performs pretty well on both Windows and Mac platforms.
Use fewer system resources.
Easy to use software.
A trial version is available.
Cons:
No customization options are available.
Can't save files on the trial versions.
A little bit expensive.
---
How Does it Work?
Using Wondershare Repairit, anyone can easily repair their damaged files on Windows and Macs. Below is how to use Repairit to fix faulty or broken files.
---
Steps to Repair Damaged Files on Windows:
Step 1: To get started, you first need to download the setup of Wondershare Repairit. Try it for free by clicking on the download link below.
Step 2: Double click on the executable file and click on Install to proceed.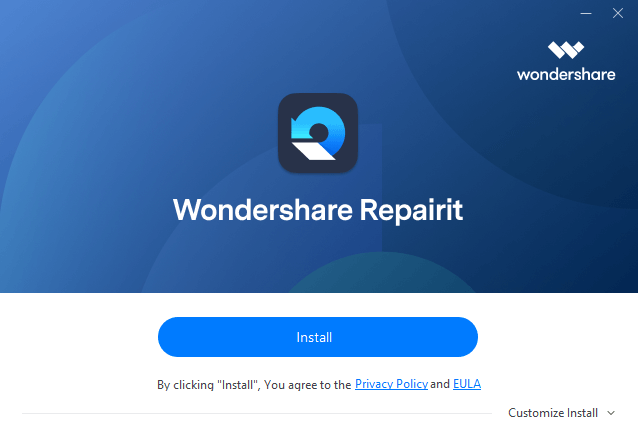 Step 3: Wait for the process to finish.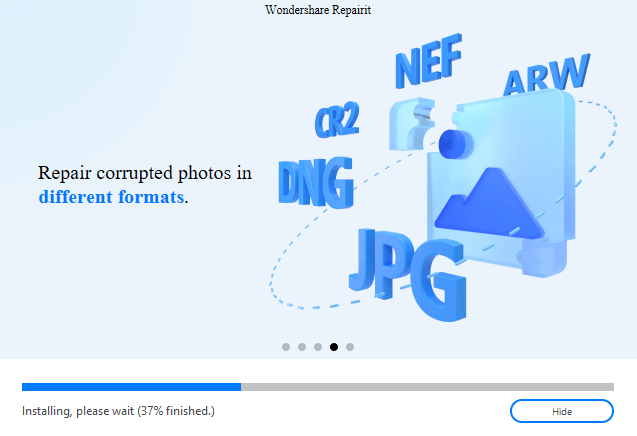 Step 4: Then, click on Start Now.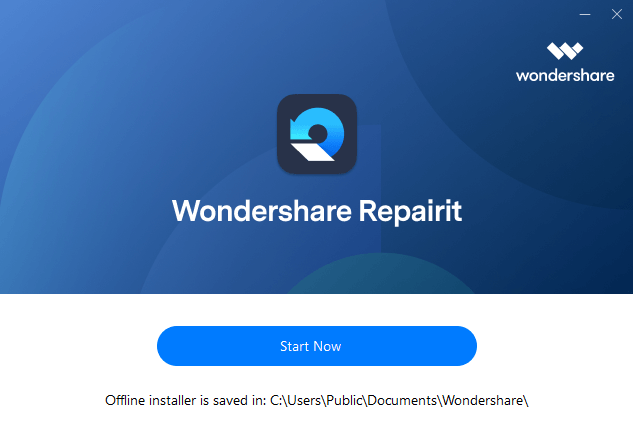 Step 5: After a successful installation, launch it on your computer. Then, navigate to the File Repair section from the left menu pane and click on the Add button. This will invoke a browser window, allowing you to select the location where your damaged files are located. (And, in order to repair corrupted video or photos, you need to either select Video Repair option or Photo Repair option from the left menu pane, later on, click on Add button to load your corrupt files).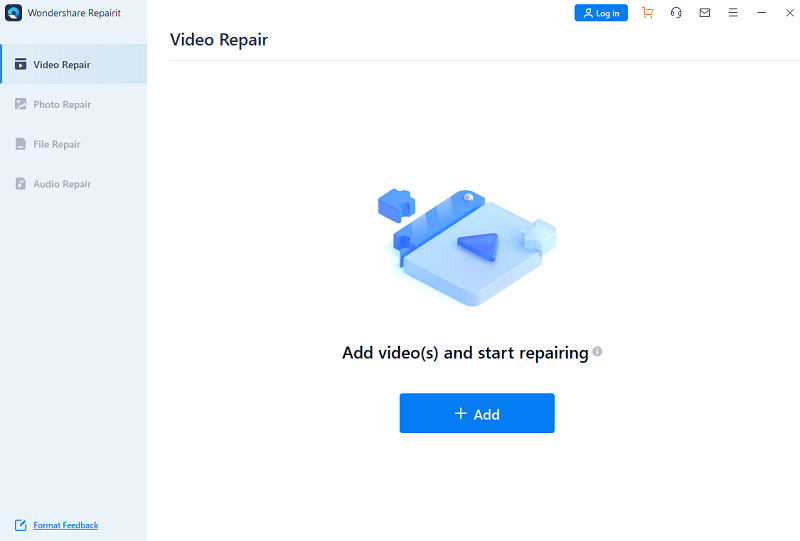 Note: You can load more than one document at a time and repair them at a time through its batch processing feature.
Step 6: Once your corrupted files of any format (audio, documents, video, or photos) are loaded on Repairit, then, you will need to make a click on the Repair option shown on the lower side of the menu. This will start the file repairing process. Wait for the tool to scan the loaded files and fix all types of minor or major glitches.
Step 7: Next, a pop-up will appear on your screen informing you how many files have been repaired.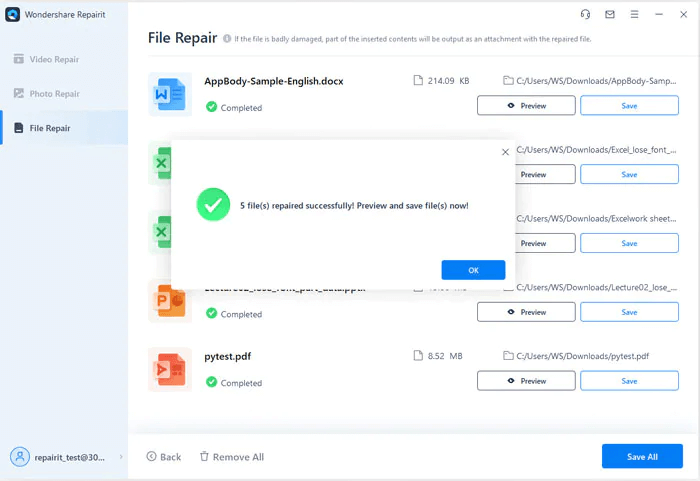 Step 8: Now, you can preview the results by clicking on the Preview option and save the repaired files.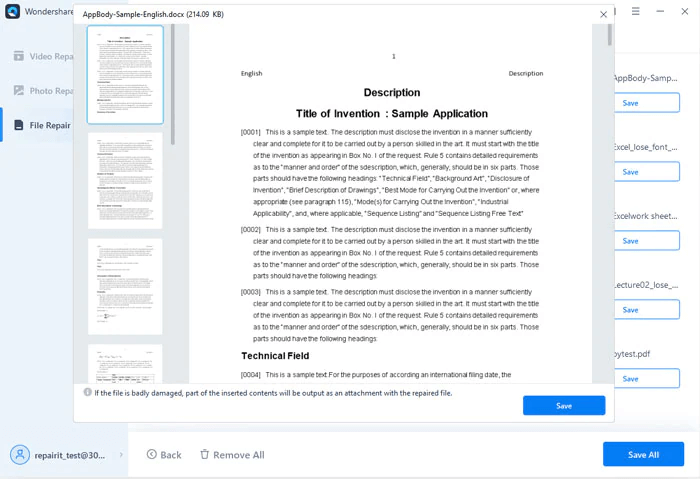 See how easy and quick it is to repair corrupted files on Windows via Repairit.
---
Steps to Repair Corrupt Files on Mac:
Listed below are the steps to effectively repair files of distinct formats on your Mac. The tool has an amazing success rate and can even repair multiple files at once via batch processing.
Step 1: First of all, download and launch Wondershare Repairit on your Mac.
Step 2: From the left pane, select the type of file you wish to repair. Then, click on the Add button to locate and load the files on Repairit.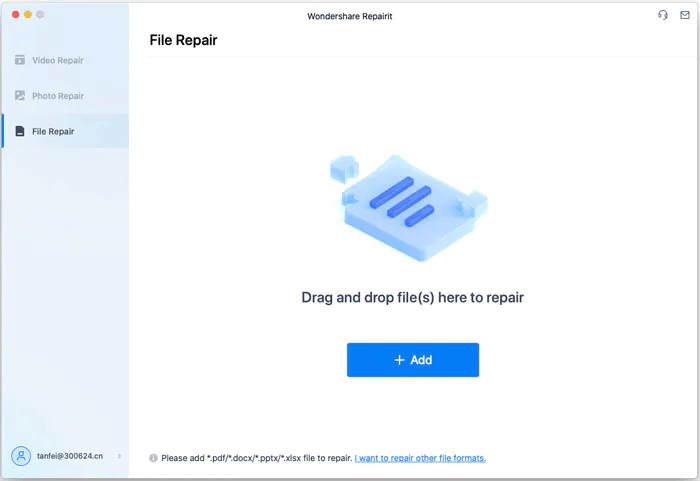 Step 3: After uploading your files on Repairit, you simply need to click on the Repair option and wait for some time until the process finishes.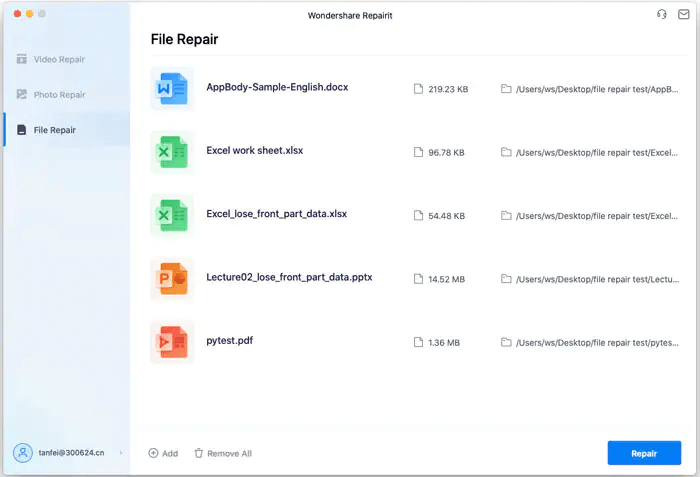 Step 4: Once done, click on the Preview option to see the results and then click on Save to proceed.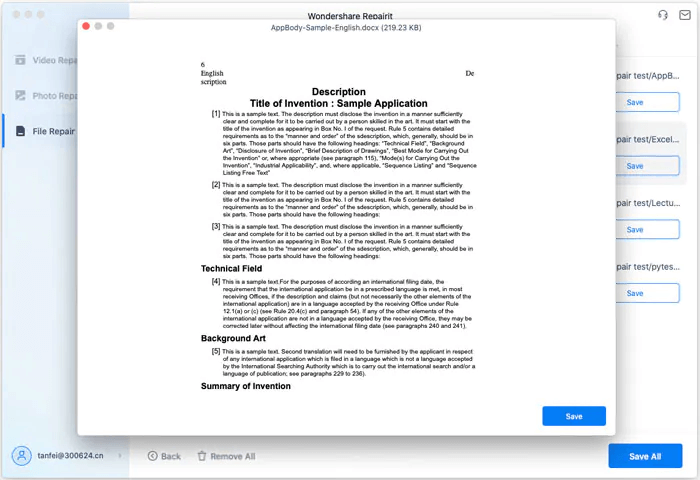 That is it! Now, what you need to do is just locate any preferred location on your Mac where you wish to export your files and wait for the Repairit to save your documents.
Also Read: MobileTrans Review
---
Pricing
Although you'll get a free trial when you download & install Repairit for the very first time, then you can see all the factors to know the application properly and make a wiser decision of purchasing the full/pro version.
For Windows:
1 Month License of Wondershare Repairit: This will nearly cost you $69.99 with one month of automatic updates with no limitation on the number of photos/videos to be repaired and no limitation on the size of the file.
1-Year License of Wondershare Repairit: This license will cost you $79.99 with one year of automatic app updates, batch file repairing, and a full preview of repaired files of any type that includes videos, audio, photos, PDF files, and more.
Lifetime Subscription: This is the most popular plan which costs around $99.99. It comes with lifetime free updates with no limitation on the number of files to be repaired and no limitation on the size of files.
For Macs:
1 Month License- $79.99
1 Year License- $99.99
Lifetime Subscription: $119.99
So, these were the pricing set of Wondershare Repairit for both Windows and macOS. Hence, if you have tried the trial version, and you're satisfied with the product, then relying on any of the plans is recommended for a better experience. We would instead suggest you go for the lifetime subscription.
---
Experts Advice
In this write-up, we have reviewed Wondershare Repairit in-depth so that you may determine whether or not it is excellent video repairing software. The tool is pretty advanced and lets you repair the corrupted files on your device (Windows & macOS) very easily. It possesses a user-friendly interface and unique features. However, it is recommended to carefully go through all its features, pros, and cons before finalizing your decision.
That's all! It's time for us to say goodbye. We hope you find this guide helpful. Please feel free to drop your queries or further suggestions in the comments section below. We will come back soon with yet another detailed and unbiased review of the software. Till then, stay tuned!
Harshita Sharma is a technical writer with quite a distinct understanding of the tech realm. She is a tech enthusiast who believes that tech knowledge should reach one and all and tries to convert the sketchy knowledge into the simplest possible form for making people understand the tech world better. When not playing with words, she loves to travel and explore new places. And, is a coffee & cricket connoisseur.
Subscribe to Our
Newsletter

and stay informed

Keep yourself updated with the latest technology and trends with TechPout.
Related Posts