WonderShare Dr.Fone Review: Everything You Need to Know
Published Date :
Aug 04, 2022

Here's the complete and honest Dr.Fone review explaining everything from features to pros and cons, pricing, and much more about the Windows and Mac data recovery and management software for your smartphones.
Data is one of the most crucial and sensitive parts of any smartphone. Data is the dearest of our subjects. Your smartphone may get broken, stolen, or damaged in any other way, our main concern remains about the security of our data. One of the main reasons we brought and are maintaining a smartphone is to store and use the data as and when required.
But what if your data is lost due to any reason?
You will be worried for sure.
Loss of data can happen due to any reason, from simple damage to the smartphone to the same getting stolen. Data loss is one of the worst scenarios that no one wishes to come across. However, as much as we try to keep ourselves safe. Problems happen!
The loss of data can happen due to any reason. To help you recover from such a situation, a lot of data recovery software and tools are available. These tools do what they are built to, recover data from a damaged device. The same is the job of Wondershare Dr.Fone.
Wondershare Dr.Fone allows you to do a lot more than just recover the data. Apart from recovery, you can use the app to manage data as well. So did we.
After using the program extensively, we recorded some things about the tool. We are going to convey the same using this Dr.Fone review. Here, you will find Dr.Fone features, pros and cons, pricing, and others. Read the complete review and then decide whether you want to download the tool or not.
Dr. Fone Review: Features, Pros and Cons, and Pricing
Here is the review of Dr. Fone listing the features of the tool first. Afterward, we will have a look at the pros and cons and pricing of the tool for a deeper insight.
Features of Dr. Fone
Let's start with the top features offered by the Dr.Fone software for data recovery and management through your Windows or Mac devices.
Multiple Toolkits
One of the best features that we loved about the tool is the distribution of the software into various sections or toolkits. This means that you get the chance to purchase and download individual toolkits of your Windows or Mac device as required. For example, if you want to transfer Whatsapp data from one device to another, you can download the WhatsApp transfer toolkit.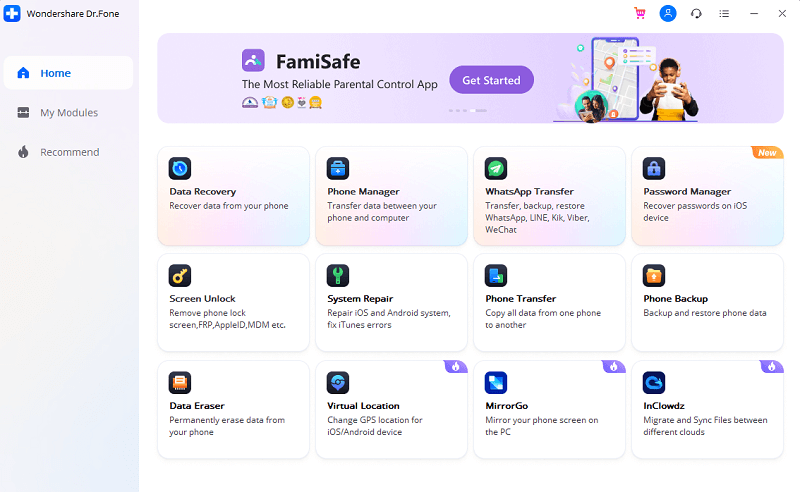 ---
Advanced and Quick Data Recovery
We have used other data recovery apps previously. What makes Wondershare Dr.Fone different and better than the rest is its faster recovery speed and advanced options. This is the best attribute of the tool that cannot be skipped in this Dr.Fone review. The software allows you to recover quickly without wasting any time. The recovery rate is undoubtedly amazing, what's even better is the options.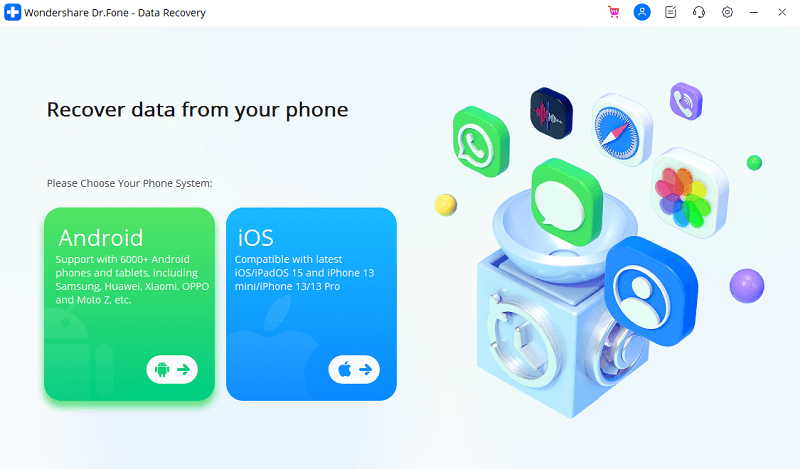 You can select what you want to recover from the tool and then perform accordingly. You can select the type of device you want to recover from, Android or iOS. Then there is the option to recover from Google Drive or the broken devices. This is quite tough to find in other similar devices.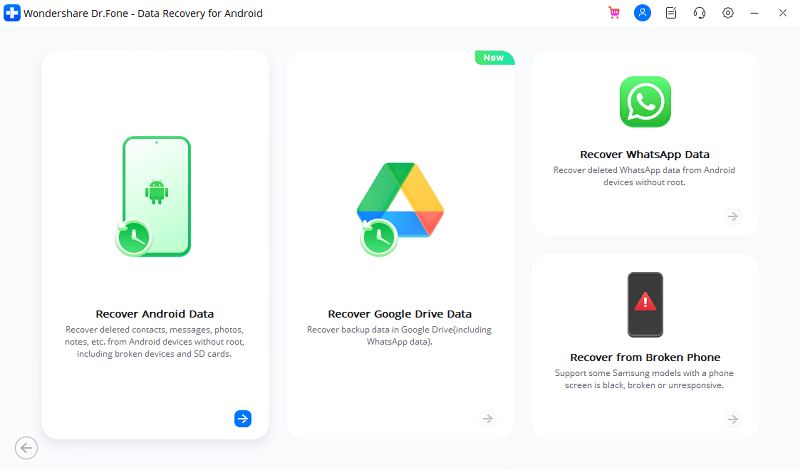 The app will also provide a separate and smart Whatsapp recovery option to you as well. Whatsapp recovery is not limited to WhatsApp only but also supports Like, Viber, KiK, and WeChat.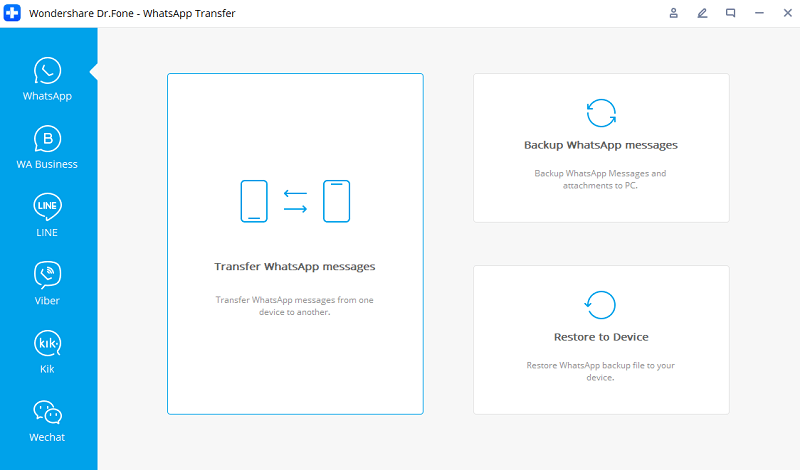 ---
Phone Manager and Transfer: the Best Way to Transfer Data to and From Your Smartphone and Computer
We tend to store multiple forms of data on the computer from the smartphone for added protection. If you have a habit of storing the data in this way, you can use Dr.Fone. The software allows you to share and transfer data wirelessly as well. What's better than that? Photo transfer and iTunes media transfer are just a blessing in disguise for Dr.Fone.
Additionally, the software allows you to select from a series of options to recover music, photos, videos, and other data. You can even send iCloud Media to the device and mirror your device to the computer if necessary. The procedure for every feature is quite simple.
So many options in one tool!
---
One Stop Solution to Manager iOS Passwords
The next noteworthy feature for this Dr.Fone review is the password manager. If you are using an iOS device, then the Dr.Fone – Password Manager is the best for you. The software allows you to connect the iPhone to the computer and then save all the passwords. This way you never have to worry about forgetting any of the passwords.
---
The problem of password forgetting is quite common. This can create a lot of problems for you, especially when you forget the password of your phone's lock screen. It's quite difficult to unlock the phone after that but Dr.Fone works as a savior in such a situation. Whether it is an Android or iOS device, you can easily use the Screen Unlock feature of Dr. Fone to unlock the device.
The tool will allow you to do any of these:
Unlock Android Screen/Google FRP Lock
Unlock iOS Screen
Remove AppleID
Unlock the MDM from the iPhone
Bypass the present lock screen or screen time password
Remove iTunes Password
Hence, you get the chance to use any of these features and unlock the device as required. Very easily. However, you should proceed with caution and read properly as in some cases, data loss may happen.
---
Repair Your System if the OS Crashes
iOS and Android crashes are quite common. Due to some error in installing the new update or because of any other problem, such crashes may appear. The only solution in such cases is to restore the device to the previous version. You can do that very easily with Dr.Fone. One of the advanced features of Dr.Fone is that it allows system OS repairing of Android, iOS, and iTunes.
Additionally, there are different modes of recovery as well for iOS(Standard and Advanced) and Android (Black screen recovery, phone crash, logo stuck, update failure, etc.) devices. You can select the mode of recovery as per the problem involved.
---
Takes a Complete Backup of Your Device
The next feature that can not be missed from the Dr.Fone review is device backup. Won't it be better to keep a backup of your data and protect the same at all costs? This is something that Dr. Fone can easily help you with. You can even use the same software to restore as well whenever required.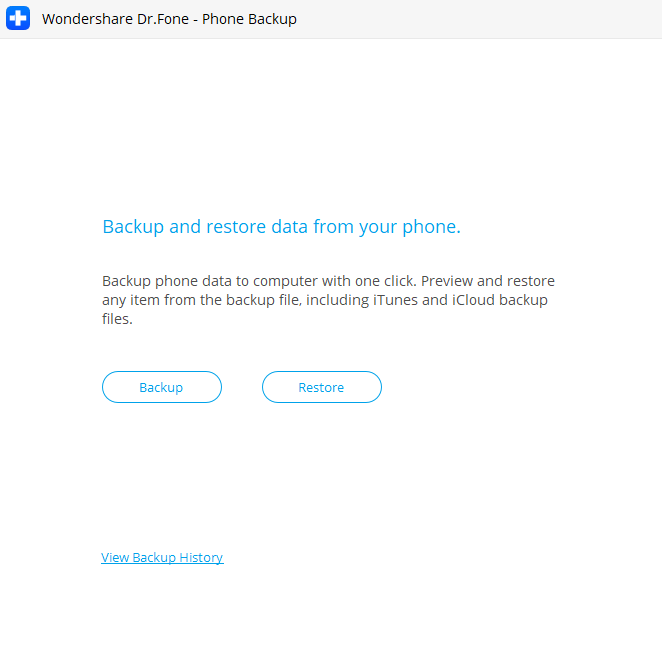 The Phone Backup option can recover both iOS and Android devices as required. This comes in very handy if you and your family/friends are using multiple devices.
---
Leaves No Traces of the Data and Delete Permanently
It's a common saying that nothing's permanently deleted from an electronic device. However, Dr.Fone can prove that wrong. If you want to delete something from your smartphone permanently then Dr.Fone is your companion. The software will easily delete any data you want from the device beyond recovery. This deletion option works for both iOS and Android devices.
---
Set a Fake Location for your Smartphone
The features of Dr.Fone just keep on adding. Another amazing feature of this review of Dr. Fone is that you can use the software to set a fake location for your Android or iOS device. If you are worried about the vulnerability of your location, then you should set the fake location with Dr.Fone. This way, you can be safe at all times and protect your exact location from hackers and attackers.
---
Share and Transfer Data from Different Cloud Platforms
One of the unique features of Dr.Fone is the ability to share and transfer data from one cloud platform to another. Hence, when you think that your main cloud storage is getting full, you can share or move some of the data to another platform. Similarly, if you want to share your cloud data with your friend, you can do the same using Dr.Fone.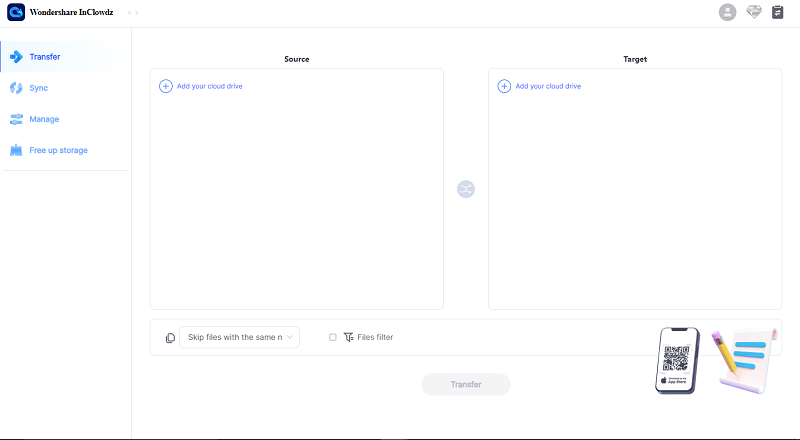 The same InClowdz feature also helps in freeing up your cloud storage with a single click.
---
Pros and Cons of Wondershare Dr.Fone
Above, we had a look at the features of Dr.Fone. Now, for the next part of this Dr.Fone review, we will have a look at the pros and cons. Here you will get a better understanding of whether you should download and use the tool or not.
Pros of Wondershare Dr.Fone
Quite an easy-to-use interface.
Allows you to download specific toolkits only as required.
Offers some unique "tough to find" features.
Shows caution if data loss may happen while using any toolkit.
The software is highly compatible with different new and old iOS and Android versions.
The smart algorithm of the tool ensures that you retain both existing and restored data on your device.
Feasible for beginners as well as professionals.
The tool can be downloaded and used on both Windows and macOS devices.
Cons of Wondershare Dr. Fone
You need to buy a specific toolkit to use.
Limited features in the free version.
The resolution of images after recovery may distort a little.
---
Wondershare Dr.Fone Price
The services Wondershare Dr.Fone offers to you are worth every penny. The price of Dr.Fone is quite affordable and starts at as low as $19.95 for one toolkit. Yes, the price of the software is divided according to the set of toolkits (iOS and Android) and individual toolkits.
If we talk about the set price of Dr.Fone for a 1-year license:
Dr.Fone Android Toolkit– $79.95
Dr.Fone iOS Toolkit– $99.95
Dr.Fone Android and iOS Integrated Toolkit– $139.95
Below is the price distribution of different toolkits:
Dr.Fone – Data Recovery: iOS $59.95/Android $39.95
Dr.Fone – System Repair: iOS $59.95/ Android $39.95
Dr.Fone – Screen Unlock: iOS $49.95/ Android $39.95
Dr.Fone – Phone Manager: iOS $39.95/ Android $29.95
Dr.Fone – Phone Backup iOS $19.99/ Android $19.95
Dr.Fone – Data Eraser iOS $19.95/ Android $14.95
Dr.Fone – iTunes Repair iOS $19.95
Dr.Fone – Phone Transfer (iOS & Android) $21.95
Dr.Fone – WhatsApp Transfer (iOS&Android) $21.95
---
Summing Up the Dr.Fone Review
We, you must know everything about the Wondershare Dr.Fone till now. To sum up this Dr.Fone review, we would like to say one thing only. The tool is quite advanced and allows you to recover and manage data on your smartphone very easily. The price of Dr.Fone justifies the set of features you get with the tool. Additionally, as the software is quite simple, even a beginner can get the best out of the tool very easily. However, while using the tool, you should keep your eyes open and pay attention to the short caution messages provided under the response button of different toolkits.
If you have any doubts or suggestions, we are all ears. You can write to us in the comments section below. We will respond to your query and suggestions accordingly. If you found this review of Dr.Fone to be helpful, subscribe to our newsletter to get updates in your mailbox about the new reviews, guides, and other write-ups.
Devesh, being a technical writer, likes to research and write technology articles and solutions to help others. Having great knowledge about the tech world and its working, he likes to pour the same into his write-ups. Before starting any write-up, he likes to pen down his thoughts and flaunt a creative edge in the same. Apart from being a writer, his primary interests include reading books and poems, cooking, and playing video games.
Subscribe to Our
Newsletter

and stay informed

Keep yourself updated with the latest technology and trends with TechPout.
Related Posts