OnyX Vs CleanMyMac: Which Is the Best
Published Date :
Dec 09, 2022

"Should I buy CleanMyMac or try OnyX," get this and many other questions answered in our post.
Mac and storage issues seem quite inseparable from one another. Despite Apple's best attempts, you may often find yourself running into space problems on Mac. Hence, cleaning becomes indispensable to liberating some room on your device to keep crucial files and elevate Mac's performance.
When it comes to Mac cleaning, OnyX and CleanMyMac are two names you find almost everywhere on the web. These both are excellent Mac cleaners, but which of them is a better fit for your requirements? To find the answer to this and many more questions you may have about these programs, you may read this article with supreme attention.
Here, we make a detailed OnyX Vs CleanMyMac comparison to help you make the correct choice. Let us begin with a general overview of both these programs before going into their depths.
What Are OnyX and CleanMyMac
Beginning with OnyX, it is a renowned software to clean Mac and optimize its performance. With this free software, you can clean cache files, repair disk permissions, and perform other optimization tasks.
Whereas, CleanMyMac is a program from MacPaw with smart cleaning and optimization abilities. This software allows you to perform functions like cleaning the system cache and removing iTunes junk files and other clutter.
Let us now look at the system requirements of these programs so that you can decide which of these apps your device can run better.
OnyX Vs CleanMyMac: System Requirements
The following are the system requirements of OnyX and CleanMyMac to help you compare and judge which of these programs will run smoothly on your device.
OnyX System Requirements
Operating System: Available for macOS X Jaguar 10.2 and above
CleanMyMac System Requirements
Operating System: macOS 10.9 and above
Free space needed: At least 50 MB
If your device meets the above system requirements, then use the download button below to get the software:

After looking at the system requirements, you might have got a slight idea about which of these programs are suitable for you. However, before arriving at any conclusions, you should go through the distinct features, pros, and cons of these utilities. Only after comparing these details, you can make an informed decision. Hence, we share them in the subsequent sections of this OnyX and CleanMyMac comparison.
Also Read: CleanMyMac X VS MacBooster 8: An Extensive Comparison
---
OnyX Vs CleanMyMac: Feature Comparison
Below we look at the features of OnyX and CleanMyMac one by one, beginning with OnyX, to understand which of these is a better solution to your device's problems.
Features of OnyX
The following are the top features of OnyX you should know for comparing the program with CleanMyMac.
Customizable interface

Perhaps, the most noticeable feature of OnyX is its high customizability. It is highly customizable software with a clean, simple, and easy-to-understand interface.
Talking about the interface, it is broken down into various tabs depending on the kind of maintenance task you wish to execute.
Maintenance functions
After clicking on the maintenance tab at the top, you get a plethora of options on your screen. These options include file structure verification, spotlight index rebuilding, cleaning, and a lot more.
Cleaning

OnyX provides users with quite a comprehensive cleaning module. Here, you get a variety of options such as log files, cache files, and cookies remover.
In addition to the regular cleaning features, there are also miscellaneous options to clean maintenance scripts, fonts cache, junk items, recent items, and trash.
Utilities
Under the Utilities tab of OnyX, you may find options like Time Machine snapshot creation and deletion.
Files
The Files tab of OnyX is home to useful tools such as secure deletion of files and folders.
Info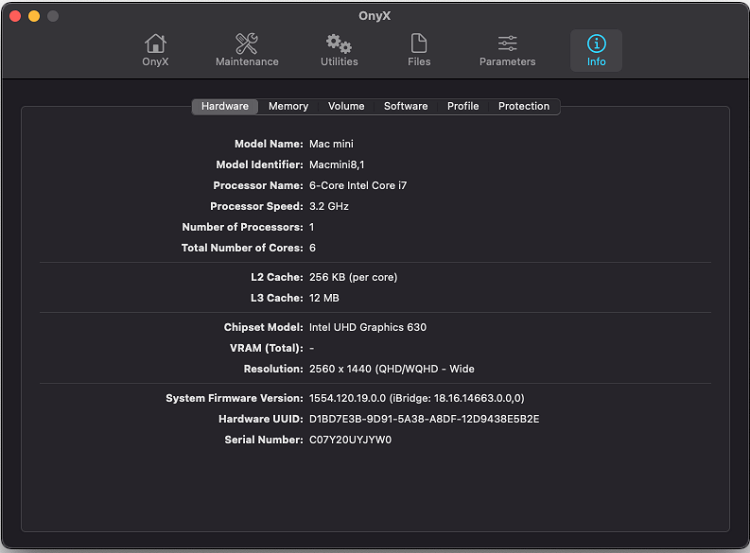 The Info tab shows all the information about your device such as its model identifier, processor name, processor speed, etc. Moreover, it provides users with a highly useful protection tool.
With the protection tool, you can scan all downloads and protect your device from malware.
Parameters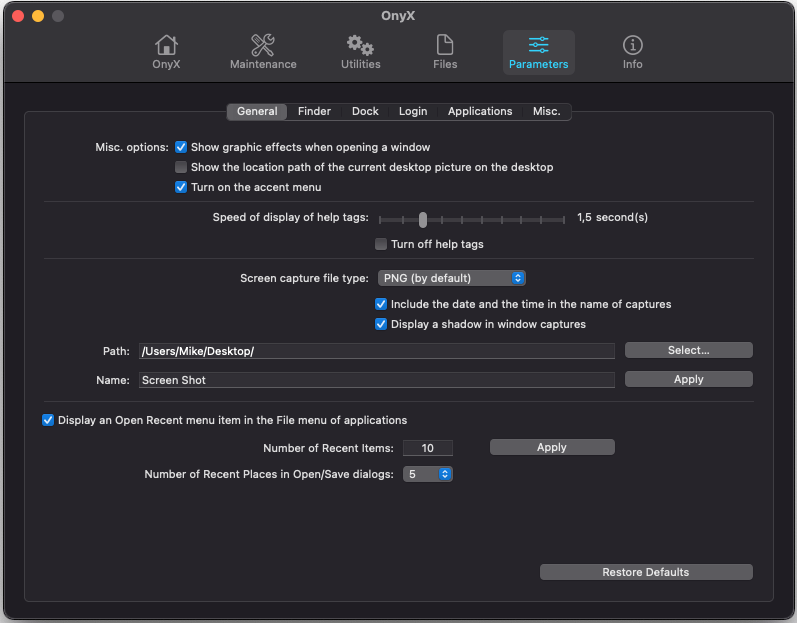 Finally, there is a Parameters tab with options to set screenshot file formats, the location of saving files, the number of recent items, and a Lock Screen message.
The above was everything about the features of OnyX. Now, let us look at CleanMyMac's features to make a comparison between the two programs.
---
Features of CleanMyMac
Below are the prominent CleanMyMac features to help you decide whether it is a better choice than OnyX or not.
Junk Cleaning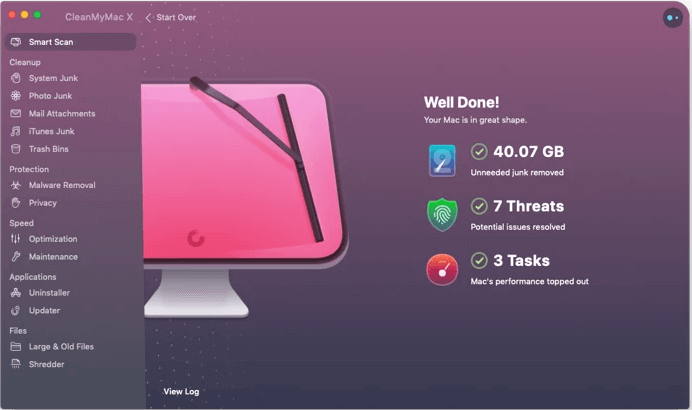 CleanMyMac comes equipped with an in-built Junk Removal tool to help you find and delete system junk. With this tool, you can effortlessly remove unwanted internet log files, media files, system files, installation files, and applications from your device.
Malware Detector
This software boasts a tool to scan your device for malware and infections and automatically remove them to ensure your Mac's good health.
Smart Assistant
There is a smart assistant that provides valuable tips to detect system junk and securely perform disk cleaning. This tool makes use of artificial intelligence to recognize junk and crucial files.
Performance Optimization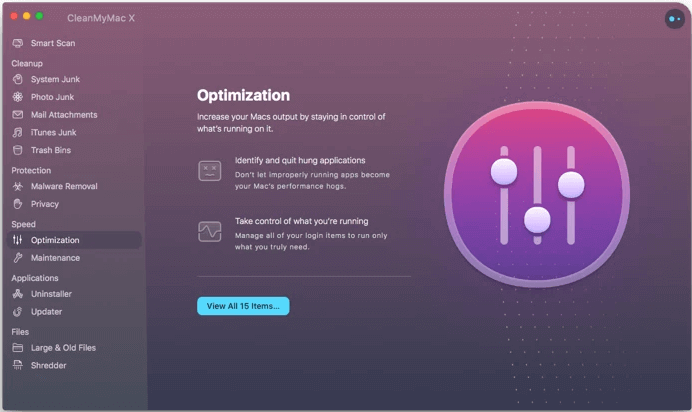 In CleanMyMac, you find a plethora of optimization options to find applications that run in the background and plague your Mac's performance. The software also allows you to stop these apps from running to make your device fast.
Moreover, there is a cleanup tool you can use to update outdated applications to optimize their performance.
In-built Uninstaller
CleanMyMac also comes with an uninstaller for unneeded applications. You may use this tool to remove unwanted apps to free up space on your Mac.
Browsing history deletion
With CleanMyMac, you can delete the browsing history on your device to ensure complete privacy and it also keeps you protected over the web.
Above, we reviewed CleanMyMac and OnyX's features. Now, let us look at the pros and cons of these programs before making the final decision.
Also Read: CleanMyMac vs CCleaner a Best Comparison
---
OnyX Vs CleanMyMac: Pros and Cons
In this section of our comparison between OnyX and CleanMyMac, let us look at their pros and cons one after the other.
Pros
Power-packed toolset
Supports older Mac versions
Quick and easy system cache and temporary file cleaning
Functions in the background without disturbing you
A freely available Mac optimization tool
Cons
Beginners may find it difficult to use OnyX
Sometimes it freezes during disk verification
---
Pros
Smooth and clear interface
Multiple language support
Removes large and old files
Estimates the disk space that can become available after cleaning
Provides support over calls and email
Cons
Automatically launches
Sometimes annoys users with unnecessary warnings and alerts
The trial version lets you clean only 500 MB of junk
Priced on a bit expensive side
Let us now look at another deciding factor, i.e., the price details of these products.
---
OnyX Vs CleanMyMac: Pricing Plans
OnyX is completely free software. Whereas, CleanMyMac is available at a price of $39.95 for 1 Mac, $59.95 for 2 Macs, and $89.95 for 5 Macs.
After looking at and comparing the features, pros, cons, and price of OnyX and CleanMyMac, let us answer a few common questions to make the picture clearer.
---
Frequently Asked Questions
In this section of OnyX Vs CleanMyMac, let us answer some repeatedly asked questions about these programs.
Q1. Is OnyX good for cleaning Mac?
In our opinion, OnyX is a decent tool to clean hogged-up SSD or hard drives and reclaim lost storage space.
Q2. Does Apple recommend CleanMyMac?
CleanMyMac is a safe and renowned cleaning program for Macs. However, Apple does not recommend it or any other software to clean Mac.
Q3. Will CleanMyMac ruin my Mac?
We have not experienced or heard of anyone experiencing any security or other issues with CleanMyMac. Hence, you may rest assured that it will not ruin your device in any way.
Q4. Can OnyX be trusted?
While using OnyX we did not experience any safety issues nor heard of anyone else experiencing them. Hence, you may safely trust OnyX to clean your Mac.
---
OnyX Vs CleanMyMac: The Conclusion
Above, we compared OnyX and CleanMyMac in all respects. Both these programs are on par with each other. Though CleanMyMac is a bit feature-rich and a better option for those who are not on a budget.
You may choose any of them depending on your budget and requirements. If you have any questions or concerns, you may drop the same in the comments section.
Niharika is a passionate soul who finds immense satisfaction in putting all her thoughts in writing. Being a technology enthusiast, she loves learning new things about tech and making everyone technologically literate through her articles. When not composing tech articles, you can find her bringing characters to life in her fictional stories, reading something intriguing, or spending time with her near and dear ones.
Subscribe to Our
Newsletter

and stay informed

Keep yourself updated with the latest technology and trends with TechPout.
Related Posts