Why should you use the best free scanner software for Mac?
Humble accessibility and steadfast functions have contributed to making scanning technology burgeon for over a decade. It enables the option to scan PDFs, documents, and images in an electronic format that promises better storage, security, and – No paper.
There are different top free scanning software available in the market, complementing different documents, formats, and multiple other functions that you may enjoy. These top scanner apps for Mac allow you to scan any form of document as you want with ease. You will find both open-source and other tools with advanced features of scanning. We have collected the best free scanning software for Mac that leads a smooth way out to get the scanning done and offers ample features.

Why Use Scanning Software?
The simplest of reasons have made scanning technology be counted on by many. Scanning programs are easily available, provide quick access, save time and avoid the hassle.
Here are some of the attractive perks of using the scanner programs for Mac:
These free scanning software for Mac allow you to scan the documents and images into electronic documents.
You can store the scanned documents without too much hassle.
Almost every scanner software for Mac enables easy sharing.
Allows editing the texts and images with ease.
These tools are free to use and save your time.
Now, without beating the bushes, let's straight away move on to our top best scanning software for Mac 2023 below and then have a look at the rest.
Read Also: Best Free Mac Cleaning Apps
---
Top Best Scanner App for Mac (2023)
Here are the top 5 free Mac scanner software that offers competitive and helpful features to scan any form of a document very easily:
---
What Are the Best Free Scanning Software for Mac in 2023?
In case you haven't already installed one on your Mac, here is the list of 14 best free scanner software for Mac that are sure to ask you to keep calm and get the flow moving. Each features an offer that may be everything you want.
1. TWAIN SANE

In this list of top free scanning software for Mac, TWAIN SANE has to be one of the first ones to count on and the credit goes to its easy-to-understand functionality and its compatibility with other image-centric applications.
Features to look for:
TWAIN SANE has a user-friendly interface.
It is compatible with several other applications such as MS Word, Image Capture, and Graphic Converter.
You can scan the documents through SANE backend libraries that offer a terrific range of scanners.
Not to mention, it features easy installation and is free to use making it one of the best free scanner software for Mac to be available.
Pros
The scanning process requires minimum effort
The dashboard can be easily understood
Offers a range of incredible scanners
Variety of available updates
Cons
Issues of software crash reported by users
---
2. PDF Scanner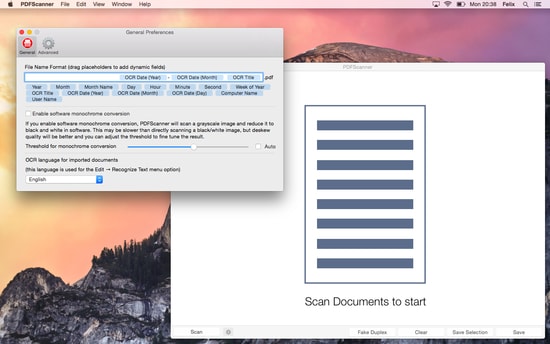 Another best free scanner software for Mac is PDF Scanner which is a favorite of many users. When it comes to scanning images and documents, you may want to end your hunt for scanning software here, given its cool-headed features that make your access easy on the hand.
Features to look for:
PDF Scanner features a user-friendly interface that makes the usual errands related to scanning hassle-free.
It allows you to enjoy the scanned documents and images without 'too much' compression and keep the clarity in check.
It features integration with OCR, making control over the data quicker.
You have the freedom to edit your scanned documents with this free scanning software for Mac.
Pros
User-friendly and clean interface
Allows Quick scans for files and documents
Edit or crop scanned documents
---
3. ExactScan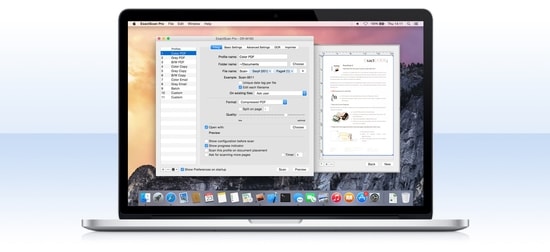 ExactScan is one of the best scanning software for Mac that has the capacity to scan about 200 documents and is compatible with other scanners. Besides, this software, launched by ExactCode, is free and easy to function.
Features to look for:
ExactScan allows you to store and scan over 200 documents.
It supports almost every scanner out there.
It allows you and whoever scans the documents to create an individual profile.
This free scanning software for Mac features an easy installation and friendly interface.
Pros
Can save multiple profiles for quick scans
Does not require a lot of storage space
Simple and user-friendly interface
Suggestions to align and crop the scanned files
Cons
Does not support old scanners
Performance issues
---
4. VueScan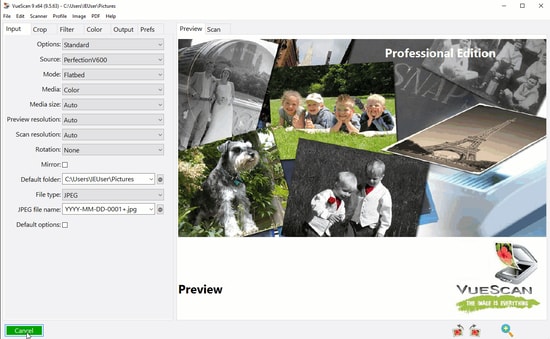 Counting on another best free scanner software for Mac to be at your fingertips, VueScan had to make it to this list. It supports over 2800 scanners that function on Windows, OS X, and Linux. It offers you to view the scanned documents in multiple formats.
Read Also: Best Free Image Converter Software
Features to look for:
VueScan is a free scanning software for Mac and does not cost you a heavy time.
It works well with over 2800 types of scanners that are functioned on Windows, OS X, and Linux.
This scanner program for Mac allows you to view the scanned documents in multiple formats like JPG, PDF, or TIFF.
---
5. SilverFast
SilverFast counts as one the best free scanning software for Mac that you may wish to install for it is also a neat scanner software for Mac and can deliver the best outputs. Want to scan the images with striking clarity and avoid the uninvited shabbiness? Perhaps, this photo scanner software for Mac is the answer.
Features to look for:
It allows you to scan the images in colored and black & white modes.
This scanning software for Mac is able to work well with over 340 scanners.
The neat outputs it puts forth are what may make you consider this software.
---
6. Nitro PDF Pro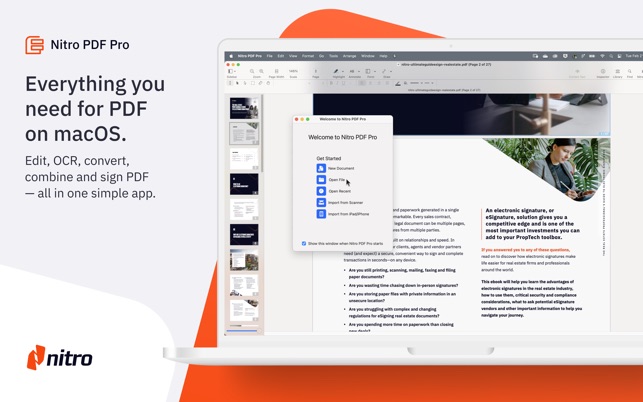 The next one here on our list of best free scanning software for Mac is Nitro PDF Pro. The user friendly interface and versatile nature of the software make it a decent choice for both beginners and professional Mac users. It enables quick and easy editing and converting PDF files. Moreover, you can add a customized signature and make these docs password protected. It is one of the most flexible yet affordable options for scanning software for Mac.
Features to look for:
Create PDF and combine multiple files into a single PDF file.
Easy to apply or request for electronic signatures
Simple IT deployment
Easily compatible with other PDF viewer applications
Pros
Clear interface with easy navigation
Pricing for the
Paid version is reasonable
An effective option to convert documents, track changes, and perform other tasks
Cons
Frequent crashes and hangs
Complex option for naive users
---
7. DocScanner
If you are still not done hunting for the free scanning software for Mac, then DocScanner is probably the solution you may want to get your hands on. It is quick, easy, and offers qualitative outputs. Below are some of the notable features of DocScanner that make it a great addition to the list of best scanning software for Mac.
Features to look for:
One interesting feature about this best scanner DocScanner is that it is available in about 15 languages.
It allows you to scan documents and images effectively.
This scanner program for Mac allows you to edit PDF documents easily.
It allows you to share the documents.
---
8. PDF Studio
Yet another best scanning software for Mac that is sure to make your to-dos be easy on you. This amazing scanning software, with its extensive features, allows you to create and scan PDFs. You can use the scanning program for Mac with a free trial and continue with its Standard or Pro version.
Read Also: Best Document Scanning Software for Windows 10
Features to look for:
PDF Studio allows you to create and scan PDF documents.
The documents can be shared and secured in this software.
It allows you to zoom in and create additional changes in the documents.
---
9. PDF pen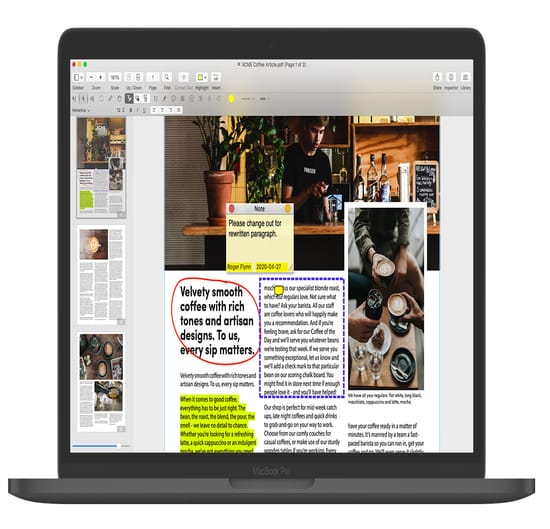 PDF pen is one of the best free scanning software as it offers the user to scan, highlight, scribble and correct text easily. The software scans the text from images and converts them into words in just a few seconds. 
The user can just select the text and click on the correct text option to edit. Moreover, for any other changes, you can also export the document in Word format to edit. 
Features to look for:
The user can easily proofread the document with the inbuilt Optical character Recognition (OCR)

Cloud storage for the PDFs

Drag and drop easily to add and remove pages

One-click edit text feature
---
10. Presto! PageManager 9.5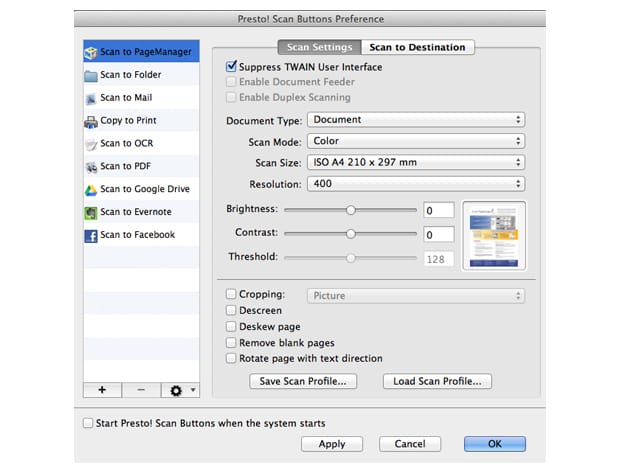 One of the easiest and most simple software to have for scanning on Mac. Presto! PageManager 9.5 offers great inbuilt tools like editing, file recognition, secured storage, and many more. The software helps you in managing everything with ease. 
Read Also: 11 Best File Shredder Software For Mac
Features to look for:
The software can easily merge files and can also separate them

It offers cloud sync for data backup

A simple user interface to work on

Filters files for quick viewing
---
11. Abby FineReader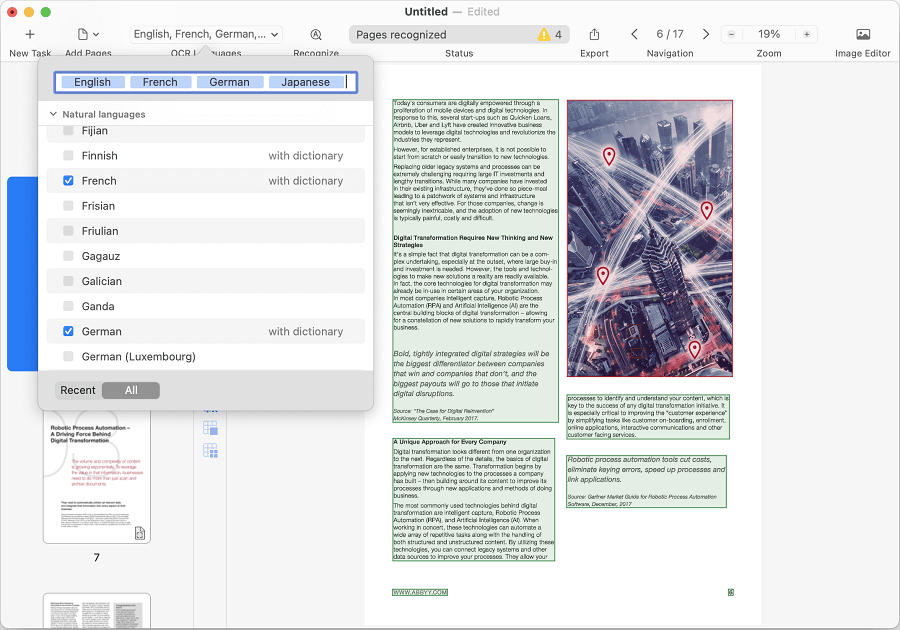 The next best Free Scanning software Mac in 2023 is Abby FineReader. With the help of this tool you can easily create, edit, convert, scan, and protect documents of different formats such as Word, PDF, HTML, spreadsheets, etc. Moreover, you can add comments on PDF files to perform various tasks in a single place.
An advanced Optional Character Recognition mechanism ensures that the file is converted and scanned accurately. For official purposes, users can try the Hot Folder feature of the software to scan documents on large scale.
Features to Look For:
Organize your PDF files and create or edit them.
Compare documents that are available even in different file formats.
Optimize conversion routines and digitization.
Make PDF files from images or paper with an easy-to-use user interface
Make PDF files that are searchable.
Pros
Over 192 Language support attract different users
One-time plan for licensing.
Cons
Lacks full-text indexing.
---
12. Adobe Acrobat Pro DC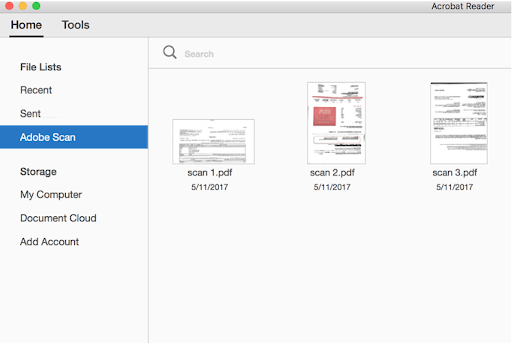 Another one on our list of Best free Scanning software for Mac in 2023 is Adobe Acrobat Pro DC. It was one of the first software to convert PDF files to searchable or editable on Mac devices. View files online with complete surety of security and safety.
Mark important data in your files, add bookmarks to mark important links or information and add comments for updates. Moreover, you can search, add, or edit text or images on your PDF files.
Features:
It has a user-friendly user interface.
The customization possible in PDF files is excellent.
It is integrated with other Adobe Creative Cloud Suite
The latest versions are available for macOS Big Sur & Monterey.
Pros
Text indexing to make searches quicker and more effective
Complete editing even in mobile applications.
Commenting and Sharing is possible through cloud base
Convert images to PDF by using the desktop application
Cons
Some of the high-powered OCR tools for proofreading are missing
---
13. ReadIRIS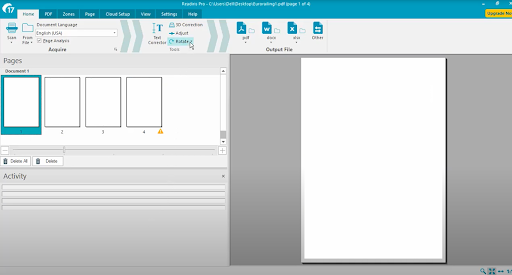 The last name on this list of the best free scanning software for Mac is ReadIRIS. With the help of this tool, you can do a lot more than just scan using Mac. The software also allows you to edit PDFs and generate text using the smart OCR reader. You will get to know more about the software from the features below.
Features:
The user interface of the software is best for beginners.
You get a plethora of options to edit and modify the document.
The tool can be easily integrated with other software.
Pros
The tool offers smart functionalities.
The cross-platformed tool comes for Windows devices as well.
Allows you to save documents online and offline.
Cons
Lacks some features that are available in other similar software.
---
14. Online Photo Scanner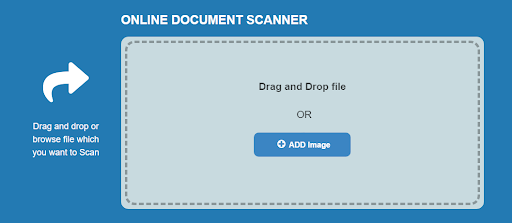 The last name on this list of the best free scanning software for Mac is Online Photo Scanner. If you don't want to put your efforts into downloading and installing a standalone tool for your Mac, then you can try this online solution.
Features:
The online tool works on multiple devices with ease.
The simple interface of the tool allows you to drag and drop the file or add as necessary.
Online Photo Scanner offers multiple options for you to download the content.
Pros
You can access the tool on Windows, Mac, and every other device with a browser.
Simple execution and usage.
Smart UI
Cons
Does not have any advanced features.
---
Frequently Asked Questions about Best Scanner for Mac
If you still have any doubts related to the best document scanner for Mac, below we answer some of the most frequently asked questions related to the same for you:
Q1. How Do I Scan To PDF On Mac?
The process to scan PDFs on a Mac is quite easy. Just one the file you want to scan, click on the File menu, then move your cursor to New, and select the option named PDF from Scanner. Now all you need to do is select the scanner device. Alternatively, you can also take the help of the PDF scanner Mac listed above for this task.
Q2. How Do I Install Scanning Software On Mac?
You can easily install any best scanner for Macs by simply visiting the official website, from the website, you will find a direct link to either download the .zip or .dmg file. You can unzip and then install the file by double-clicking the same. Alternatively, the website may also redirect you to the official Apple Store to download and install the product.
Q3. How Can I Make a Scanned Document Look Clearer?
Different Mac scanning software comes with an option to make a scanned document look clearer on the device. You can use this feature and edit the document as you want for better quality and clarity.
Q4. Is there a scanner app on Mac?
Yes, the internet is filled with different open-source scanning software Mac and others like VueScan, TwainSane, etc. You can download and use any of these, as you want. Additionally, to help you even further, there is a list of the best Mac scanning software that can help you do the same.
Q.5 How to connect a scanner to a Mac?
The process to connect a scanner to the Mac is very easy. Firstly, download and install the latest best free scanning software for Mac as suited from the list above. Open the Apple Menu and run Printers and Scanners in the System Preferences settings. Click the plus (+) button and add the device you want. Once the scanner is added and connected, you can use the tool as required with ease.
Q.6 How do I use a scanner with a Mac?
To use the scanner with Mac, firstly, make sure that the scanner is connected to the Mac. Open the Apple Menu and run Printers and Scanners in the System Preferences settings. Near the scanner, click on the Open Scanner option and use the scanner to scan the image.
Q.7 Why can't I scan on my Mac?
The issue in scanning can be due to improper settings on your Mac device. To enable scanning on Mac here are the steps that can be followed
Open the Apple menu and click on System Preferences.
Expand the section for Printers and Scanners.
From the list choose your scanner and click on the option Open Scanner present next to it.
If the updated settings couldn't fix the scanner, download any of the above best-listed free scanning software. Use the top scanner application for Mac to scan documents at the ease of a single click.
Q.8 Which scanner is best for Mac?
There are a lot of scanners available for Mac, however, tools like TWAIN SANE, PDF Scanner, and ExactScan are amongst the best ones available. These apps make it quite easy for you to scan any kind of document or image on your Mac.
Q.9 Is there a free app for scanning?
Luckily enough, there are many apps available to scan your Mac for free. We listed the best ones in this article. You can go through the applications shared in the previous section to choose the one suitable for you.
Q.10 Can you scan documents on a Mac without a scanner?
If there is no scanner available at your disposal, you can still scan your documents on Mac. You can do it using an OCR/scanning software, scanner application, or your phone's camera.
Also Read: Best Free Auto Clicker For Mac
---
Wrap-Up
Scanning software has bagged an increasing number of installations and has proved to make the head spin less. Besides, who does not want to keep the fear of losing documents under their feet? These best free scanning software for Mac, with their key specs, provide qualitative results that you are in search of.
Which scanning software is best? Share your experience with us in the comment section.
Jyotsana is a technical writer with a non-technical background. An eye of detail and a knack for writing helps her to write technology related content.Apart from writing, she is a coffee connoisseur and an aesthete who rejoices in poetry and music during leisure.
Subscribe to Our
Newsletter

and stay informed

Keep yourself updated with the latest technology and trends with TechPout.
Related Posts