Complete NordVPN Review 2022: Features, Pros, and Cons, Pricing
Published Date :
Nov 04, 2022

Is it worth trying NordVPN? Check out this review guide to know everything about this VPN service like features, pros & cons, pricing, and more. Continue reading for further information! 
NordVPN is possibly the most beloved VPN service around the world. With blazing reviews all over the web, highlighting the service's online powerful security tools, high download speeds, torrenting & streaming capabilities, and secure browning tools – it is certainly a VPN worth your attention. The VPN service provider offers a vast variety of features that includes unbreakable encryption, no logs policy, and high speeds. Impressive in-built tools packed with amazing features make NordVPN a wonderful option for both beginners and advanced users.
But, let's dig a little deeper into NordVPN. In this NordVPN review, we are going to cover everything about the software: what is NordVPN? How to use it? What are its significant offerings? What are the upsides and downsides of NordVPN? Read on to get answers to all these questions!
What is NordVPN?
NordVPN is an online VPN service that encrypts your internet traffic and hides your IP address with a fake physical location. In simple terms, the software keeps you private and lets you browse securely over the web. It simply makes an encrypted tunnel for your data, keeps your online identity safe by hiding your IP, and allows you to access public Wi-Fi safely.
---
Need of NordVPN
No one wants to be tracked or watched – even if they've nothing to put out of sight or hide. And, here you need the best VPN service like NordVPN to set your privacy. When you are browsing via a VPN, your traffic is encrypted and no one can view what you do online or even your online history. Following are  important reasons why you should use a NordVPN:
Firstly, for using public Wi-Fi safely and securely.
To access your home content while traveling across the world, you need a VPN.
Government agencies, ISPs, and marketers all would love to track and gather your browsing history, and other personal data. Here comes NordVPN as your savior. It helps you stay safe and protected online.
Avid gamers who love to play online games have to face bandwidth throttling and DDoS attacks. You can luckily forget to worry about all these issues with NordVPN.
Also Read: Best Free VPN For Mac
---
Most Notable Features of NordVPN
While reviewing NordVPN, we have concluded the following exceptional features of this VPN service provider:
User-Friendly
The simplicity of the applications is a big plus point behind their popularity, and NordVPN doesn't disappoint you at all. During the NordVPN review, we never discovered ourselves puzzled about where to detect something or what to do next. It is clearly an experience designed for the widest possible audience, from newbies to tech enthusiasts.
Money-Back Guarantee
NordVPN comes with a free trial of seven days. However, this is only accessible on mobile devices (Android & iOS). Though, desktop users are not out of luck. That means, NordVPN also possesses a 30-day money-back guarantee with every subscription plan. Even if you try it for almost 29 days, you can still get your money back just by reaching out to NordVPN's customer support team.
Multiple Payment Modes
NordVPN offers a wide range of payment choices. You can make a payment with a debit or credit card, PayPal, ACH transfer, or third-party payment apps. You can even pay through iTunes. Furthermore, X-Coin cryptocurrencies, Ethereum, and Bitcoin are also supported.
Complete Threat Protection
It provides complete protection to avoid online hazards like infected sites, trackers, and viruses. NordVPN's Threat Protection takes cybersecurity to another level and protects you from ads, malware, and other suspicious activity.
Streaming Support
An excellent VPN service can save your movie night. While testing the software, we realized that it is one of the amazing VPN services available for streaming movies and other content restricted in your country. You can watch your most beloved movies and shows without any slowdown.
Multiple Connections
The most exciting feature of NordVPN is that you can have up to six simultaneous connections with a single account. That means you can see videos on your mobile, while your family enjoys their movie night in the next room.
Throttling-Free
Unlike other VPN service providers, NordVPN doesn't place any monthly caps on network bandwidth. Allowing you to enjoy as much online content as you wish.
Lightning Download Speed
Lastly, NordVPN is one of the fastest VPN services available on the market. You can enjoy unlimited bandwidth and download speeds with NordVPN. The platform constantly upgrades its server networks, invests in software architecture, and keeps up a powerful infrastructure. Additionally, it offers quality packed encryption to your data.
Also Read: Best VPN For Gaming
---
How Does NordVPN Work?
It is extremely easy to use NordVPN on Windows and Mac. All you need to do is, simply follow the procedure shared below:
Steps to use NordVPN on Windows:
Step 1: First of all, just go to the official website of NordVPN and download it.
Step 2: Follow the setup wizard and finish the installation.
Step 3: Once installed, launch NordVPN on your Windows PC and sign in to your account. Then, click on Quick connect and you'll be linked to the fastest server available. What's more, you can even choose a server from the list of nations available on the left pane menu. Or, simply locate and tap it on the map.
Step 4: After a while, the status will be changed to Connected with the location of an IP address and the server.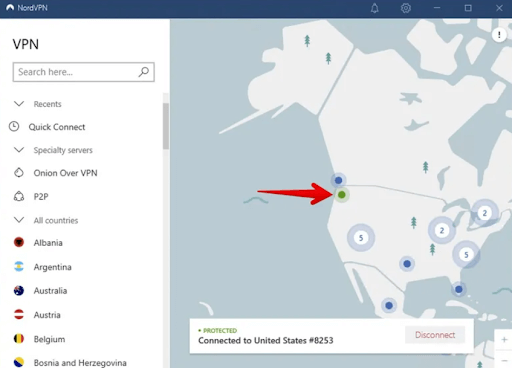 Step 5: Now, a pop-up will appear on your screen notifying you that you have successfully connected.
Steps to Use NordVPN on MacOS:
Step 1: Go to the App Store and search for NordVPN. Once found, download and install it on your device.
Step 2: Then, set up your account.
Step 3: Click on the Quick Connect button presented at the top of the right corner.
Step 4: Now, a pop-up window will appear saying that you have connected to the fastest server available.
See how easy it is to use NordVPN on different platforms. Moving forward, let's discuss the upsides & downsides of the VPN service provider.
---
Pros & Cons of Using NordVPN
Every software has both pros and cons, and the same goes for NordVPN too. Here you will find the advantages and disadvantages of using NordVPN. Let's start reading!
Pros: 
High and fast download speeds.
Updated and strong security.
Cheap annual plans.
Unblocks all restricted streaming websites.
Complete refund policy.
User-friendly interface.
Comprehensive and robust security features.
Excellent customer support.
Seven-day free trial.
Cons: 
Very high network latency on distant servers.
A few servers in Africa.
Fewer server connections than other VPNs.
No graphic interface for Linux client.
Also Read: Best VPN Apps For Android
---
Pricing Plans:
Quite lately, NordVPN has moved away from the original VPN service pricing structure, which is to provide one VPN plan but with different durations of time that provide progressively more useful services.
In 2022, NordVPN restructured its complete pricing model and made it a bit more like a security package. To be more specific, it now comes in 3 different plans that incorporate a bunch of advanced security features. Check out the table below:
| | | | |
| --- | --- | --- | --- |
| Basis | Standard | Plus | Complete |
| Bandwidth | Unlimited Speed | Unlimited Speed | Unlimited Speed |
| Included Devices | 6 | 6 | 6 |
| 1 Month Plan | $11.99 | $12.89 | $14.19 |
| 1 Year Plan | $59.88 | $70.68 | $86.28 |
| 2 Year Plan | $78.96 | $95.76 | $126.96 |
---
Frequently Asked Questions Related to NordVPN
Listed below are the most commonly asked questions about this globally recognized tool called NordVPN. Let's get started:
Q1. Does NordVPN Work?
In order to browse the internet anonymously, NordVPN works like magic. The pricing of NordVPN is extremely reasonable. Plus, it comes with a wide array of in-built applications to provide you with the best ever experience.
Q2. Is NordVPN Legit?
Yes, NordVPN is a safe and reliable choice for increasing your online security. Its powerful encryption, fast download speeds, user-friendly interface, and unique security features make sure that you can relax when surfing the web.
Q3. Is NordVPN Trustworthy?
Currently, NordVPN is one of the most reliable premium VPN services. Their no logs policy, business location, and infrastructure make sure that your data privacy will be respected.
Q4. Is NordVPN Actually Private?
NordVPN fully encrypts your traffic with AES-256 cipher, which is also known as military-grade encryption. It is one of the safest encryption methods and is also utilized by hospitals, banks, and several other institutions.
Q5. Is NordVPN Good in 2022? 
Without a shadow of a doubt, NordVPN is the best VPN service that you can use in 2022. It has a lot to keep your online activity secure and safe. Whether you are a newbie or an advanced user, NordVPN is a perfect fit.
Q6. What is the difference between NordVPN and ExpressVPN?
The major differences between NordVPN and ExpressVPN are their price, the number of servers, and connections. NordVPN supports more simultaneous connections than ExpressVPN. Additionally, NordVPN has more servers compared to ExpressVPN. Here you can learn more about the NordVPN and ExpressVPN comparison.
Also Read: Free vs. Paid VPN
---
NordVPN Review 2022: Final Words
NordVPN is a great VPN service provider and is 100% worth trying. There is no denying that NordVPN has extremely good download speeds. If you measure the annual plan of NordVPN against the plethora of rich features it gives you, then you will realize that this is one of the most affordable VPN services.
But, this premium VPN service does have its shortcomings. The biggest one is the variety of features that are restricted to a specific protocol or platform. Windows PC users do not get IKEv2 without downgrading to a lesser secure cipher, and users who have Macs don't get split tunneling or similar in-built tools.
Is NordVPN perfect? The definition of perfect software varies from person to person or their requirements with that particular software. So, it would be harder to answer this question. Overall, the software is good and you can use it for browsing securely over the web. But, if you belong to Africa or love to play games online that are restricted to another nation, you may get disappointed. So, in such a case, keep looking for VPN services. Otherwise, NordVPN can be a good pick for you.
That's all! We hope this review guide helps you make a wise decision. Do you want to add more? Then, please write to us in the comments section below. You can further drop your queries or doubts regarding the same.
Do sign up for our Newsletter! This will give you access to hundreds of blogs covering everything related to technical issues and the latest technology gadgets. Follow us on Facebook, Twitter, Instagram & Pinterest.
Harshita Sharma is a technical writer with quite a distinct understanding of the tech realm. She is a tech enthusiast who believes that tech knowledge should reach one and all and tries to convert the sketchy knowledge into the simplest possible form for making people understand the tech world better. When not playing with words, she loves to travel and explore new places. And, is a coffee & cricket connoisseur.
Subscribe to Our
Newsletter

and stay informed

Keep yourself updated with the latest technology and trends with TechPout.
Related Posts