7 Best Kaspersky Antivirus Alternatives for Windows PC in 2021

Kaspersky antivirus alternatives list has grown over the years, but if you are still unaware of the best Kaspersky alternatives then this is the ideal article for you. Below you will find the 7 best alternatives, so keep reading to know more about them.
According to a survey conducted in America, it was found that 50-70% of PC users have witnessed threats among various websites that they browse through. The reason why their PC is still safe is the antivirus. The antivirus software protects the system from all the threats and hackers that can harm the system and files present in the system. Kaspersky antivirus software has been great for most of the users in protecting their system but with time the level of threats and hackers are increasing but the offering of the software isn't.
Keeping the things that Kaspersky antivirus lacks, we have listed some of the best antivirus software like Kaspersky that you can use and eliminate all the threats from your computer. We have used the software and then listed them with all the required details below. Now let's stop the overview here and jump directly onto the list of best Kaspersky alternatives to use.
Best Kaspersky Antivirus Alternatives to Use in 2021
Here are some of the best alternatives to Kaspersky antivirus that you can use and remove all the threats from the system.
1. Norton 360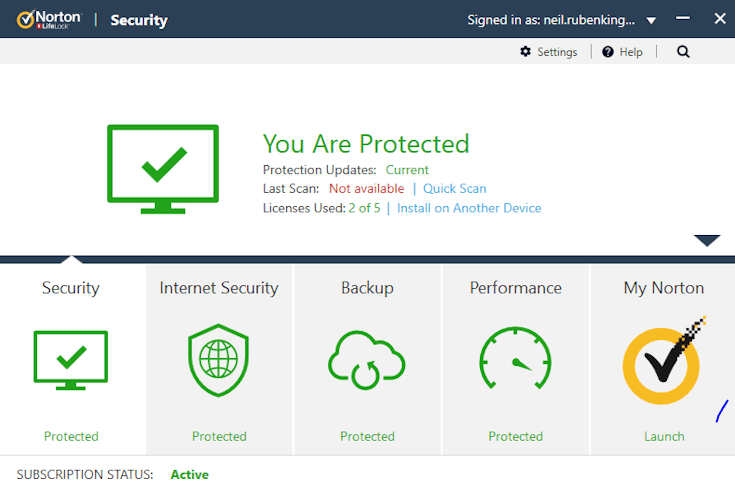 Norton 360 is one of the best Kaspersky antivirus alternatives. The brand has been offering security solutions for a long time now and has been leading the market for the same. The reason why we have kept Norton 360 in the first position is because of the performance and trust it has built over the years. Norton is the first antivirus software which was introduced in 1991 by the Symantec umbrella. After the division of the company, Symantec bought Lifelock in 2017 and in 2019, after which the name changed to Norton Lifelock.
The software offers a number of versions that users can pick according to their requirements. The 'identity theft' protection features single-handed make the software one of the best in the list which Norton borrowed from Lifelock.
The lowest level of the software offers utilities for PC maintenance with cloud backup up to 2GB. Whereas the standard version offers VPN, dark web monitoring, and 10 GB of cloud storage. The device compatibility and cloud storage space can be increased depending on the package you pick. Talking about the pricing, Norton 360 with Lifelock select is available for $99.99 for a year with five device licenses and 100 GB cloud storage. While on the other hand, the Norton Antivirus Plus is available for a $14.99 one-year license for one device. The Standard plan costs $39.99 for which we have mentioned the offerings above.
Also Read: 15 Best Free Cloud Storage Services in 2021
Pros
The antivirus software offers firewall and backup
It has one of the best malware protection among the competitors
You can easily manage your passwords
The identity protection of Lifelock give an edge
Cons
Expensive antivirus software
Performs slowly in some of the lower-end PCs
---
2. Webroot SecureAnywhere for Windows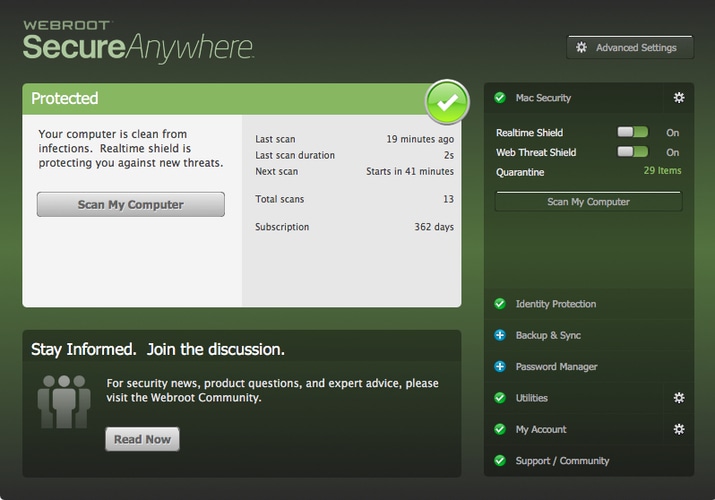 Webroot SecureAnywhere is antivirus software that we have kept on the list of Kaspersky antivirus alternatives. The company is based in Broomfield, Colorado, and has offices all across Europe, Australia, and California. Since 2006 the company has been offering security from threats. Later in 2019, the company was acquired by OpenText.
There are many malware and ransomware which can target your PC. To protect your system from all those threats, ransomware, and phishing attacks you can use this antivirus software like Kaspersky.
While using this Kaspersky antivirus alternative you get a separate email address which you can use assistance from the customer support team. For both Windows and Mac, the software interface is similar, the only difference is that the Mac version doesn't include a firewall. The software has a free trial of 14 days, after that, you need to pay $29.99 for one year license for one device.
Pros
The software offers a tool for phishing detection
As compared to other competitors, it has a very fast and accurate scan
You get notified when you enter or get malicious links
Pocket-friendly pricing
Cons
You get limited testing data
---
3. McAfee Antivirus Plus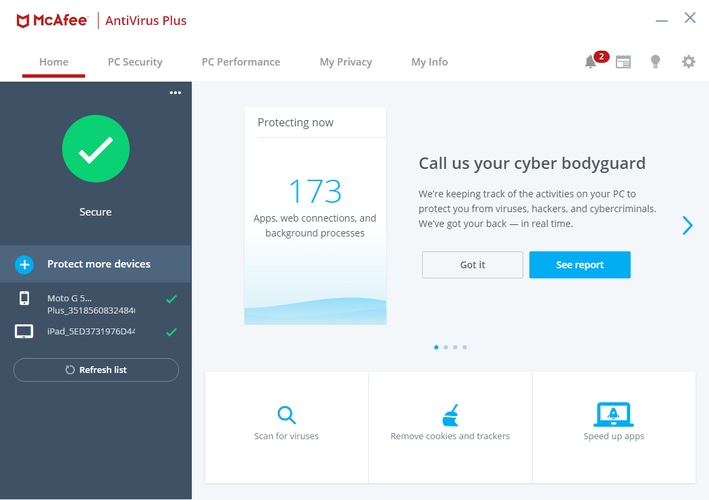 McAfee is another big name among antivirus brands. The company has been in the market since 1987. You can definitely consider McAfee as the best Kaspersky alternative as it offers everything which you would need from antivirus software. The company has recognized the growing numbers in the family which is why they offer a plan that can include all your family members.
Irrespective of the OS you have on your device you can use McAfee antivirus Plus. The antivirus supports 10 devices in the basic packages along with that it offers secure web browsing and antivirus. If you purchase the plan for two years then the company also offers a better price. The two-year subscription plan costs $19.99/ year, MTP 10 plan costs $44.99/ year. Other than this you can even take the unlimited device protection plan for $109.99 which includes 5 VPN licenses.
Also Read: 13 Best Firewall Software For Windows 10/8/7 in 2021
Pros
The antivirus offers all device protection including mobile OS
You can secure your PC from malware and detect them effectively
The firewall of the software offers great protection
It offers users many bonus features at a very low price
Cons
McAfee does not offer parental controls
You may not find many features for Mac or iOS devices
---
4. Trend Micro Antivirus+ Security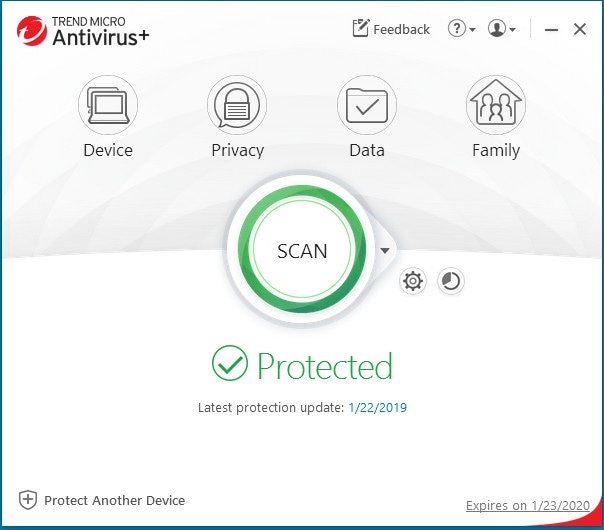 Next up in the list of best Kaspersky alternatives is Trend Micro Antivirus+ Security. The company is among the oldest service providers as it was founded in 1988 in Los Angeles, California. With time the company has grown and now it has headquarters in Irving, Ottawa, Ontario, Tokyo, and offices in many other countries.
This antivirus like Kaspersky has an aggressive system that works effectively in finding and removing threats from the system. The best part about this antivirus is that it charges a reasonable amount which is not common. The list of tools offered by the antivirus is very long, some of the best tools which we liked are, firewall booster, ransomware protection, and a hardened browser.
Apart from this, the tools may vary depending on the plan you choose, each plan offers unique features so that every user can find the plan which is suitable for their work. One-year subscription to Trend Micro Antivirus+ Security costs $29.95. You can even take a trial of 30 days for free.
Pros
Pocket-friendly and affordable pricing
The antivirus has a simple and easy to use interface which can be adapted by anyone easily
With Trend, you get protection on financial transactions too
There are many bonus features that are offered in the premium plan
Cons
Not available for Mac
You may not get protection for social networking sites
---
5. Malwarebytes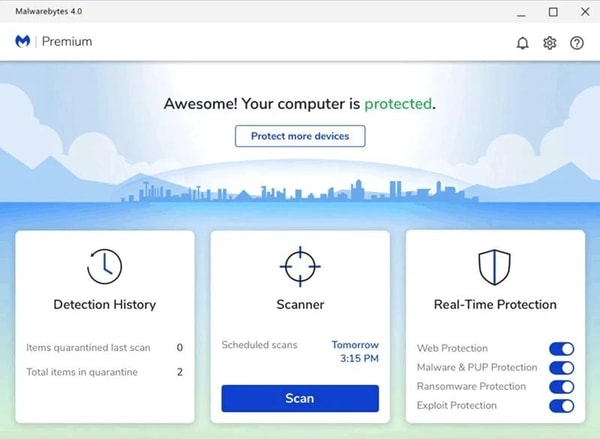 Malwarebytes is among the best Kaspersky antivirus alternatives to try in 2021. The company was founded in 2008 in Santa Clara California. The brand has been growing with only one motive of protecting home computers and mobile devices. Though the software is not completely antivirus software, it has tools that help you in removing malware and viruses.
This Kaspersky antivirus alternative has a specialty in capturing and storing malware that can harm your files. However, it doesn't protect the system from ransomware.
The software has free as well as a paid version where you can easily run scans and create a report. Depending on the time you wish to invest the software has a quick scan and full scan option. On the paid version you get 24/7 monitoring and assistance along with that you get protection from ransomware and shield from infected websites. The one-year subscription to Malwarebytes costs $29.99.
Pros
Malwarebytes works effectively with antivirus software
It detects threats in real-time and displays them on the screen
You get protection from malware
Effective and fast scan results
Cons
This is not exactly antivirus software
---
6. Bitdefender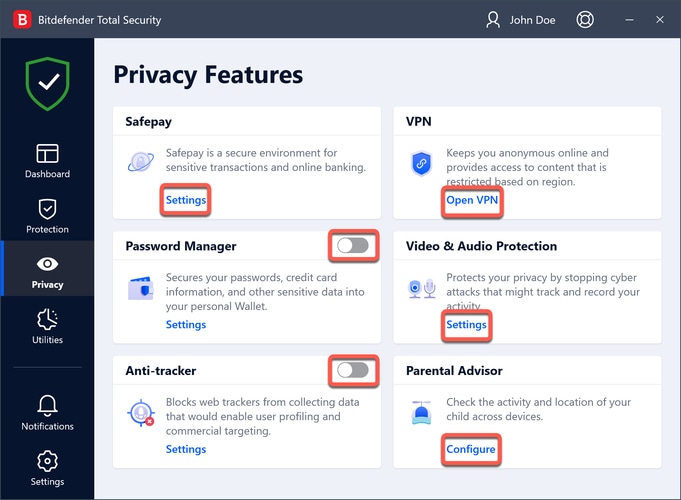 Bitdefender is another great Kaspersky antivirus alternative software that you can use to protect your system from all viruses and threats. Bitdefender was founded in 2001 and has its headquarters in southern Romania. With offices around the world, the company has more than 1600 employees to help you get the best experience with the product.
This antivirus software like Kaspersky is a company entry-level antivirus that offers ideal tools for home users and users with less knowledge. The features of this software include ransomware protection, password management, monitoring online purchases, create unique passwords for each website, and others.
The best part about this software is that it is compatible with every device including Windows, Mac, iOS, and Android. It has a free as well as a paid version for every user, you can choose whichever version you want. The free version offers limited features and is only available for 30 days. While on the other hand, the premium version is available for $26 for one year, one device.
Also Read: 13 Best Free Spyware Removal Tools For Windows PC In 2021
Pros
It offers great ransomware detection
You get better data privacy with Bitdefender's 'Do Not track' tool
You can easily manage and update passwords with this Kaspersky antivirus alternative
The software gets frequent updates to fix bugs and other minor issues
Cons
For VPN you need to make a separate purchase
---
7. Panda Security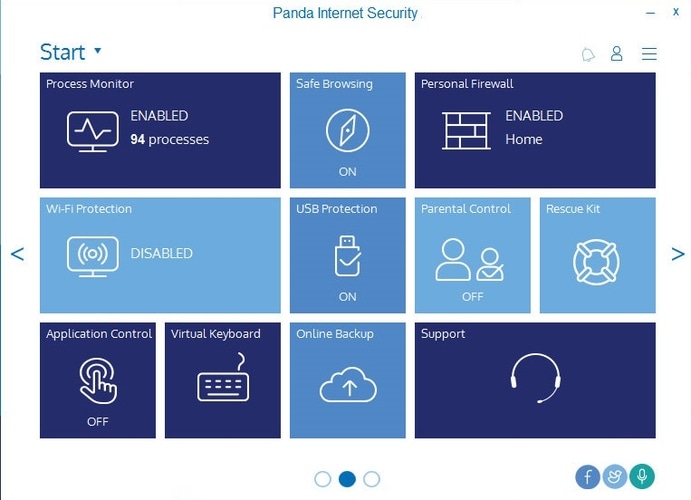 Last up on our list of best Kaspersky alternatives is Panda Security. This antivirus software like Kaspersky is new but it doesn't affect its performance or security levels. The software is developed with the latest algorithms and techniques which helps you in offering the best security. It has a shield that protects the device from viruses, trojans, malware, and rootkits.
Using the antivirus you can easily monitor each and every file/ program which can have malware or threats. After monitoring you can even mark them safe for the future. The software has two premium plans along with that you get a free trial too. The pricing of the premium plans are $33.87 for the advanced version and $50.81 for the complete version.
Pros
Simple and straightforward antivirus
The software offers great tools for malware removal
You can easily filter from web, mail, and application depending on the requirements
It has an inbuilt VPN module
Cons
You may not get much freedom for customization
---
Final Words on the List of Best Kaspersky Antivirus Alternatives for Windows PC
The above-mentioned antivirus software are the best Kaspersky alternatives according to us. All the antivirus software listed above has similar or better tools that can help you keep your PC or mobile secured. Some of them are even compatible with every OS while others are available for dedicated ones only. You can read all the details in brief and then decide which antivirus software suits your work and requirements. Mention which Kaspersky antivirus alternative did you choose and why in the comments section to help other readers. If you have any doubts or suggestions about this article, then also you can write in the comments section. We will try and assess you with the doubts as soon as possible.
Tanmay is a technical writer from the field of mass communication. He aims to communicate the best of the technology to the readers through his write ups. If not writing you can find him with his camera capturing nature and exploring the unexplored world.
Subscribe to Our
Newsletter

and stay informed

Keep yourself updated with the latest technology and trends with TechPout.
Related Posts