10 Best Free Spyware Removal Tools For Windows PC in 2020

Why do you need the best spyware removal tool? Well, you must have been aware of one of the oldest and pervasive forms of malware known as spyware. It is a type of malicious software that infiltrates the security vulnerable system and steals sensitive information like username, passwords, bank details, etc. without the knowledge of its owner.
It makes an entry into the targeted computer by disguising itself as a legitimate or authentic program, making it difficult to identify and remove.
Therefore, it is extremely important to have an advanced spyware removal tool installed on your Windows machine. These programs come with an effective real-time protection that allows you to keep your Windows PC free from all visible or invisible malware threats.
There are a plethora of anti-spyware tools out there but choosing the ideal one for your Windows PC can be an extremely painstaking task. And if you don't know how to shortlist the best one, no need to worry, we are here to help! 
To make this tedious job a little bit easier, we have prepared a comprehensive list of the best spyware removal software to help you find the perfect one for your Windows computer.
Important: All the tools mentioned below not only checks your computer for spyware or suspicious files but also helps you prevent other forms of malware like viruses, ransomware, trojans, etc. from gaining access to your system.
Best Free Spyware Removal Tools For Windows 2020:
Below are some of the best spyware remover utility of 2020 that can help you protect your system from the latest computer viruses, malware, ransomware, and spyware attacks and restore a threat-free environment. Let's jump right into the list:
1. Malware Crusher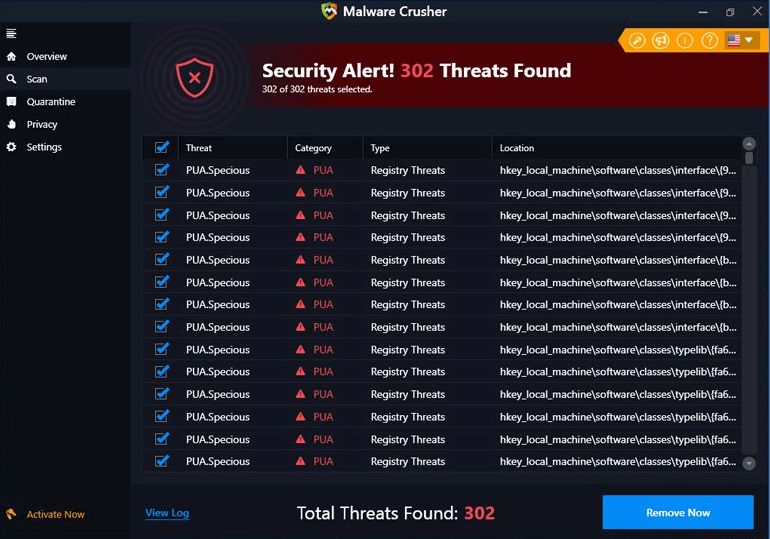 Many users have the question, 'Which is the best anti-spyware software program?' and the obvious answer to it is the Malware Crusher. It comes with a powerful real-time protection that prevents any malware or fraudulent entities from gaining access to your computer. Moreover, it creates a shield around your Windows PC against the most dangerous and next-gen malware threats, including spyware.
Also, Malware Crusher is an AppEsteem and Checkmark certified program that confirms its effectiveness in providing the best anti-malware protection.
Notable Offerings:
Real-time protection to crush any sort of spyware infection
In-depth scanning to detect suspicious behavior on your PC
It detects and prevents keyloggers from recording your session data
Keeps your browsing activity safe from spying entities

Read More: Download Best Free Antivirus Protection for Windows in 2020
2. Avast Free Anti-virus
Avast free antivirus constantly scans every corner of your PC and detects and removes all active malware infections before they become a major problem. From common network vulnerabilities and malicious computer viruses to zero day threats, Avast antivirus aims to provide the complete system security solutions.
The beautifully designed, user-friendly interface and award-winning protection features make it an ideal spyware removal tool for Windows PC.
Notable Offerings:
Lightweight, fast, and powerful security solution
Removes malicious program before they cause harm
Digital privacy protection to keep your online identity safe
Do Not Disturb mode to keep annoying popup ads away

3. AVG Antivirus Free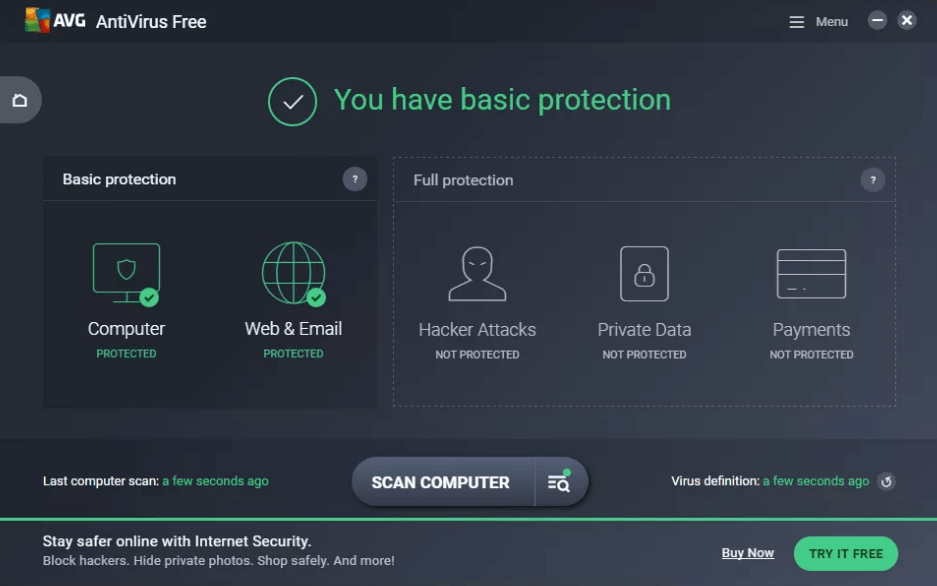 AVG is another highly-rated antivirus program that also provides impressive protection against the spyware, viruses and other latest threats. It is very easy to setup and use, plus has a simple user-friendly interface which is available in more than 20 languages including Japanese, Hungarian, Chinese, Spanish, French, and Portuguese.
Notable Offerings:
Fast and accurate deep scans
Blocks malicious email attachments and unsafe, third-party download links
Protects your computer against latest malware infections in real-time
Free version supports Windows, Mac, Android, and iOS devices

4. Auslogics Anti-Malware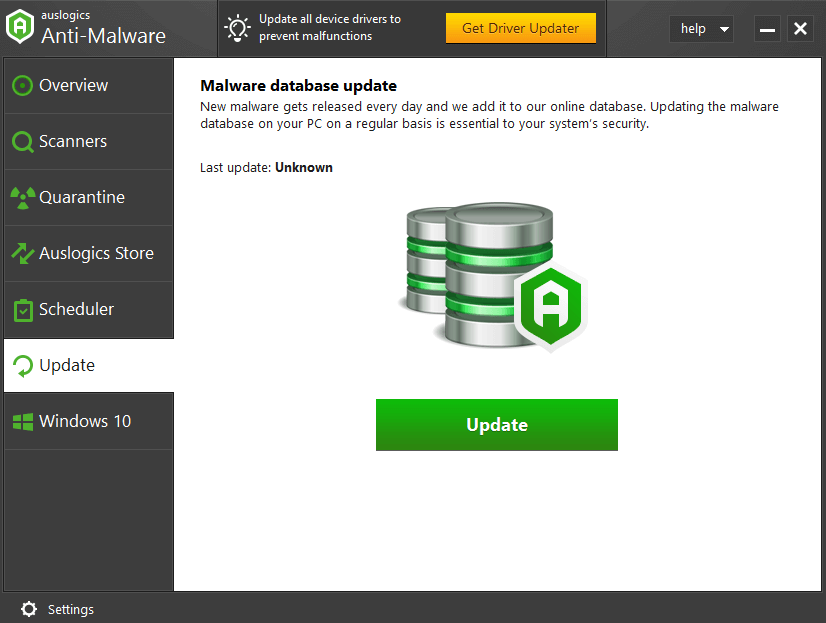 With more than 20 million users worldwide, Auslogics anti-malware currently ranks among the best Windows spyware removal tools. It runs a thorough scan of your computer and removes the cookies and privacy exposing items that track your online activity and collects your confidential information.
Notable Offerings:
Quick to install and has an intuitive interface
Constantly checks your system for any potential security threats
Allows you to quarantine suspicious programs so you can restore them whenever you need 
Comes with automatic scan that you can schedule as per your requirement

5. IObit Malware Fighter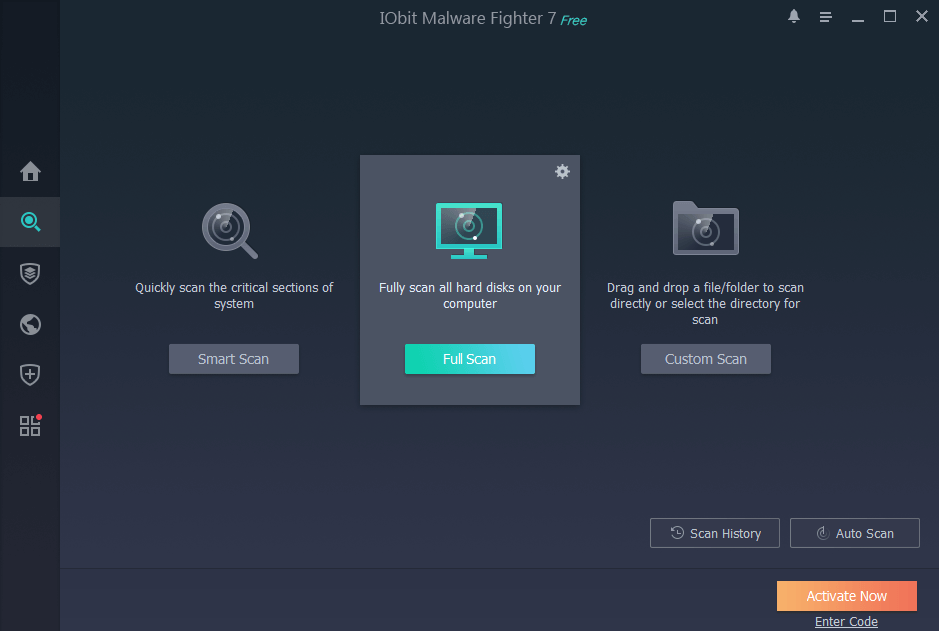 Don't know how to remove spyware from your Windows 10 PC? But, want to keep your sensitive information away from spying individuals? In order to keep your digital life private, all you need is the best spyware removal tools for Windows 10.  
IObit Malware Fighter is one such nifty tool that can help you keep your PC secure against all data safety threats, including Trojans, spyware, and ransomware.
Notable Offerings:
Fast and in-depth computer scanning
Real-time malware and privacy protection
Clears out cookies to keep your browsing activity safe
Prevents suspicious programs from gaining unauthorized access

Read More: 11 Best Android PC Suite For Windows 10/8/7 (2020)
6. SUPERAntiSpyware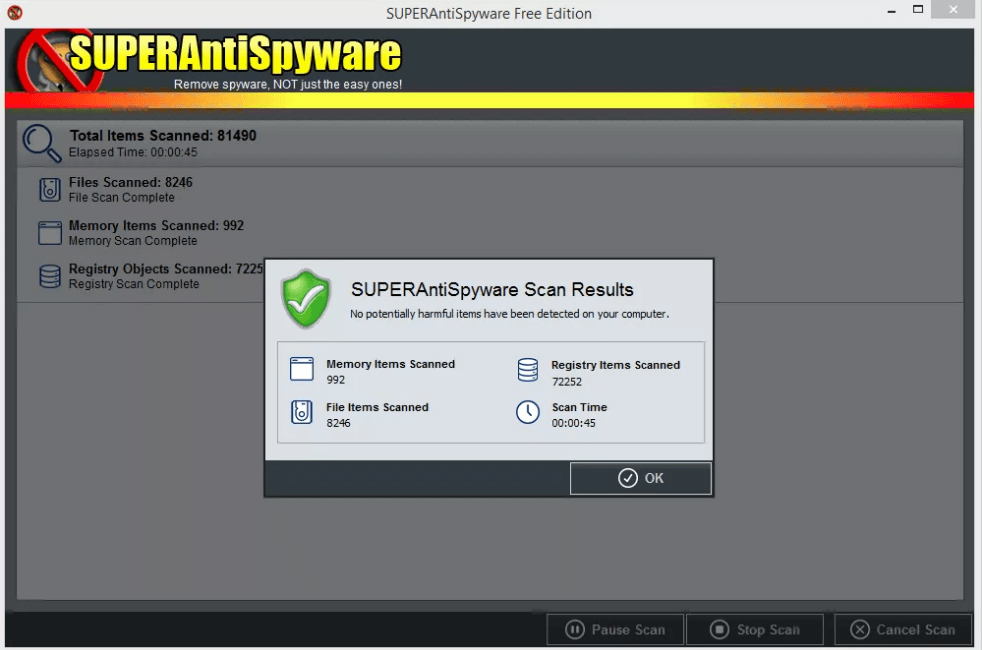 You can't talk about the best free anti-spyware tools for Windows without including SUPERAntiSpyware. As the name suggests, it is super-efficient when it comes to detecting and removing threats like spyware, ransomware, trojans, browser hijackers, PUPs, worms, and many more.
Notable Offerings:
Fast and lightweight program with easy to use interface
Up-to-date, real-time protection against the most deadly malware threats
Detects and prevent keyloggers from monitoring your activity
Blocks suspicious programs before they perform any malicious activities 
7. Comodo Anti-malware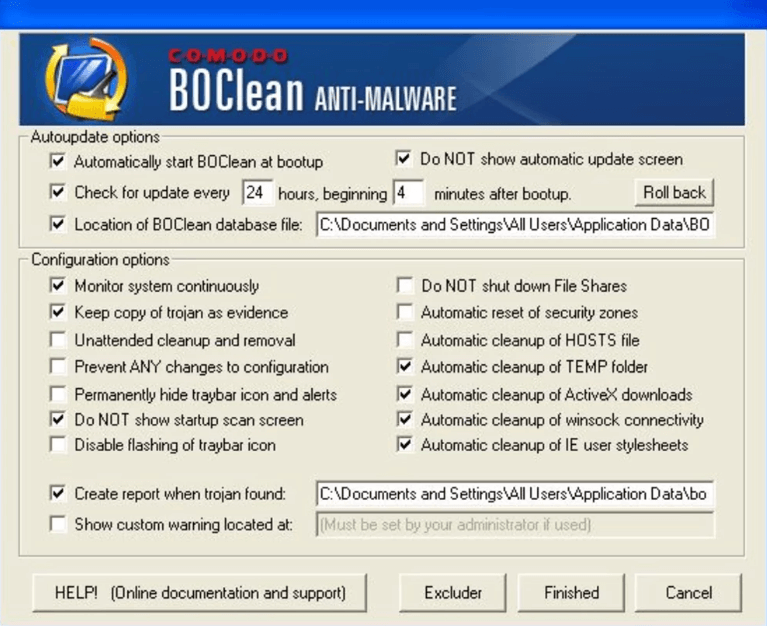 BOClean Anti-Malware from Comodo is another prominent spyware removal software that comes with many award-winning security features to help you keep your computer safe from the most dangerous and emerging data safety threats. 
Notable Offerings:
Lightweight app that doesn't consume much of PC resources
Detects any suspicious or malware related activity on your computer
Protects your PC against spam proxies and relays attacks
Clears out invalid registry entries

8. SpywareBlaster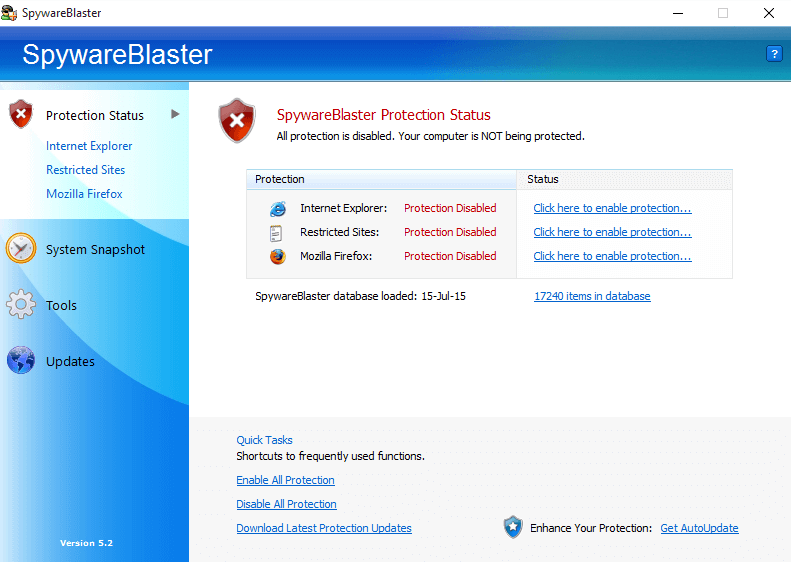 SpywareBlaster is one of the best anti-spyware software programs developed by Brightfort. It comes loaded with top-notch security solutions that prevent the installation of spyware and other harmful malware infections. So, if your computer is suffering from a spyware infection, give this utility a try.
Notable Offerings:
Fast, effective and easy to use application
Blocks spying cookies and popup ads from recording your browsing activity
Blocks the suspicious third-party websites and potentially unwanted programs

Read More: List of Best Bluetooth Software for Windows 10 in 2020
9. Xvirus Anti-Malware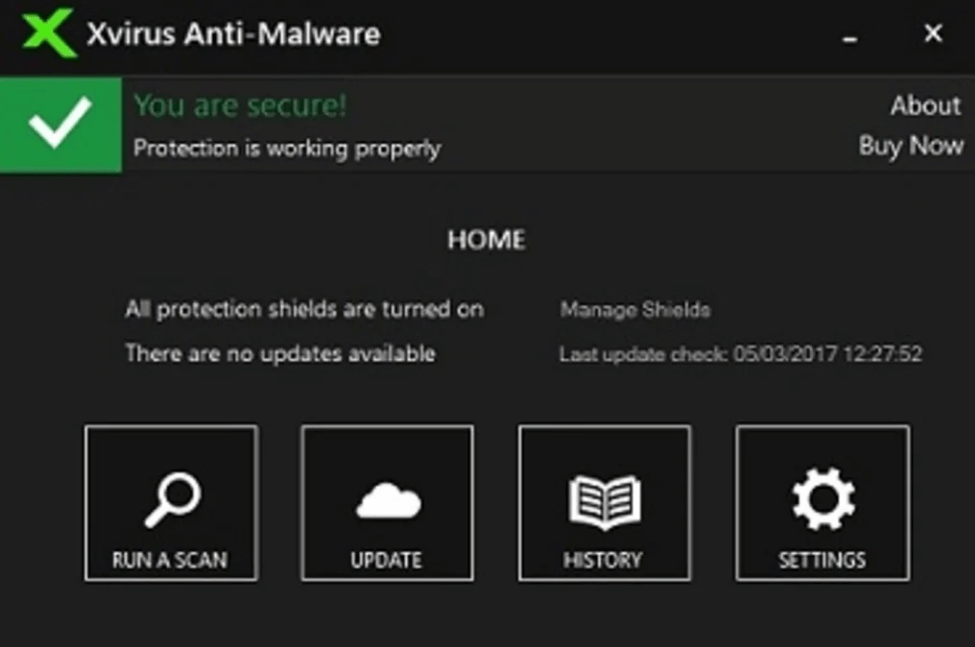 It is another easy to use application designed to help you keep your computer free from all threats. The combination of powerful real-time protection and impeccably-designed interface makes Xvirus Anti-Malware one of the best free spyware removal tools for Windows.
Notable Offerings:
Easy to use and setup
Protects your computer from all forms of malware, including ransomware and adware
Compatible with antivirus suites
Free version is completely free of popup ads

10. Spybot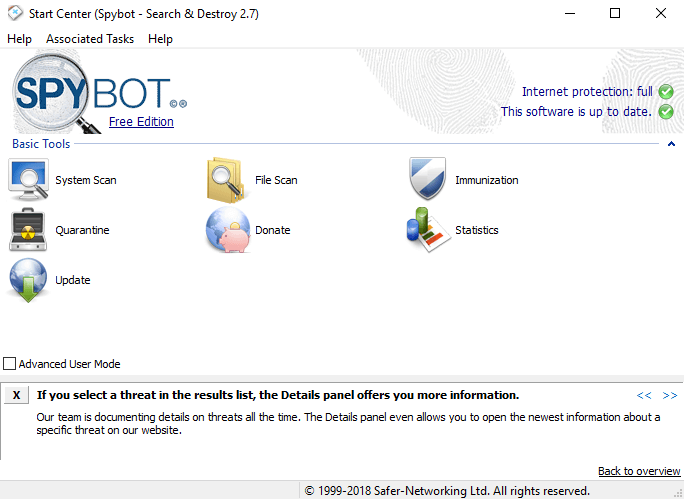 It might come last in our list of spyware removal software but it's still an effective solution, especially if you're looking to keep hackers away from collecting and misusing your personal and financial information. With the help of Spybot, you can stop spyware, adware, ransomware and other malicious programs from gaining access to your system.
Notable Offerings:
Simple and easy to use product
Avoids suspicious, unsafe websites
Offers complete security solutions against the latest malware threats

Few Tips to Prevent Spyware Attacks In 2020
Below are some of the best security practices and prevention tips that you should follow in order to stay safe and secure your system:
Use an advanced spyware removal tool to detect and remove privacy exposing items from your system.
Always keep your computer's operating system and other programs updated with the latest security patches and bug fixes.
Never download freeware from suspicious and unsafe domains as they often contain other malicious programs.
Do not click on pop-up ads or links you don't trust. Hackers often use these luring offers or advertisements to redirect you to malicious websites and steal your sensitive information.
Never download email attachments from an unknown or untrustworthy source.
Make sure your computer and all other accounts are protected with a strong password. Also, enable the multi-factor authentication (if available).
Backup all your important files regularly to an external hard drive or cloud storage apps to prevent data loss.
So, this was all folks! The easiest solution to protect yourself from spyware and other malware threats is to use the best spyware removal tool for your Windows PC. Also, follow all the aforementioned internet safety tips to stay safe online and prevent the unwanted gathering of your valuable data.
Monil is a professional writer whose forte is absorbing a lot of data and help large technical organizations convey their message clearly across multiple products. An engineer by qualification, his affinity for design enables him to write to inspire, energize, and influence various audiences to uncover their true potential. When not writing, Monil is likely to be found listening to music, traveling, or simply excavating into his favourite cuisines.
Subscribe to Our
Newsletter

and stay informed

Keep yourself updated with the latest technology and trends with TechPout.
Related Posts