Useful Ways Google Maps Benefits Online Transportation Business

The presence of modern technology is ubiquitous today, facilitating our lives in ways that meet the eye. Mobile apps have become indispensable in our day-to-day lives, and their influence is far-reaching, shaping a growing number of decisions as well as actions. Ride-hailing apps are a crucial part of a technological sphere in which each encounter is intended to promote experience, user convenience, and comfort.
Google maps can help increase the business's visibility; it helps ride-hailing and transportation businesses manage vehicles, enhance drivers' efficiency, and navigate them. Ride-hailing giant Uber heavily relies on Google Map and has paid around 58 million for map service.
Embedding a Google Map into a transportation app can help to improve drivers' overall journey. Now drivers don't have to switch between multiple apps to get the direction, as they get everything in one place.
Why is Google Maps Effective for Your Transportation Businesses?
Google Maps provides real-time location information. The Google Map platform offers three different products that are,
A business can begin collecting valuable information. With Google Maps, the transportation sector can provide customized maps to the users, helping them create an immersive experience. This is the reason why more and more fleet business owners leveraging advanced technologies such as Google Maps to improve business standards, have a look at below pre-built solutions,
Eber is one of the best platforms designed for taxi businesses to manage all processes related to online bookings and comes with Google Map facility.
Zoom Taxi offers a user-friendly solution that helps fleet business owners in streamlining online taxi booking requests.
Taxi Pulse provides a robust platform designed for small and medium scale taxi businesses that include all the powerful features and improve fleet operations.
Above platforms are well-versed and developed with smart technology solutions, it will surely automate your business and bring you better output in a short time.
Also Read: Google Maps Finally Introduced Incognito Mode to iOS
---
Google Maps Improves Efficiency of Transportation Business: Explore How
COVID-19 pandemic has changed most business models; it has changed how offline or traditional business operates. Nowadays, more than 60% of transportation companies have opted for the "tracking" system. It has provided opportunities for service providers, including meal delivery, transportation, and many more. And businesses losing to understand its importance and eliminating using the same might lose various opportunities coming on their way.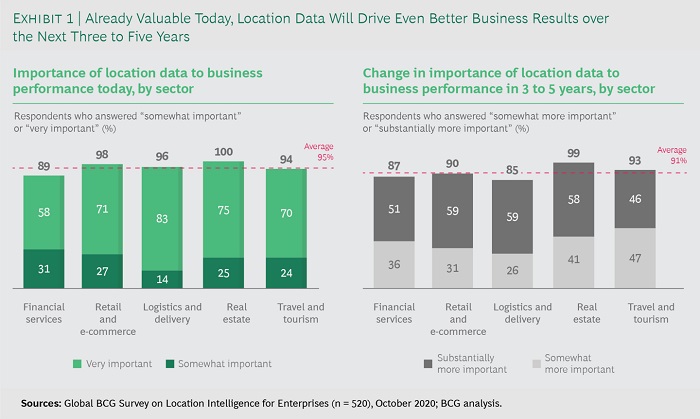 Image Source: BCG
BCG Boston report shows that the transportation sector that has introduced location-based apps has experienced an increase in its business sales. It helps increase 6 to 10% while helping to increase the retention rate by 8 to 10%. While delivery giants using the location system experience an increase in their orders by 4 to 7%, this is relatively higher compared to previous years.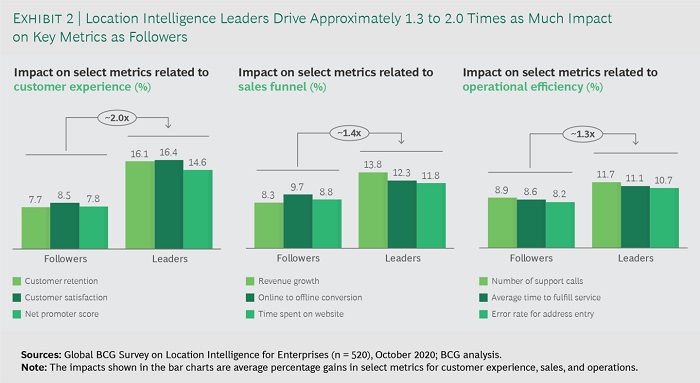 Image Source: BCG
Google Maps helps businesses to provide accurate real-time location. Businesses looking to develop an app can integrate Google Maps to navigate drivers, track vehicles, find nearby routes to reach the destination, and much more. It makes it easier for you to plan for different possibilities and improve the business operations. Now you might be wondering how Google maps help transportation companies to increase efficiency and productivity, then explore further to find your answer.
Plan Most Effective Route
Route optimization becomes more straightforward with Google Maps. You can integrate Google maps while developing an app for transportation business; it makes it easier for drivers to find the nearest route to reach the destination. Smooth and effective driving planning helps businesses to provide on-time delivery to customers.
Apart from planning the shortest route, the function helps to create an effective traffic model. It helps you plan and manage your service during peak hours and also helps to plan efficient operation strategies. Additionally, it helps to plan nearby routes and avoid high traffic roads, highways, etc.
---
Provides Great Navigation
Google Maps is modern technology that provides you with mapping data from all over the world. It presents the best navigation opportunities as a result of the technology. Providing excellent navigation for bike rental apps, ride-hailing systems, and others can help to increase customer loyalty and decrease cancellation. It also helps the transportation business to increase the number of rides they take each month.
Also Read: Google Maps Foreign Translation Feature: All You Need To Know
---
Excellent Experience Offering for Drivers
Constantly switching between a navigation and driver app can be tedious, and it can sometimes be unsafe. But Google Maps helps you provide an improved experience to drivers; this technology makes it easier for them to focus on reaching the destination without the need to switch between multiple apps.
Google Maps can help transportation businesses introduce a safer and more straightforward route to reach the destination. They can explore traffic information and other issues that they come across while traveling through a specific route. This makes it easier for them to avoid sticking into traffic and reach pickups and drop destinations faster and easier.
---
Handle Business Operations Systematically
Integrating Google Maps into the transportation system can make it easier to gather information and other details. It also provides you with drivers' navigation behavior, the route they follow, and much more. All this information can help you improve the overall efficiency of your business.
Accurate driver location and data helps transportation businesses and drivers to make a better decision. It helps them save time and the efforts of drivers, which can be utilized to take a business to the next level. It also helps you decrease transportation costs and enhance customer experience simultaneously.
---
Improve Planning for Last Mile Deliveries
Google maps enable transportation businesses to optimize their routes and enhance their devising. With adequate data, it becomes possible to achieve improved efficiency in terms of distances and consumption. It makes it easier for drivers to organize pickups and react smartly to the changing traffic conditions. However, it also helps increase customer satisfaction by providing them with an estimated delivery time and the driver's real-time location.
---
Helps to Identify Common Patterns
Modern geolocation tools enable transportation companies to convert crucial activities into digital ones. Google Maps make it easier to identify the most common patterns of the path to be traveled by a specific vehicle. Hence it becomes easier for businesses to adapt to reality and plan things accordingly.
Also Read: How to Use Google Maps & Get Traffic Updates
---
Final Thoughts
Transportation is no longer limited to traveling from one place to another. It includes delivery of meals, parcels, and much more. Google Map is proven to be much-needed support for transferring the journey into comfort and speed up the regular one. It provides the vision to transportation businesses to identify the unknown things and plan their journey accordingly.
Linking the ease of cutting-edge technology with your transportation system is a need of the hour. Before jumping to any decision, make sure to perform market research and find which technology can satisfy your business requirement. Also, ensure that it helps to provide an improved overall business operations and customer experience.
Jay is an incredible writer who loves to give life to words. He is always carrying out some research and likes to keep himself updated with the happenings around him. Writing runs in his blood makes him happy. When not working, you can find him singing, composing poetry, writing horror stories, playing action games on the laptop and munching on food.
Subscribe to Our
Newsletter

and stay informed

Keep yourself updated with the latest technology and trends with TechPout.
Related Posts