Glary Duplicate Cleaner Review 2021 [Complete Guide]

Glary Duplicate Cleaner review 2021. Read it to know whether Glary Duplicate Cleaner is worth trying or not.
Hogging up disk space makes the respective machine lethargic and weak. And, there arises a need for the best disk cleaning software. The majority of storage space clogs due to the dupe shots. Its human tendency to keep numerous pictures stored doesn't matter even if the pictures are identical.
And, these duplicate pictures make the PC run slower than expected. So, it is extremely crucial to clean the PC from time to time. In addition to this, the marketplace is filled with such kinds of software. However, not all of them are good to try. But, out of all, we find Glary Duplicate Cleaner is currently ruling the marketplace. Hence, we decided to test & review the software.
In this guide, you will learn everything about the software be it price, features, or shortcomings. So, without wasting more time, let's kickstart the Glary Duplicate Cleaner review 2021 with a quick overview of it.
Full Specifications of Glary Duplicate Cleaner
Operating System: Windows XP, 2003, Vista, 7, 8.1, or 8
License: Freeware
File Size: 7.92 MB
Current Version: 5.0.1.37
---
What is Glary Duplicate Cleaner?
Lives up to its name, just like Glary refers to harshly brilliant, similarly, Glary Duplicate Cleaner is the best cleaning program that provides complete assistance to detect and remove the dupe shots safely on your PC. The software has the ability to scan multiple drives at a time. Also, with this software, you can unlock the full potential of your PC and enjoy the best ever performance. It has a filter search option that enables you to set specific search and comparison criteria. Along with this, the software possesses some of the best features.
---
Features & Highlights of Glary Duplicate Cleaner
While reviewing the software, we learned that it has some amazing sophisticated features which makes it the best duplicate photo finder in the marketplace. Below, we have mentioned them, have a look!
1. Easy to Use
The best thing about this cleaner software is that it is extremely easy to use. Even if you are a newbie and accessing it for the very first time, then you can easily use the software without any complications.
2. Deep & Fast Scan
The software just takes only a few couples of clicks to find the number of duplicate or identical images, documents, or videos. After this, the software automatically sends the duplicates to the recycle bin.
3. Preview Option
Unlike others, the software has a file preview feature that lets you check the scan results before making any changes.
4. Accurate Scan Results
Accuracy is the leading factor that should be considered one of the primary reasons for using the software. And, Glary Duplicate Cleaner absolutely fits the bill. The software quickly scans your system for identical or duplicate pictures, documents, audios, or videos and provides a detailed report within a very less period.
5. Speed-up Performance
The software frees up a decent amount of storage space by deleting the unwanted files, which eventually heads to the top-notch performance of the system.
Also Read: 10 Best Glary Utility Alternatives for Windows and Mac

---
Why to Use Glary Duplicate Cleaner?
Some unique features make Glary Duplicate Cleaner a top software to get rid of duplicate or similar pictures. Below we have mentioned some points that justify why to use Glary Duplicate Cleaner only.
1. Filter Scan Option
The software has a much-needed feature that saves users a lot of time. The software comes with custom matching conditions that allow its users to search or select the files based on set criteria including file type, content, size, and date of creation. In simple terms, Glary Duplicate Cleaner gives complete freedom to its users to search a particular file, folder, drive for duplicates.
2. Exclude Files
Now, here is one of the rarest features of Glary Duplicate Cleaner and i.e., exclusion of files. So, you can choose the file which you don't want to delete, for this, simply click on Exclude option.
3. Free Version
The most exciting thing about this software is that users can use all of its rich features absolutely for Free.
4. Backup & Restore
The software comes with a default backup & restore function that lets its users backup the files so whenever needed the files can be restored easily.
5. Removal in One-Click
With the Glary Duplicate Cleaner, you can delete all junk or duplicate files just within a single click of the mouse. This should be considered a good feature especially when you are running out of time.
6. Clean Interface
The interface of Glary Duplicate Cleaner is divided into two sections i.e, file types and duplicate files. This helps you to choose the particular kind of document which you wish to delete.
7. Search for Multiple Files
With this software, you can search for multiple duplicates at once, and later the software will delete them in just a few seconds. Thus, you can safely remove duplicates and free up an ample amount of storage space.
So, these were some of the best Glary Duplicate Cleaner features that we have liked about the Glary Duplicate Cleaner. Now, let's take a step further to know how it works.
Also Read: How To Find Best Duplicate Image Cleaner [Expert Guide]

---
How to Use Glary Duplicate Cleaner?
Moving ahead, now here are the steps to find and remove the duplicate as well as identical images through Glary Duplicate Cleaner. Let's read them!
Step 1: First of all, head over to the official website of Glarysoft to download the Glary Duplicate Cleaner. You can get the cleaning software for Free from the download link shared below.

Step 2: Then, run the setup file and click Next. Later, follow the onscreen instructions to get the Glary Duplicate Cleaner installed on your PC.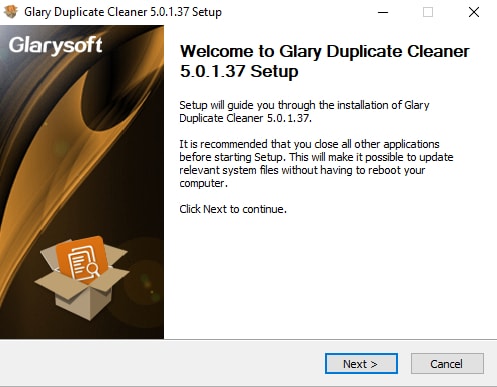 Step 3: After this, launch the utility on your machine and choose the drives or folders you want to scan.
Step 4: Click on Scan.
Step 5: Now, wait until software scans your PC for duplicate pictures, videos, audios, or documents.
Note: The Glary Duplicate Cleaner automatically starts looking for the duplicates, once you install and launch it on your PC. But, if you want to initiate duplicate search manually then you can also do so, for this, you just need to click on the Scans for Duplicate Files option.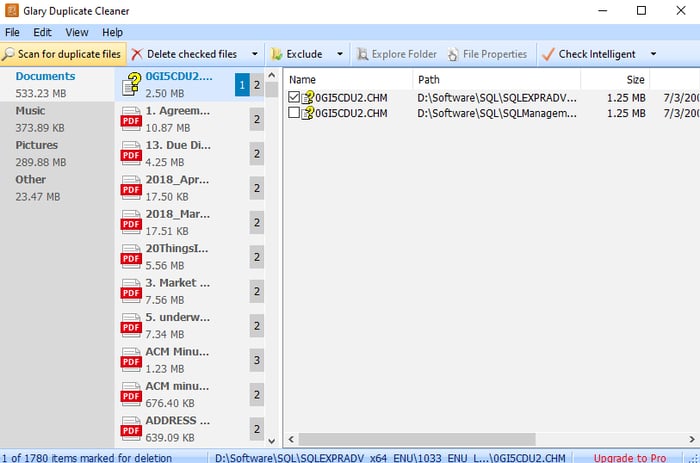 Step 6: Thereafter, choose the files you want to delete and click on the YES option to affirm your actions.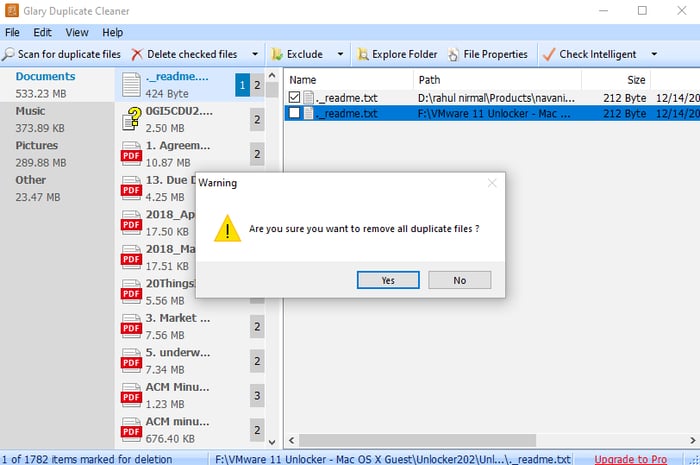 Step 7: Next, click on the Delete Checked Files option and again click on YES if a confirmation box pop-ups.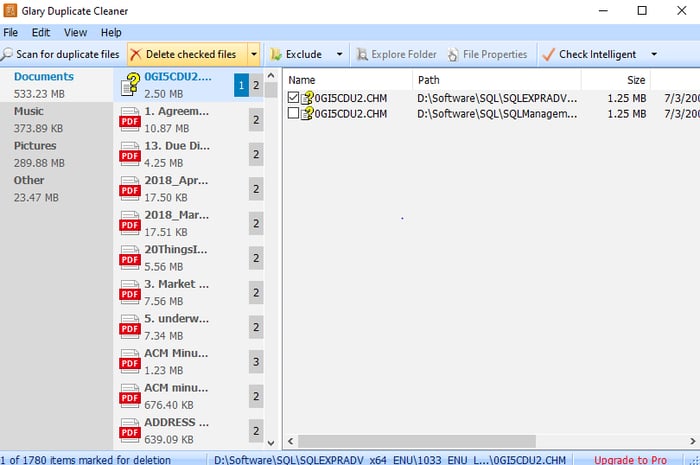 Now, wait for a couple of minutes until the software deletes all the unwanted files. See how easy it is to detect and remove all dupe shots with Glary Duplicate Cleaner.
Also Read: How To Delete Duplicate Photos Of Different File Formats

---
Pros & Cons of Glary Duplicate Cleaner
While reviewing the cleaner program, we found there are some advantages as well as disadvantages of using the software. Let's first discuss the pros of Glary Duplicate Cleaner:
Pros
Lightweight and quick cleaning tool.
Concise interface.
100% free to use.
Multiple duplicate files can be searched at the same time.
Offers various filter options for duplicate search.
File exclusion.
Group-based removal of duplicates.
Cons
No advanced features.
Other software can be much more effective than it.
Pricing
Now, here comes one of the most important aspects of any software i.e., pricing. And, you will be pleased to know that the software has a freeware license. So, anyone can use it for free.
Also Read: 15 Best Free Duplicate File Finder & Remover For Windows 10, 8, 7 In 2021
---
Bottom Line: Glary Duplicate Cleaner Review 2021
That was an accurate and instant Glary Duplicate Cleaner review. No wonder why Glary Duplicate Cleaner is the best way to find and delete the dupe shots. After testing the software, it is safe to say giving Glary Duplicate Cleaner a try is not a bad option. Though we understand that software has some shortcomings too, but those can be ignored.
We hope this 100% unbiased review guide will help you make a feasible decision. Let us know your opinion about Glary Duplicate Cleaner in the comments sections below.
Also, if you want to read more review guides just like this one then don't forget to subscribe to our Newsletter. Join us on Facebook, Twitter, Instagram, or Pinterest.
Harshita Sharma is a technical writer with quite a distinct understanding of the tech realm. She is a tech enthusiast who believes that tech knowledge should reach one and all and tries to convert the sketchy knowledge into the simplest possible form for making people understand the tech world better. When not playing with words, she loves to travel and explore new places. And, is a coffee & cricket connoisseur.
Subscribe to Our
Newsletter

and stay informed

Keep yourself updated with the latest technology and trends with TechPout.
Related Posts