8 Best Ways to Fix YouTube Black Screen Problem
Published Date :
May 27, 2020

YouTube seems to be the best place to get all the latest videos and music, but if you have come across the YouTube black screen error, then you definitely won't be able to enjoy YouTube videos.
It usually occurs when you click on a video for watching and then the video player pops open with a black screen. Your video doesn't play and there is no picture on YouTube. Sometimes the image doesn't appear for a short whereas sometimes it stays like that for the entire video.
It can be frustrating but don't worry as we are here to help you deal with this problem in smarter ways. 
Our blog will guide you through fixing the YouTube video black screen error. We have rounded up many solutions so you can try them and figure out which one would work the best for you.
How to Fix YouTube Black Screen Problem? Try These Fixes:
If your YouTube videos are appearing black, then here's what you can do to watch your videos again.
Fix 1: Refresh Your Web Page
The simplest solution to try out once you are facing the YouTube black screen issue is to refresh your web page. You can press F5 or the reload icon on your web browser to refresh the web page. This will refresh the YouTube video as well and your video might start playing readily.

You can also restart your browser by closing the application and then open the web browser again. Post this try accessing YouTube and see if the videos are playing appropriately or not.
Fix 2: Verify the Internet Connection Status
You may experience black screen YouTube videos if the network connection is not functioning correctly. There could be many scenarios that may be causing this issue and therefore you can try a number of solutions to get rid of the YouTube black screen error.
A.) Check Your Internet Connectivity and Internet Usage
First of all check your internet connection and troubleshoot issues related to outdated network drivers with the help of a driver updater tool. Also, check your WiFi router or modem for loose connections. You can restart your router and see if that fixes the problem of internet connection and also the black screen of YouTube.
Additionally, you may also disable the network connection of the programs or devices that may be interfering with your network connectivity and slowing down your network speed.
Read More: Best Ways to Speed up Your Internet Speed
B.) Try a VPN Service
If your local internet connection is giving you some kind of trouble and you are unable to view any image or video on YouTube, then you can try connecting to a VPN service which can resolve the issue for you.
We recommend using ExpressVPN and NordVPN as they are the most popular and trusted VPN providers available in the industry.
You can also manually connect to a VPN server and set up the VPN connection but if you are not proficient in it then, you can install a tool as per the above recommendations and stream your YouTube videos seamlessly and enjoy them. 
ExpressVPN is a simple tool that comes with a lot of data encryption and protection techniques. It also streams your videos at a greater speed without interruptions.
After installing the application on your computer, you can connect to a server of your choice and then access YouTube to watch your videos peacefully.
Fix 3: Sign Out of The Google Account You are Using to Watch YouTube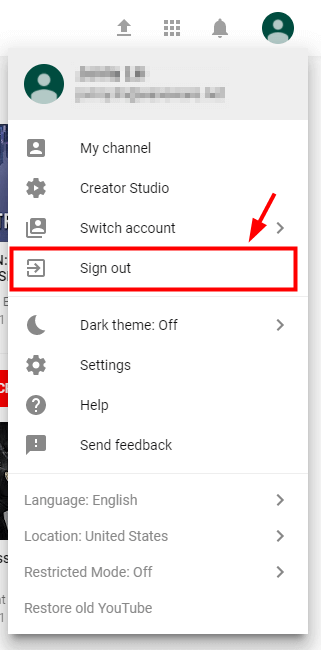 YouTube is generally accessible with our Google account. If you are experiencing YouTube video black screen, then you can sign out of the Google account and sign in again to fix the issue.
Alternatively, you can also try to login with another Google account to see if that is also able to help in solving the YouTube video playing issue.
Fix 4: Clear Browsing Cache and Cookies
When you have a black screen while you are attempting to play a very important You-tube video, it's not only irritating but it is also a moment of worry. If you think, what could have created such a black screen for you? You would probably stumble upon facts like clearing cache and historical data. It could be that you have piled up a lot of cache; your browser has thus gone slow.
Thus, all you may simply have to do is clear the cache and browsing data history.
It could also be some kind of changes in the browser settings that could make your YouTube black screen.
So one of the exercises you need to perform in this process would be clearing out all the browsing histories, caches and all other places where junk is stored including clearing your passwords.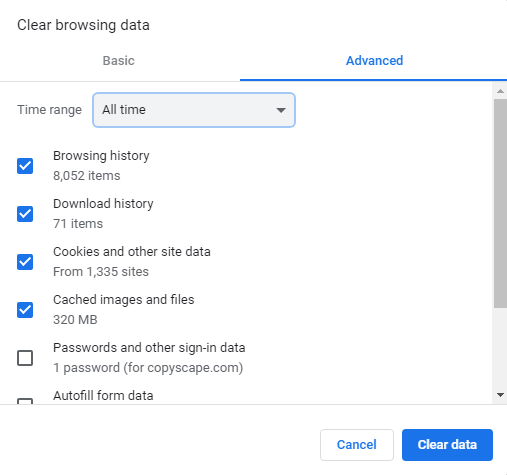 Follow the steps to clear your browsing history:
Ctrl, Shift and Delete keys all at the same time that will give way to the pop up window screen.
Now in that pop up screen select all that you think could be the cause.
 While doing so, set the time span for browser clearance as "All time."
Now click on the option "Clear Data." This one command will clear all your browsing and download history, form and search history, cookies and cache, activity logins, Offline Website data, Site Preferences all together, all at once.
 This should reboot your You-tube, and make it functional once again.
Now check if your You-tube Videos are up and running. Unless, there are more complexities, this single act should be sufficient to make your You-tube up and running.
Fix 5: Disable the Browser Extensions
So far if you haven't experienced any luck in getting rid of the black screen of the YouTube video player, then you may try to disable the various browser extensions. At times, browser extensions can interfere with the YouTube player especially if you are using an ad blocker extension.
Disabling the browser extension momentarily can solve the problem. You can refer the below steps to know how to disable the browser extensions on your web browser.
Navigate to the extension settings as per the below path and disable the ad blockers.
For Google Chrome –
Input the following in the address bar of the browser and hit the Enter key: "chrome://extensions"
Uncheck the box adjacent to "Enabled" status to disable it.

For Firefox –
Click on the menu button and then click on Add-ons.
You will see a Disable button next to the ad blocker. You can click it to disable it temporarily.
Ultimately, open the YouTube video and see if you are having a smooth video viewing experience or not. If you still have not had any luck then jump to the next solution.
Read More: Best Free Adware Removal Tools For Windows
Fix 6: Update the Web Browser Application
You can easily update the web browser to solve the black screen problem of YouTube videos. If the web browser is outdated or there is some configuration issue apart from some specific features of the browser that might be interfering with the YouTube player.
Under this circumstance, you can update the browser by uninstalling it and then downloading its most updated version on your computer. Once the installation completes, then you can check to see if the YouTube video black screen issue is resolved. If not, then try the next fix.
Fix 7: Try Another Browser
Last but not the least, if all the above fixes failed, then you can change your browser and see if the YouTube black screen error gets resolved or not. 
It could be that your browser is not compatible with the YouTube platform, therefore, you are experiencing this issue. It could be the plugins, extensions, or simply the web configuration that's causing the YouTube video black screen error.
You can install a new browser and open YouTube to see if you are able to play the videos well now.
Fix 8: Update the Graphics Card Drivers Automatically
Ultimately, if you are still seeing YouTube black screen error then try updating the graphics driver to get rid of the problem for once and all.
To do this, you can install the best driver updater software in your system. These software can automatically scan and detect outdated graphics drivers or faulty graphics drivers and download the updated versions of the graphics driver for you. You can easily install them in a single click and then try to access YouTube to see if now you are able to play videos normally.
Another alternative method is to update the graphics driver manually. For this you can go to Manufacturer's website and search for the accurate version of the graphics driver.
You can download the self executable file and then follow the on-screen steps to complete the installation procedure.
If the installation does not successfully happen on its own then you can also complete the installation process via the Device Manager.
Conclusion
Hopefully, with the above methods you have now been able to resolve your YouTube black screen trouble. The solutions that we have provided above are extremely feasible and easy to implement. 
In general it is a good practice to update the browser and clear cookies and cache data on a regular basis to maintain optimum performance of the browser. 
Besides, checking the internet connection, trying a VPN service can also help you to watch YouTube videos smoothly.
You can also sign in from a new Google account or try a new web browser to watch YouTube without facing the black screen error.
So, I am wrapping up this article with this. If you have any other tips and tricks, then you may let us know in the comments section below. 
Snigdha is a technical content writer with expertise in the field of science & technology. Though she has a very diverse academic and professional profile yet she finds writing to be a creative form that she was unable to explore so far. When not writing, she can be found indulging in other forms of creativity like painting or travelling.
Subscribe to Our
Newsletter

and stay informed

Keep yourself updated with the latest technology and trends with TechPout.
Related Posts