How to Fix Diablo 4 Crashing on Windows PC

Is Diablo 4 crashing on Windows PC? Don't worry, this post highlights a few simple and effective tactics to resolve the problem, quickly. Continue reading to know more! 
The role-playing action game Diablo 4 has amassed a significant number of dedicated players. You may anticipate an outstanding experience with the gameplay of this title, just as you did with its predecessors. The most recent and official release of the fourth installment in this series came out not too long ago. The date of the launch was the 6th of June. Before that point, the game had already spent some time in the early access phase of its development. Even though early access members were the only ones who could play the game, they still had to deal with a few problems. There have been several reports of players having issues with the game crashing. And for certain other players, the game will also freeze.
When the game suddenly crashes or stops operating while you are playing or while it is loading, the experience will be entirely ruined. You will need to adhere to certain precise procedures in order to resolve the crashing issue that you are experiencing in Diablo 4. This article will provide an in-depth elucidation of these various solutions.
Why Does Diablo 4 Keep Crashing on PC?
You may be wondering, "Why does Diablo 4 crash so frequently?" In any case, Diablo 4 continues crashing on your device for the following causes, with or without displaying any particular error codes or messages:
System requirements: Unlike other recently released games, Diablo 4 does not need a high-end system to play. However, if your computer is lacking anything, there is still a chance that the game may crash at random.
Corrupted game files: Another typical cause of the crashing issue is having corrupted game files, which may happen for a number of reasons.
Incorrect configurations and settings: Incorrect configurations and settings are another potential reason for Diablo 4 crashing on Windows 10, 11, 8, 7.
Before We Start
If you keep experiencing crashes on your own computer while playing Diablo 4, you should check for and fix the following issues before beginning the game:
Restart your PC.
Make sure that your computer can handle the requirements that Diablo 4 has set.
Try turning off your antivirus software and your firewall to see if it helps.
Check to ensure that you have not activated the overclocking feature.
Solutions to Fix Diablo 4 Crashing on Windows 11, 10, 8, 7
Listed below are a few potential solutions to resolve the Diablo 4 crashing problem on Windows PC. You do not need to try them all, just work your way through each and choose the one that works best for you. Now, without further ado, let's get started!
Solution 1: Update your GPU Drivers
The most common solution to problems with crashes or freezes is to update your device drivers for Windows 10. The manufacturer issues updated drivers in order to maintain the graphics cards, which in turn helps to speed up your system and improve the machine's overall performance. There are instances when major manufacturers like AMD and NVIDIA release updated drivers specifically for certain games.
However, the Windows operating system does not always provide you with the most recent version. If you are using drivers that are either out of date or incorrect, you may have difficulties with your game such as crashing, freezing, lagging, and more.
You can manually upgrade your driver, or you can let the computer do it for you automatically.
Also Read: How to Fix League of Legends Crashing Issue in Windows PC
Method 1: Download & Manually Install Driver from Official Site
Because the manufacturer's official website (AMD or NVIDIA) publishes new drivers regularly, you will need to search the internet for the precise driver that is compatible with your operating system, after which you will need to download it and install it in stages.
Method 2: Update Drivers Automatically Using Bit Driver Updater
You may avoid having to manually update your graphics drivers if you don't have the time or patience to do so by using the software known as Bit Driver Updater. Bit Driver Updater will automatically identify your computer's configuration and search for the appropriate drivers for it. You are not required to have a precise understanding of the operating system that your computer utilizes, you are not required to take the chance of downloading and installing the incorrect driver, and you are not required to worry about making a mistake while installing.
Whether you use the free version of Bit Driver Updater or the paid edition, you have the ability to update your drivers automatically. But with the Pro version, you just need two clicks to do it (and you also receive full support and a guarantee that you may get your money back within 60 days). Now follow the steps below to know how to update outdated graphics drivers with Bit Driver Updater in order to fix Diablo 4 crashing on Windows 10, 11.
Step 1: Click on the download button below to get Bit Driver Updater for Free.

Step 2: Run the downloaded file and follow the on-screen instructions to finish the process.
Step 3: After that, launch Bit Driver Updater, then choose the Scan option from the menu. After that, Bit Driver Updater will do a scan of your computer to look for any problematic drivers.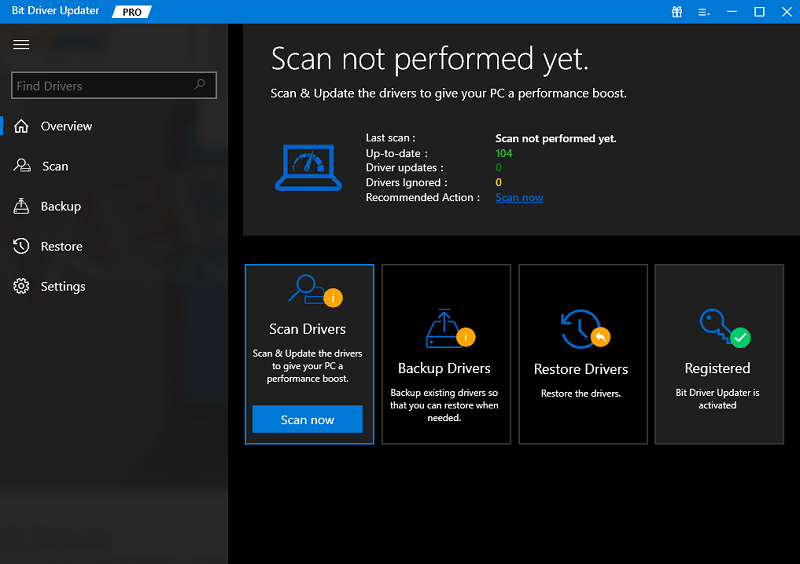 Step 4: You may manually install the driver by clicking the Update Now button next to the flagged driver, if you have the FREE version. Alternatively, you may click the Update All button to have your system automatically download and install the latest version of all drivers that are either missing or outdated. (You'll need to upgrade to the Pro edition for this, which includes lifetime technical support. When you select Update All, you will be able to update all drivers in one go.)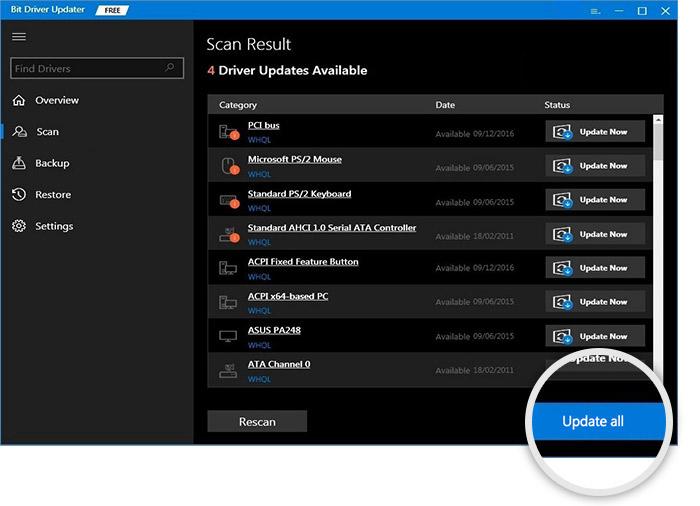 After updating the drivers, check to see if Diablo 4 keeps crashing. If yes, then follow the next solutions given below.
Also Read: How to Fix Fortnite Keeps Crashing in Windows PC
---
Solution 2: Modify Game Settings
Some PC users have reported that implementing this tactic helped them avoid further stutters and crash issues. Here is how to fix Diablo 4 crashing for PC by changing certain game settings.
Step 1: Exit the game session you are currently playing in Diablo 4.
Step 2: To access the Game Menu, use the ESC key on your keyboard. After that, choose the OPTIONS tab.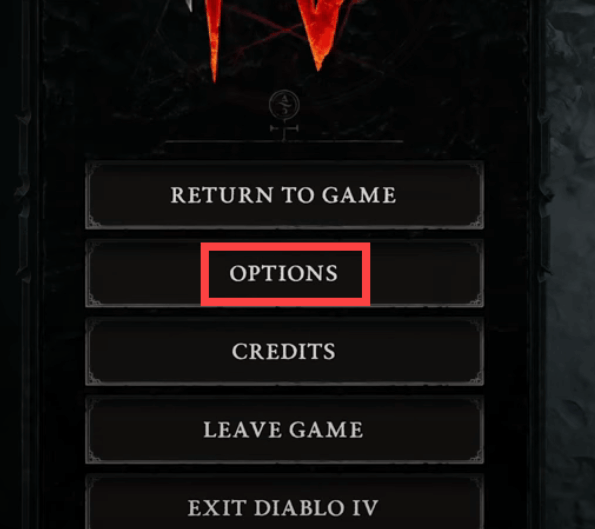 Step 3: Make sure that NVIDIA DLSS is NOT changed to DLAA (or anything else but DLAA) in the Performance section of the Graphics tab. This is very important. Additionally, turn off the NVIDIA Reflex Low Latency setting.
Step 4: In the Quality section, make sure that the Shadow Quality and SSAO Quality settings are both set to Mid.
Step 5: Select the "Social" option from the menu. Simply off the Cross-Network Play checkbox.
After making the adjustments, save the game and go back into it to see if it will crash again. Proceed with the solutions below if Diablo 4 keeps crashing on Windows 10, 11.
---
Solution 3: Close or Delete Conflicting Applications
When playing Diablo 4, players should shut down all other apps, as Blizzard advises, to avoid application conflicts and free up resources. And some players have complained that other software programs are incompatible with Diablo 4.
If you are using Wallpaper Engine, HD texture pack, Razer Connect, or any other software,
then consider disabling them in order to test the issue. But, if Diablo 4 keeps crashing on PC, then move on to the next solutions.
Step 1: To open the Task Manager, right-click anywhere on the taskbar and pick the option.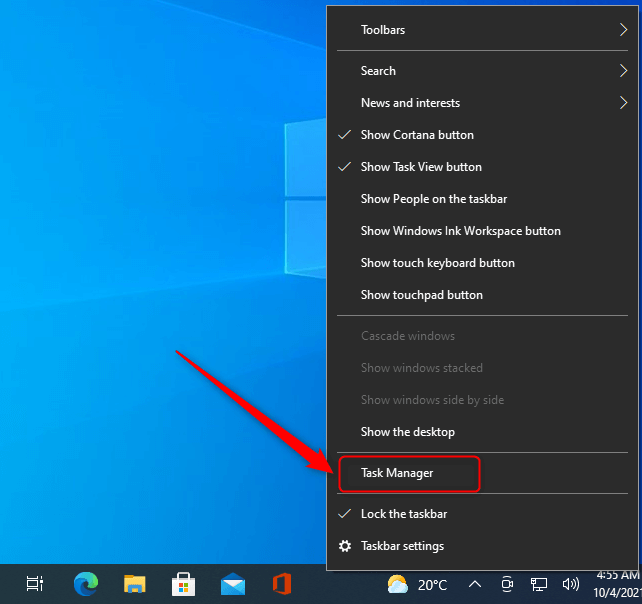 Step 2: Determine which programs use a significant amount of your computer's processing power and memory by opening the task manager from the taskbar.
Step 3: Right-click the program that seems suspicious and pick the option to End Task.
Also Read: How to Fix Cycle Frontier Keeps Crashing on Windows PC
---
Solution 4: Install the Latest System Updates
An operating system that is too old might result in fundamental issues, including the crashing of games. To be more specific, you can fix Diablo 4 crashing on Windows 10, 11 by updating the OS version to the latest one. Below is how to do that:
Step 1: To access the Settings menu on your device, simultaneously press the Windows logo key + I key.
Step 2: Simply choose the "Update & Security" option.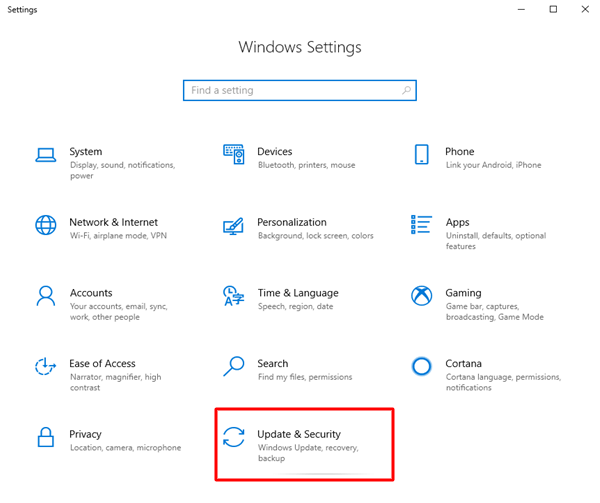 Step 3: Click the Check for updates button located in the right sidebar. Your computer will check for available updates instantly.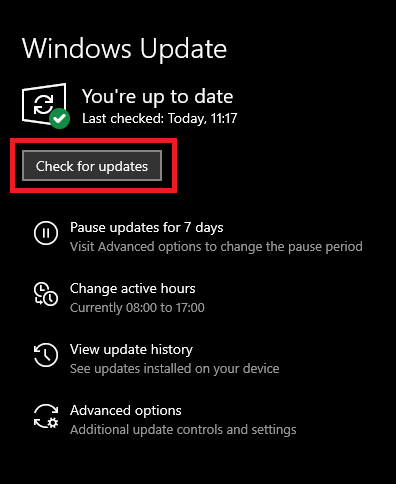 Windows will automatically download and install any available updates to the operating system. After the procedure has been completed, you should restart your computer and then start playing the game again to see whether the issue has been resolved. If not, then try another solution to fix Diablo 4 crashing on the PC.
---
Solution 5: Update the Controller
You should give this hack a go, particularly if you have been actively using a controller, but it is possible that it will not work for all players who have had Fenris crashes. Here is how to do that:
Step 1: Navigate your browser to the Microsoft Store.
Step 2: On your computer, download the Microsoft Accessories software.
Step 3: When you started the application, it immediately recognized the Microsoft controller that was attached to your computer.
Step 4: To update the controller, make sure you follow all of the instructions.
Once done, launch Diablo 4 and check to see if the Diablo 4 crashing is fixed.
Also Read: How to Fix Atomic Heart Keeps Crashing on Startup
---
Solution 6: Reinstall Diablo 4
If none of the above-shared suggestions worked for you, then you need to reinstall the game in order to resolve the issue. To do so, follow the procedure provided below:
Step 1: Launch the Battle.net application and click the gear (Settings) icon for Diablo 4.
Step 2: Now, locate and click the Uninstall option.
Step 3: Wait for the uninstallation process to be completed, once done, install the Diablo 4 again on your device.
Start up Diablo 4 and have some fun with the game. It is no longer expected that you will run across the same issue.
---
Diablo 4 Keeps Crashing on Windows PC: Fixed
That's all! Hopefully, the solutions shared in this article helped you in fixing Diablo 4 crashing on Windows 10, 11, or older versions. Please let us know in the comments section below if you have any questions or further suggestions regarding the same.
Also Read: How to Fix Halo Infinite Keeps Crashing on Windows PC
For more tech-related information, you can subscribe to our Newsletter.
Harshita Sharma is a technical writer with quite a distinct understanding of the tech realm. She is a tech enthusiast who believes that tech knowledge should reach one and all and tries to convert the sketchy knowledge into the simplest possible form for making people understand the tech world better. When not playing with words, she loves to travel and explore new places. And, is a coffee & cricket connoisseur.
Subscribe to Our
Newsletter

and stay informed

Keep yourself updated with the latest technology and trends with TechPout.
Related Posts