Top 10 Best WhatsApp Alternatives For Android & iOS in 2021

Finding the best WhatsApp alternatives can be tough, but not anymore as in this article we have listed the best software that you can use in place of WhatsApp. Keep reading to know more about the software.
 WhatsApp is one of the most popular instant messaging applications for mobile devices. The app was taken over by WhatsApp, which later was in news for violating the privacy of the users. Though the app has been in the market for a long time and has got many updates which make the life of users easy. But those updates are useless if the app is not keeping the privacy.
This has been a major issue which is why users are looking for an alternative. If you are one of them then don't worry as we have shared some of the best alternatives to WhatsApp. You can read the description and offering of the application before choosing. Without wasting time, let's take a look at the list.
List of the Best WhatsApp Alternatives for Android and iOS to Use in 2021
 Here are the best paid as well as free WhatsApp alternatives to try.
1. Telegram Messenger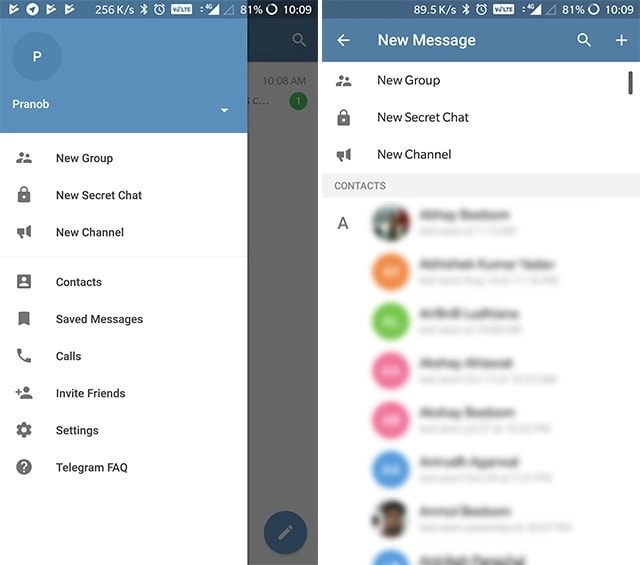 Telegram Messenger is the best WhatsApp alternative that you can try. This is an open-source application that offers all the features that you would require in a messaging application. Apart from offering the usual features, this application has some unique offering which might interest you. The list of unique features includes a group limit of 100,000 people, usernames to search for groups and people, public channels, password security, self-destructive messages.
The best feature of this free WhatsApp alternative is that you can share files up to 1.5GB in size. This is a great feature that is not available in most of the best chat apps like WhatsApp. The list of features does not end here, it moreover has bots that help in enhancing the user experience. Apart from this, the bots carry useful information and games.
The application lacks in offering video calling features but apart from that it offers unique features that compensate for that. If you are not into video calling then this can be the best instant messaging app like Whatsapp that you can use.
---
2. Signal Private Messenger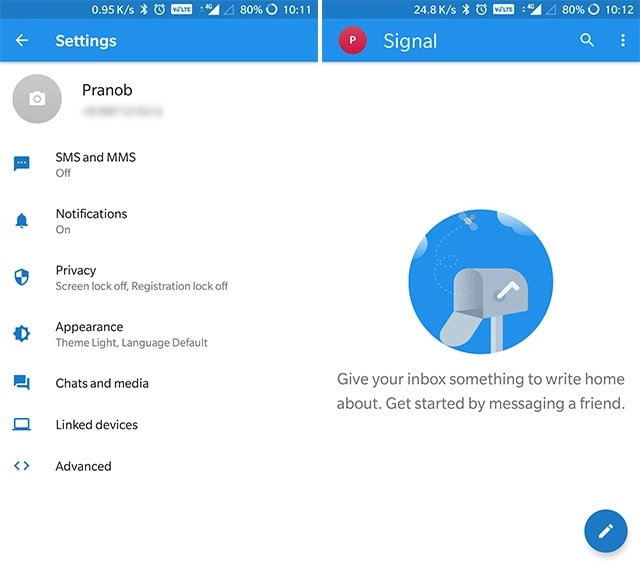 Signal is a great application and it also is considered the best WhatsApp alternative. The application got popular because of its privacy policies. If you are looking for an application that can protect your data then Signal is the ideal application for you. The Signal Foundation offers end-to-end encryption technology in Facebook and WhatsApp messengers. Now you can imagine how safe it is to use Signal Private Messenger.
The application has self-destructing messages, security on screen, and many other security features which keep your chats, calls, and other data safe. For Apple devices, it states it does not link any data to your identity.
Also Read: 13 Best Video Chat and Calling Apps for Android in 2021
The app is popular among journalists as it keeps everything private. Though if you have the same aim for the application then you can try this. Other than this the app has a very simple user interface.
---
3. Discord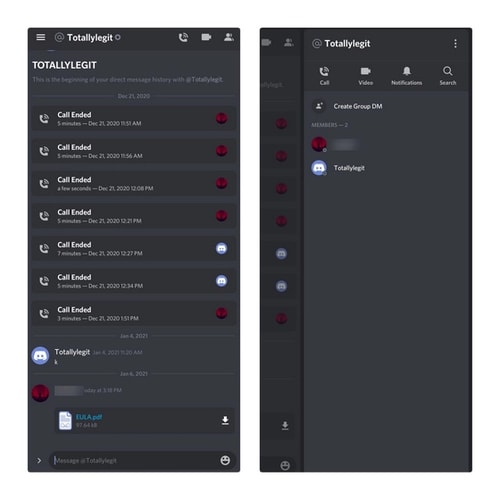 Discord is a very famous platform that earlier was used by gamers to chat while gaming, but it is not the case now. The reason why we have kept this application on the list of best WhatsApp alternatives is that it is now available for users who wish to chat, call or video call other people.  The messenger of Discord can be used to send messages, emojis, emotes, and other documents just like WhatsApp.
You can easily share the screen with others and chat over the screen. The app can be integrated with Spotify, Battle.net, Steam, Facebook, Reddit, Twitter, and many other platforms. Apart from this, you can even create chat groups with up to 10 members. If you wish to have more members in a single room then you can create a server and ask others to join. Discord can be used in iOS, Android, macOS, Windows, Linux, and the web.
---
4. Bridgefy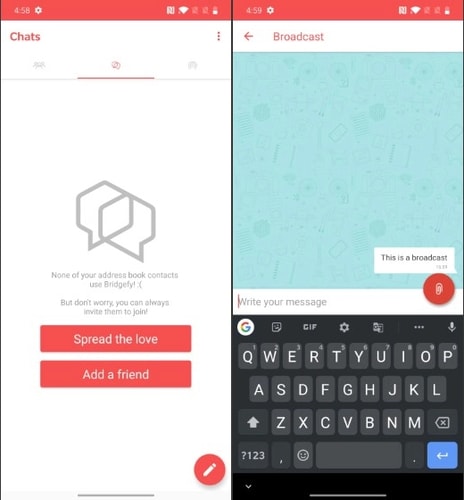 Next application on our list of best WhatsApp alternatives is Bridgefy. This app aims to remove the dependency on the internet for sending and receiving messages. While most of the application needs an internet connection, if not internet connection at least you would need a signal to deliver a normal message. This is not the case with Bridgefy, you can simply send and receive messages without any data or signal.
The app usually creates a peer-to-peer Bluetooth mesh network or Wi-Fi Direct based network on the device using which you will be able to send and receive messages. It moreover offers three modes that include, personal, broadcast, and mesh.
Also Read: 18 Best Free Instagram Followers Apps (Android/iOS) 2021
This is a great application when you are at a festival, events, or at an emergency where you need to keep track of others. The best part about this application is that it is available for free on Android and iOS devices.
---
5. Kik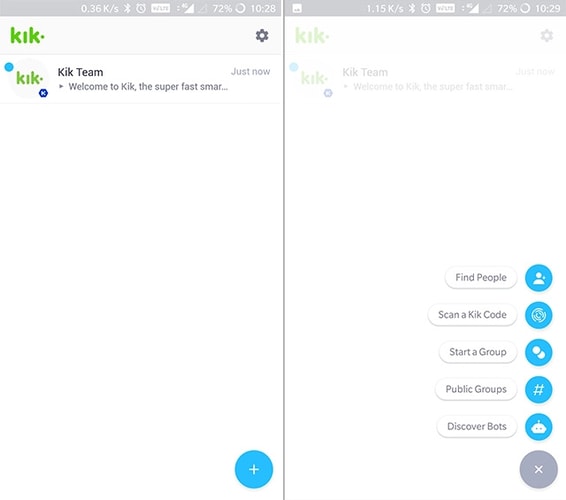 Kik is a great application on the list of best WhatsApp alternatives. This messaging application does not require your number, you can use it as you use any social media platform. You have to use your email id to use Kik. After you sign up you will receive a unique username that will be visible to other users.
The application just like others has features that can make your chatting experience better. Using this application you can send messages, stickers, emojis, Gifs, videos, photos, and many other elements.
Being the best chat app like WhatsApp, it has some features which you will not even find in WhatsApp. The application supports bots that can be used for playing games, getting tips, news, and much more. These bots will keep you entertained no matter what.  Kik is a free WhatsApp alternative that is available on Android and iOS.
---
6. Snapchat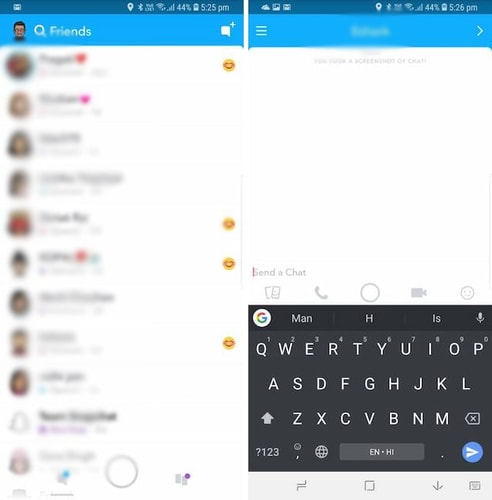 Next app on our list of best WhatsApp alternatives is Snapchat. It is a very popular app that lets you send images as a snap. The main features of the app are sending images and videos as a snap and creating a streak with others. Users have liked this ending snap feature as it is very unique and just like any other social media platform you can share your activity with others.
Apart from the snap feature, it offers various lenses which you can use to capture funny, realistic, cartoonish, and many other types of snaps. Some of these lenses have been on the trending list for a long time.
It moreover has features that you want in a messaging app. You can send messages, images, videos, voice calls, and video calls to your contacts. The messages by default are self-destructive after you switch back to the screen it will disappear. To keep those messages in chat you have to save them.
Also Read: 13 Best Music Player Apps for Windows 10 in 2021
Just like any other social media application, you have to create a unique id, using which others can add you to their friend list. All in all, this is one of the best instant messaging apps like WhatsApp which you can try.
---
7. Skype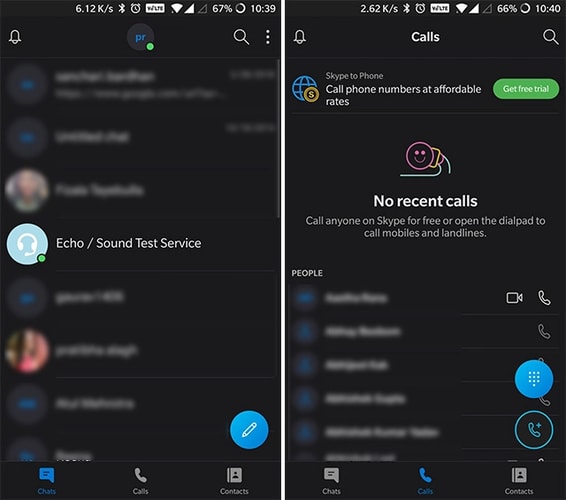 Skype is the best WhatsApp alternative for professional or business use. Software has been in the market for a long time now and it has been mostly used in the corporate world. Irrespective of the fact the software offers every feature which you will find in WhatsApp. Now the software is used by individuals too and the stereotype has been broken that Skype is only for professional use.
This free WhatsApp alternative offers great quality video and voice calling. Whether you are calling abroad or a person from your country you will experience the best quality. This quality difference of the application has helped it to gain a place on the list.
The best part about this application is that it offers great quality video conferencing with more than four people. This is a great feature that you will not witness in any of the instant messaging applications. It moreover offers compatibility in all devices including iOS, Mac, Android, Windows, and Web.
---
8. Keybase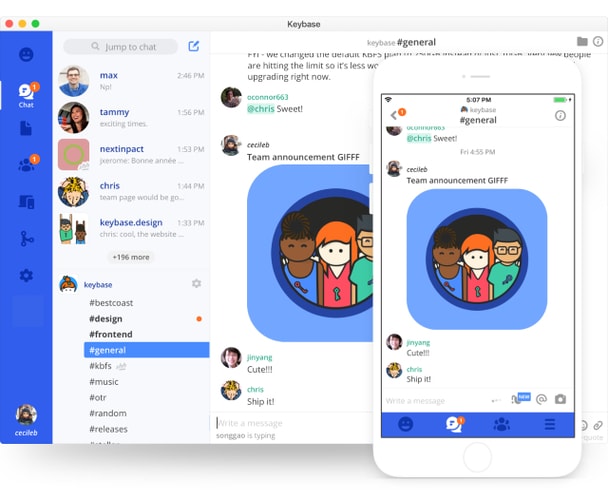 Keybase is another best alternative to WhatsApp that you can use for texting and video calling your contacts. This is an open-source application that works closely to keep your data safe. The data and chats are end-to-end encrypted where no one other than you can access the data. Taking the security one step above, the app has restricted screenshots too.  You are any other user who cannot take a screenshot of chats.
Also Read: 10 Best Face Swap App for Android and iOS in 2021
The main target audience of this free WhatsApp alternative is individuals who wish to keep their chats private. To use this application you don't need any number or email id. Apart from this, it is one of the few instant messaging applications which is available for Linux devices. Other than this it is compatible with Android, iOS, Windows, and Mac devices.
---
9. Viber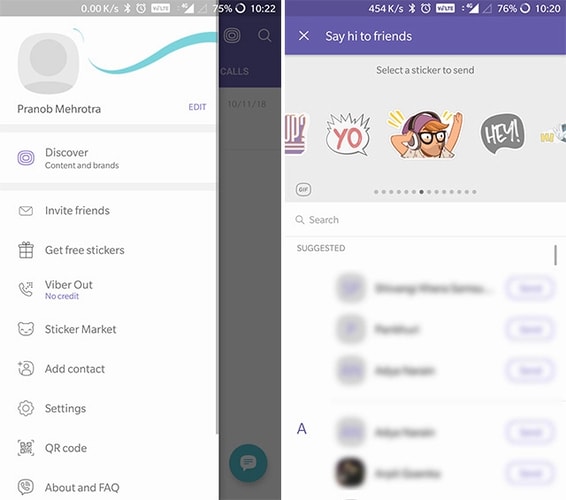 Next application is Viber on our list of best chat apps like WhatsApp. This application offers end-to-end user's metadata. It offers a transparent privacy policy to the users which would help them in decision making. The application offers encryption in messages, files and calls. The best part about the security of this application is that it secures all the data in each device.
This application even lets you make international calls to people who are not even using Viber. Talking about the messaging features, it supports sharing images, videos, and stickers. Apart from this, the app location has some features which are optional. You can choose to turn them on or off depending on the usage.
Some of those features are backup on cloud storage platforms, allow others to see your last seen, and public account features. If you wish to change any default feature settings then you can simply visit the 'Settings' tab and turn them on/off. The application is available in Windows Phone, Windows PC, Android, and iOS.
---
10. Threema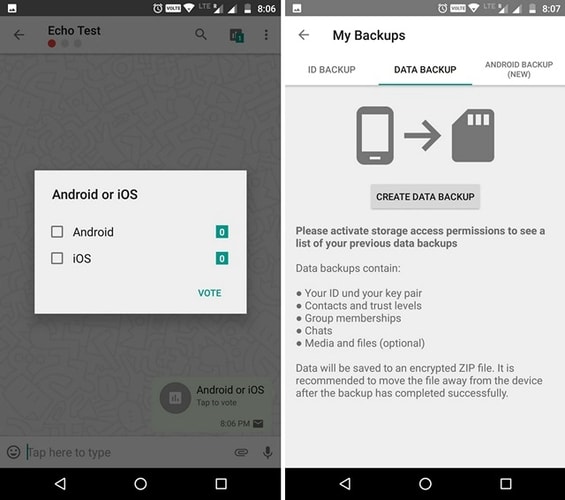 Lastly, to end the list of best WhatsApp alternatives we have Threema. This is a great application that majorly focuses on offering a secured and safe messaging experience. It encrypts all your data including files, status updates, messages, and others. Apart from this the application, unlike others, doesn't even use or store metadata.
However, the only negative which we found in this application is that it does not offer video and voice calling. So if you are looking for a separate messaging application then only use it. The application even offers a transparent privacy policy to all its users. The video or voice calling feature does not let the application down as it has many other unique features which make it better than others. Some of them are, it allows users to share polls in groups, users can password protect the chats and it also has fingerprint protect call answering features.
Also Read: 12 Best Phone Usage Tracker Apps for Android & iOS in 2021
This is an open-source application that is available for Android, Mac, and Web platforms. The best part is you don't have to use your number for this application. You can chat anonymously with people. It has a very unique feature that you can use to agree or disagree with any message.
---
Message Securely with the Best WhatsApp Alternatives 2021
 After reading the article you must have witnessed many new and unique features that an instant messaging application like WhatsApp offers. We hope that the description provided by us will help you in choosing the best alternative to WhatsApp. We have tried and included the application which offers similar and better features. If you have any suggestions for this article please drop your valuable feedback in the comments section below.
Tanmay is a technical writer from the field of mass communication. He aims to communicate the best of the technology to the readers through his write ups. If not writing you can find him with his camera capturing nature and exploring the unexplored world.
Subscribe to Our
Newsletter

and stay informed

Keep yourself updated with the latest technology and trends with TechPout.
Related Posts