8 Best Instant Messaging Apps for Android & iOS in 2020

Bid adieu to age-old emails and phone SMS, instead give a hearty welcome to Mobile messaging apps. They have taken over the world with a storm. You can't escape their power and reach; it's better to just accept this reality. 
And they are so much better than our earlier available communication channels. All of them are operated through the internet, have social networking features, improved security, full of spontaneity, and almost free of cost.
Listed below are some of the best messaging apps for Android and iOS.
List of the Best Messaging Apps for Android and iPhone
1. Telegram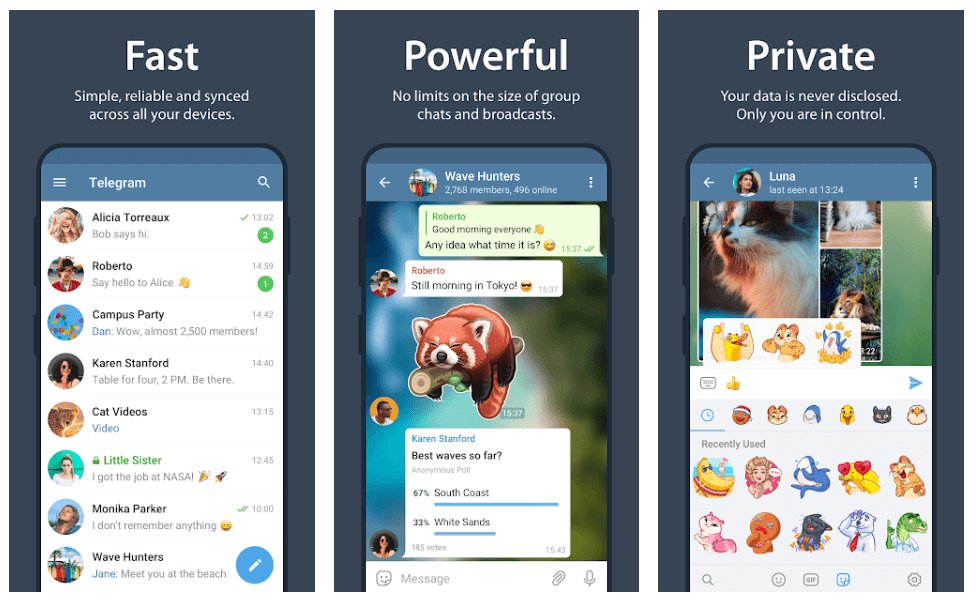 Telegram, a name that resonates with the motive of the instant messaging application. It intends to present a mobile messenger model to the world that aims at delivering a cutting-edge, fast featured, client-server encrypted sharing application that fulfills all demands of a security-conscious user.  
There's a reason (actually more than one) why it is one of the most popular apps in the world. The biggest and the most impactful one is that it allows group chats to go all the way up to 100,000 people (Say what?). I know that's just amazing. The messages can be set to self-destruct, no limits set to files shared, and the chat history can be stored up in the cloud. No wonder everyone seems to love it!
Telegram messaging is boasted and used by millions of active users. It even publicizes itself as the fastest messaging app around, and we wouldn't contradict that. 
Read Also: Best Social Media Apps For Your Business Marketing
---
2. Discord
If you're a hardcore gamer and you don't know anything about Discord, are you even a gamer? 
The gamers who do use it (and there are a lot of them) regard it as one of the best messengers to coordinate and communicate both in and out of the game. The application allows the participants to create and connect to group servers, have organized discussions with textual and voice channels, and easily compartmentalize discussion threads.
And its cross-platform support is a perfect way to switch between phone and computer while playing games.
---
3. WhatsApp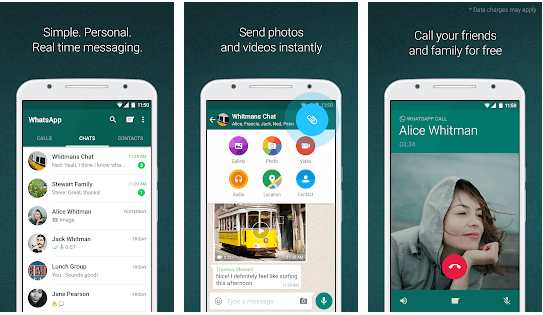 WhatsApp is no longer just a messaging application, it is a source of revolution all over the globe. Who even knew that this sort of messaging and communication was even possible? You can connect with anyone and everyone with the help of respective phone numbers. And voila, begin your journey with one of the most popular apps in the world. 
It has a remarkably easy setup, interactive interface, and is loved by over 1.5 billion users worldwide. Yeah, that's a lot. But like I said, it caused a revolution. 
It offers an ocean of features, like 24 hours status sharing and a heap ton of quirky emojis and GIFs. It consists of text messages, voice and video chats, group chats, data sharing tools, etc. All of this without paying even a cent and no in-app purchases. 
This instant messaging application, now a subsidiary of Facebook, also offers security and privacy assistance with its end-to-end encryption.
No wonder that it has set an extremely high benchmark for all other messaging apps.
---
4. LINE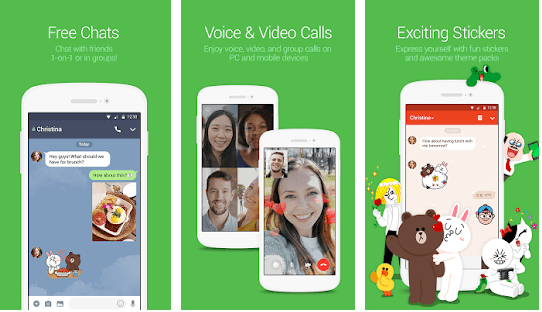 LINE is a famous Asian app with a user base of around 600 million people. It checks all the basic messaging app features like chat, audio, photo, and video messaging with a houseful of lively stickers. And lends support to large group chats and calls with up to 200 participants.
It also accumulates a social network-like Timeline system, kind of like Facebook's, where there is a posting board of posts and respective comments to them. You can even follow brands and artists on the app's portal.
Free Line to Line video or voice calls as well as Calls to landlines (I know, amazing!) are also available. What more does anyone need?
---
5. WeChat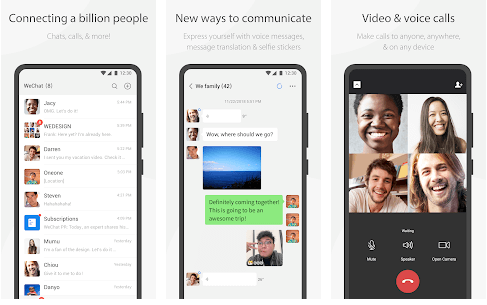 If you are a fan of C-dramas, there's a strong chance that you have seen or heard about this app. 
WeChat is more than just an instant messaging application. It is a renowned social media portal and a digital payment method too. It seems to do a lot more than what its counterparts offer. 
It rules over the Chinese web market (more than 1 billion users) and is steadily covering the global audience in its wake. 
It offers its users, voice and video calls, group chats, and multimedia messaging. But that's just generic features, it even lets you find new friends nearby ("Friend Radar", "Shake", and "People Nearby") and presents a GPS function.
So if you're planning to go to China anytime soon, do have WeChat on your phone.
Read More: Top Positive And Negative Effects Of Social Media
---
6. Facebook Messenger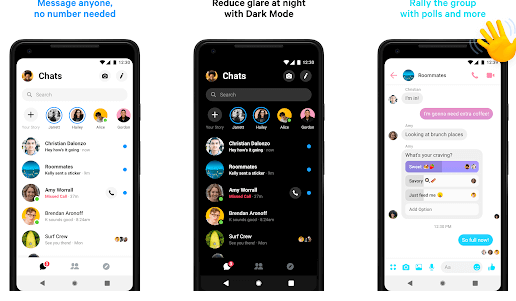 If there ever were messengers, it was because of Facebook Messenger. It has carved a legacy for all other instant messaging applications. 
Now, this is a chatting app without phone number requirements. It is interconnected with one's Facebook account and builds on that same social network. One can chat as well as video or voice call their contacts easily. There is an abundance of free GIFs and unique stickers. 
A user can even share locations, documents and even money (in some markets) quite effortlessly.
Facebook Messenger also offers a fantastic new feature called "Secret Conversations", which makes the Messenger chats encrypted and away from prying eyes.
---
7. Viber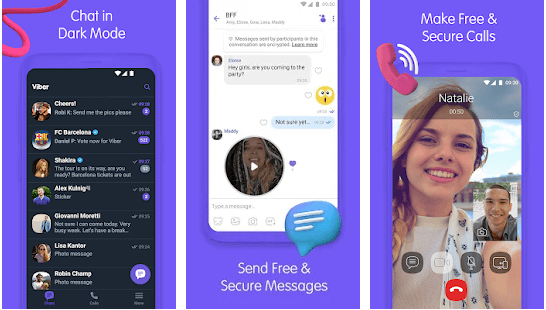 Viber trumps other instant messaging applications in terms of security. It offers end-to-end encryption on messages, calls, photos and videos and even the cross-platform messages are encrypted. One can share texts, emoticons, stickers, photos, voice, and video messages across its portal to other users. 
It doesn't end at being only a mobile messenger application, it also offers games and multi-device support in its interface. Obviously, you can make free video and audio calls to other Viber users, but this app goes a notch above by letting users make international calls to people who are non-Viber users (Isn't that amazing?). 
---
8. Slack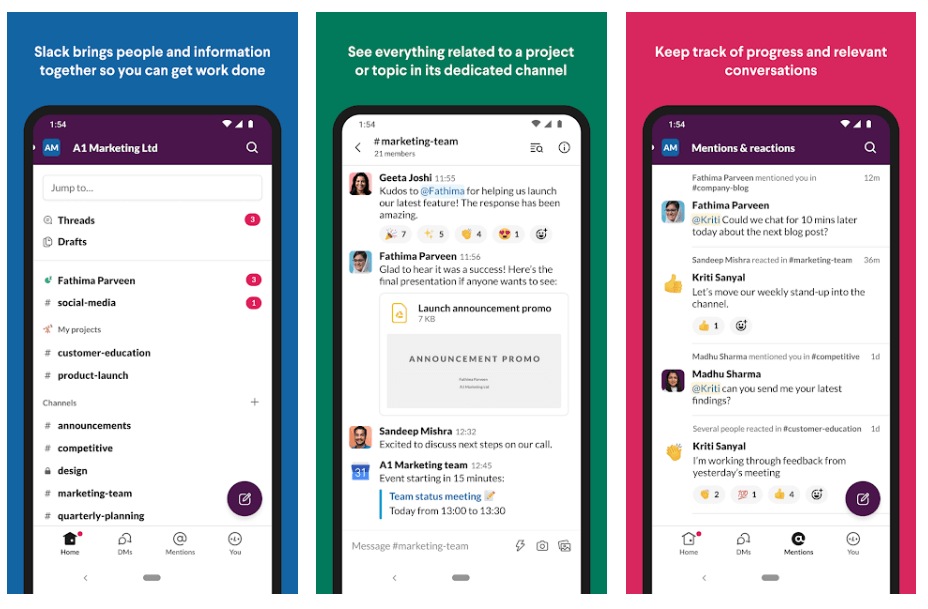 Slack is regarded as one of the greatest instant messaging apps for business (a stark contrast with regards to its name). It has been a smashing success amongst corporations and even casual users because of its blend of messaging, management, and scheduling tools. It doesn't hurt its case that the app integration is top-notch too.
This mobile messenger is skewed towards productivity and team-orientation, spanning real-time direct and group messaging, and file-sharing support across devices.
Read More: Best Pinterest Alternative Sites & Apps
It even features a system of chat channels that allow the users to set up subgroups for topic or task-oriented discussions. 
It is a perfect choice to connect with members of your workspace easily and effectively.
This was our take on the best messaging apps for Android and iOS. They will surely make your social life more savvy, efficient, and interesting. So take your pick and keep on chatting!
Diksha Lalwani is an aspiring content marketer and a self-declared bibliophile. An English honors graduate, she likes to keep up with the recent happenings around the world and form an opinion. Her interest in anything and everything tech made her follow the path into becoming a technical writer.
Subscribe to Our
Newsletter

and stay informed

Keep yourself updated with the latest technology and trends with TechPout.
Related Posts