12 Best Phone Usage Tracker Apps for Android & iOS in 2021

Do you want to know how you can best track the usage of your smartphone by using various apps? A phone usage tracker app can help you accomplish your goal. Alternatively, you can either go to the Android or iPhone settings to manually see the usage by multiple apps. Apart from this, you can also determine which of the applications are the highest consumers of the smartphone's resources among all the apps.
But this could be a time-taking and cumbersome process. Therefore, you can utilize phone monitoring apps that can help you track your phone's data readily and also alert you on time when you are about to exceed a certain usage limit.
Apps that track phone's activity can prevent the overuse of various applications and help you streamline your daily smartphone activity. This is because most of us get addicted to social media apps, games, etc. and keep using them without any sense of time loss.
Therefore, to gain better control over your time and life, the phone usage tracking apps can prove to be a blessing for you. Let us look at the best phone monitoring apps in detail through this blog.
Top 12 Best Phone Usage Tracker Apps (Screen Time Tracker) You Could Try in 2021
Below mentioned are 12 apps to track time spent on the phone efficiently by reducing your screen time and addiction with certain apps on your smartphone.
Best Android Phone Usage Tracker Apps of 2021
Here are some of the best apps to track phone usage for Android devices.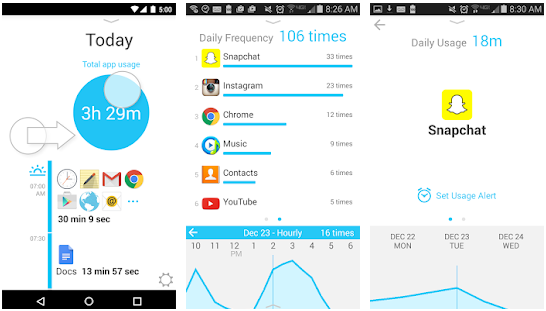 Track your Android phone usage in a fun way with this phone usage tracker app. The interface is simple and visually appealing. It helps you monitor how much time you have spent on multiple applications throughout the day in a relatively easy manner.
Undoubtedly the best phone usage tracker app, it also furnishes real-time reports of phone usage. You can also run an in-depth analysis of smartphone activities by monitoring the total time, number of times the screen has been unlocked and how many individual apps have been used on an hourly, daily, or monthly basis.
You can create device usage alerts, take breaks alerts, and even plan your breaks in advance with this wonderful app.
This Android screen time tracker app can also help you block notifications and reject incoming calls with automatic replies, and you can do a lot more with the Quality Time app.
Read More: 13 Best Data Monitoring Apps For Android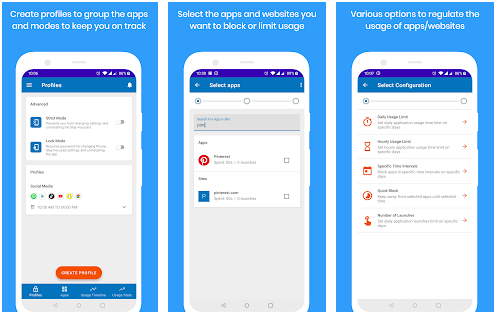 If you are seeking a phone usage tracker app that can help you stay on track and plan your work better, then try the Stay Focused app which readily helps in gaining self control and improves your smartphone usage habit.
You can also enhance your productivity by restricting the usage of blocked apps, blocked sites or the overall phone on an hourly and daily basis.
Limit the number of launches, set specific time intervals, and also limit the number of times the screen can be unlocked with this mobile usage tracker app.
Additionally, disable unwanted notifications with this best phone usage tracker app for Android along with tracking your usage history. You can also avail excellent technical support to troubleshoot your problems with the application.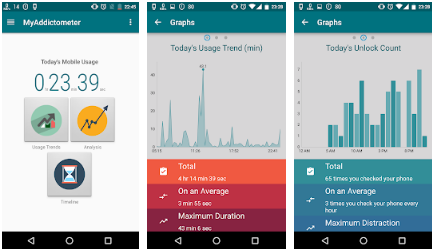 Get a grip over the smartphone addiction with My Addictometer and save more time for yourself.
A great phone usage tracker tool to identify, analyze, and predict which apps consume most of your time and energy, thereby, helping you to control it in the best possible way.
Wondering what you can do with this Android phone usage tracker app? Well, the daily usage tracking feature helps you monitor your smartphone activity regularly. You can acquire the nitty-gritty's of app usage with this app.
Additionally, the free phone tracker tool shows you how many times you have unlocked your phone as well as compares the days regarding your smartphone activity.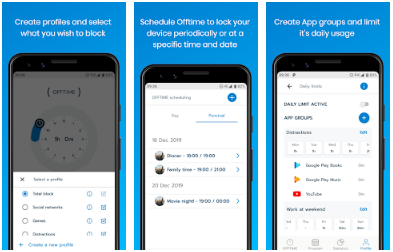 Are you looking for an app that tracks your phone usage impressively? With a plethora of features, OffTime can be your best digital diet planner to manage your life better. This Android phone usage tracker helps you get disconnected from the digital life in a planned manner and serves as a perfect digital detoxifier for you.
You can schedule app blocks and calls in advance. The application also creates a historical record of the call and app blocks that you have made on a daily, weekly, and monthly basis.
You can also customize the phone usage tracker app to decide how you wish to end OffTime and also do a lot more with it.
To add to the benefits, OffTime also comes in a pro version that allows you to create different blocking profiles.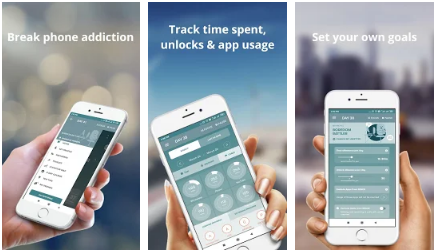 Give some space to yourself and take a break from your phone by installing the Space app on your smartphone.
This phone usage tracker app is a highly popular application among masses, helps you to reduce your screen time and allows you to prioritize your tasks in a better manner.
This smart application helps you to understand your Android phone usage habit, thereby, streamlining it by blocking unwanted notifications.
You can set specific goals with this usage tracker app and even when you are using your phone, you will be alerted to prevent you from straying away from your goals.
Read More: 11 Best Screen Mirroring Apps For Android & iOS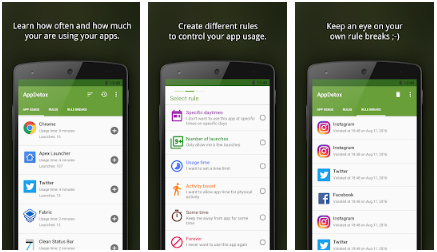 Detoxify your phone addiction easily with App Detox and customize the way in which you wish to track your smartphone usage and most importantly the way you want to limit it.
You can set a limit for yourself and it will remind you whenever you are crossing that limit.
You can also block apps, notifications, and calls to reduce the amount of disturbance from your phone when you are busy managing your other priorities.
There is a built-in locker called App Detox App Locker that can help parents limit the screen time for their kids.
Best iPhone Usage Tracker Apps of 2021
Here are some of the best apps to check app usage on iPhone devices.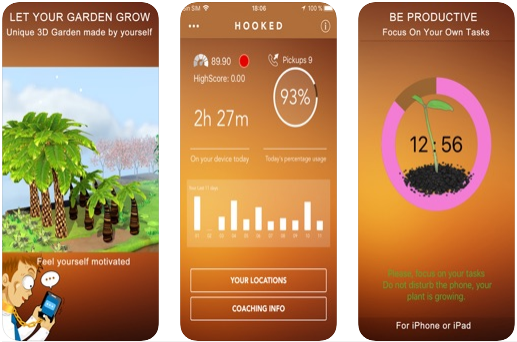 Whenever you want to concentrate on a particular job, be it gardening or dancing in a concert, or humming a tune alone in a greenhouse, you have to do but one thing- abandon your phone aside. 
It takes 21 days to form a new habit so this app provides you with a roundabout graphic that talks only about today's data in particular. 
If you want to measure your digital life, you can do so by using this very amazing phone usage tracker app for iOS. The app can help you become more aware of where your time is moving out, how you have been using your time and you can make alterations to your phone using habits.
8. RealizD – Screen Time Tracker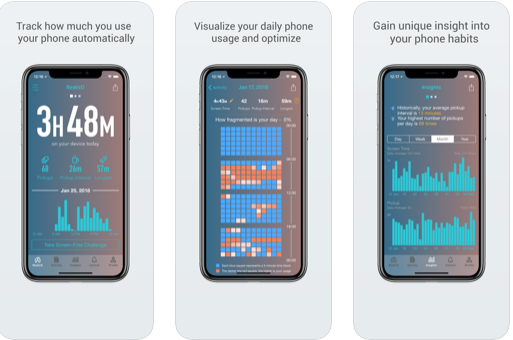 Are you looking for a way out to reduce your addiction to your phone? 
RealizD is a professional iOS phone usage tracker app that monitors iPhone and iPad use all the time, quality wise it is very good and is fed with everything including controls, alert buttons, graphical modes, proper insight trackers and statistics all running together. 
Now, this usage tracker app can keep a regular track of the usage, it can help in ejecting you out of your device when your time limit is reached. You can find all your data in the activity logs and divides your day based on your tablet or phone use time. 
You have an option to use heat maps to find out about your daily use patterns. The backup and restoration process is easy; you can optimize your daily use limits. You can simultaneously start analyzing your own data, and all you have to do is, export the data to your comfort zones and begin your individual analysis.
Want an alarm for everything you do to orient your mind? 
Yes, you heard it right; you can use this iOS phone activity tracker app straightaway to ensure that you have not missed a single alarm. 
Set times and intervals by setting alarms, in order to ensure you stay focused in your work without worrying about your time. Just tap your start button and keep going with the task in hand.
Read More: 11 Best Fingerprint Lock Apps For Android Phones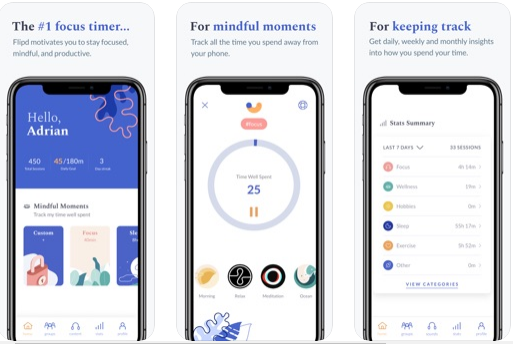 Here is another iOS usage tracker app that monitors your phone timings like a tracker. It would hide all your social media apps, your gaming apps and various such devices that kill your time without your even noticing it. 
Time slips off your hand and you don't even know, so this app ensures that it motivates you to go off your device at different levels. 
If you want to decrease the usage time of your phone then you must use this app for its ability to make you user friendly, to integrate the social media and this tool is absolutely for you if you are looking at a change in your habits in the way you use your phone and the apps.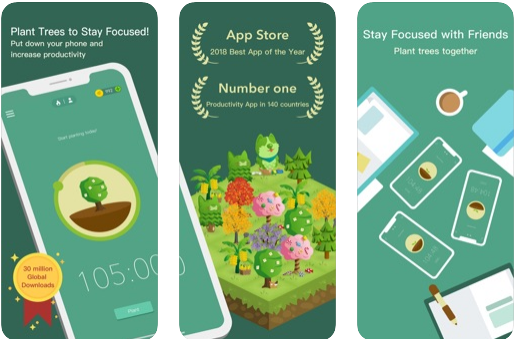 This phone usage tracker app for iOS is amazingly interesting since it controls your addiction in a very efficient manner. Now, you may be wondering as to why this App is special amongst all, in the first place different? 
Well, it is different since this phone usage tracker app is one step ahead. It alters your psychological built in a way that you will not feel any bereavement when giving up your virtual social habits. 
This app will mend your psychology in a way that you can definitely be away from your phone without using any effort at all in the first place. 
Since it can change your psychology, your thinking ways for you to be away from your social media and your virtual games; it can definitely increase the amount of time you have to live your life on the real plane or on real ways.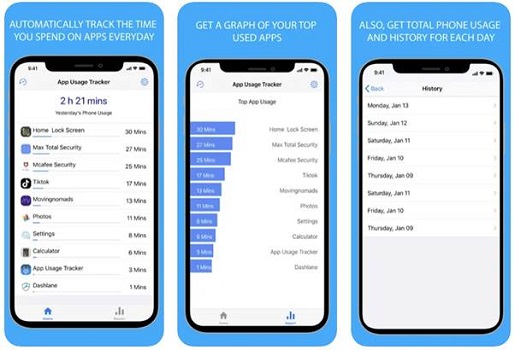 Here's another well-designed phone usage tracker app for iPhone to consider if you wish to maintain a healthy phone-life balance. The application automatically tracks the time you spend on various applications and lets you check total phone usage and the history of app usage for each day.
The ability to monitor your phone usage time offline is one of the standout features of this App Usage Tracker application. It doesn't offer a particularly impressive set of features compared to some other options on this list, but a few handy included functions can still make it worthy of your valuable time.
Curb Smartphone Addiction with Phone Usage Tracker Apps 2021
So this is all about phone usage tracking apps for Android and iOS that can help you manage your life better and stay more focussed by controlling your phone usage habits.
You can keep your life completely on track by pre-scheduling your smartphone activity. This will ensure that you neither miss anything on your social life front yet at the same time you are able to prioritize your work better by spacing and time each task properly in your life.
Overindulging in your smartphone and social media apps often upsets our routine and discipline, therefore, utilize phone usage tracker apps to curb your smartphone hyperactivity.
Image Source: Play Store, App Store
Snigdha is a technical content writer with expertise in the field of science & technology. Though she has a very diverse academic and professional profile yet she finds writing to be a creative form that she was unable to explore so far. When not writing, she can be found indulging in other forms of creativity like painting or travelling.
Subscribe to Our
Newsletter

and stay informed

Keep yourself updated with the latest technology and trends with TechPout.
Related Posts