8 Best Video Editor For TikTok in 2023
Published Date :
Jul 05, 2023

Want to become popular on TikTok? Then, these video editors for TikTok help you create engaging content daily and get more followers. For more information, read the entire article! 
You're probably already familiar with TikTok, a very popular social media app that enables you to make and share short videos that may include some lip-syncing, dancing, and singing. How are such entertaining videos made? Although TikTok's built-in video editing tools are fairly capable, sometimes you need more to make your videos stand out.
Don't worry, we'll bring a list of the top TikTok video editing apps that you need to boost the production value of your videos.
Top 8 Best TikTok Video Editors to Use in 2023
So, which video editing tools are the best to use? Here we'll explain the 8 best video editors for TikTok so you can make amazing TikTok videos that will captivate and charm your viewers. This will assist you in making the best selection possible about the TikTok video editing programs you need to use in order to produce the greatest TikTok videos.
1. BeeCut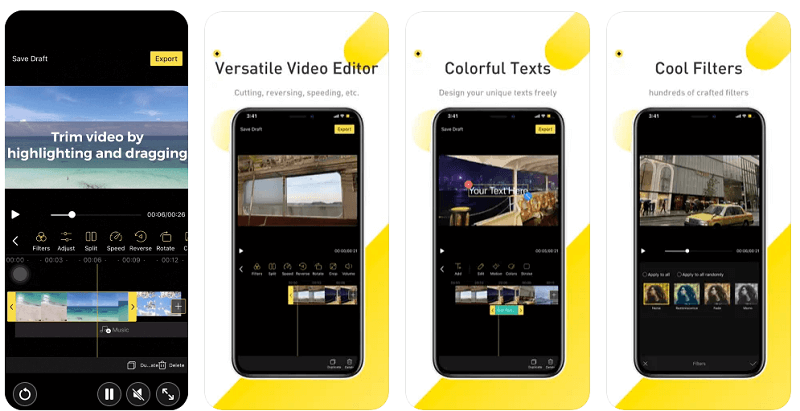 A free, all-in-one TikTok video editing program geared for novices is BeeCut. Your TikTok movies may be improved with filters, picture-in-picture effects, cropping, chopping, rotating, transitions, and more.
With only a few clicks and BeeCut's user-friendly interface, you can create a spectacular and original video. It supports the following five aspect ratios: TaoBao (3:4), square (1:1), portrait (9:16), and widescreen (16:9).
Key Features of BeeCut:
Videos may be cut per frame, and with a click, the intro or outro can be removed.
Several custom filters and transitions for turning images into videos.
Alter the length of movies.
Supports video outputs in 1080p, 720p, and 480p.
Also Read: Best Online TikTok Video Downloader
---
2. CapCut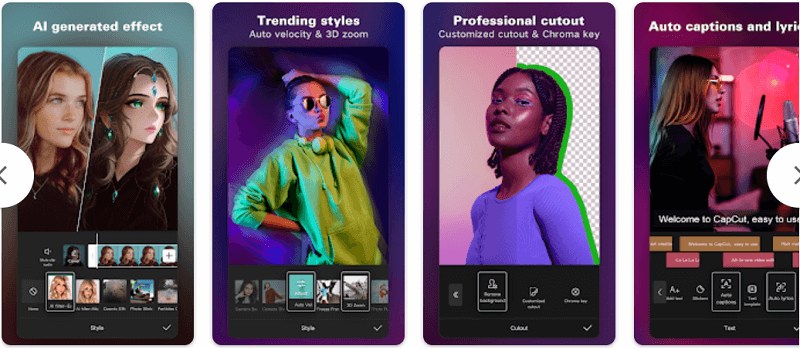 Bytedance, the firm that created TikTok in the first place, has released a new video editor for TikTok called CapCut. You can make stunning films with the aid of this free, all-in-one video editing program for Android and iPhone.
Within a short amount of time after being available, Viamaker has gathered more than 5.88 million evaluations on Google Play. These reviews have received a 3.0-star rating on average.
Although requested capabilities like green screen are absent from the program, it is obvious that Bytedance brought the major guns to bear when creating this TikTok video edit
Key Features of CapCut:
Features that are simple to operate include cut, reverse, and speed changes
Contemporary filters and effects
Large music collection
TikTok typefaces and popular stickers
Many magical effects
---
3. Zoomerang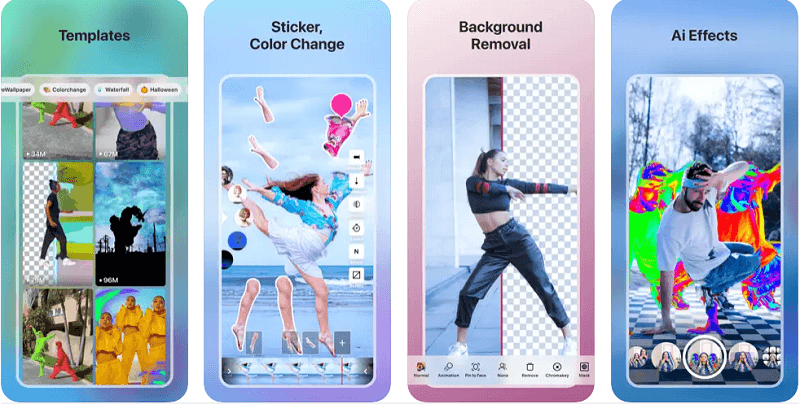 Another easy-to-use and best video editor for TikTok, Zoomerang, is ideal for novices. It has in-app instructions with only one button for each step. As a result, you may view well-known TikTok films and learn how to make them yourself.
Additionally, this program offers tools for modifying videos, such as effects, filters, music, and more.
You may explore the site without advertisements and have access to more effects and video editing tools for iPhone and Android with a premium membership.
Key Features of Zoomerang:
Detailed instructions 300+ effects
Active and involved TikTok account where your movies are shared
---
4. Movavi Video Editor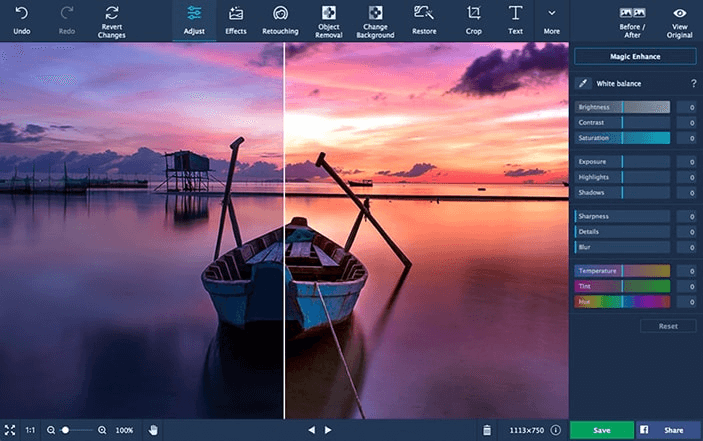 One more app to consider for TikTok video editing is Movavi Video Editor. It has various tools that can help with video production or editing. Movavi is easy to use due to its user-friendly interface, and is a great alternative for anyone who wants to create engaging content.
Here are some features this software offers:
Applying effects, filters, text overalls and transitions
Cut, trim, and merge video clips
Adjust colors and brightness
Add music tracks
Add voice overs to videos
This top-notch video editing software caters to TikTok's specific format needs, supporting various aspect ratios. Ideal for beginners and experts alike, it provides the tools needed to create high-quality, engaging TikTok content.
Download Movavi Video Editor For PC
Also Read: Best Video Editing Software For Mac
---
5. Funimate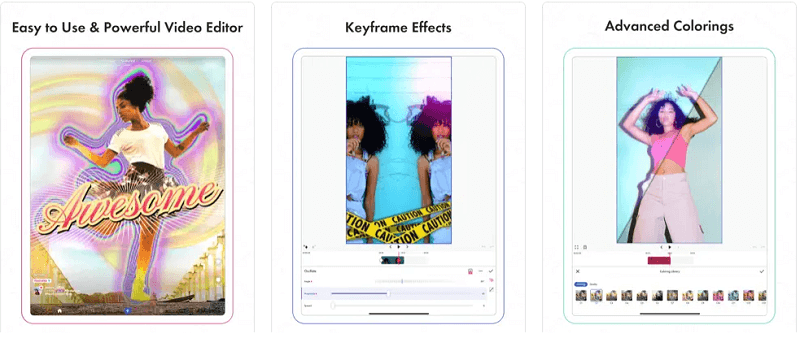 A variety of visual effects are available in this video editor for TikTok – Funimate, which also makes it simple to post films on Facebook, Instagram, and TikTok.
Daily challenges from Funimate may help you grow your TikTok channel and get recognition from the app's music video community.
Key Features of Funimate:
More than 100 complex video effects, with the option to add your own
Easily combine, edit, and trim videos
Make looping videos
Enhance videos with music, emojis, stickers, and text.
---
6. InShot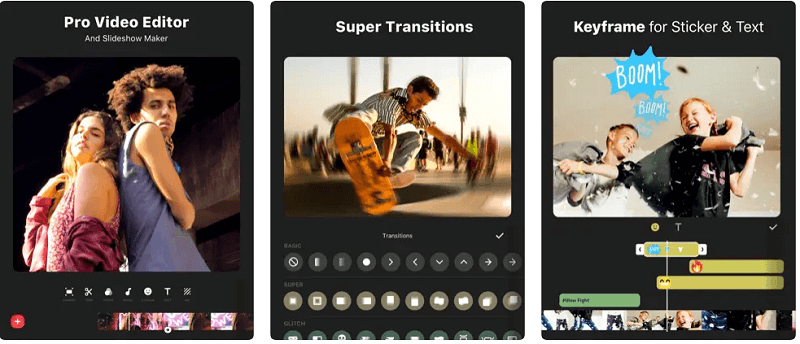 With fantastic capabilities including trim/cut video, blur backdrop, music, effects, and more, InShot is a free HD video editor and movie creator. This TikTok editor comes with one of the better options for processing video footage for social media sharing is InShot.
You may load your own music or choose from a variety of audio and graphic effects.
If you don't own the rights to the music you wish to include in your video, it's crucial to know that InShot lacks a built-in library of royalty-free tracks. Additionally, every video produced with the free version has a watermark.
Key Features of InShot:
Video chopper, splitter, and trimmer tools
assemble many videos
Adjusting brightness, contrast, saturation, and other video effects, together with movie-style filters,
Also Read: Best Video Editing Software for Windows
---
7. Lomotif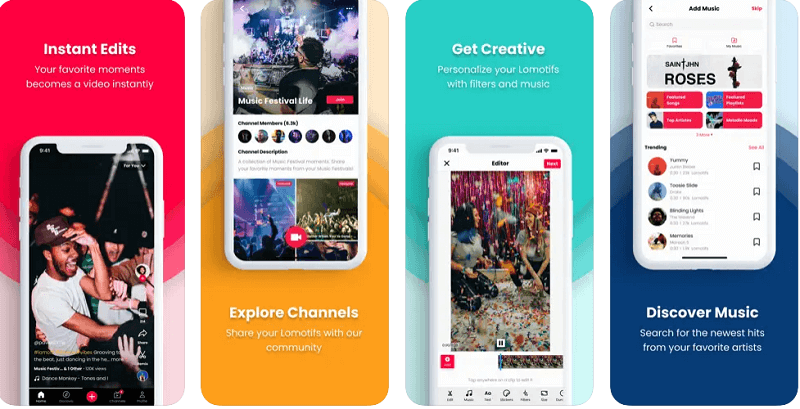 If you want to add music to your TikTok videos, Lomotif is the app for you. Lomotif has a huge music collection that ranges from recent songs to classics. Your options for music are almost endless, even though you cannot choose a specific section of a song.
Adding music, making a video or picture collages, and sharing to social media are all made simple using Lomotif. Although Lomotif is free, you must pay $4.99 to get the watermarks removed.
Main Features of Lomotif:
reorder clips to make the greatest possible narrative
importing pictures and videos from Facebook and Instagram
Filters, emojis, and title addition
Videos with a hyper-lapse effect for time-lapse and fast-motion
Create and manage video edits in the boomerang style.
---
8. Magisto Magisto 7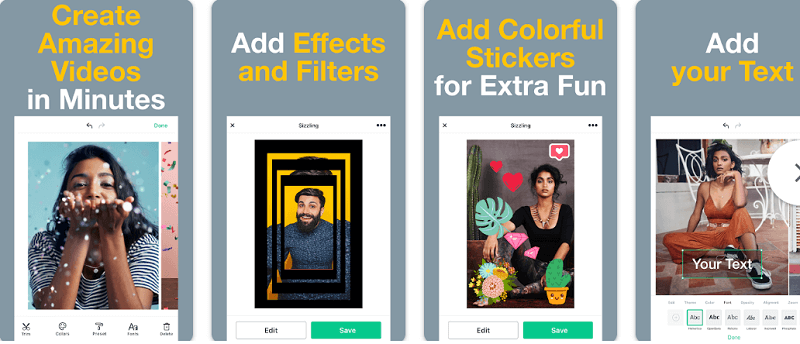 Magisto is an app from Vimeo for making and editing videos. By selecting a preferred editing style and including your movies and photographs, Magisto makes it simple to record any sort of film you choose. The AI of Magisto will then produce a movie for you.
It's simple to add music to your videos thanks to the app's music library and upload feature. Additionally, you may upload movies from your picture app and Google Drive account, as well as apply effects and titles.
Key Features of Magisto:
access to a music collection with permission and expert themes or templates
25 million images and more than 3 million stock photographs
Customized brand colors and typography
Also Read: Best Free Video Stabilization Software for Mac
---
Which TikTok video editing app is the Best?
Gen Z has swiftly become TikTok, their preferred social networking site, and users of all ages are starting to take notice as well.
Other applications are rushing to integrate TikTok in reaction to its rising popularity. As more third-party tools and applications integrate TikTok capabilities thanks to TikTok for Developers, it will be even simpler to produce, modify, and share your material.
So, these are some of the best video editor for TikTok that you can use in 2023. You can choose the one that suits you the most.
CapCut is anticipated to be the most TikTok-friendly app given that it was created by the TikTok founders. Furthermore, TikTok's built-in editor is the most practical choice for consumers.
The in-app training provided by Zoomerang will certainly come in handy if you're seeking a quick method to replicate all the popular TikTok videos. Funimate is undoubtedly the video editing tool you want if you're looking for a creative one that makes it simple to make bespoke video cuts.
Regardless of the TikTok video editing applications you choose to use, making polished, personalized movies will enhance the TikTok viewing experience for your followers and open up additional options for you to establish yourself as a powerful TikTok influencer.
Harshita Sharma is a technical writer with quite a distinct understanding of the tech realm. She is a tech enthusiast who believes that tech knowledge should reach one and all and tries to convert the sketchy knowledge into the simplest possible form for making people understand the tech world better. When not playing with words, she loves to travel and explore new places. And, is a coffee & cricket connoisseur.
Subscribe to Our
Newsletter

and stay informed

Keep yourself updated with the latest technology and trends with TechPout.
Related Posts