A Complete Review of Google Drive with Its Features (2023)

Google Drive review 2023: Here is everything you need to know about the cloud storage service. 
A corporation like Google doesn't need an introduction. With its ecosystem of software, services, and hardware, big tech-giant has controlled the internet for the last 20 years. With more than a billion users and billions of data saved on its computers, Google Drive was introduced in 2012 and has since grown to become the most popular cloud storage service on the globe. One of the greatest cloud collaboration tools available is definitely Google Drive, although it lacks synchronizing capabilities, security features, and backup alternatives. For more information, read our detailed review of Google Drive.
What is Google Drive?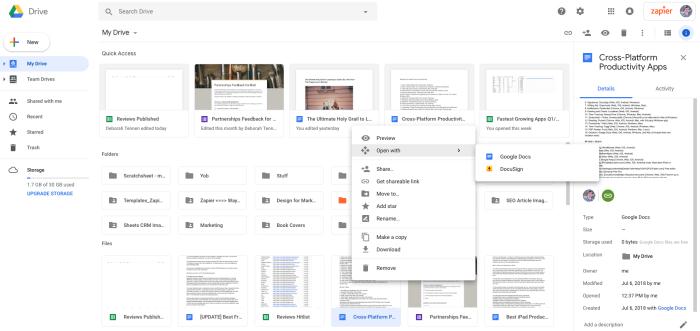 When it comes to productivity, Google Drive is one of the most flexible cloud storage services. The G Suite applications, which are now known as Google Workspace and include Google Docs, Sheets, and Slides, are among the numerous online programs that it enables interaction with, but it works best with these apps. Drive ranks quite high on our list of the best cloud storage services for collaboration because of all of its collaboration-friendly features.
All users of Google Drive get access to 15GB of free storage space, making it an amazing free plan. Additionally, unlike most other cloud services, it doesn't limit any functionality for free customers, earning it a spot on our list of the best free cloud storage. In this Google Drive review, we'll take a deeper look at Google's debut in cloud storage.
Also Read: Best Google Chrome Flags for Android
---
Prominent Features of Google Drive
Google Drive has a lot of useful features. Being a Google product, it effortlessly integrates with the company's huge ecosystem, which includes Gmail, Google Home, the Android operating system, and—most significantly—the Google Workspace, a board of workplace productivity tools. You may effortlessly collaborate on cloud-based documents with your coworkers by using Google Drive's connection with Workspace.
Google Workspace and Google Drive
Google has developed a group of workplace software called Google Workspace to make working online more convenient. Docs, Sheets, and Slides are its three primary office applications, and they are comparable to Microsoft Office. The online collaboration capabilities of Microsoft are now even surpassed by Workspace.
Using Third-Party Apps With Google Drive
Numerous Google applications, like Forms, Drawings, and Maps, may be linked to your Drive and are all available via the right-click menu. Additionally, the Google Workspace Marketplace, where you can get numerous standalone applications as well as add-ons for Google Docs and other Workspace apps, has even more programs that integrate with Google Drive.
A note-taking program called Google Keep is available on the right taskbar of Google Drive. You may use this to quickly and conveniently add notes without leaving Drive. You may manage your calendar and tasks by using Google Calendar and Google Tasks, which are both included on the taskbar. You may also add more applications to the taskbar for quick access.
Ease Of Use
A particularly user-friendly file storage service is Google Drive. Given that it's a Google product, its ease of use and attractive UI comes as no surprise. The user interface for Google Drive is sleek and contemporary, with big icons in distinctive Google hues. Every movement is supported by a smooth animation, which makes each click seem significant.
The majority of Google Drive's functionality is found in your browser, but it can also be downloaded for Windows PCs and Macs. Additionally, there is a mobile app accessible to iOS and Android users.
Get Google Drive for desktop programs if you wish to sync data between your device and Google Drive. If you download the standard sync client, you can drag and drop files or folders onto the network drive or use it to choose local folders to sync with the cloud.
Security
One of the largest companies in the IT sector, Google is enormous. This suggests that, at least theoretically, Google Drive's security is among the best. Although Google by default maintains the encryption keys, all files on Drive are encrypted. The firm has access to all of your data and can decode that data anytime it wants, even if Google's encryption is robust.
Drive encrypts your data while it is in transit from your computer to its servers as well as when it is stored on its servers. When your data is at rest, it employs the 256-bit AES encryption protocol, and when your files are being transferred, it uses 256-bit AES together with the TLS protocol. This implies that your data is always secure from hackers and man-in-the-middle assaults.
In order to secure user logins, Google Drive also employs two-factor authentication. Enabling two-factor authentication will make it so that only you can get into your account, even if someone knows your username and password, by confirming each login by replying to a cell phone notification.
Customer Support
The customer support provided by Google is unmatched. It is accessible round-the-clock through phone, email, or chat. Additionally, there is a support section providing solutions to numerous problems. The themes are well laid out, and there are connections to similar topics as well as useful videos and photographs. Additionally, there is a user forum where you may ask for assistance from other users as well as Google staff.
A premium Google One account also gives you access to professionals who can assist you with technical problems and provide detailed explanations of Google's numerous services.
You don't have to use English if it's not your first language since Google's help is offered in several languages as well.
Also Read: Best Google Docs Offline Extension
---
How Secure Is Your Data with Google Drive?
The privacy statement/policy provided by Google is simple to read and comprehend, and it includes videos that explain certain terminology. According to the policy, the only people who may access your data are you and Google workers. Additionally, it specifies that Google will only use your information for generally good purposes, such as providing you with better adverts. Most significantly, it promises never to sell your information.
Although Google doesn't really sell your data, it does sell information about you that it gathers through its scans so that last assertion is very dubious. Your device choices, demographic categories, and location data are just a few examples of the data that may be included. This implies that when you use any Google service, including Drive, your data is never completely private.
---
Pros & Cons of Google Drive
Here is what we have liked about the program and what we don't like about it.
Pros
Workspace integration with Google
Numerous third-party applications that are great for cooperation
Many free storage spaces
A fully functional free plan
Superior security
Cons
Only third parties may use zero-knowledge encryption.
Lack of block-level sync
Privacy issues
No passwords are required to share links
---
Google Drive: Pricing
A certain amount of Drive space is provided for free to all Google users, and this capacity may be increased by buying more space, albeit the process for doing so has altered recently.
Google Drive Free Plan
The extensive free plan offered by Google Drive is one of its finest features. Each Google account has 15GB of free Drive storage. The greatest thing, though, is that there are no limitations for free users and that all of these accounts are equal.
Google keeps information from the different services you use in your Drive account. Thus, items like Gmail attachments are included in your Google Drive storage limit. Additionally, if you decide to utilize that function, this is where your Android backups are stored.
Additionally, you may upload your images and movies to Google Drive without sacrificing any storage space; however, we'll let you in on a little secret later.
Also Read: Best Google Chrome Games to Play Offline
---
Wrapping Up
One of the most powerful cloud systems is Google Drive. It has excellent collaborative skills. It offers numerous file-sharing prospects, and few cloud service providers can match its true-to-life interaction with Google Workspace apps.
All of your data on Google Drive is secured, yet the privacy of Drive is awful. Employees at Google have access to all of your data, which they analyze and sell to advertising. Though most people use Google services, regardless of whether you utilize Drive, Google will still have information about you that it may sell to advertising. Anyways, Google Drive is the best cloud storage service that you can use.
We appreciate you reading our Google Drive review. Please feel free to share your Drive experience in the comments section below.
Harshita Sharma is a technical writer with quite a distinct understanding of the tech realm. She is a tech enthusiast who believes that tech knowledge should reach one and all and tries to convert the sketchy knowledge into the simplest possible form for making people understand the tech world better. When not playing with words, she loves to travel and explore new places. And, is a coffee & cricket connoisseur.
Subscribe to Our
Newsletter

and stay informed

Keep yourself updated with the latest technology and trends with TechPout.
Related Posts