If you are searching for the best To-Do list app for Macbook, your search may end here. In this article, we have compiled a list of top applications that you can use to manage your daily tasks on Mac. Continue reading for more information!
There are hundreds of years of history behind the use of "to-do" lists. They assist you in better managing your tasks, as well as your time and your sanity. Task management tools take things one step further by displaying reminders, narrowing the focus to what is most important, and connecting with your mobile device.
Simply said, a to-do list is a compilation of activities and commitments that a person has committed to finishing within a predetermined amount of time. In addition, we use to-do lists to ensure that all of the significant responsibilities are noticed.
In the era of digitalization, the advent of mobile applications has revolutionized various aspects of our lives. From the convenience of a filtered camera to staying connected with friends through chat platforms, these apps have made it possible to learn new languages, effortlessly share files, and efficiently manage tasks such as creating to-do lists and setting reminders. By digitizing manual tasks, these applications not only enhance productivity but also offer significant time and cost savings.
List of 7 Best To-Do List Apps For MacBook in 2023
A dedicated to-do list will assist you with keeping track of your tasks and staying organized. And, to help you select the perfect software for your business as well as your personal needs, we have prepared a list of the top 7 to-do list apps for Macbooks. So, without further ado, let's get started!
1. Todo.is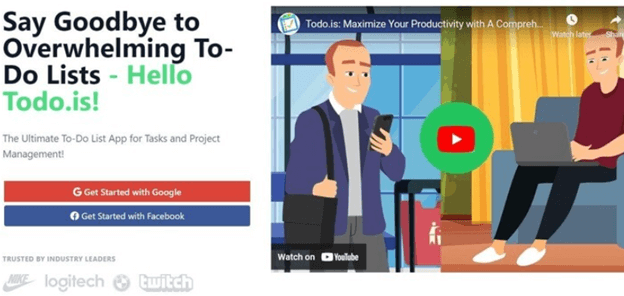 Todo.is, one of the best to-do list applications that is available for both Android and iOS devices. It is an easy-to-use utility tool for task management. The artificial intelligence that drives the tool's task-creating capabilities is responsible for the exceptional ease of use of the tool. The AI (Artificial Intelligence) functionality of Todo.is allows it to create tasks in a fraction of the time it would take another software that does the same thing manually to do so.
Using this program, you will have the ability to easily create many projects at the same time. In addition, you are able to monitor the development of each project using the detailed information provided. After the project has been created, it is quite easy to begin adding tasks to it, as well as setting reminders and due dates, and attaching files. An intuitive calendar allows you to monitor the progress of tasks and keep track of events.
Key Features of Todo.is:
Powered with AI-based task generation.
Quickly set Reminders.
Lets you access the calendar.
Attach documents to various projects.
Compatible with both Android and iOS.
Also Read: Best Free Mac Cleaner Apps to Clean and Optimize Your Mac
---
2. Things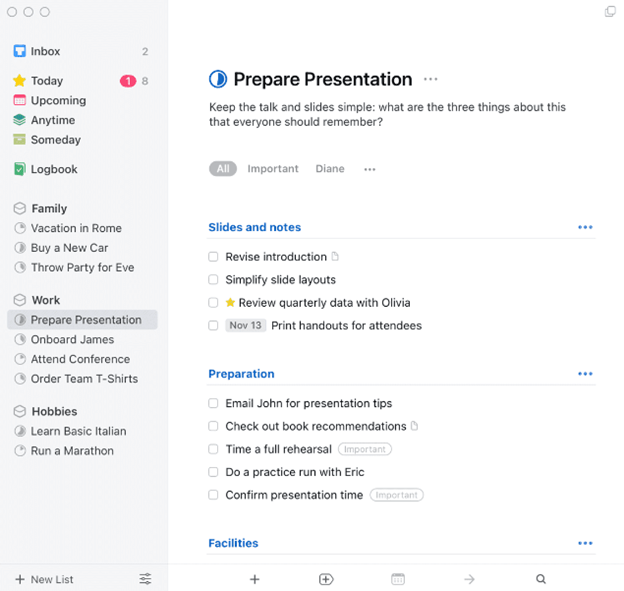 Another best to-do list app for Macbook is Things. It is compatible with Macs as well as iPhones, iPads, and Apple Watches. You are able to create and manage tasks on the site, as well as tag other users, set due dates, and do much more.
It is a team of 11 people, all of them are from different regions of the world, and their goal is to provide you with an app that is cutting-edge, packed with features, and regarded as among the leading to-do list applications for Macbook in 2023.
Key Features of Things:
It has the ability to schedule your entire week, as well as to set deadlines.
When it comes to creating projects, you can add headings.
You can construct a straightforward checklist of things that need to be done, items that need to be purchased, etc.
Options for quick searches.
---
3. TickTick
TickTick is another robust tool that is widely considered to be among the top free to-do list programs for Mac. The platform is designed to continuously make new features available to you in order to keep the application running efficiently and dependably.
TickTick connects with a variety of platforms, including Calendar, Habit, and Pomodoro Timer, amongst others, to provide you with the ability to manage all of your responsibilities from a single area. The application can be used for either personal or professional purposes, making it quite versatile.
Key Features of TickTick:
Availability of voice input functionality to add tasks even more quickly.
Set the deadlines, and ensure that you are reminded of them.
View your responsibilities in a variety of formats, such as Daily view, Weekly view, Monthly view, etc.
It is simple to collaborate and share lists.
Maintain a record of the progress of each work that is shared.
Also Read: Best Free Scanning Software For Mac
---
4. GoodTask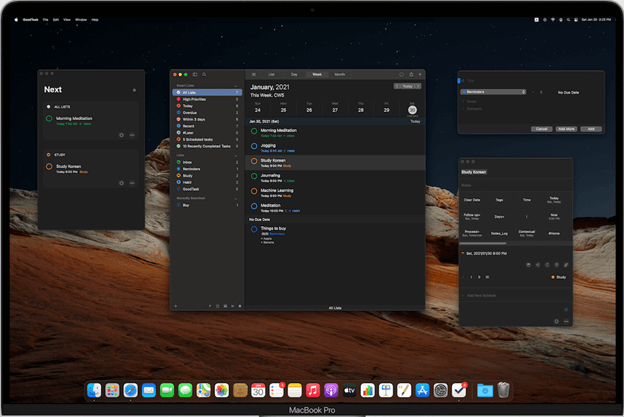 The next best to-do list app for Mac is GoodTask. The Apple reminders and calendars serve as the foundation for the user-friendly task management tool known as GoodTask. It is possible to use it as either a checklist tool for straightforward chores or a task management program for more involved undertakings.
GoodTask is an excellent app for people who use Macs, but it also syncs very effortlessly with other devices that are part of the Apple ecosystem and can show you checklists no matter where you are.
Key Features of GoodTask:
Wonderfully designed user interface.
Rapid actions and text snippets are available.
The view includes the daily, weekly, and monthly schedules.
In-built theme maker for customizing the appearance of the app.
---
5. The OmniFocus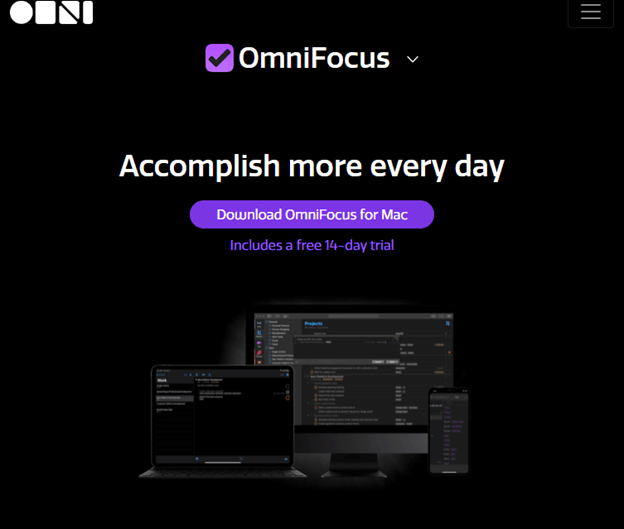 The Omni Group's OmniFocus was developed with the goal of helping busy professionals who are prone to becoming easily overwhelmed by their numerous activities and projects. If you find that each day brings a new set of challenging responsibilities, you should give serious consideration to making OmniFocus the program that manages your to-do list on Mac.
With the help of this program, you are able to readily access your to-do lists on other Apple devices such as an Apple Watch, an iPhone, and more. The program makes it handy and adaptable for you to quickly finish the most critical activities you need to complete. In addition, in contrast to some of the other applications on our list, such as Todoist, Omnifocus offers offline access.
Key Features of OmniFocus:
Real-time synchronization across all of your different Apple devices.
Editing in batches.
Siri adaptability.
Sharing option, which allows you to import actions from any program already installed on your device
Also Read: Best Image Viewer for Mac
---
6. Asana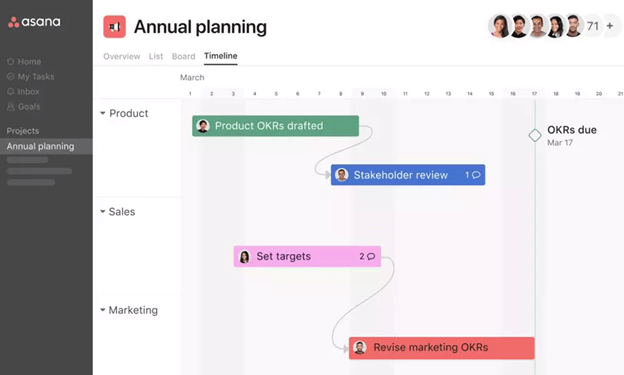 Asana is yet another highly effective program for managing your tasks. More than one hundred thousand businesses from all over the world, including Amazon, NASA, Deloitte, Spotify, and The New York Times, have put their faith in Asana to fulfill their requirements for task management.
The platform provides basic data security measures, such as routine data backups, certification in accordance with SSAE 16 and SOC2, compliance with GDPR, CCPA, and HIPAA, as well as other features. The platform has a wide range of useful features, and a variety of price options to choose from, and is suitable for both individuals and organizations of any size. Overall, it is the best to-do list app for Macbooks currently available.
Key Features of Asana:
Tools for automating the entire procedures of your company's business.
Comes with reporting tools that can provide you with up-to-the-minute information on the status of each activity.
Create long-term objectives and monitor your progress toward achieving them.
Keep track of how much work each member of the team is doing.
---
7. Todoist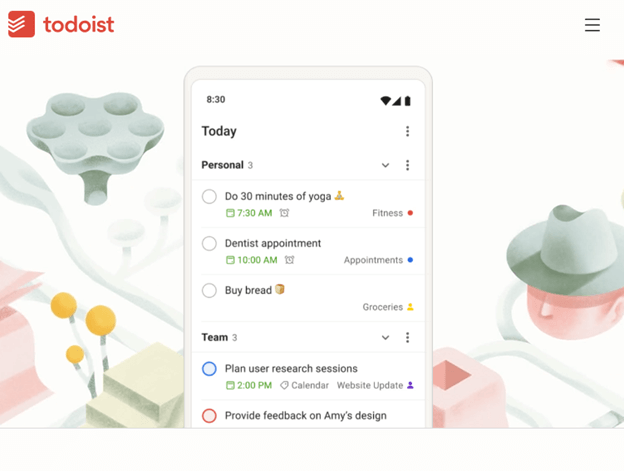 Undoubtedly, the Todoist is the most effective task management tool available in the market. It is being put to use by teams at Amazon, Apple, Shopify,  Disney, and a great many more companies and organizations. The system can be downloaded via the Apple App Store as well as from the Google Play store.
The platform's strength is greatly increased by integrations, and the breadth of its capabilities is impressive. Todoist has received overwhelmingly positive feedback. In sum, it is the most dedicated to-do list software for Mac that one can use in order to stay organized and informed.
Key Features of Todoist:
Provides you with an unobstructed perspective of all of your significant responsibilities.
Notifies you about upcoming deadlines.
Develop your to-do list with divisions and subheadings to ensure that nothing important is overlooked.
This to-do list app on Mac enables you to prioritize the tasks that are most important.
Lets you assign tasks or duties to multiple persons, and informs you when they are finished.
Also Read: Best Uninstaller for Mac to Completely Remove Unwanted Apps
---
Best To-Do List Apps For Mac in 2023: Closing Lines
The creation of a list of things that need to be done is an effective strategy for reducing the likelihood that any significant responsibilities will be neglected. As a result of everything being digitized, it is now possible to get apps for your mobile phone or systems that will allow you to build to-do lists, set due dates, receive reminders, assign tasks, share to-do lists, make notes, and do a wide variety of other chores.
And, managing tasks on Macbook has never been simpler. Choosing the right application is a bit of a daunting task. Therefore, we have shortlisted a few most prominent To-Do list apps for Macbooks. Using either of the following, you can easily stay organized and informed.
So, that's all! We hope you found the information provided in this article helpful. Please feel free to drop your queries or better suggestions in the comments section below. For more tech-related articles, how-tos, software reviews, and more, you can subscribe to our Newsletter. Additionally, you can follow us on Social Media – Facebook, Instagram, Twitter, or Pinterest so you never miss any tech updates.
Harshita Sharma is a technical writer with quite a distinct understanding of the tech realm. She is a tech enthusiast who believes that tech knowledge should reach one and all and tries to convert the sketchy knowledge into the simplest possible form for making people understand the tech world better. When not playing with words, she loves to travel and explore new places. And, is a coffee & cricket connoisseur.
Subscribe to Our
Newsletter

and stay informed

Keep yourself updated with the latest technology and trends with TechPout.
Related Posts