In this article, we talk about the best to-do list apps for Mac to boost your productivity.
Do you often end up missing deadlines or do a lot of your personal and professional tasks remain pending? If yes, you need a bit of planning and sorting in your busy life. With properly planned, sorted, and prioritized tasks, living up to your commitments becomes easier. And the best task management apps for Mac help to a great extent when it comes to the proper organization of various tasks.
Moreover, the best to-do list apps for Mac enhance your productivity as they minimize the chances of chaos during the day. Many users use them to complete tasks well within deadlines and have well-organized days.
How to Choose the Best App for Task Management on Mac?
Here are a few factors that you should consider when choosing the best task management app on Mac.
Standards and consistency.
User interface.
Minimalist and aesthetic design.
Task productivity.
Ability to create easy-to-deploy integrations within the user's ecosystem.
Allocation and task scheduling functionality.
Thus, this article introduces you and all our readers to the best task managers for Mac. These apps help you plan and organize all your tasks during the day. Let us proceed toward them without any further ado.
List of the Best Task Management Apps for Mac
You may use the following to-do list apps for Mac to manage all your tasks perfectly.
1. Microsoft OneNote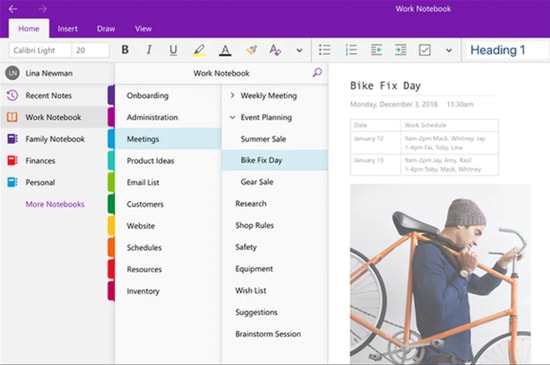 OneNote is a well-known productivity application from Microsoft. Available for all platforms, including Mac, this software boasts many praiseworthy features, such as anytime data access, the option to highlight notes, and a lot more.
Let us look at all the wonderful features of Microsoft OneNote which make it one of the best task management apps for Mac.
Key features of Microsoft OneNote
Section creation, page addition, table insertion, image/audio/meeting details/sticker placement options
File syncing with SharePoint and OneDrive
Text extraction from images
Ease of use
Many collaboration and sharing options like a shared notepad
Pros
Add images, tables, and even audio recordings.
Excellent for productivity.
Data synchronization across different platforms.
Cons
To access full features, one requires a Microsoft 365 subscription.
Also Read: Best Mac Cleaner Apps to Clean and Optimize Your Mac
---
2. Todoist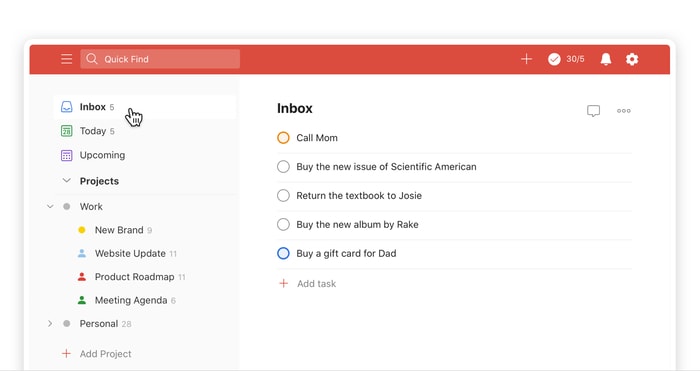 Next, we have Todoist on our list of the best to-do list apps for Mac. It is an easy-to-use software with a simple login process and a variety of useful features.
Some of the most fascinating features of Todoist include a priority-setting option, deadline reminders, and sharing tasks via email. In addition to this, the following are the other notable features of Todoist.
Key features of Todoist
Available as a browser extension
Lets you use Siri
Availability of the today widget
Facilitates project collaboration by assigning tasks to others
Personalized productivity trends to help you track your progress
You may set recurring due dates
Pros
Filters to spot important tasks.
Project templates.
Extensions for popular web browsers.
Lightweight and robust app.
Cons
The interface is a bit tricky for beginners.
---
3. Things3

Things3 is yet another to-do list app for Mac that is easy to use and has a plethora of features. The option to create tasks based on projects is something we like the most about Things3.
Moreover, note addition, tagging, scheduling, and breaking it into smaller parts are some other Things3 features that attracted us. Furthermore, below is what else this software offers to deserve the title of the best task manager for Mac.
Key features of Things3
Lets you create goal-based projects and a to-do list to reach these goals
You may add headings to structure your list and outline the plan
Area creation for all life spheres, such as family, finance, work, etc.
Date-based sorting of tasks
Pros
Neat user interface.
Easy to use.
Separate areas to differentiate tasks.
Sorts tasks based on dates or events.
Cons
It's a bit expensive.
Web application unavailable.
---
4. OmniFocus3

The next software we would like to include in this list of the best Mac to-do apps is OmniFocus3. What we liked the most about this application is that it lets you choose whether you wish to store your data in the cloud or on your device.
Moreover, OmniFocus3 is an easy-to-use application with a simple UI and the following remarkable features.
Key features of OmniFocus3
Lets you create tags for priorities, locations, energy levels, people, and more
Forecast view to see all your calendar events and tasks in order
Easy setting up of repeating tasks
Inbox to quickly add, save, and organize tasks
End-to-end encryption to keep your data secure
You may add notes to tasks for additional information
Option to add attachments like graphics, audio, video, etc.
Review perspective to go through all your tasks and projects
Mail Drop to add tasks through email using IFTTT and Zapier
The Today Widget to view the most important items
TaskPaper Text support
Pros
Simple and quick navigation.
Option to review the efficiency of the assigned tasks.
Clean UI.
Also Read: Best Uninstaller for Mac to Completely Remove Unwanted Apps
---
5. TickTick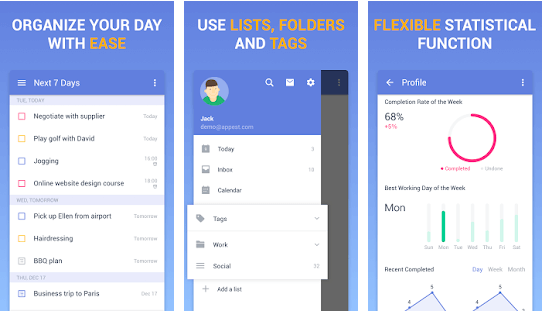 TickTick is yet another great to-do list app for Mac you may use to organize your tasks. It packs all the necessary features in a minimal UI. Talking about the interface of this app, it is extremely easy to understand and navigate.
As far as features of TickTick are concerned, it boasts some of the most wonderful options like task addition via Command+Shift+A shortcut and the ones listed below.
Features of TickTick
Instant reminder for tasks you have added to the app
Priority level setting for tasks
Flexible recurring tasks setting
Task sorting by priority/date/order/name
Syncing of tasks across all your devices
Availability of task summary
Options like a habit tracker
Pros
Shows a summary of all tasks.
A habit tracker option is available.
Run on numerous platforms.
Easy to understand interface.
Cons
Calendar feature is missing from the free version.
---
6. Structured

Let us now take a look at Structured, a beautiful and one of the best task management apps for Mac. It boasts a pretty UI and many features like icon-based differentiation of tasks to attract users.
Moreover, Structured uses an approach similar to a flowchart to help you complete the assigned tasks with ease. Furthermore, below are some other features that brought Structured to this position on our list of the best task managers for Mac.
Key features of Structured
Inbox for easy task capturing
Importing of calendar events
Reminders app support
Availability of iCloud syncing
Notifications so that you do not miss any tasks
Option to set recurring tasks
Notes and sub-tasks to make it easier to accomplish big tasks
Over 500 task customization icons
App color and icon customization options
Home screen widgets so that you can view all your tasks
Support for VoiceOver
Supports almost 30 languages
Pros
Can sync across multiple platforms.
Password protection.
Great for productivity.
Task division based on dates.
Cons
Does not provide a free trial.
No option to select where to save data.
---
7. 2Do

Last but not least
, we have 2Do as the best to-do list for Mac. It is a powerful application loaded with a plethora of useful features.
Some highly attractive features of 2Do include the creation of smart lists that let you view the tasks the way you want. Moreover, the following are other 2Do features that justify its name on this list of the best to-do list apps for Mac.
Key features of 2Do
Addition of projects or checklists inside lists
Lets you add tags and due dates
Quick addition of new tasks with a keyboard shortcut
Notifications about soon-to-approach deadlines
Today Widget to check off tasks
Multiple syncing options
Support for iCloud, Yahoo Calendar, Dropbox, Fruux, any CalDAV server, or Toodledo
Pros
Great calendar planner.
Availability of Sync option.
No login required.
Cons
Only compatible with Apple products.
Also Read: Best Productivity Apps for Mac You Should Use
---
8. Focalboard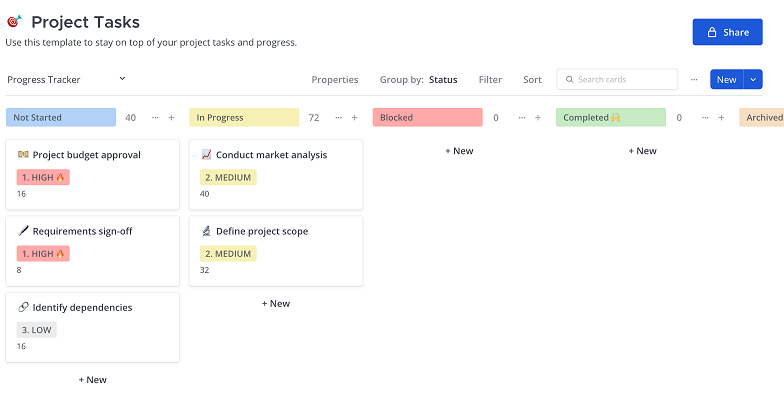 The next one on our list of Best task management apps for Mac is Focalboard. This open-source project management platform enables users to keep everything on track for their team. And with this, it ultimately accelerates the productivity
With the existing templates for basic needs, you can save a lot of time for managing your day to day tasks. Using these templates easily create a full fledged custom task board.
Key Feature of Focalboard
Templates for cards, boards, and other posts to save time.
Simple drag and drop functionality.
File sharing
Switch to different views and even sort them on the basis of relevance.
Easily import and export files, reports, etc across platforms.
Pros
Open Source task management application
Personal server and desktop
Switch view formats
Manage projects and teams through easy communication
Cons
Pricing is non-transparent
---
Concluding the Best Task Management Apps for Mac
This article brought to light various to-do list apps for Mac that you may use to organize your tasks to perform them efficiently. You may check the features of all the above apps, compare them with your requirements, and then choose the perfect fit for your needs.
If you think the above list skips some well-deserving and the best to-do list software for Mac, you may share the same in the comments below. You may also write to us in case of any doubt, confusion, or question regarding this article.
Niharika is a passionate soul who finds immense satisfaction in putting all her thoughts in writing. Being a technology enthusiast, she loves learning new things about tech and making everyone technologically literate through her articles. When not composing tech articles, you can find her bringing characters to life in her fictional stories, reading something intriguing, or spending time with her near and dear ones.
Subscribe to Our
Newsletter

and stay informed

Keep yourself updated with the latest technology and trends with TechPout.
Related Posts