This article shares the 12 best paid and free calendar apps for Mac to help you with planning and organizing your days.
It is cumbersome to sail through the day without proper planning and organization. You need to plan and schedule your day well in advance to check off that to-do list and ensure you don't end up struggling and juggling various tasks throughout the day. The best calendar app for Mac can be of great help in making the day's plans.
Now, you might be wondering why you need the best calendar for Mac from a third party when the device already has a default calendar. Well, Mac's in-built calendar is bare bones with no advanced features to aid better planning and scheduling.
Hence, this article brings to light a well-researched list of the best paid and free calendar apps for Mac.
However, you should know what to look for in a calendar program before going through this list. Knowing it helps you choose the perfect fit for your requirements. Hence, let us first take a look at these essential features.

Essential Features of the Best Calendar Apps for Mac
The best calendar for Mac should possess all or most of the following features.
User-friendly native macOS interface
The interface of the top calendar application for Mac should follow Apple's design and integrate well with the operating system. It should offer features like menu bar icons, notifications, native keyboard shortcuts, and Today widgets. All in all, it should be an application that is both user-friendly and feature-rich.
Quick appointment addition
Adding and remembering events/appointments is one of the prime reasons a person needs a calendar application. These apps are of no use if one cannot quickly add appointments. Hence, the best calendar app should let the users perform appointment addition with just a few clicks. Moreover, these programs get brownie points if they support natural language processing.
Quick appointment viewing
In addition to adding appointments in a snap of the fingers, the best Mac calendar app for Mac should let users quickly view appointments. You should be able to see your appointments hassle-freely in the way you want to view them, i.e., monthly, weekly, or daily appointments.
Syncing to mobile and other devices
The calendar app should have syncing capabilities. It is always good to sync your calendar through iCloud, Exchange, Google Calendar, or all of them to ensure the all-time availability of the calendar.
Now let us proceed towards the applications offering all or a majority of the above and many other features without further dilly-dallying.
---
Researched List of the Best Calendar App for macOS
The following are the best calendar apps for macOS you may use this year.
1. Fantastical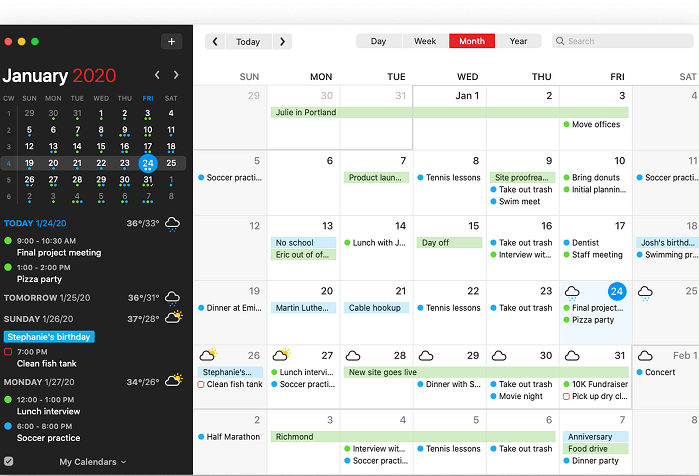 Let us first introduce you to a fantastic and the best calendar app for Mac called Fantastical. We got intrigued by this calendar's design at first glance.
Apart from being well-designed, it boasts many other features, such as quick event creation using the "+" menu, creation of a template from the added event, one-click event composition, and third-party calendar support.
Moreover, you are going to like Fantastical for its smooth animations, and quick and highly-responsive experience.
Also Read: Best Screenshot Tools for Mac
---
2. BusyCal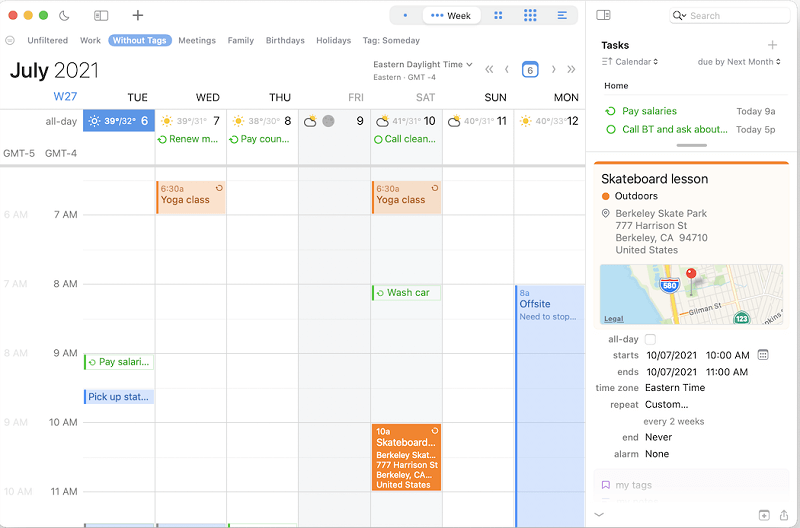 When you look at BusyCal, it reminds you of the in-built Apple Calendar. However, these two are entirely different in terms of their features. BusyCal is way more customizable than Apple or perhaps any other calendar on this list.
It is the best calendar app for macOS as it allows you to view only the needed information, get an interesting color scheme for the calendar, change fonts, and add another timezone.
In addition to high-end customization options, BusyCal comes with an availability panel. You may use this panel to locate your schedule's next open spot. Moreover, you may categorize events annually, monthly, weekly, or daily.
Furthermore, it allows data syncing through Yahoo, iCloud, Fruux, Google, Office 365, Fastmail, iCloud, Exchange, and CalDAV.
---
3. Microsoft Outlook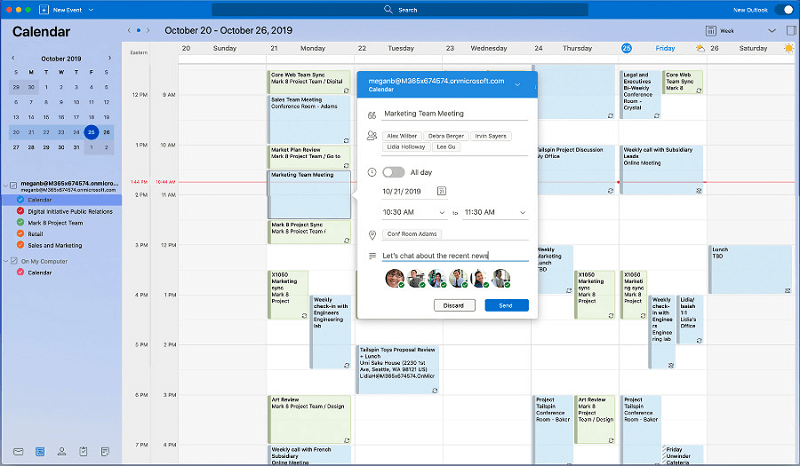 Now, let us talk about Microsoft Outlook, a bit more professional-looking free calendar app for Mac. It is already a renowned application for its email functionality.
Talking about the calendar, Microsoft Outlook leaves no stone unturned to delight users with its features. For example, this calendar supports event creation according to location, meeting notes, Skype calls, and other such factors.
Moreover, Microsoft Outlook allows you to import and add popular TV channel schedules. Furthermore, another likable feature of this calendar is that it is closely integrated with Microsoft's To-Do service and Sticky Notes.
Also Read: Best Uninstaller for Mac
---
4. WeekCal

Next, we have WeekCal on this list of the best free calendar apps for Mac. It claims to help you organize your life without effort. And perhaps its features truly aid a well-organized life.
WeekCal's most fascinating features include schedule visualization via colors and emojis and a clear and comprehensive year/month/week/day-based overview. Moreover, it syncs perfectly with other apps, such as iCloud, Yahoo Calendar, Google Calendar, Exchange, Microsoft Outlook, iCal, ICS subscription calendars, and CalDAV.
Furthermore, WeekCal helps you schedule appointments effortlessly by dragging, copying, and pasting. You can even create event templates and recurring events.  It also allows you to assign emojis/colors to events according to rules. And you may share your events through messaging applications.
---
5. Calendar 366 II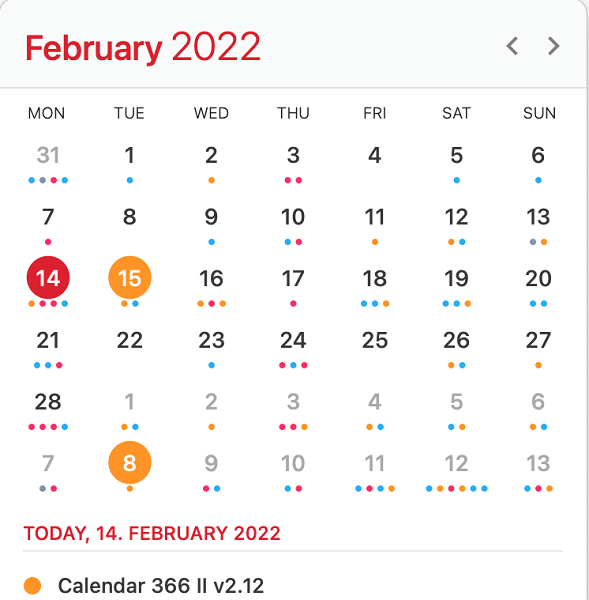 If you do not like Windows view, you may go for Calendar 366 II, an entirely menu-bar-based application for Mac. The best thing about this calendar is that it keeps your attention intact as you do not have to switch to another window.
As far as features are concerned, Calendar 366 II comes loaded with Spotlight search support to find needed calendar entries easily. Moreover, there is Touch Bar support, easy appointment addition and viewing, natural text inputs, and seamless data syncing across various devices.
Furthermore, you can even use Calendar 366 II as a clock on your Mac, this is another interesting feature that makes it one of the best calendar apps for Mac.
---
6. Any.Do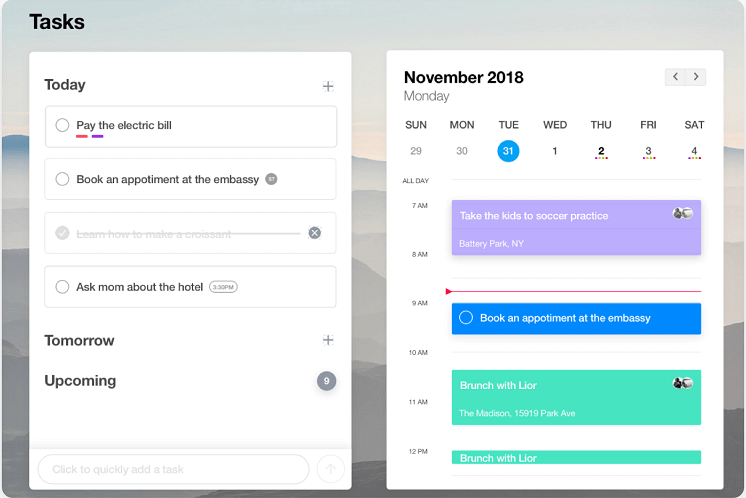 Primarily a task management application, Any.Do doubles up as the best calendar app for macOS. The most attractive feature of this app is that it lets you add relevant information like notes, location, URL, etc., to the event details.
Moreover, another great feature of Any.Do is its excellent third-party application integration. It supports over 1500 applications that include but are not limited to Trello, OneNote, Evernote, and Slack.
And as far as customization is concerned, you can customize the application with exciting themes and background wallpapers.
Also Read: Best Productivity Apps for Mac
---
7. Google Calendar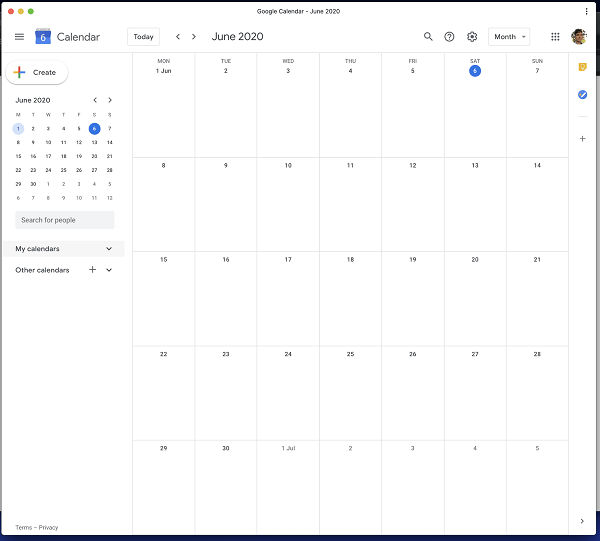 Here comes a perfect solution for all those needing the best Google calendar app for Mac. Technically, not a downloadable application, Google Calendar is a web-based app. It can serve as an alternative to Apple Calendar if you are an ardent user of Google products as the app syncs all your activities seamlessly.
Apart from excellent syncing capabilities, Google Calendar arranges all your information effectively. You only need to keep the Google Calendar window open in your browser to use it.
---
8. Calendars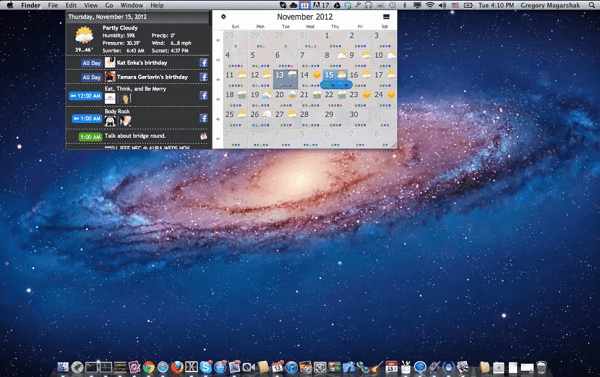 Here come Calendars on this list of the best free calendar apps for Mac. It is the perfect app for anyone who is happy with Apple Calendar but wants an add-on to place in the menu bar.
This app sits in the menu bar to help you view the calendars present in the Calendar. It lets you view your agenda and schedule effortlessly. Moreover, you may get a Calendars subscription if you want a few more features, such as the addition of backgrounds.
---
9. Informant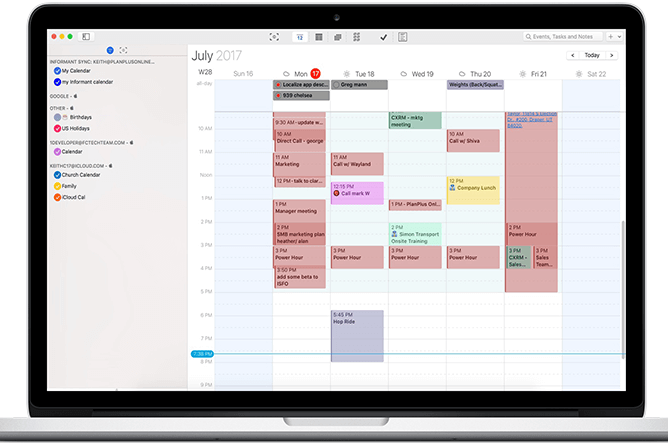 Next, we would like to introduce you to Informant. It is not only the best calendar app for macOS but also a task manager and note taker.
Moreover, it boasts an option to choose between various viewing modes and offers easy customization of how individual events look. Furthermore, it has a menubar that allows you to add events to the calendar.
---
10. Mini Calendar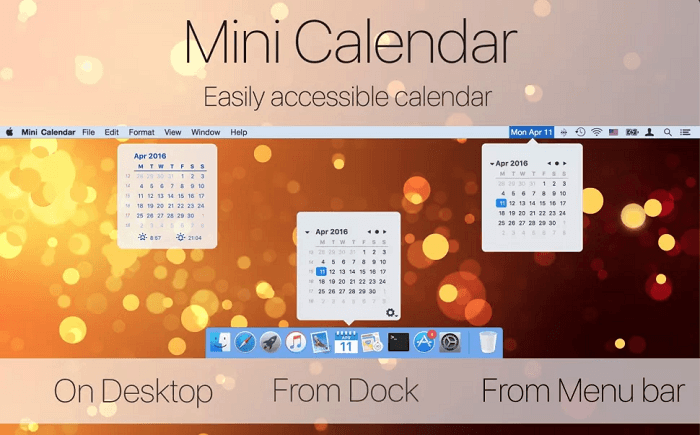 Finally, let us bring this list of the best free calendar apps for Mac to an end with Mini Calendar. It offers three-way access to the calendar, you may view it through the desktop, via the menu bar, or using the Dock.
Moreover, Mini Calendar is quite lightweight and customizable. You can customize its shortcut keys and color. Furthermore, it lets you view sunset and sunrise times as well.
Also Read: Best Free Auto Clicker For Mac
---
11. Morgen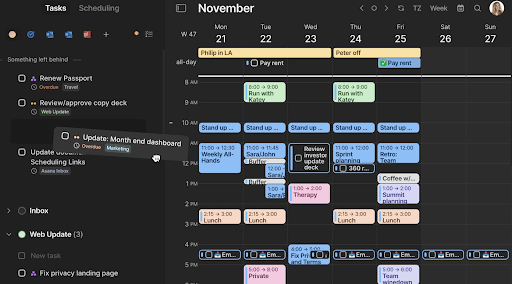 Finally, allow us to present to you the last product in this list of the best free calendar apps for Mac named Morgen. With the help of this tool, you can easily manage your time and schedule as per your requirements.
The cross-platform solution is available for Windows, Mac, Linux, Android, and iOS. Hence, you can schedule using any device and make the changes in all.
---
12. Apple Calendar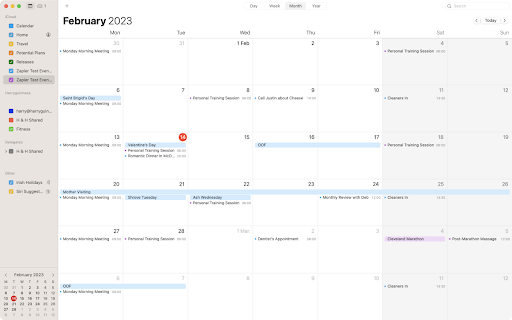 The Apple Calendar app, which comes pre-installed on Mac, is easy to use, well-designed, and automatically synchronizes with your iOS devices, including iPhone or iPad.
Simply clicking the "+" button makes it easy to add new appointments. Natural language processing allows users to type in something like "go for a walk at noon" and have the expectation that their computer will understand what you mean by it. In addition, you can create an appointment by clicking and dragging anywhere on the calendar itself. The day, the week, the month, and the year are the four primary perspectives.
You are free to create as many individual calendars on your local device as you like, and iCloud will keep them all in sync. You can also import calendars from external accounts such as Exchange, Google, Yahoo, or AOL. This not only makes it simpler to use shared calendars, including shared iCloud Calendars, but it's also helpful if you're trying to maintain a healthy balance between your personal and professional calendars.
The Reminders app, which is now a separate download, has taken over the function of the to-do list that was formerly included in Apple's Calendar. This software will not satisfy your needs if you wish to view tasks in addition to your scheduled appointments. However, there are a plethora of more connectors. For example, addresses will appear on Apple Maps, and you will have the option to receive updates regarding journey times. You have the ability to schedule and invite others to participate in FaceTime calls. There is even a calendar that pulls in prospective data rom iMessages, or other apps of Apple apps called the Siri Suggestions calendar.
The best free calendar app mac Apple Calendar may be straightforward, but it provides all of the features that the vast majority of users want. If you only use Apple products, you should try it out before downloading anything else because getting a considerably better experience requires you to pay quite big amount of money. If you only use Apple products, you should try it out before installing anything else.
---
Concluding the Best Calendar Apps for Mac
Now, we have reached the end of the best calendar for Mac. You may choose any calendar from the above list depending on your preferences and requirements. Also, let us know in the comments section whether you liked our article or not.
If you wish to read more helpful and interesting tech articles, keep yourself connected with TechPout.
Niharika is a passionate soul who finds immense satisfaction in putting all her thoughts in writing. Being a technology enthusiast, she loves learning new things about tech and making everyone technologically literate through her articles. When not composing tech articles, you can find her bringing characters to life in her fictional stories, reading something intriguing, or spending time with her near and dear ones.
Subscribe to Our
Newsletter

and stay informed

Keep yourself updated with the latest technology and trends with TechPout.
Related Posts