11 Best Screen Mirroring Apps For Android & iPhone In 2020

Do you wish to experience your smartphone on a larger than life-size scale? You can certainly consider using the best screen mirroring app for Android and iPhone that you own.
If you are wondering what these apps can do for you then let me enlighten you that they enable you to stream movies from your smartphone onto a bigger screen very conveniently. Additionally, some people also use it for technical support.
This post is about the best screen mirroring apps available for Android and iPhones. Let us brief you on the concept of screen mirroring before taking you through the best screencasting apps available in the Play Store or App Store.
What is Screen Mirroring?
A screen mirroring app lets you reflect the contents on your smartphone onto a bigger display screen like that of a television screen or PC. It can prove to be immensely useful for gamers and binge-watchers. 
Additionally, it can also be useful for accessing other files, images, and apps. These apps can also find utility in meeting rooms and can prove to be of immense technical assistance for developers besides serving as a screen recorder. 
Using screen mirroring apps can offer some advantages over the cumbersome manual steps. Therefore, you can easily acquire a satisfactory app for your smartphone to effortlessly transfer media files between your smartphone and PC.
Best Screen Mirroring Apps For Android & iPhone:
Go beyond the boundaries of your smartphone with the best screen mirroring apps described below.
1. Google Home 
Control your Chromecast from your smartphone or cast your phone screen to the TV with this best screen mirroring app for Android and iOS devices.
If you are thinking about what else you can do with it, then you would be amazed to know that it can let you play music easily. Bountiful music and videos are available with this app. 
Apart from streaming numerous videos, you can also control and customize Chromecast settings easily with this screen mirroring app. This app can also warn you if some anomalous event takes place in the house in your absence.
2. Microsoft Remote Desktop
Being a well-known screen mirroring application, it lets you connect your devices easily. It streams videos in high definition and hence can be regarded as the best screen mirroring app for smart TV. 
You can securely establish a connection between your system and the Android or iOS device. You can also transfer data, media files, etc securely. It also offers multi-touch functionality.
Read More: Best Phone Usage Tracker Apps For Android & iOS 
3. ApowerMirror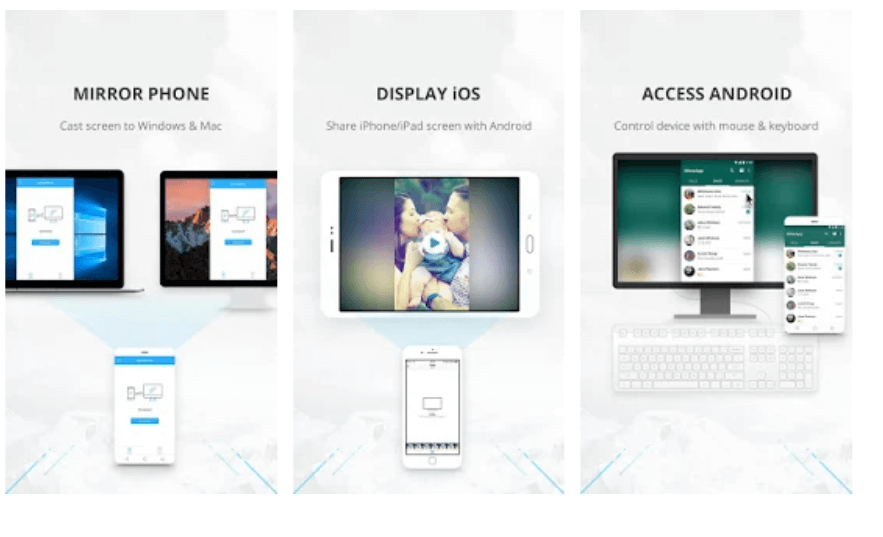 If you are looking for the best screen mirroring app for Android to Windows PC or iOS to Mac screencasting, then here is a wonderful application to suit your needs and preferences.
You can remotely control the Android device with the mouse and keyboard using this application. Thus, the application works both ways. You can record and capture the phone screen, mirror as well as control the Android screen and even type and send messages with your keyboard.
With unlimited and powerful features of this application, you can certainly mirror your phone's screen easily and do a lot more with it. You can also view the Android notifications on your PC screen.
4. LetsView
A plethora of features and options become available in front of you when you install this best screen mirroring app on your smartphone. Wondering what are they?
Well, you can mirror your smartphone with your laptop. It supports multi-mirroring protocols like Miracast and AirPlay to facilitate live streaming. Another interesting offering is the screen mirroring of AR, virtual reality apps, or drones.
Play PUBG and Clash Royale on your PC with this tool. Further, it allows you to broadcast live videos from the mobile phone.
5. Team Viewer
This app presents an adequate way to control computers and mobiles remotely. It offers chat service too. With AES 256 Bit session encoding ability you can securely transfer files. 
You can enjoy HD video and high-quality sound transmission in real-time.  Being an open-source screen mirroring application, it can be easily accessed. This app can also help to connect multiple monitors at the same time.
6. Chrome Remote Desktop
Developed and owned by Google LLC, this is another best screen mirroring app for both Android and iOS devices. This app lets you access your smartphone files from your PC.  
You can open Chrome and visit the Chrome Remote Desktop webpage and gain remote access to other devices. It offers an absolutely fast, simple, and free way of screen mirroring.
7. AnyDesk
AnyDesk is the best screen mirroring app that can help you to control your files and software remotely. Use your Android or iOS devices for easily accessing Windows, Linux, or Mac systems.
A unique Anydesk ID facilitates the easy connection of your device using the ID and the password.
The 4096-bit RSA Key Exchange and the Erlang Technology can help secure your data and communications. 
8. Samsung Smart View
Stream your favourite shows anytime on your smart TV without any hassles. Access movies, music, sports, and games easily from your smartphone and cast them on your TV with this best screen mirroring app. 
This app also lets you turn your TV in standby mode directly from your smartphone.
Read More: 10 Best Free Webcam Software for Windows 10, 8 and 7
9. Mirroring360 Sender 
You can do unlimited activities with this best screen mirroring app for Android. You can use it to mirror your phone screen to the Amazon Fire TV, Fire TV Stick, Windows PC, Mac system, and other Android devices.
You can easily share your presentations, education apps, and entertainment apps on your PC screen. Many developers give demo presentations of their apps under development with the aid of this tool.
10. AirServer Connect
Whether you are in the teaching profession, in business, a software or game developer, or just a regular user, this is the best screen mirroring app for both Android and iOS devices. 
You can project to multiple AirPlay receivers synchronously and simultaneously. With the built-in QR Code scanner, you can connect with AirServer easily even on a restricted network.
11. Miracast (Wireless Display)
Project your Android screen on your smart TV in just a single click with this best screen mirroring app. The app can also be used to switch on the Wifi of the phone easily.
You can also share your live screen with any other device or PC on the same network with the help of a media player, web browser, Chromecast, etc.
Conclusion 
Thus, this article educated you about the best screen mirroring apps for Android and iOS. These apps can rightfully help educators, business magnates, creative professionals, and also prove to be useful for regular users.
You could pick the most suitable screen mirroring app for meeting your daily needs and no longer suffer because of the dimensional confinements of a small screen smartphone. Do let us know your thoughts and suggestions in the comments section below.
Snigdha is a technical content writer with expertise in the field of science & technology. Though she has a very diverse academic and professional profile yet she finds writing to be a creative form that she was unable to explore so far. When not writing, she can be found indulging in other forms of creativity like painting or travelling.
Subscribe to Our
Newsletter

and stay informed

Keep yourself updated with the latest technology and trends with TechPout.
Related Posts