Do you like to experience the simulated reality offered by VR technology? Virtual Reality apps on your smartphones can provide this awesome experience now. You don't really need to spend a whopping amount on the virtual reality headsets to gain this experience.
Virtual reality is an immersive sensory stimulus achieved with the help of a simulation-based imaginary environment. It places the user right inside the experience. Instead of viewing something right in front of them, they can experience it around them.
There are several VR apps for Android which can feasibly provide this facility through your smartphones. In this post, we will look at some of the best apps available at Playstore that you can use to experience an altogether newer perspective of the three-dimensional virtual world.
13 Best Virtual Reality Apps for Android:
A high-end VR headset is different from a VR headset for Android devices. A Playstation VR projects an image onto the viewing screen, whereas the Android VR apps use the smartphone as a screen placed in front of your headset. Whatever plays on the smartphone is manifested into a 360-degree effect with the help of the headgear.
1. YouTube VR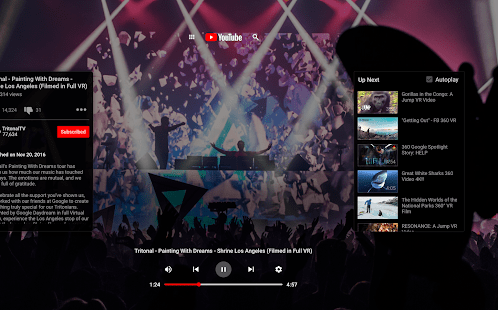 The best wildlife videos and music videos have been reimaged to experience as virtual reality videos using YouTube VR app. The app helps to view all videos in 360 degrees as well as in the standard rectangular format. The app was launched through the Daydream app.
Features:
You also have the opportunity to experience spatial audio where distance and depth vary depending upon where you are looking.
You can watch a video and browse simultaneously.
You can also lean back and watch the videos as they play at the front and center position always.
2. Google Earth VR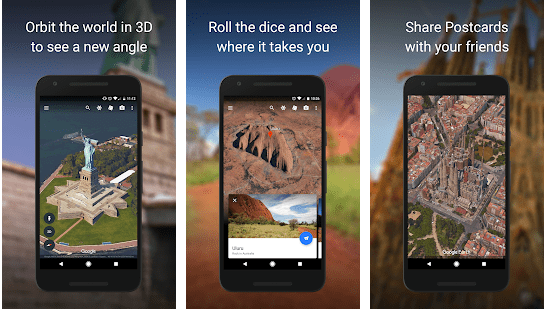 This app can completely transform the way you look at the world with satellite images and 3D terrain and cities of the whole world. It is, in fact, an excellent virtual reality app for kids as they can explore the whole planet and discover exotic, incredible places really up close while being in their own homes.
Features:
The application can let you hop from one random location to another by simply rolling the dice.
You can look at the world from the viewpoint of the Voyager, curated guided tours from BBC Earth, NASA, and the National Geographic, etc.
You can measure the height, depth, and area of a place, zoom on a street, spin the globe to reach somewhere, etc.
3. Google Expeditions VR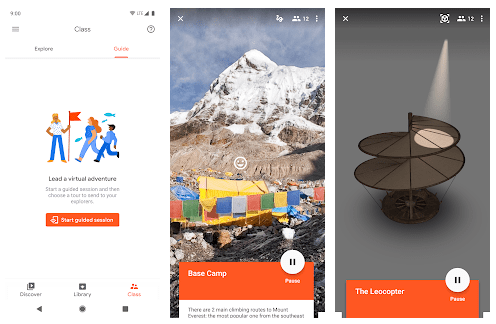 Find yourself surrounded by mountains, dive under the ocean and go on many more amazing trips worldwide with this best virtual reality app. This app lets you use both AR (augmented reality) as well as VR (virtual reality) with the help of Google Cardboard or Daydream viewer.
Features:
The AR and VR technology can be beneficial for students as well as teachers to study and teach using 360-degree models.
Go on solo virtual expeditions on your own and enjoy the thrilling experience. You can explore around 600 places.
4. Google Cardboard

Used in conjunction with the Google Cardboard headgear, this is the ultimate virtual reality app. This app also lets you experience Google Earth in VR.
Features:
You get some fascinating features with this app, like go on a customized virtual tour with a local guide.
You can visit a location as distant and exotic as the Arctic.
You can watch your videos on a larger than life-size scale too.
What could be more overwhelming than staring at historical artifacts from all possible angles? Yes, Google Cardboard lets you do all this from your own personal space.
5. Google Street View

This is another wonderful Google application when it comes to the category of virtual reality of application for Android devices. The app is functional on Android phones having an Android 4.4 version and above.
Features:
The video mode connects you to cameras called Ricoh Theta V or Theta Z1 that can project the Street right in front of your eyes while you walk or drive.
This is the next-level application that records video from the camera and then transforms it into 360-degree Street View photos which can be published on Google Maps.
You can look up at important landmarks, visit museums and view various other monuments from the museum with Google Street View.
6. Netflix VR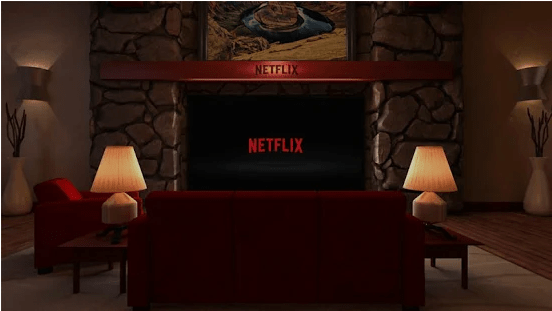 This is the best VR player for Android which can provide a virtual experience of movies, and TV, or web-based shows using Google Daydream, Oculus VR devices, etc.
Features:
Users can now watch Netflix using the VR gears in two modes – void and living room experience.
The movies and shows can be watched at 480p resolution.
7. VR Moon Walk 3D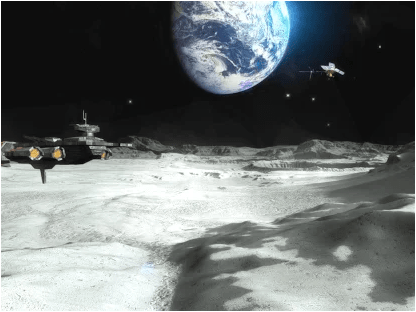 If you are a selenophile, then here is your kind of VR app available on your Android phone with a great headset. Yes, you can not only look at the Moon up close but also gain the virtual experience of treading upon it.
Features:
Now live the experience of an astronaut by walking on the surface of the Moon virtually completely free of cost.
You can look at the Earth as it appears from the Moon, examine a certain spot with the help of magnetic sensors.
Read More:  27 Best Online Games for PC (Free and Paid)
8. Minos Starfighter VR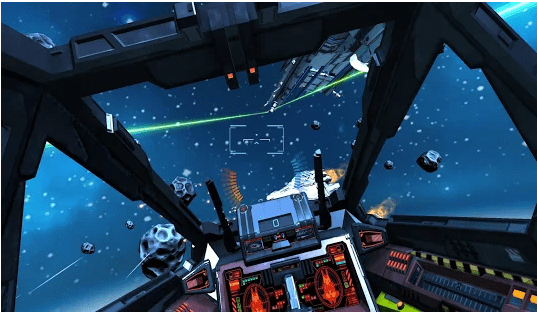 Do you fancy getting aboard a spaceship, as shown in sci-fi movies? If so, then the End Space VR is the most exciting virtual reality game that you can download on your Android smartphone to play a space game.
Features:
This game is available with Google Cardboard VR headsets for Android devices.
Minos Starfighter VR is a first-person arcade spaceship shooter game. You get to fly a spacecraft virtually battling through space combat using head movements.
This game uses a triple AAA graphics and 3D positional audio carefully crafted to impart the most absorbing virtual effect to the players.
9. VR Noir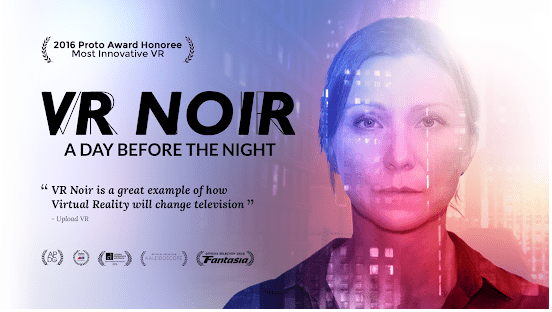 Powered with Google Cardboard or VR headsets, this is another effective virtual simulator app that can completely absorb you in playing the role of a private detective. The app is being credited to a great extent for becoming the predecessor of technology that will change the future of television storytelling altogether.
Features:
The app uses cinematic storytelling and immersive technology to let you get into the role of a private detective Veronica Coltrane, solving mysterious cases for clients.
The plot of the story intensifies using real environments to provide you with a realistic experience.
10. VR Roller Coaster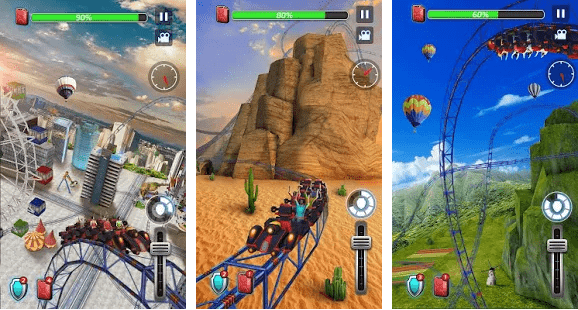 If you are fond of roller coaster rides, then experience them virtually now with this application. This is another stunning VR app for children as it can take them on some exciting rides with surprising twists and upside-down turns. This game is supported on Google Cardboard, Daydream devices, etc.
Features:
Play this game with ultra-realistic surroundings featuring buildings, skyscrapers, birds, etc. and 3D graphics designed explicitly for a magnificent effect.
You get to choose from 10+ specifically designed roller coaster trains or cars. There are about 60+ railroad tracks in different closely resembling amusement parks and theme parks.
11. Zombie Shooter VR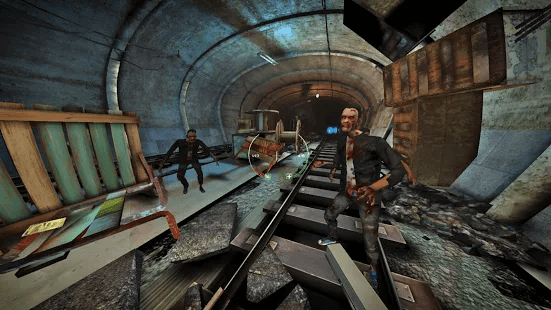 Now smash zombies with this virtual reality game app which requires a virtual reality VR headset.
Features:
Transcend into the post dystopian time and combat with zombies in deserted subways and tunnels.
You can undertake a free trial to experience the impact of the 360-degree realistic game.
The applications utilize a Fibrum VR.
12. Relax River VR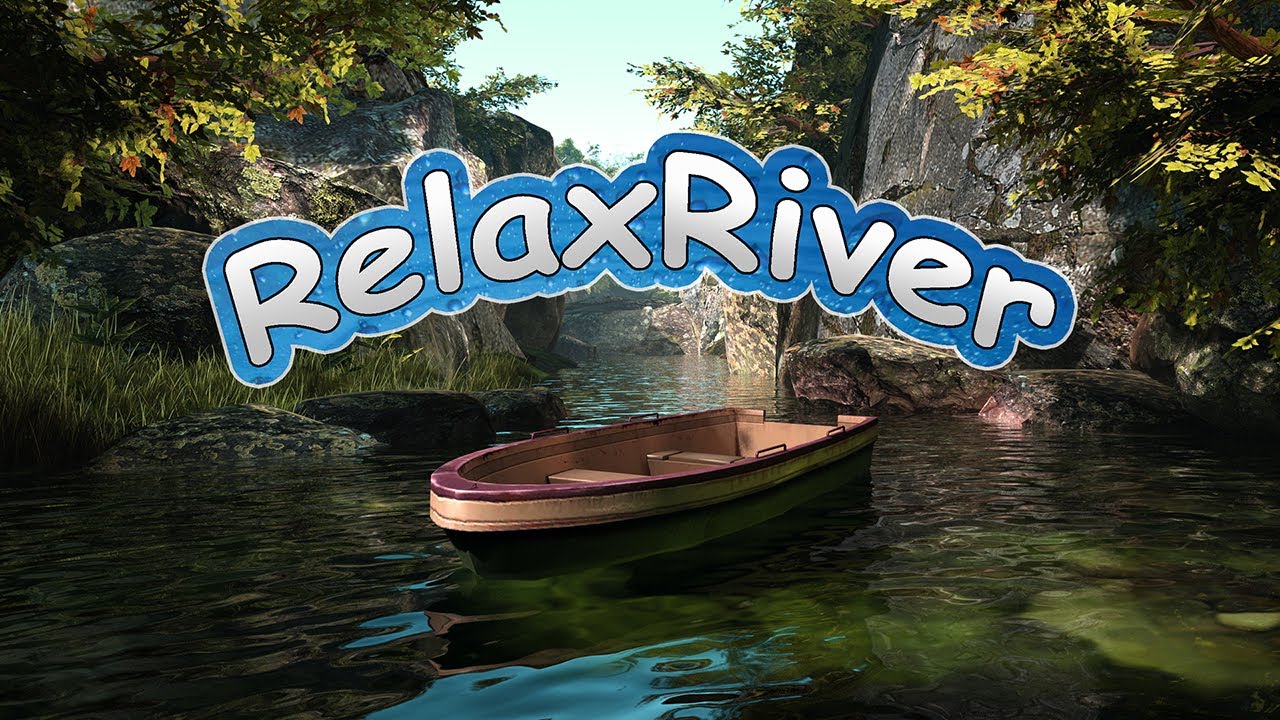 Escape from the stress and din of busy city life for a temporary period with the help of the Relax River VR app. This is definitely worth giving a try if you are keen on finding the best immersive technology application for your Android device.
Features:
Take a moment for yourself and get lost in a river boating experience amongst mountains and valleys.
Travel on fully automatic tours without settings and configurations.
13. Star Chart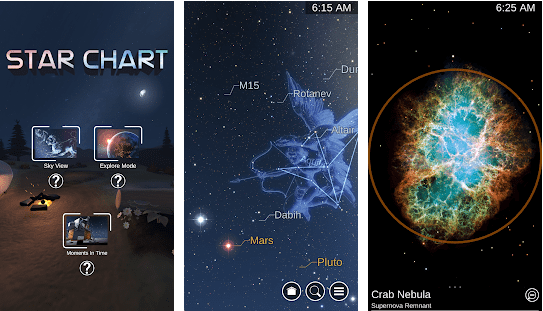 Now it's possible to carry a planetarium in your pocket. Wondering how you possibly do so? With the help of the Star Chart virtual reality app, it is possible to have the planetarium virtually with you always.
Features:
Now watch the stars and the solar system with real-time space simulation.
Gaze through stars, constellations, nebulae with the help of this application.
You can also set your foot on planetary objects.
Final Word
VR and AR are extensively used nowadays in a lot of small scales as well as large scale businesses. In this article, you read about how virtual reality apps and games can transform your experiences with immersive simulations. VR imaging is also being utilized in online shopping, teaching and even driving. 360-degree viewing is also paving the way for a change in the future of television storytelling.
Image Source: Google Play Store
Snigdha is a technical content writer with expertise in the field of science & technology. Though she has a very diverse academic and professional profile yet she finds writing to be a creative form that she was unable to explore so far. When not writing, she can be found indulging in other forms of creativity like painting or travelling.
Subscribe to Our
Newsletter

and stay informed

Keep yourself updated with the latest technology and trends with TechPout.
Related Posts