12 Best Free Screen Recorder Software For Windows In 2020

Screen Recorder is recording your actions/tasks happening as when on the screen.
And when we see an immense rise of YouTubers, digital educators and gamers (here's looking at you Fortnite players), screen recording becomes an essential thing.
There are various ways to video record your screens, but only a handful of screen recording software actually work wonders.
To help you make the right choice, we've prepared a comprehensive list of the best free screen recorders that you should use in 2020.
List of Top 12 Screen Recorders For Windows 10, 8, 7 (Free and Paid)
Here we present our top choices for the screen video recorders available in the marketplace currently:
1. OBS Studio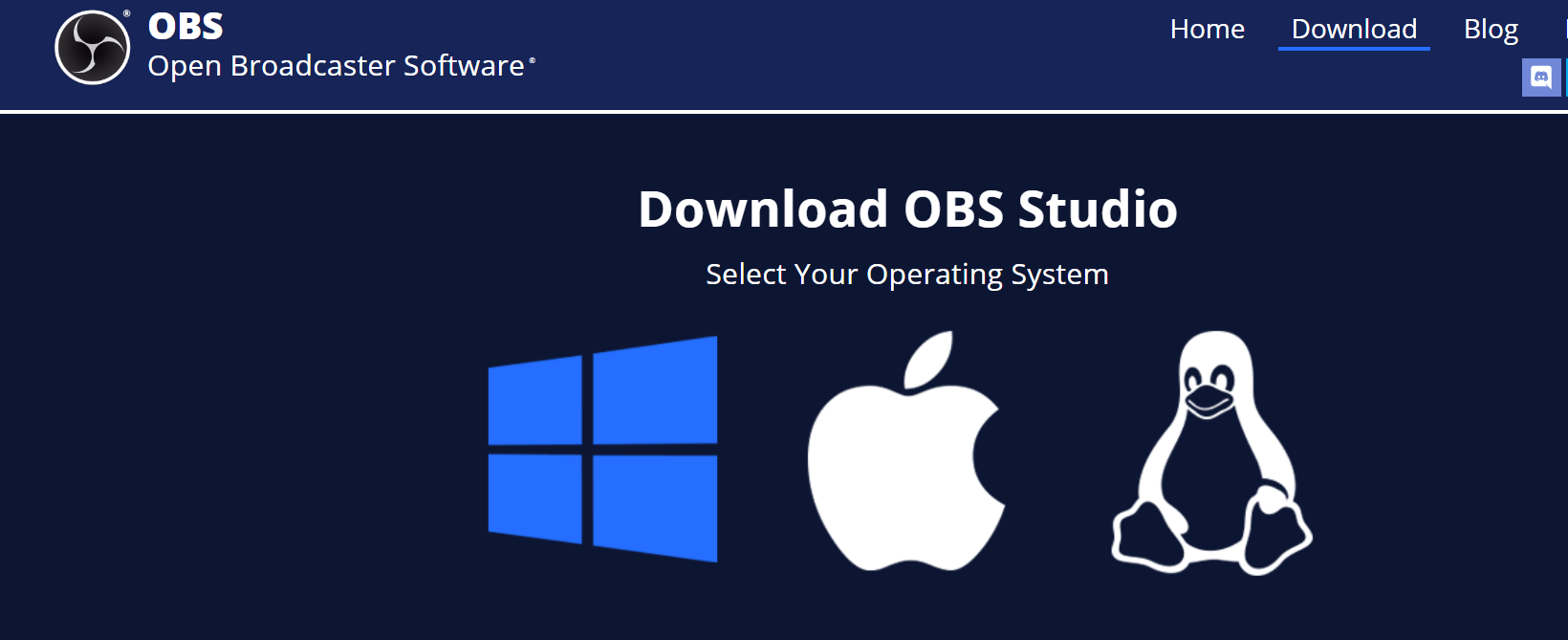 OBS studio is one of its kind game screen recorder as well as a screen recorder pc. It is a perfect choice for both live streaming and video recording.
You can record in a variety of resolutions and save in a variety of video formats to stream recordings on social platforms like YouTube, DailyMotion, Twitch, and Facebook Live.
It captures your games in full-screen mode with customizable hotkeys to control recording. Its recording speed can go up to 60 FPS or even higher. Not just that, you also get an incredible set of visual filters along with an audio mixer.
And all of it for free! Nothing gets better than this.
You can get it here:
---
2. TalkHelper Screen Recorder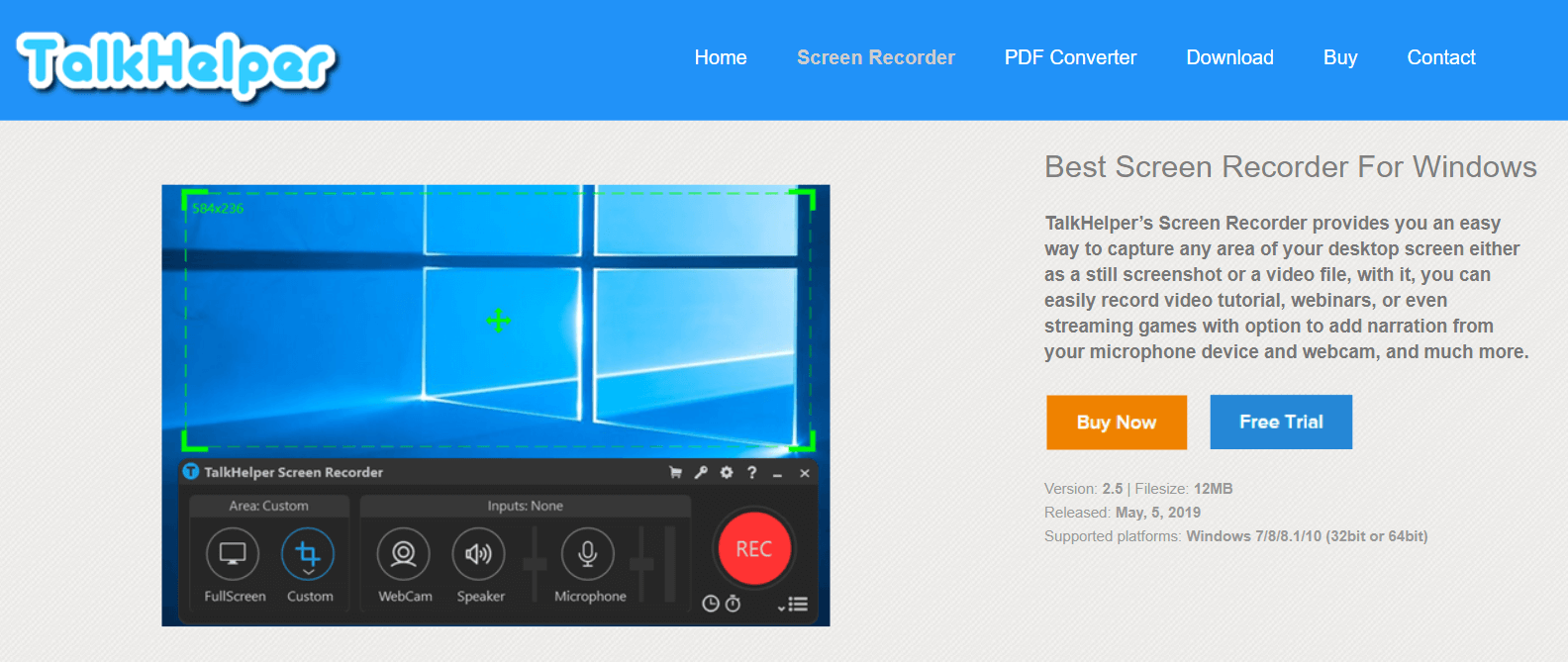 TalkHelper Screen Recorder is pretty reliable since it can even capture more than one screen. This scenario can come in when you have more than one display connected to your Windows PC. To make the video less boring, there is a huge volume of royalty-free music and audio that you can use.
Read Also: Best Free Live Wallpapers for Windows 10
Video annotations can be applied as you record making is very ideal for guides and tutorials. For interactivity purposes, quizzes can be added to the video for feedback purposes. Also for the audio, you can adjust the volume to avoid any distortions and boost the clarity. Better yet, lots of video editing tools are provided at your disposal.
You can get it here:
Download – TalkHelper Screen Recorder
---
3. EzVid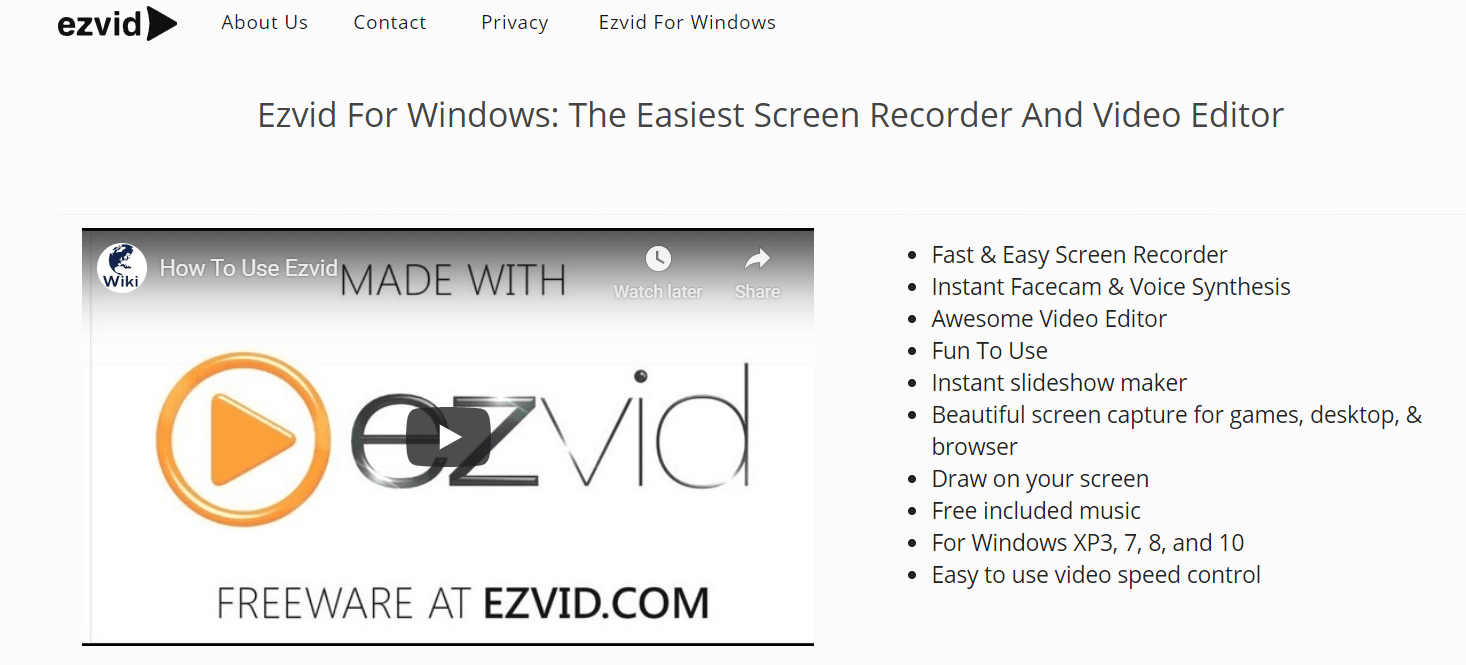 Renowned as one of the best free screen recorders, EzVid lives up to this reputation. It comes with built-in editor tools. It has a modern interface coupled with a very high-quality resolution. And its speed increases with the help of a computer processor.
It merges fundamental screen recording tools with a simple UI that makes beginners comfortable. And allows you to upload videos directly to YouTube. You get a selection of music tracks too.
You can also synthesize human speech from text and draw while recording.
 You can get it here:
---
4. Tiny Take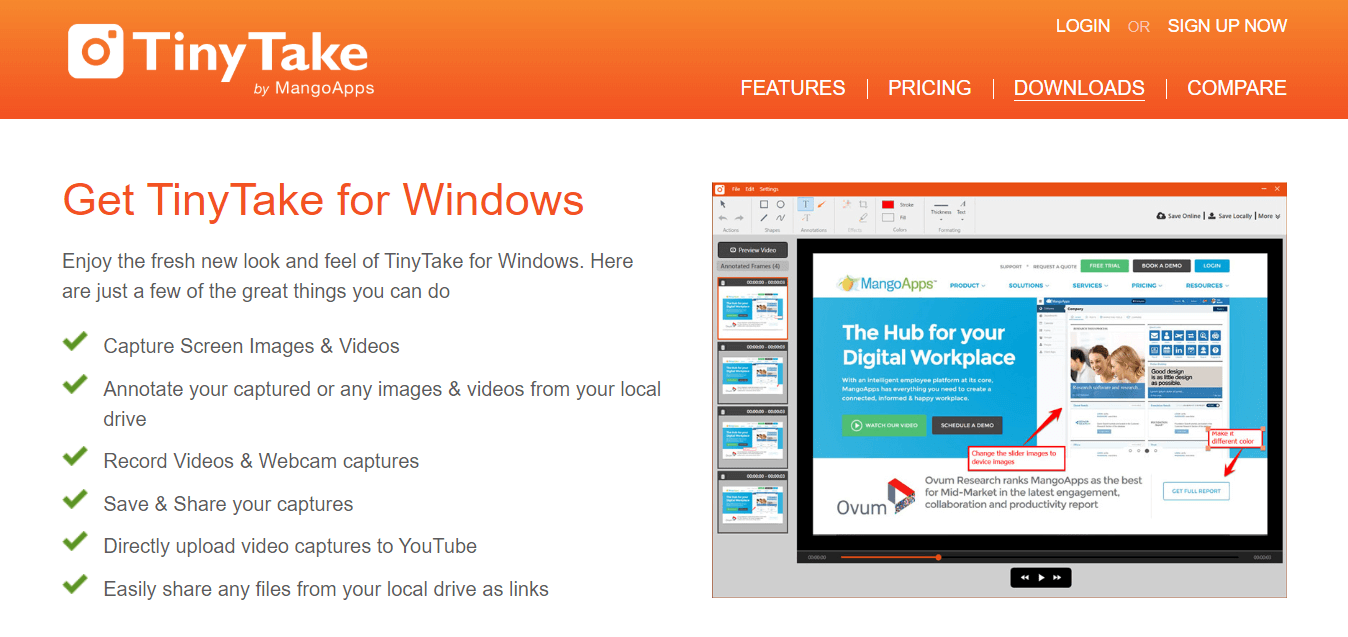 It claims to be the best free screen video recording software out there. It helps you to take videos of your screen activity and share it on social media networking sites.
Living up to its name, it lets you record short (tiny) videos and take screenshots with a lot of ease. While it's not ideal for gameplay, it does regular screen casting really well. It comes with the features of bulk file sharing, built-in online viewer, and up to a 2GB worth of space to store and share your clips.
The free version is appropriate for personal usage, but for businesses and commercial users, the full-fledged paid version will be more suitable.
You can get it here:
---
5. Camtasia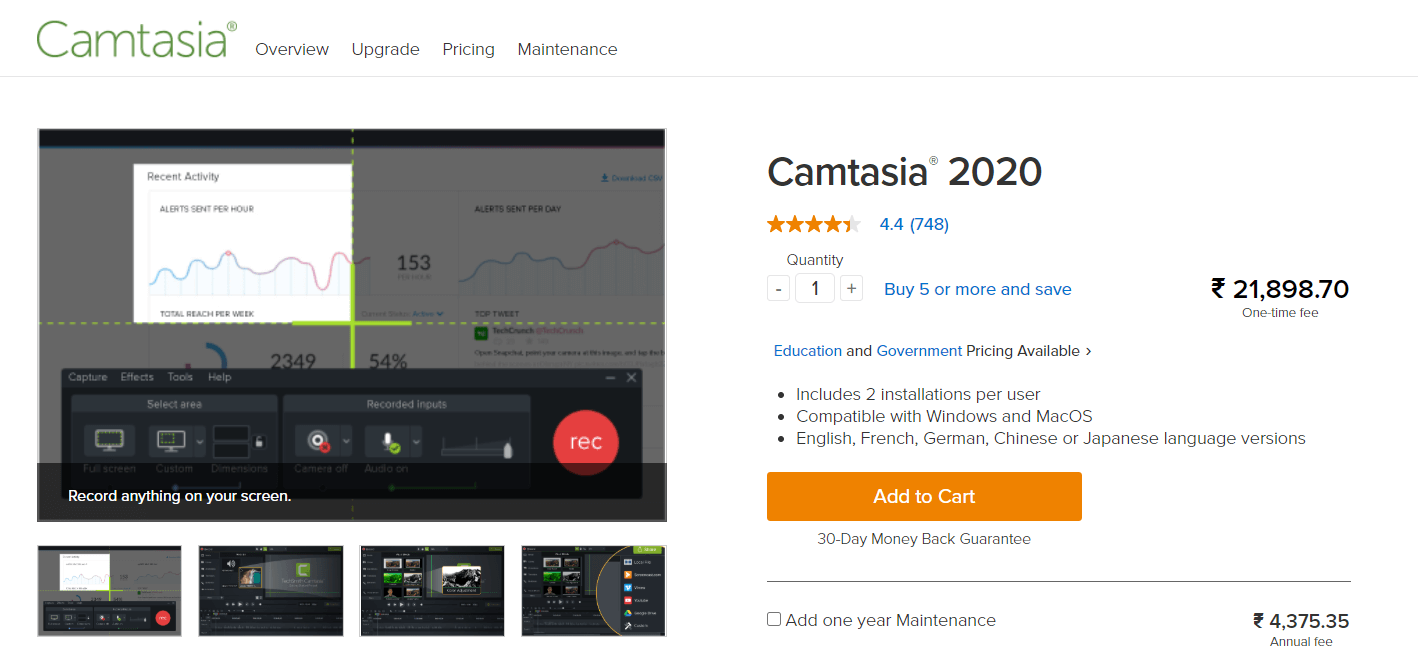 Camtasia helps you record pro-level videos of your computer activities with absolute ease. With an array of editing tools that range in everything (cursor effects, animations, custom dimension, transitions, you name it, it's there.), it records multiple audio and video tracks without any restrictions on the time limit.
You can import HD videos in your recordings from an external source and finally share your finished product on social media.
It even has a green screen effect so that you can fulfill your action movie dreams.
You can get it here:
---
6. Icecream Screen Recorder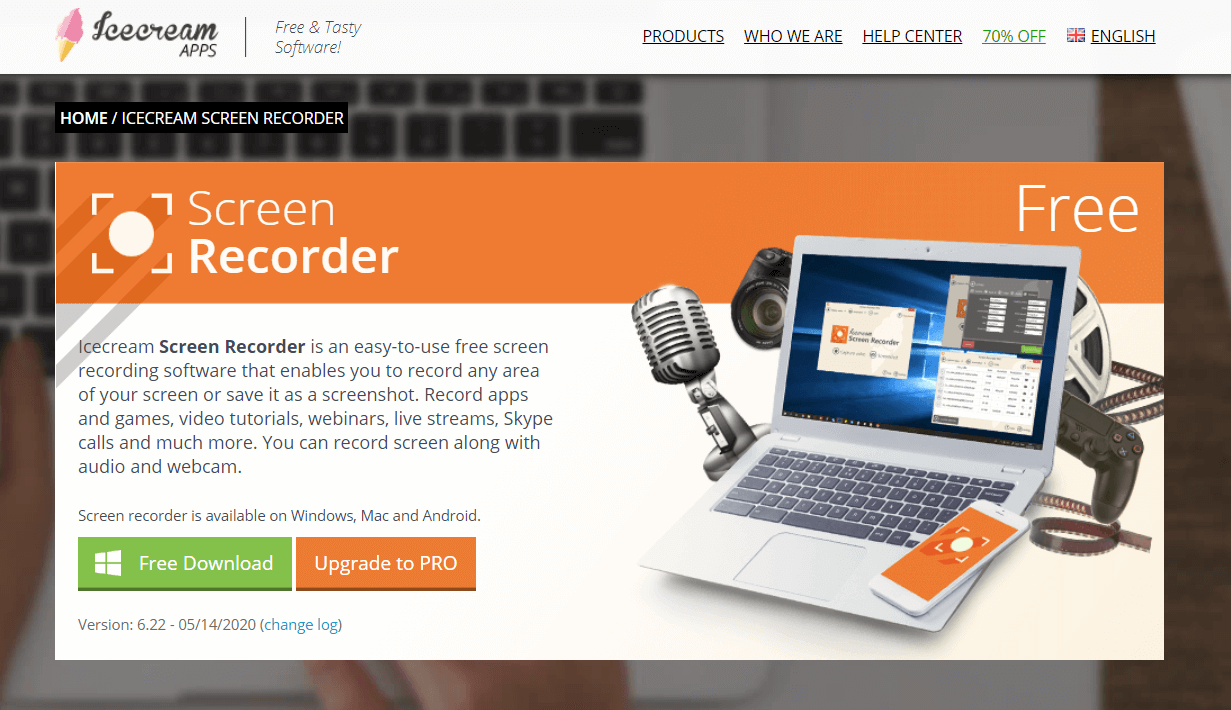 With a very quirky name, this screen recorder captures any area of your screen as either a video recording or a screenshot graphic. It helps you to make expert level videos with its suite of tools and clean user interface.
It helps you take screenshots in various resolutions and save them in multiple formats. With the help of this, you can record webcam videos as well as zoom in.
You can save your files or upload them to Dropbox or Google Drive.
You can get it here:
DOWNLOAD – Icecream Screen Recorder
---
7. Bandi Cam Screen Recorder
Bandicam is a top-notch screen recording software that assists you in recording computer screen, gameplays and even captured content from external devices such as XBOX or Playstation. It is more than good enough to achieve all sorts of purpose including adding logos for branding and mouse effect animations, and it doesn't bring any loss to frame rate.
You can even bring the artist in you to life by drawing on the captured screenshot or video and adding your melodious or not so melodious voice to them.
You can get it here:
DOWNLOAD – Bandi Cam Screen Recorder
---
8. CamStudio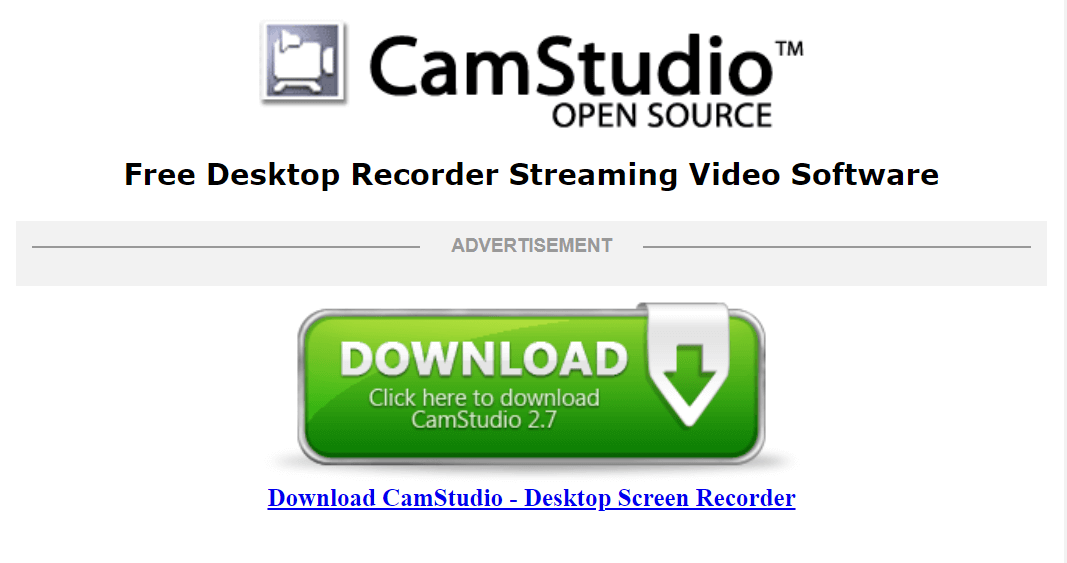 This open-source, screen recorder free software is an apt choice for those who are not looking for super flashy features and have minimal editing needs. It is completely free to use, allows to create small size files, adds screen captions to video, creates a screen-in-screen output, hides the cursor from the screen, and brings high quality to the end results.
Its software is really easy to use and can be learned in a matter of a few minutes because of its built-in help files.
CamStudio is the epitome of simplicity and efficiency in the screen recording world.
You can get it here:
---
9. SmartPixel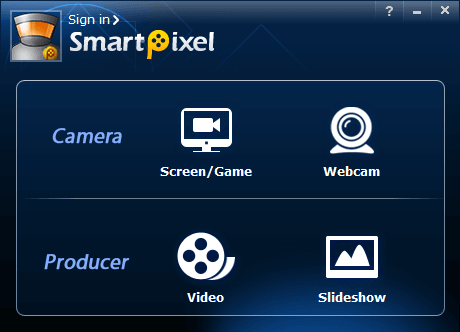 SmartPixel is an ultimate option for game recordings but it can screen record other things too.
All of the game plays can be recorded without a noticeable lag as you keep playing them. It uses advanced video compression technology for the creation of videos that are of high quality.
It is an HD screen recorder with a picture-in-picture mode to simultaneously record your webcam and monitor activities as well as post-editing functions like merging and clipping to ensure yourself a picture-perfect video. It also helps in optimizing disk space.
In the end, you can save your files in various different formats such as FLV, MP4, AVI, WMV.
You can get it here:
---
10. Screencast-o-Matic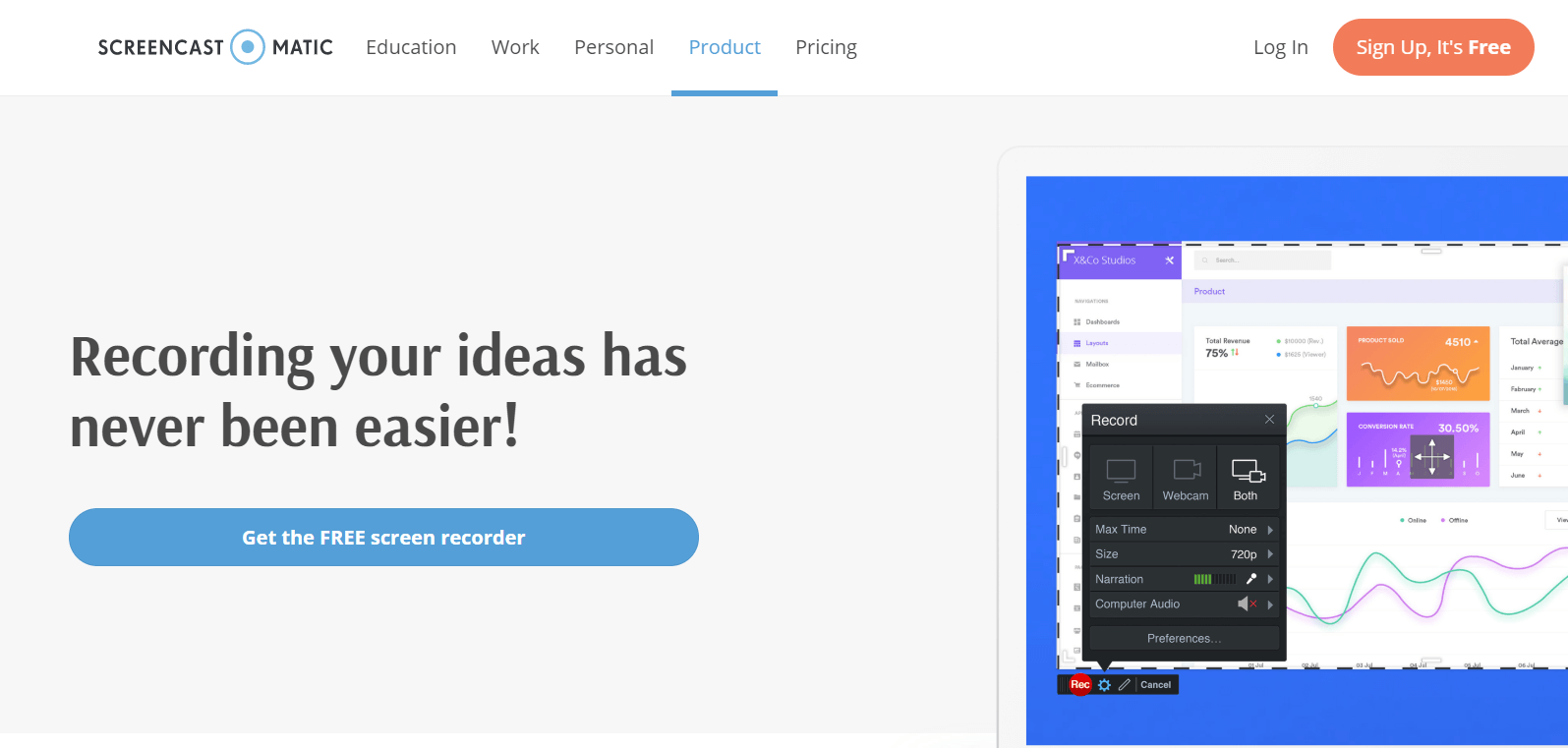 This is a one-stop choice for online streamers. It makes screen recording experience easier by its simple interface, advanced tools, and picture-in-picture mode.
This screen recorder online helps you to record from both screen and webcam, and then publish your videos on to YouTube, Dropbox, Google Drive and Screencast-O-Matic.com's free server host.
It even offers a computer speech tool for narration and has two versions of the software. The paid version is really inexpensive and comes with a plethora of remarkable features.
Screencast-o-Matic is just amazing-o-Matic.
You can get it here:
---
11. Active Presenter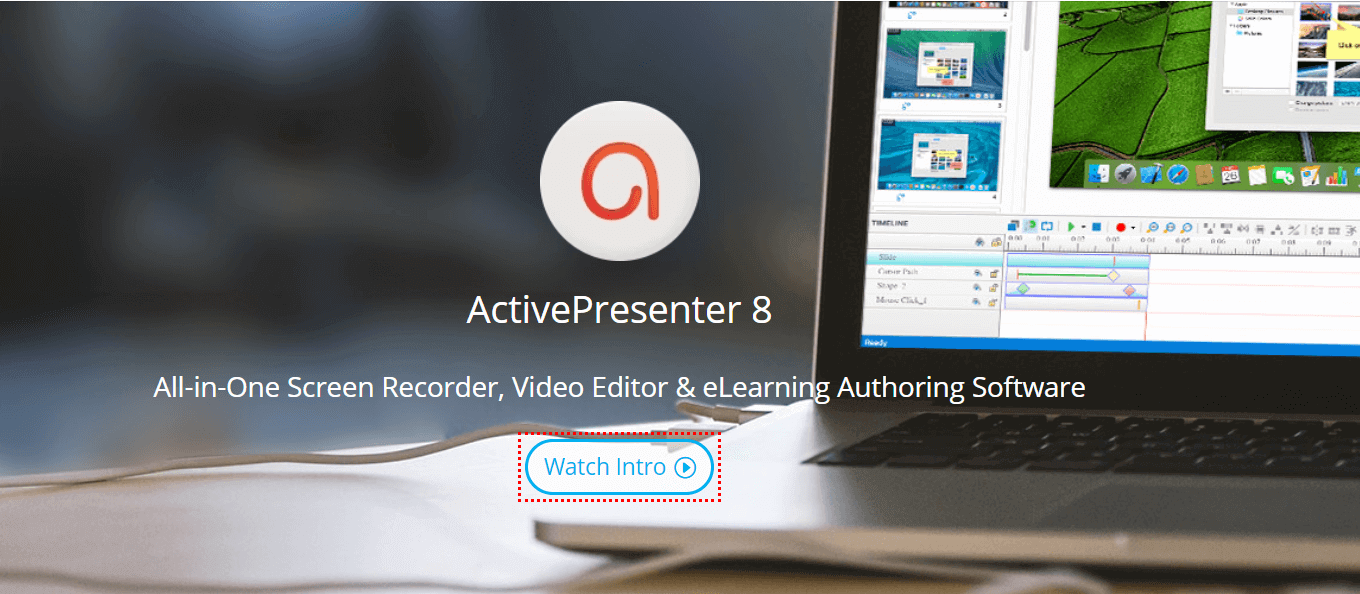 This is not only a screen recording software but also an eLearning authoring and video editor tool. With the increase in demand for interactive videos, Active Presenter fulfills them by its features and functions.
It consists of 'Smart capture' that allows one to capture the screen anytime the mouse or key is pressed. And its wide array of features make the result interactive and the experience better.
It is available in 3 different versions. And you can save your creations in either AVI, WebM, MP4, MKV, or WMV.
You can get it here:
---
12. Flashback Express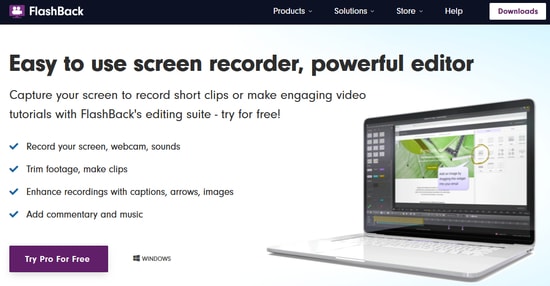 The next best free screen recorder software on our list is called Flashback Express. It comes with a plethora of useful features to help you record screen and sounds, capture webcam, edit videos, and more.
Flashback Express is available in both free and paid versions. The FlashBack Pro includes all basic features along with a few advanced ones like video editing tools and FX, GIFs support. 
Similar to other screen capture software, it allows you to record your favorite movies without watermark and time limit, plus offers easy to share options to upload them to video sharing sites like YouTube.
You can get it here:
---
Final Words: What's the Best Screen Recorder for Windows?
These are some of the best screen recorder free and paid that you can pick in 2020. Each of the above-listed screen capture software offers best-in-class video and screen recording features that will surely come in handy to the digital video enthusiasts out there.
If you're still unable to decide which one to choose, we would like to recommend 'OBS Studio' as the best screen recording software for you.
Did you find our write-up helpful? Please drop your feedback in the comments section below!
Diksha Lalwani is an aspiring content marketer and a self-declared bibliophile. An English honors graduate, she likes to keep up with the recent happenings around the world and form an opinion. Her interest in anything and everything tech made her follow the path into becoming a technical writer.
Subscribe to Our
Newsletter

and stay informed

Keep yourself updated with the latest technology and trends with TechPout.
Related Posts