10 Best Ludo Game Apps For Android and iPhone In 2021

Ludo is one of most preferred games among kids and family that promote merriments and makes an incredible choice to pass the time. It is a board game in which 2 to 4 players can participate to roll a dice, lead the token and move ahead beating others in the way. There are four such tokens and the one who finishes off getting all of the four tokens home becomes the winner.
Traditionally, you had to hold Ludo board, dice and tokens but given the era where mobile phones are taking weight off the shoulders, this game can be played on your device, be it Android or iPhone. We have collected the best Ludo games for Android and iPhone in 2021 that can make you dive into the same good times and this time you will get it more conveniently, anytime and anywhere.
Top Ludo Game Apps for Android and iOS
Ludo is one of those refreshing games that not only drives the mind off any stress but also boosts problem-solving and competitive attitude. Besides, it is treated as a dear one among all the age groups, engaging children in significantly a mental activity and helping adults stealing another excuse to share laughters.
Now that you can download this game on your Android and iPhone devices, here are the 10 best Ludo games to be available out there.
1. Ludo Classic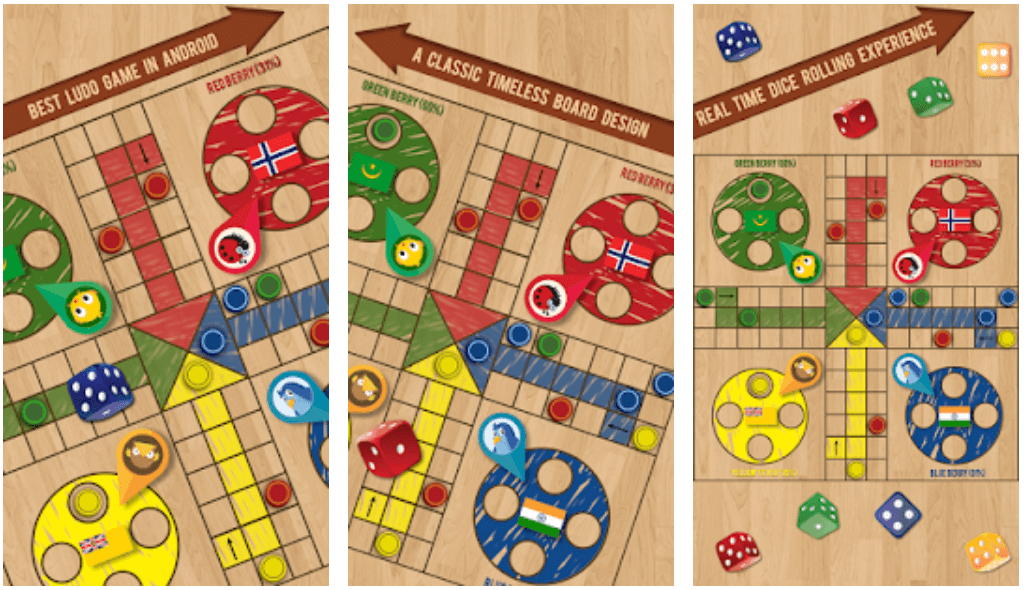 Availability: Android and iOS
Ludo Classic is one of the best Ludo game apps for Android as well as iPhone. This game possesses a strong AI that leads the randomness and uncertainty of outcomes from dice. The computerised moves of a token cannot be cheated the steps here or there. You are allowed to play this game online as well as offline. 
Read Also: Best Offline Racing Games For Android Smartphones
In its online mode you can invite your friends to a private game room to play and the offline mode lets you play the game with your friends or family while you are together. This game was initially introduced for Android, being available on iOS later and thus, you may find some fluctuations from this game in the latter.
Download App: Android and iPhone
---
2. Ludo King™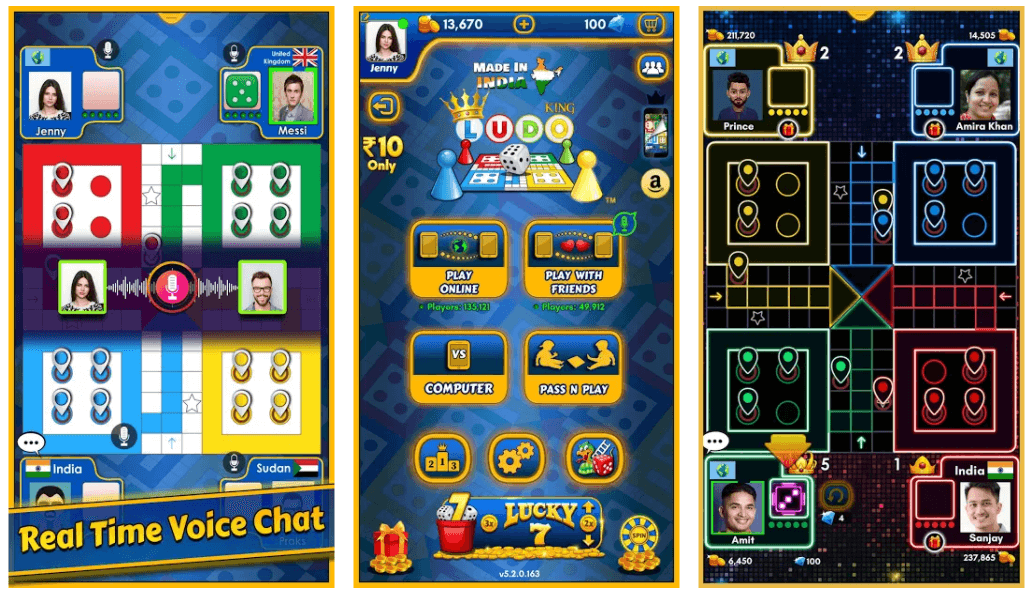 Availability: Android and iOS
Ludo King has become an increasingly popular choice when it comes to the best Ludo game app for Android and iOS platforms. You can enjoy the iconic Ludo board game on your smartphone. The automatic functioning does not let you cheat your way out to winning. It is a relief that you can easily resume this game and continue from where you left after receiving a call in the midst of it. 
This multiplayer game supports 2 to 6 players that you can play with your family and friends in offline mode while you are together. Even if the players are not together, this game allows you to invite your friends and even your Facebook friends to challenge them and play in a private room. The best part is its added perk of Snake and Ladders that comes with seven variations in the gameboard. This one has to be checked out.
Download App: Android and iPhone
---
3. Ludo Party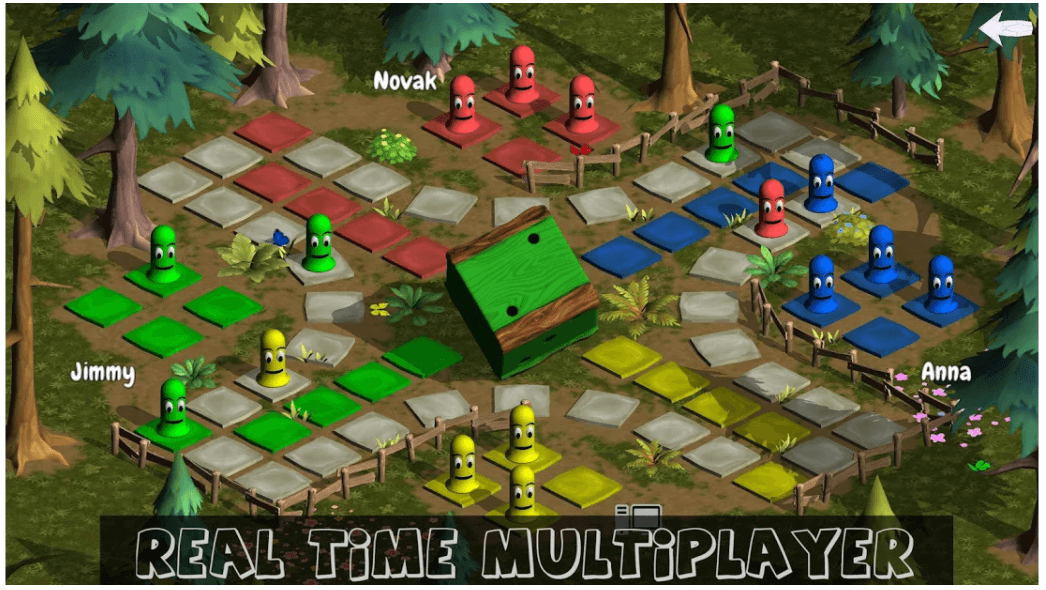 Availability: Android and iOS
Ludo Party is next in the list of the best Ludo game apps. This game app offers you to play a popular and decent Ludo game on your device. Ludo Party brings exciting 3D graphics and adorn the playfulness of this game with more entertainment. It allows you to play against 1 to 3 computer players and offers the play among 2-4 players. 
If your family and friends are around then you can play this game with them without having to switch to online mode. Otherwise, you can seek the online mode. This game features a friendly user interface and you can play on six maps.
Download App: Android and iPhone
---
4. Ludo 3D Multiplayer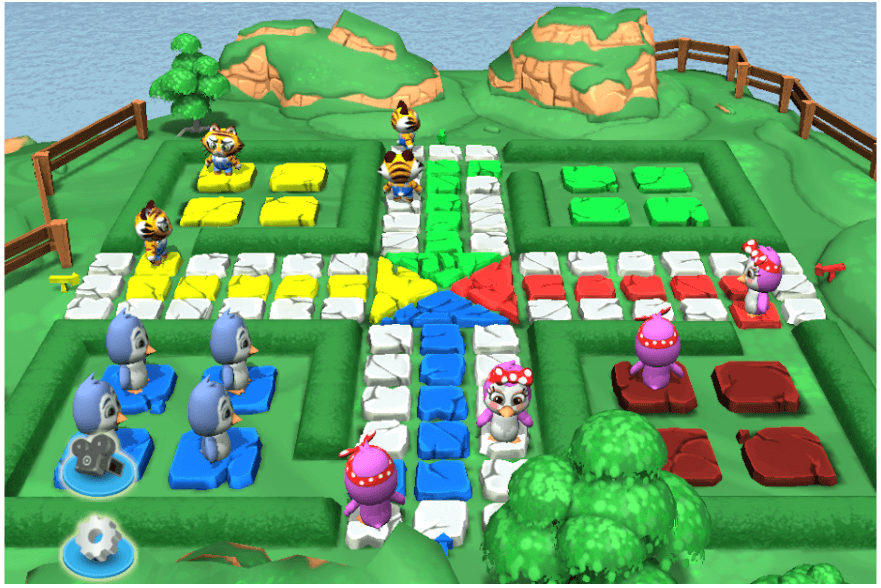 Availability: Android and iOS
Ludo 3D Multiplayer is yet another best Ludo game app that entertains your gameplay with stunning 3D graphics. Just like any other Ludo game app, this multiplayer game app also offers support for up to 4 players. Another amazing part about it is that you can play against the computer players in this game alongside enjoying it with human players. 
This game app offers you an option of combination of computer and human players. Then, there are online as well as offline modes that you can use as per your ease. If you take pleasure in playing Ludo with 3D graphics, you may want to say yes to this one.
Download App: Android and iPhone
---
5. Ludo Game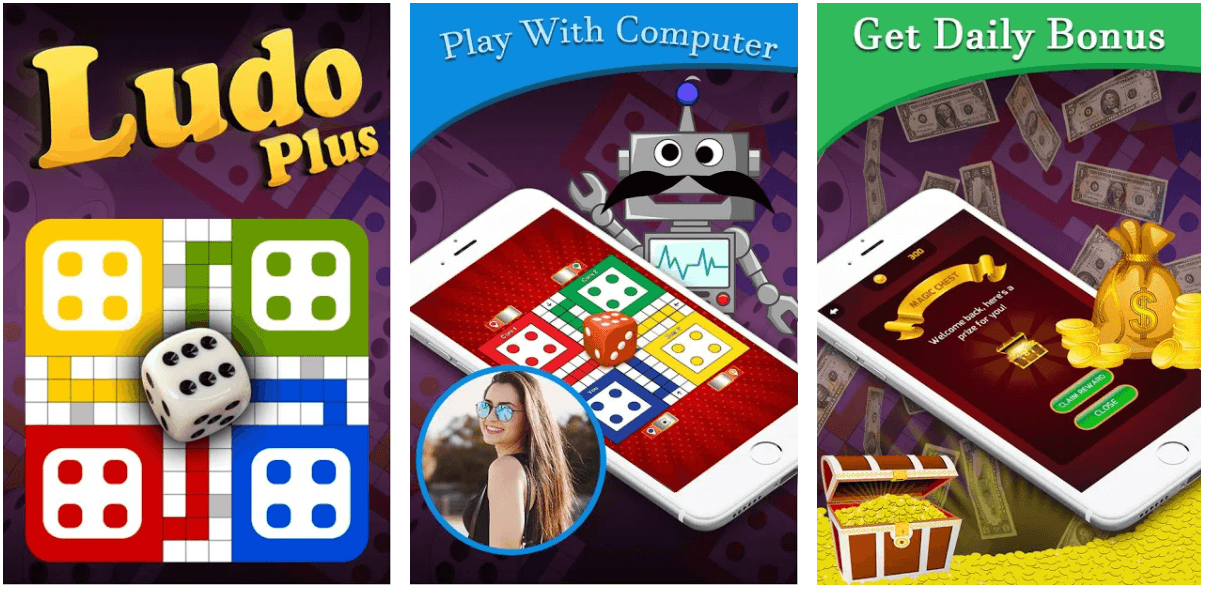 Availability: Android
Read More: Best Clash of Kings Alternatives For Android & iPhone
Ludo Game offers you to play the traditional bliss of playing a board game on your Android devices. It resembles the classic Ludo play and it can be enjoyed among 2 to 4 players. This game supports both online and online mode. So, even if your friends or family people are not around, you can still count on this game app. Whether you are playing as a local multiplayer game or you have to play as an online multiplayer considering the situation, you can play this game conveniently, the way you want.
Download App: Android
---
6. Ludo Championship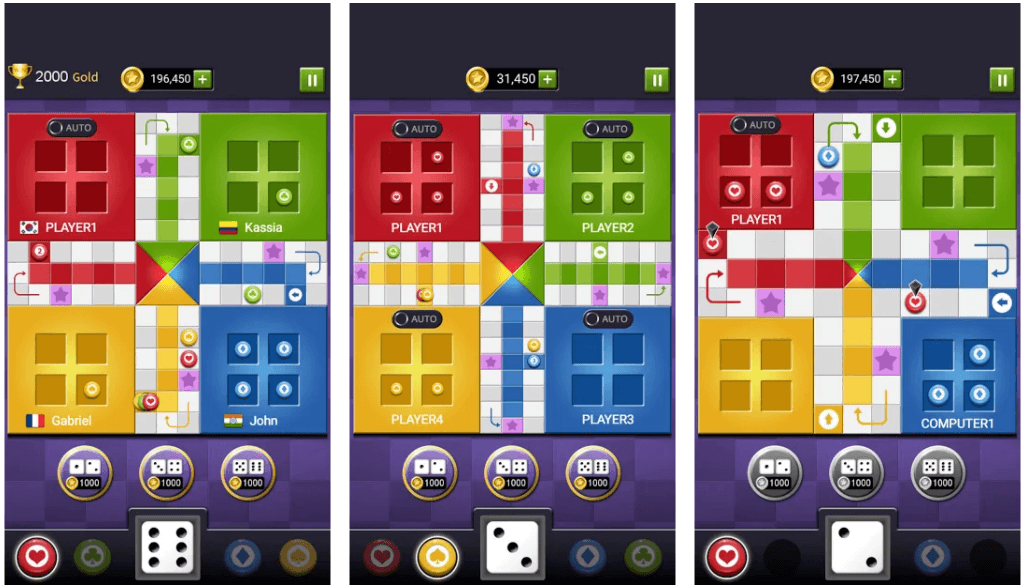 Availability: Android and iOS 
Here is another best Ludo game app for your Android and iOS smartphones and tablets- Ludo Championship. This one makes a worthy choice for you to enjoy the classic Ludo time with your friends and family. In this board game app, you can play with up to 4 players and enjoy three different types of boards to play on. 
Ludo Championship offers an amazing feature of battle mode where you are offered to earn gold coins. Another perk of using this Ludo game app is that there doesn't have to be an active internet connection for you to play the game. Besides, this game has support for different languages.
Download App: Android and iPhone
---
7. Ludo 2020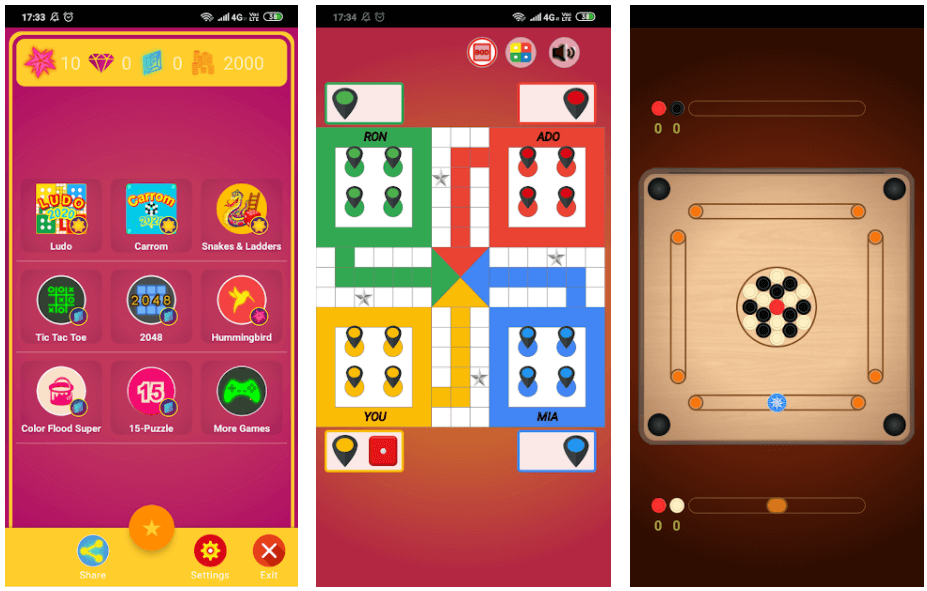 Availability: Android and iOS 
Another best Ludo game app for iPhone and Android, Ludo 2020 offers entertainment and fills the excitement around by putting 3 complex levels while you play against the computer players. There is always a room for you to enjoy this game with your friends and family if you want. 
Besides, this board game app lets you take joy in playing other iconic board games including Snake and Ladders and Tic Tac Toe. Why would you say no to that? So, be it a tablet or your smartphone, you can play Ludo 2020 with high resolution and have all the fun of the world.
Download App: Android and iPhone
---
8. Ludo Club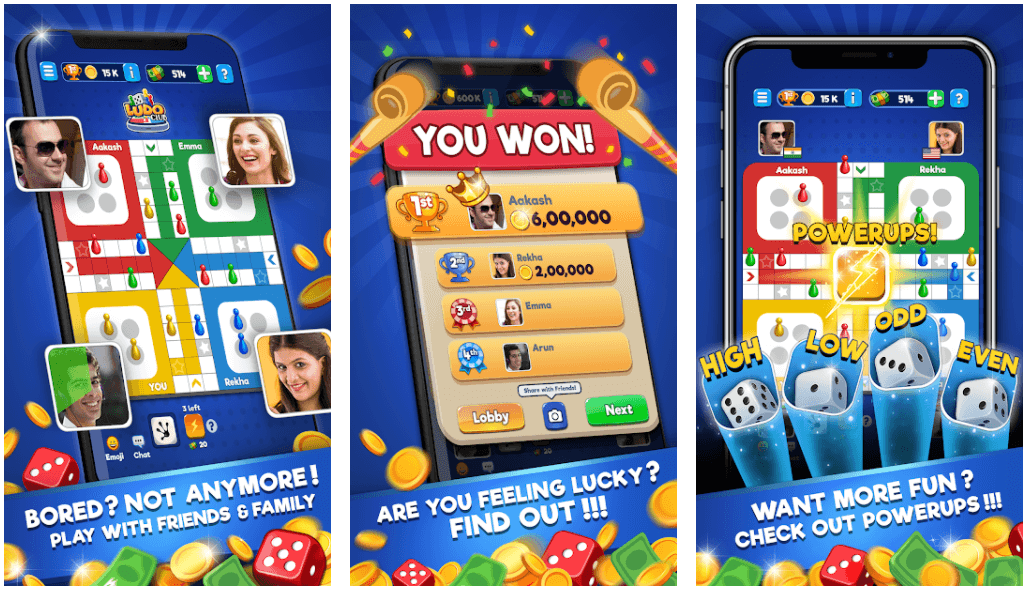 Availability: Android and iOS 
Ludo Club offers you to enjoy the Ludo game against the computer players while you don't find your friends available. The decent part of using this one of the best Ludo game apps is that there is hardly any requirement for an active internet connection to play this game. If you want, you can play the game online with your friends. If you are looking for a Ludo game that can give the same old joy of playing the board game with your friends, this one is worth checking out.
Download App: Android and iPhone
---
9. Ludo All Star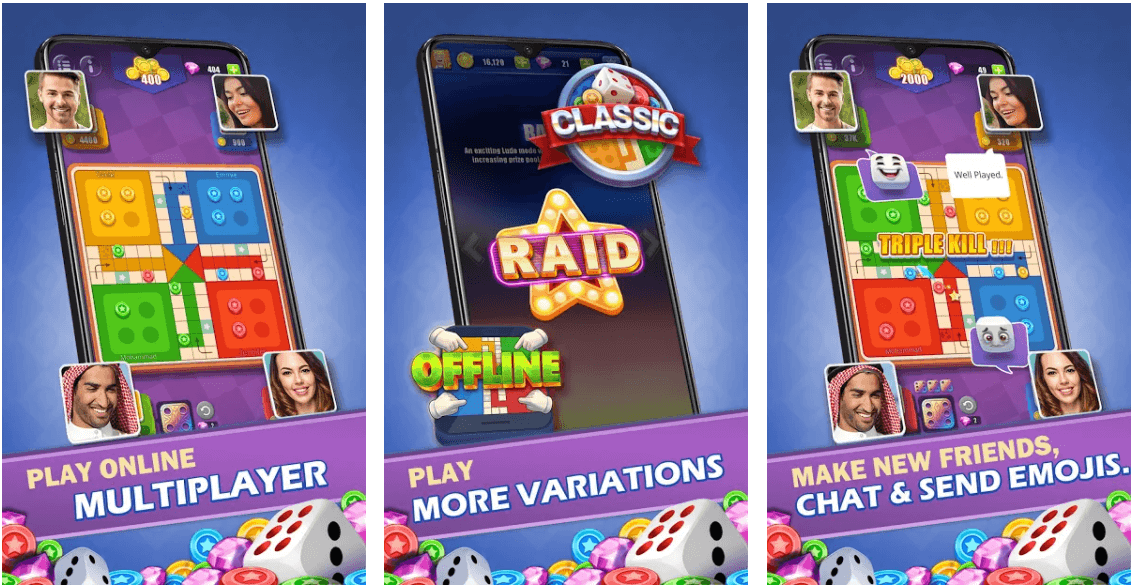 Availability: Android and iOS 
Ludo All Star is one of the most popular board game apps for all the right reasons. It brings the platter of multiple variations and features. In this game app, you have a perk of chatting with your friends and sharing emojis while you play on online mode and you have a choice to go for the offline mode as well.
Read More: Best Football Games For Android
Ludo All Star features a lucky wheel to spin in order to win rewards and earn coins to build your XP. You will find the Raid Mode in this Ludo game app in which you can challenge players from across the globe and enhance your gameplay with a more competitive accent. 
Ludo All Star offers Regular and Arabic themes and allows you to boost your steps with the epic boosters that double the powers. It is safe to say that there is no hurt in checking this feature-packed Ludo game app.
Download App: Android and iPhone
---
10. Ludo Master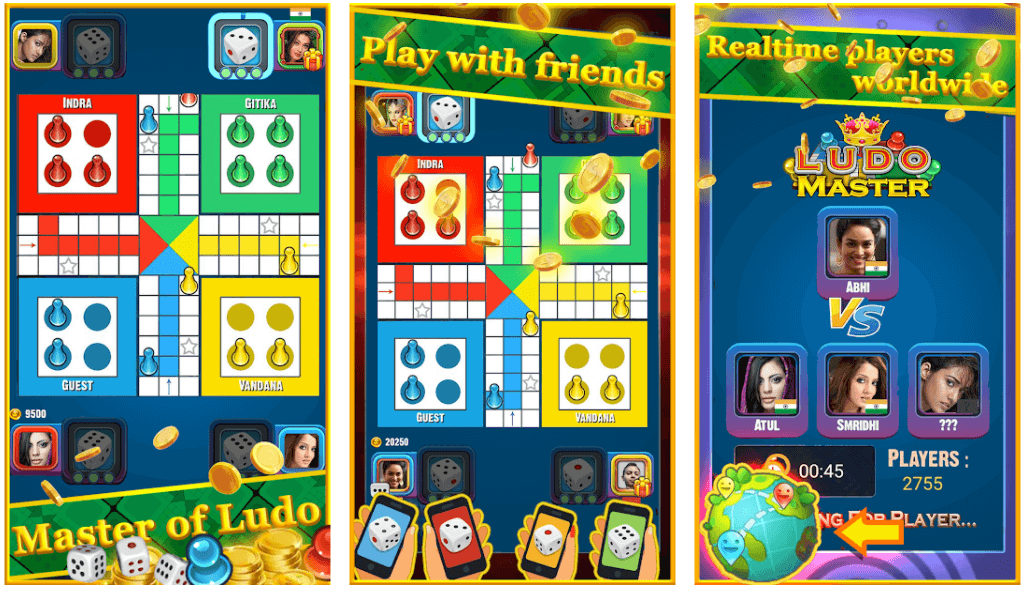 Availability: Android
New member in the world of Ludo game apps, Ludo Master brings both, online multiplayer and the local multiplayer mode. In this game, you have a choice to play with your friends using the private multiplayer mode. It has quite decent interface with a level-up functioning where the challenges increase as per the levels. 
The interesting part about this game is that there is a daily lucky wheel that you can spin to earn coins and step forward in the game. You can challenge different players from across the world to play this game with you. This Ludo game app is easy to use and if you are looking for pure entertainment, you can try this one. 
Download App: Android and iPhone
---
Pick Your Favorite Ludo Game App and Start Rolling the Dice
Because why not? There are various amazing Ludo game apps that not only let you be blown away in the competitive air but also bring along the additional classic games like Snake and Ladders. Whether you have a thing for that same old Ludo board theme or you are the one who loves to play with graphics, this list has multiple options for you to choose from. Besides, it is never too late to tell us your favorite Ludo game app in the comment section below. 
Jyotsana is a technical writer with a non-technical background. An eye of detail and a knack for writing helps her to write technology related content.Apart from writing, she is a coffee connoisseur and an aesthete who rejoices in poetry and music during leisure.
Subscribe to Our
Newsletter

and stay informed

Keep yourself updated with the latest technology and trends with TechPout.
Related Posts