Just like other device components your web browser can also put unnecessary load on your system resources making it slow and sluggish. A heavyweight browser can eat your system memory and cause excess battery drainage.
What you need in such situations is a lightweight browser for Windows that can work as efficiently as a mainstream browser without draining system resources.
If you are struggling with your current web browser refer to our list of best lightweight browsers that promises full-fledged navigation experience at a lightning speed. Read the complete article to find the top 14 lightweight browser for PC and enjoy browsing without any compromises with the speed.
What Are the Best Lightweight Browsers for Windows?
Here, we have shortlisted some of the top-rated, resource-friendly and fast browsers that you can install on your windows device. Go through the list and find out the perfect lightweight browser for Windows 7, 8, 10, and 11.
1. Midori Windows Browser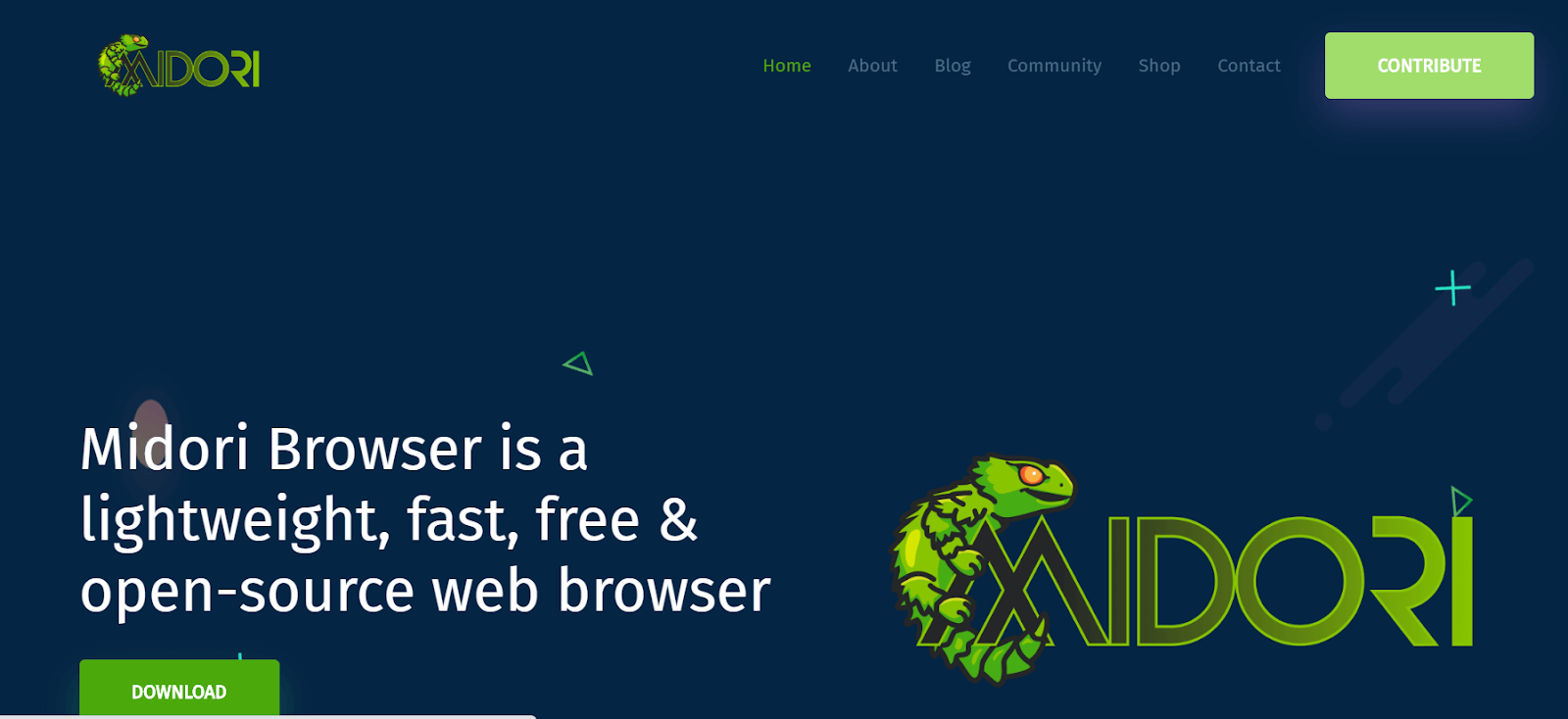 Highlight Features:
| | | | | |
| --- | --- | --- | --- | --- |
| HTML5 support | Start-up Settings | Minimalist UI | Open-source | Incognito Browsing |
Enjoy an array of mainstream browser features with this light browser for windows. Midori is an open-source browser and is well known for its class apart functionalities like RSS support, bookmark, and spell checker capabilities.
Another beautiful thing about Midori is that its default search engine duckduckgo does not collect any user information. Minimalist and a straightforward UI also backs its worldwide popularity.
2. UR Browser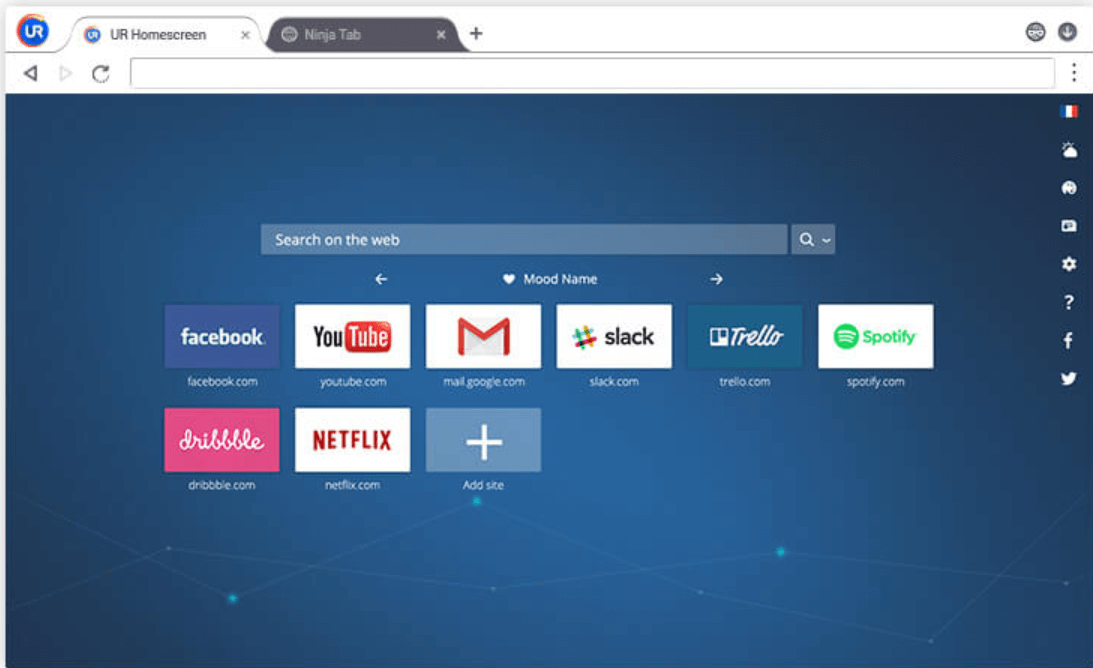 Highlight Features:
| | | | | |
| --- | --- | --- | --- | --- |
| Safe Browsing | HTTPS Redirections | Customized Experience | Fast Downloading Speed | Removes ads & Cookies |
Next on our list of best lightweight browsers for Windows is the UR browser. This chromium-based browser is backed with a powerful-suite of multiple features. Privacy-focused search engine, built-in VPN connection along with an integrated virus scanner makes it an all-in-one lightweight browser that can perfectly suit all your requirements.
In addition to this, it also sends alert messages while visiting suspicious sites and blocks all annoying ads from your browser. Enjoy fast browsing seed with this highly customizable and lite browser for Windows.
3. Microsoft Edge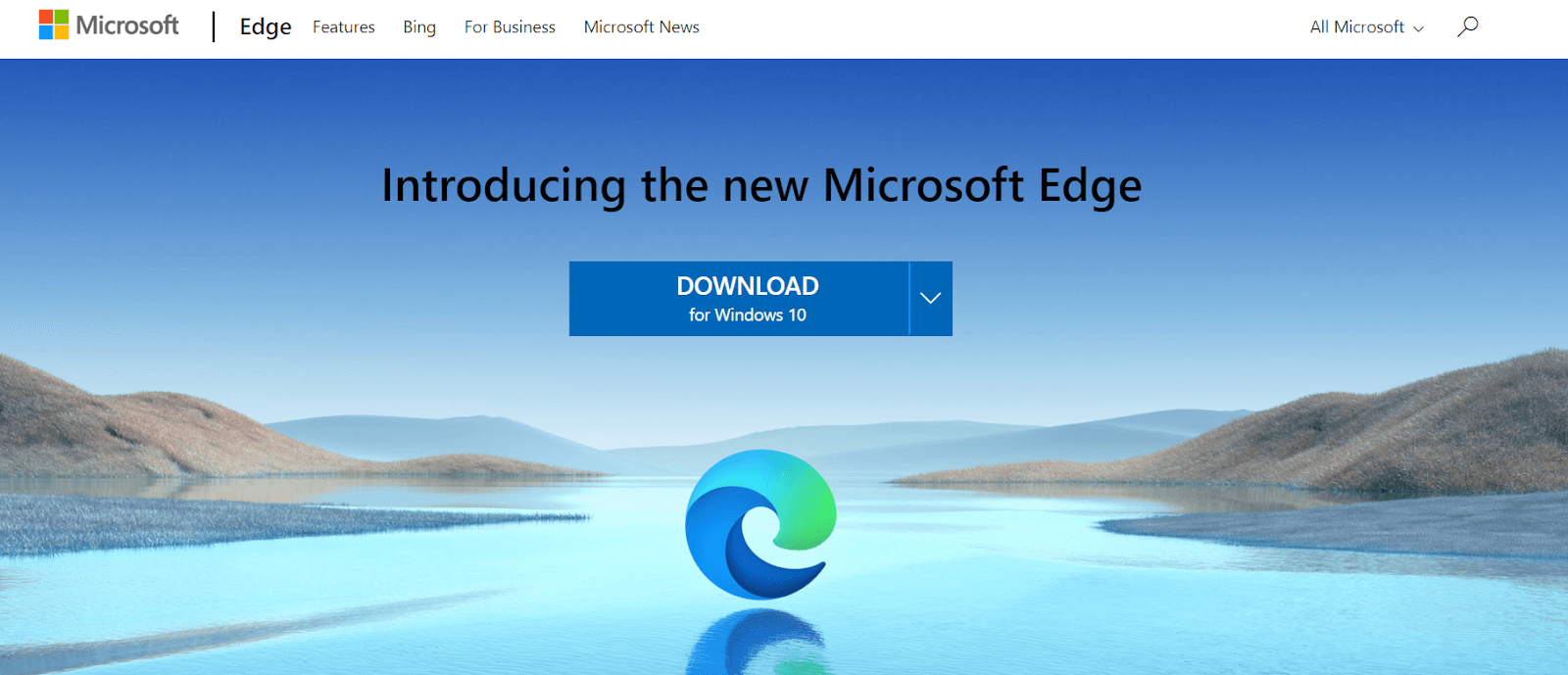 Highlight Features:
| | | | | |
| --- | --- | --- | --- | --- |
| Browser Extension Support | Superior Privacy | Built-In Browser for Windows 10 | Highly Customizable | Edge HTML Engine Layout |
Microsoft is not a new name and is known as the trump card of Microsoft against Google Chrome. It is the default browser of Windows 10 and does not hog on your device resources. Although it is a light browser for Windows it does not compromise on loading speed.
Known for its superior privacy features it safeguards your device from suspicious websites and malicious ads. Microsoft Edge also comes with multiple customization options and can easily sync with various browser extensions.
Enjoy seamless working and modern web experience with its Edge HTML Engine Layout.
Read Also: Know About New Microsoft's Chromium Edge Browser
4. Slim Browser

Highlight Features:
| | | | | |
| --- | --- | --- | --- | --- |
| Ultra-fast Speed | Ad blocker Capability | Online safety | Easy Integration | Plug-in Compatibility |
Next on our list of lite browsers for PC is Slim Browser. If you are looking for a sophisticated, native, and fast browser then Slim Browser is what you need.
Enjoy 10x download speed and protect your digital life by blocking annoying ads. It also comes backed with a fully customizable toolbar and one-click Facebook integration. Fast downloading of Youtube videos in MP3 and MP4 formats, easy installation of extensions, browser plugin along with easy text translation are few other notable offerings of this lite browser for PC.
5. Opera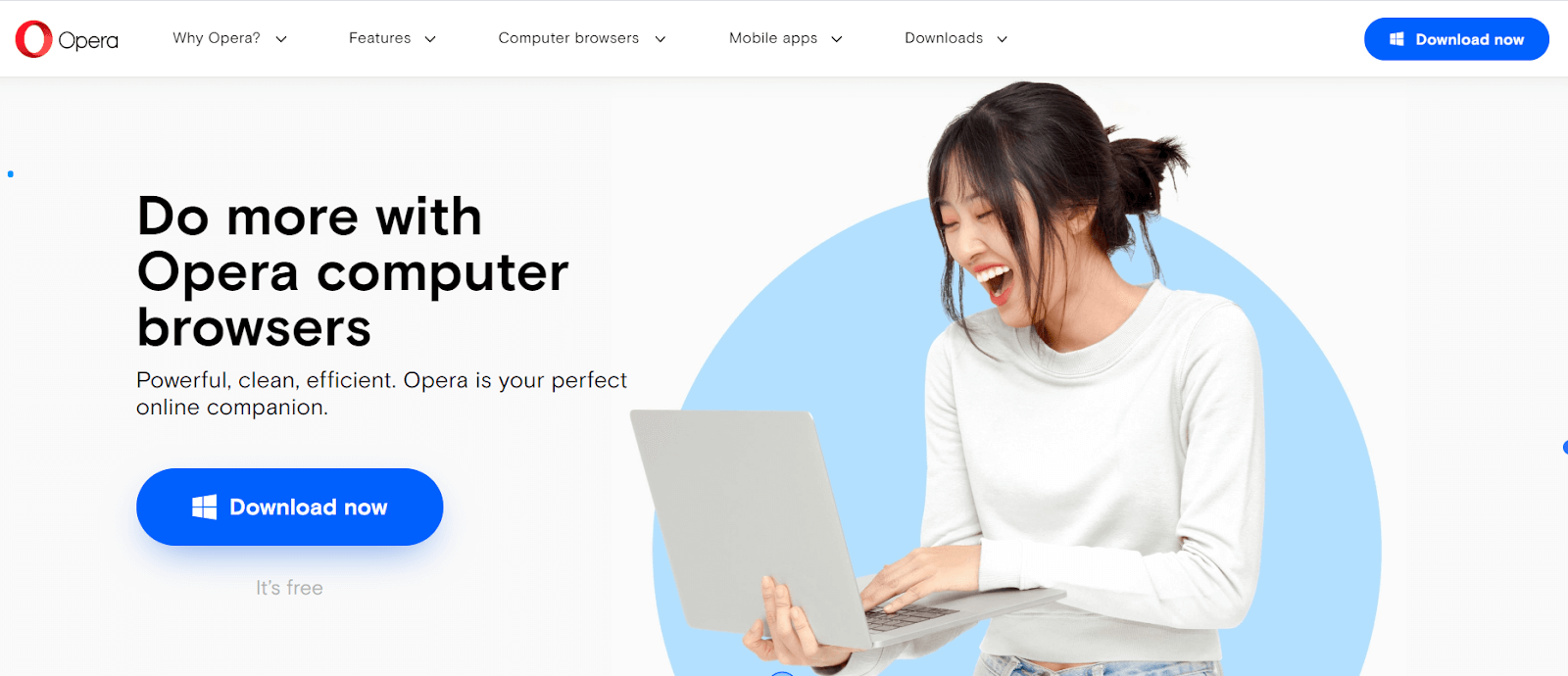 Highlight Features:
| | | | | |
| --- | --- | --- | --- | --- |
| Free VPN | Cross-Device Data Synchronization | Private Browsing | Customizable features | Ad-Blocker |
Another light browser for Windows that you can pick is Opera. It promises optimal resource usage and fast downloading speed no matter how many extensions you download.
Its ad-blocker capabilities prevent annoying ads and trackers. To add on to the privacy levels it also comes with auto-upgrade features and a built-in VPN connection that can easily maintain your anonymity and encrypt your online activities.
It is simple to set up and use. Make Opera your browsing companion and enjoy a clean, efficient, and powerful browsing experience.
6. Comodo IceDragon

Highlight Features
| | | | | |
| --- | --- | --- | --- | --- |
| Robust Security | Dns Server Integration | Lightning Fast Browsing | Web Page Scanning | Virtual Container |
If the above mentioned lightweight browser for Windows has not met your requirements then try our next pick. Comodo IceDragon is popular for its superior and robust security feature which keeps you protected from all possible viruses.
It is integrated with Comodo's DNS server which ensures error-free conversion of website URLs to IP addresses. Apart from this it also scans your browsers crash and performance reports to scan your web-page for any threats.
It also uses a virtually created container that breaks all the contact of your device with the browser, this means no unwanted or harmful software gets installed on your device.
Read More: Best Lightweight Mobile Browsers For Android
7. SeaMonkey

Highlight Features:
| | | | | |
| --- | --- | --- | --- | --- |
| Voice Interaction | Robust Password Manager | Easy to use HTML Editor | Easy Navigation | Open Source |
SeaMonkey is another light browser for Windows that promises optimized browser functioning and loading speed. A built-in email client and built-in editor helps you in easy navigation and also assists you in developing a web-page of your own.
It is also powered with a password manager tool along with voice interaction, mouse gestures and restore sessions functionalities. It is an open-source lightweight browser for Windows but can result in stability issues as time.
8. Vivaldi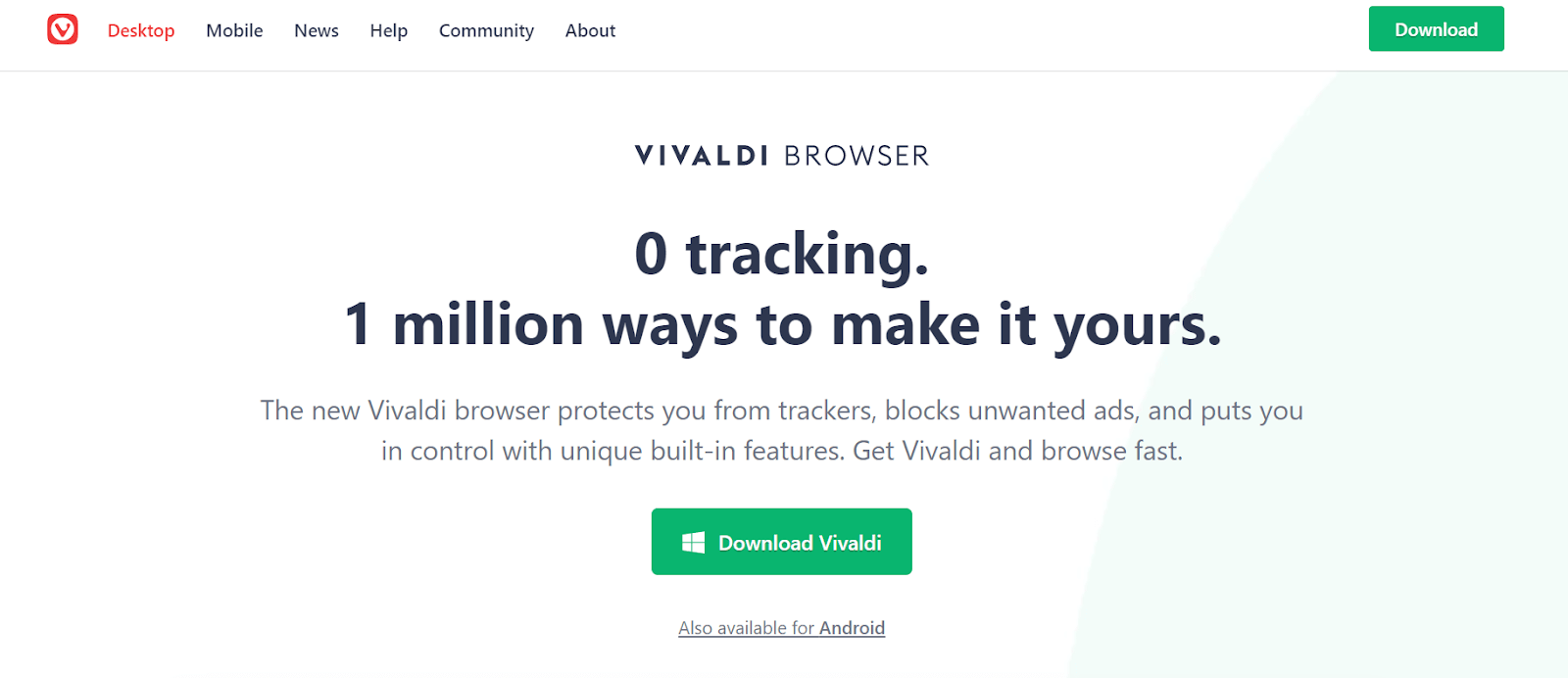 Highlight Features:
| | | | | |
| --- | --- | --- | --- | --- |
| End-to-End Encryption | Customizable Keyboard | Color Themes | Ad-Blocker | Stable Performance |
Vivaldi is one of the newest entrants in the category of lightest browser for Windows but has enough to give its competitors a big fight. It comes with greater customizable features including tab arrangement, color themes, and notes.
Vivaldi works on the Google Chrome engine and is well known for its reliability and stable performance. It also ensures the utmost privacy and helps you browse privately by blocking unwanted ads and trackers. All the data enchanted on the Vivaldi browser is protected with end-to-end encryption.
9. Lynx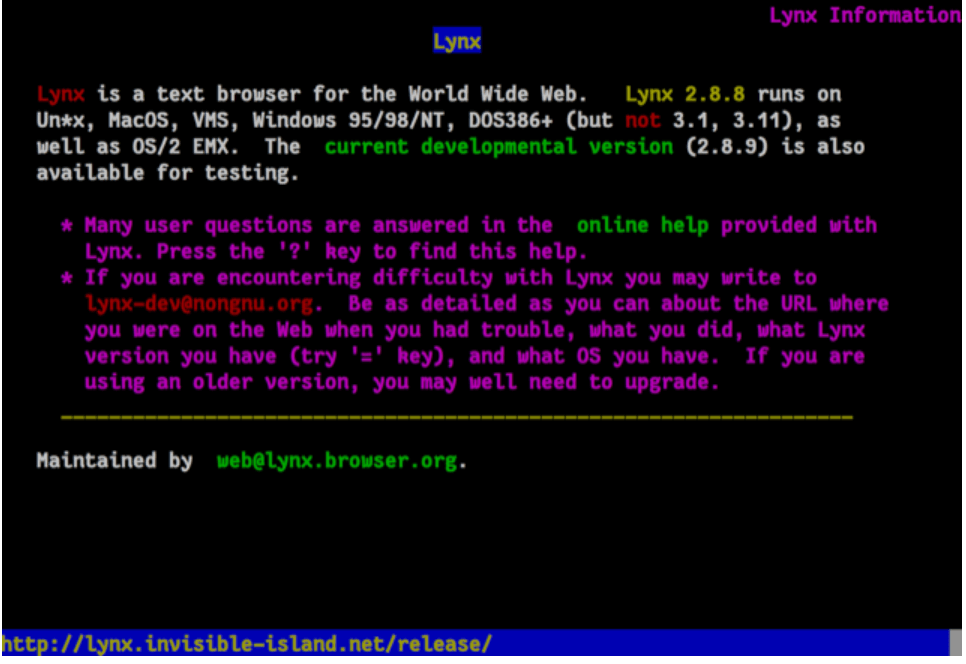 Highlight Features:
| | | | |
| --- | --- | --- | --- |
| Text-Based Browser | Easy Working | Oldest Browser | Keyboard shortcuts for easy Navigation |
Another smallest browser that you can pick for your Windows device is Lynx. It is one of the oldest Windows browsers and uses various command-line tools. Setting it up is fairly easy and its straightforward design adds on to its simple working.
It is a text-based browser and does not pressurize your system resources. So if you can barter a graphic user interface with a text-based interface then Lynx is a good choice.
10. Torch Browser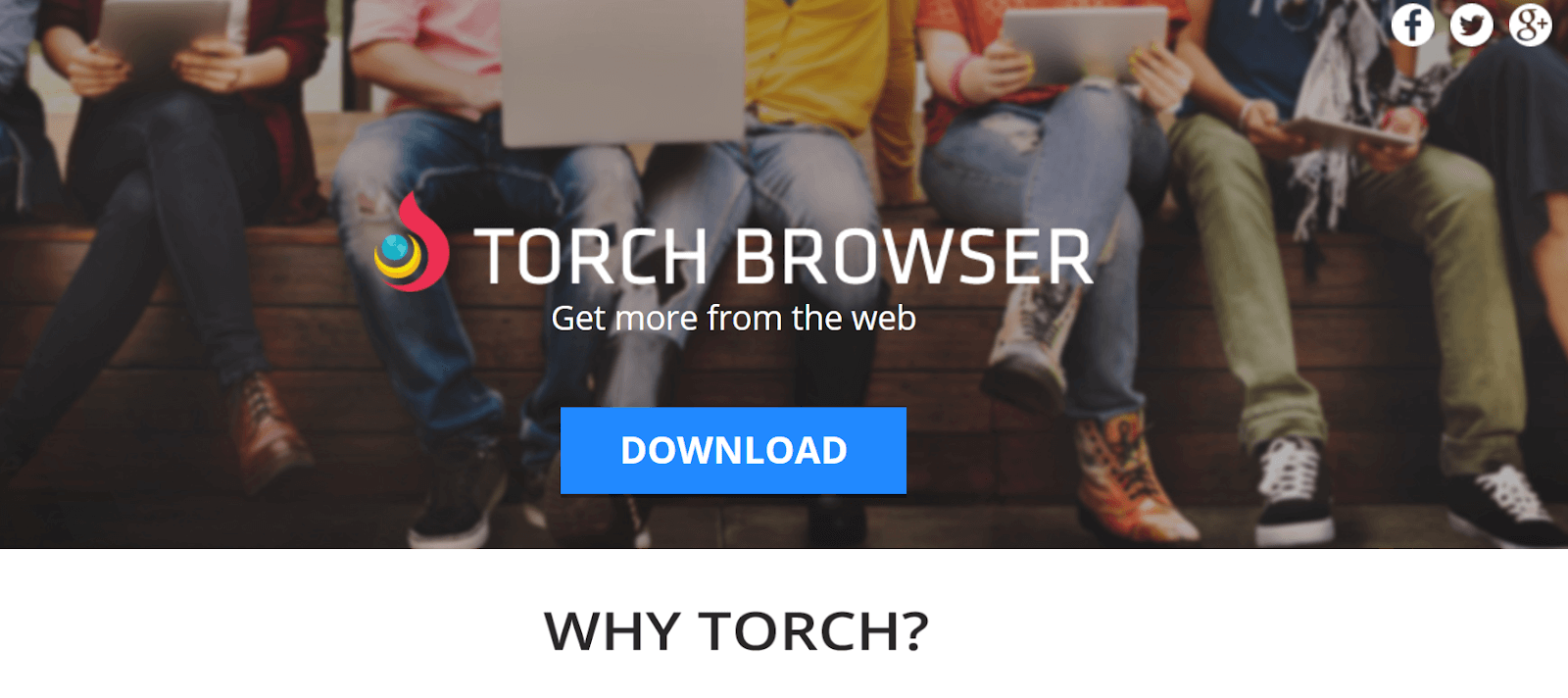 Highlight Features:
| | | | | |
| --- | --- | --- | --- | --- |
| Integrated Sharing | Apt for hyper-active internet Users | Torch Facelift | Built-In BitTorrent | Embedded Player |
Next on our list of lite browsers for Windows PC is Torch. It is perfectly apt for heavily-active users and supports seamless loading at a lightning-fast speed. It is an open-source and media-oriented browser application.
It comes with an in-built BitTorrent feature which helps in easy management of downloads. Along with it you also get access to additional features like Torch Games and Torch Music which adds on to your browsing experience. You can also play online songs before their download is complete with its Torch Player feature.
Manage online media in a hassle-free manner with its integrated sharing and download accelerator feature.
11. Maxthon Cloud Browser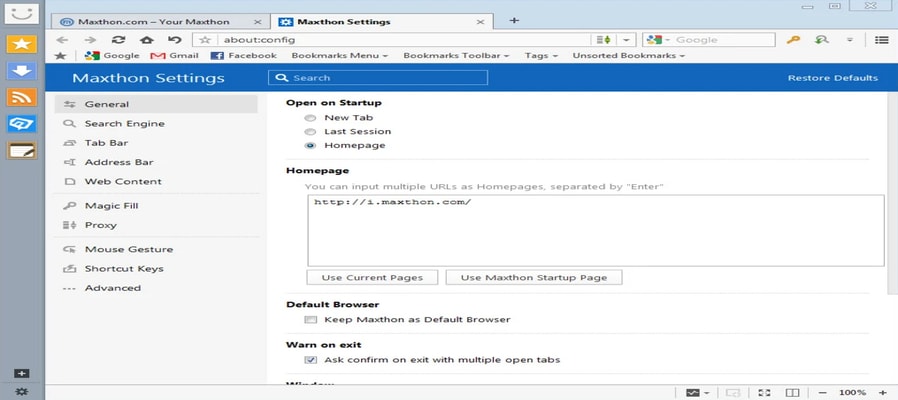 Highlight Features:
| | | | | |
| --- | --- | --- | --- | --- |
| Dark mode | In-built Ad blocker | Screen capture facility | Note-Pad | Multi-engine web browser |
Maxthon Cloud Browser is an extremely great browser that offers some of the best features than other opponent tool does. It includes a built-in tool for blocking random ads, offers a screen capture facility, note pad, dark mode, reader form, and many other features. Apart from this, Maxthon Cloud Browser utilizes its own cloud services to sync the users' data among the devices. And, Maxthon Cloud Browser has its own multi-account password administrator, named Magic Fill. If you want to make Maxthon sync your data on all other devices, then you are required to create an account on Maxthon-based cloud services.
12. Lunascape Orion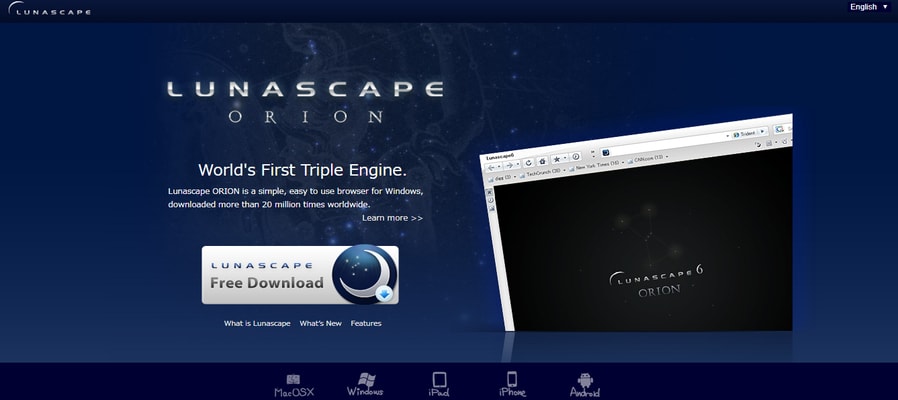 Highlight Features:
| | | | | | |
| --- | --- | --- | --- | --- | --- |
| Auto-switch between engines | Full-screen mode | Fastest browsing speed | User friendly | Triple engine support | Quick access |
Have you ever wished to access Internet Explorer, Safari, Firefox in one program? Now, you must be thinking about how it can be possible at all. Isn't it? Then, you can access Internet Explorer's Trident, Firefox's Gecko, and Safari's Webkit within one program. Yes, you have heard right! That's exactly what Lunascape does. It has the support of the triple engine i.e., Gecko, Trident, and Webkit. It is designed with the latest technology parameters and algorithms hence comparatively it is faster than others. However, you can set one particular engine to be accessed whenever you open Lunascape Orion. But, switching between the engines is very quick as well.
13. K-Meleon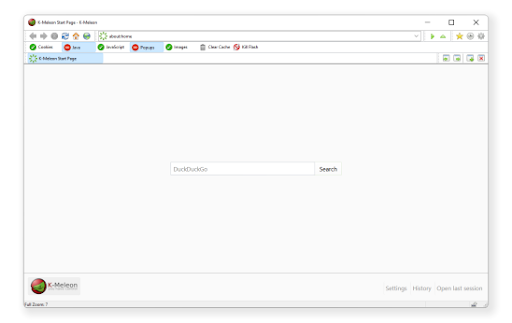 Highlight Features:
| | | | | | |
| --- | --- | --- | --- | --- | --- |
| Feasible for beginners | Multiple tabs support | Amazing speed | Easy to use and navigate |  Open-source | Extremely lightweight |
The Next name on this list of the best lightweight browsers for Windows is K-Meleon. The tool is quite amazing and offers an open-source structure for you. You can edit the coding base of the tool using this open source and use the tool as required. The tool is quite reliable. however, built for 32-bit operating systems only. k-Meleon respects your privacy and does not share any browsing data or surfing data with third-party websites or apps and otherwise. The interface of the browser is customizable as well and allows you to get the best out of the tool with ease.
14. Brave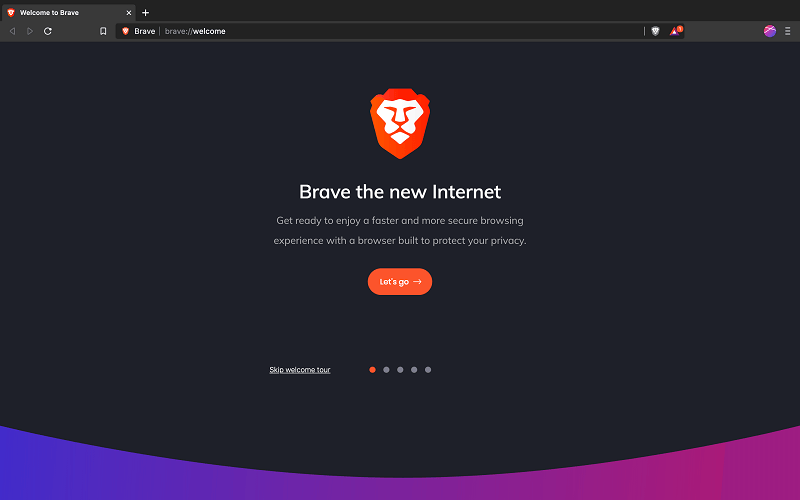 Highlight Features:
| | | | | | |
| --- | --- | --- | --- | --- | --- |
| Easy to use | Supports multiple tabs | Lightning fast speed | Easy to navigate | Freeware | Ultra lightweight |
The last name here on the list of the best lightweight browsers for Windows is Brave. This lightweight browser is available for both 32-bit and 64-bit operating systems. While you use the browser, it will block all the ads to enhance your surfing experience. Moreover, the browser also blocks cross-site trackers for enhanced performance.
This is one of the best tools that prohibits phishing attacks and malicious files from getting into your computer. Moreover, the anonymized network routing by the browser using the Tor mode offers utter privacy to your data and surfing history.
---
Faqs – Lightweight Browsers
Q1. What is the lightest browser for Windows 10?
In the sea full of options for different browsers available online we have fixed it for our users by listing the best lightweight browser for Windows 10, 11, or older version systems. Go through the list and find the one that matches your definition of lite browser for PC and download it from the official website.
Q2. Which browser uses least memory on your device?
Depending upon the size and other available data Opera uses the least resources of your Windows and still provides the best user-experience and speed.
Q3. Does Chrome use lot of the system's RAM?
When compared to the above mentioned light-weight browser alternatives, Chrome indeed uses a significantly higher amount of RAM. In addition to this if we download and add multiple extensions to chrome it can get heavier.
Q4. Is Opera Lighweight browser?
Yes, Opera is a well know alternative in the list of lightweight browsers as it only consumes minimal resources of your device.
Q5. Is Brave Lighter Than Chrome?
Yes, Brave is a lighter web browser than Chrome. It puts less strain on your device's performance than Google Chrome. Brave uses 66% less memory than Google Chrome.
---
Conclusion
So, this is folks, enjoy effortless and fast browsing experience with our lightweight browser for Windows. All the options mentioned above guarantee fast speed, robots working, less resource usage, and superior privacy.
Pick the best-suited lightweight browser for your windows device to trade-off with a mainstream browser.
Prachi Dani is a technical content writer who specializes in areas of science and technology. She is highly up to date with technological transitions and transformations. Writing is not her passion but the only thing that carries satisfaction in life. If not writing, you may find her engrossed playing action games on her treasured smartphone.
Subscribe to Our
Newsletter

and stay informed

Keep yourself updated with the latest technology and trends with TechPout.
Related Posts