11 Best iPhone and iPad Cleaner Apps to Clean Storage in 2023

The iPhone is by far one of the most powerful and the most reliable smartphones that we have seen in the last few decades. However, with time even this powerful gadget can show significant signs of a slowdown due to its limited internal memory. iPhone cleaners offer a simple and efficient way to optimize the storage space of your device.
iPhone and iPad cleaners are specially designed memory optimization tools that avoid slowdown issues by deleting junk files, system cache, cookies, redundant files, and other unwanted stuff.
If you wish you can also try deleting junk files on your own but that's something which the security experts don't advocate much. So, if you're looking for a powerful and best iPhone cleaner app that can effortlessly remove all the traces of junk from your device, then we have you covered.
Here, we have prepared a well-researched list of the top phone cleaners for iPhone and iPad that can help you maintain the health of your iOS device and boosts its overall performance.
Best iPhone And iPad Cleaner Apps in 2023
Are you looking for an efficient phone cleaner for iPhone and iPad that can help you manage your digital life with ease? Then refer to our rundown of some of the top-rated iPhone cleaners in 2023. Pick the best-suited tool to enjoy peak performance and faster speed.
The below-mentioned iPhone and iPad cleaner keep your device away from sluggishness.
1. Cisdem iPhone Cleaner

Cisdem iPhone Cleaner deserves a permanent spot on our list of best iPhone cleaner apps for fairly good reasons. If you are annoyed with the pop-up message saying " You have insufficient space on your device" then Cisdem is a one-stop solution for you.
Highlight Features:
It is the best iPad cleaner app and works equally well on an iPhone.
It offers a one-stop solution to all your system storage issues, and also takes care of device performance issues like freezing, reduced speed, low loading and response time, devices crashing, and many more.
It is backed with a simple and straightforward interface powered with seamless working.
This best iphone cleaner app gives you an option to create device backup before every optimization.
It can recover gigabytes of memory space by sweeping away duplicate files, system junk, residual files, system cache, and other unwanted files.
This best iPhone cleaner app comes with a fast and effective scanning mechanism and removes data safely.
It offers an effortless way to clean and speed up your old iPhone and iPad.
---
2. iMyFone Umate Pro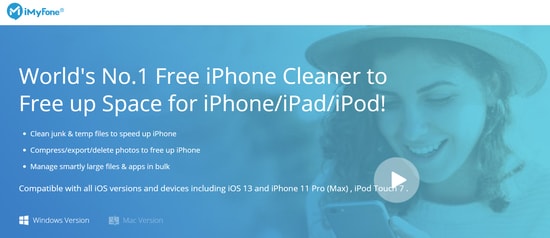 Next on our list of reliable and efficient phone cleaners for the iPhone is iMyFone Umate Pro. The tools come with an intuitive and simple interface offering fast and accurate deep cleaning. It improves system performance and speed by removing junk, redundant files, cookies, system cache, unwanted apps within no time.
Read Also: Best Video Compressor App for iPhone
Highlight Features:
It uses advanced system analyzation techniques to detect and remove temporary and hidden files.
This iPhone and iPad cleaner also works as a photo management tool and helps you delete unwanted and duplicate photos in bulk.
It can also detect and permanently delete large files with the utmost ease.
This iPhone cleaner also ensures full privacy and security by erasing your sensitive and confidential information like bank details, credit card details, WhatsApp message, and personal videos, etc.
It also helps you optimize system space by deleting all unwanted and obsolete apps from your device.
Free up your iOS device space in a smart and secure way, with this incredible and best iPad cleaner app.
---
3. Smart Cleaner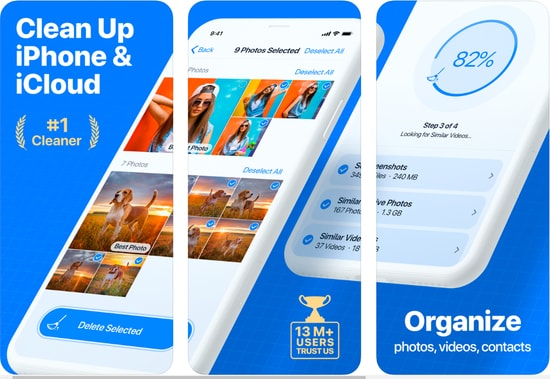 Another impressive iPhone cleaner that you can shortlist is Smart Cleaner.
With time our iPhone gets flooded with numerous photos that eat away precious disk space making your device slow and sluggish. Developed by BPMobile it offers an easy way to optimize system space by removing similar, redundant, and duplicate photos and videos.
Highlight Features:
It detects and removes large videos within seconds.
This best iphone cleaner app also helps you manage and organize your photos by places in a seamless way.
It removes similar pictures, unwanted screenshots, similar burst photos, and live photos.
In addition to this, you can also use this free iPhone cleaner to merge and remove duplicate contacts from your phone directory.
It is a free iPhone cleaner.
---
4. Quick Heal Optimizer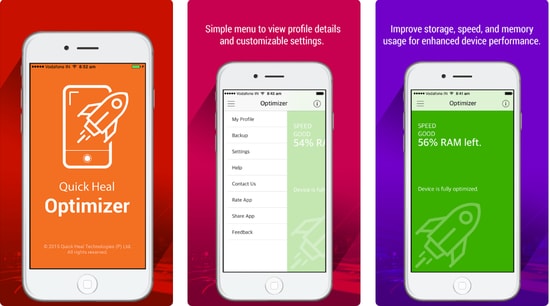 Next on our list of iPhone and iPad cleaner app free is Quick Heal Optimizer. The app is most popular for its class apart device optimization capabilities aimed at achieving top performance and speed.
Read Also: Best App for Removing Duplicate Photos on Mac
 Highlight Features:
It uses multiple color codes to define the overall health of your phone and iPad.
With this iPhone cleaner free you can efficiently clean system caches and residual files.
It is powered with a Memory cleaner feature that helps you get rid of unused background apps with ease.
It also helps you create and restore your contacts using the cloud service.
It is a free iPhone cleaner that comes with high-end optimization features and simple working.
---
5. Clean Doctor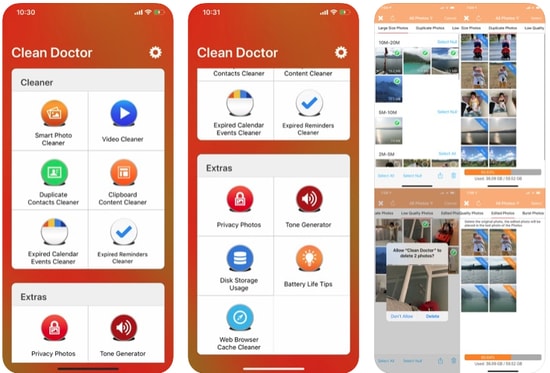 If you are searching for an all-in-one iPhone and iPad cleaner the Clean Doctor can be a good pick. It is one of the most popular and best iPad cleaner apps on the App Store and works equally well on iPhones.
 Highlight Features:
It can quickly scan and delete duplicate and similar photos to reclaim load memory space.
Manage your device smoothly with this maintenance, optimization and best iphone cleaner app.
It is powered with a user-friendly interface and simple working.
You can use this best iphone cleaner app to remove duplicate screenshots, HDR photos, live photos, and burst photos from your iOS device.
In addition to duplicate photos, this best iphone cleaner app also allows you to look for duplicate contacts, emails, and phone numbers.
With this iPhone cleaner free you can easily scan and delete expired reminders, and web browser cache to reduce system load.
---
6. Mobile Cleaner- Space Saver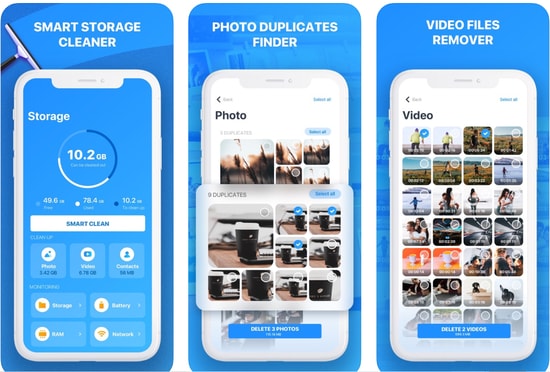 Mobile Cleaner is highly popular for its smart device optimization capabilities. It not only removes system junk but also provides an easy way to optimize your disk storage.
Read Also: Best Voice Changer App for iPhone
 Highlight Features:
More than being a simple iPhone storage cleaning app, Mobile cleaner also works like a contact manager, video file remover, and duplicate photo finder app.
It is powered with a smart and selective cleaning solution.
It helps you organize and manage your contacts by scanning and removing duplicates.
With this feature-rich iPhone cleaner, you can also manage and preview your videos and delete the unnecessary ones.
Free up storage space by deleting needless apps, files, and photographs.
---
7. PhoneClean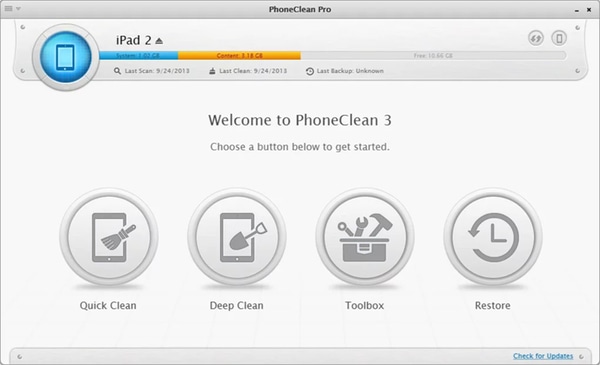 iMobile's PhoneClean app is one of the best iOS cleaning utilities that you can try. The app offers various features including in-depth cleaning and privacy protection that can help you improve the performance. The app not only helps in cleaning but it also helps you to enhance performance. It effectively uses the RAM.
Highlight Features:
The app offers a quick clean feature which finds and removes caches and large files easily
Using the app you can even clear the internet traces including caches, history, and cookies
The app optimizes the overall performance of the device
The app supports 5 different languages
---
8. Magic Phone Cleaner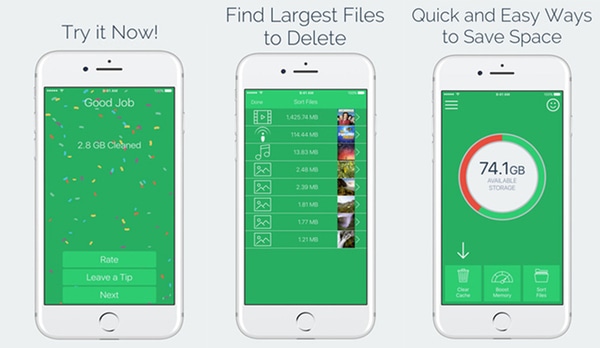 Next up in the list of iPhone cleaner apps we have Magic Phone Cleaner. Using this phone cleaner app you can easily clean up the junk and other unwanted files easily. You can easily trust this software as it will not affect any of your important files. The best part is it takes very little time in scanning and removing the unwanted files. You can use this app for iPod touch, iPhone, and iPad.
Highlight Features:
The app can be operated in 12 different languages
iOS 9 and newer version are compatible with this app
Single tap feature to delete multiple files in one go
The app has easy to use interface
Also Read: Best Call Recording Apps For iPhone
---
9. Macgo iPhone Cleaner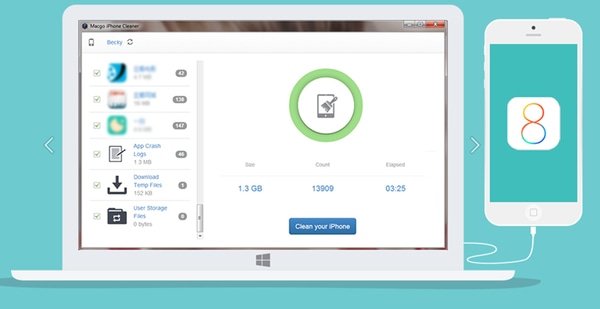 Macgo iPhone Cleaner is another great cleaner app that you can try. The app has a very smooth interface and you can seamlessly clean various types of files from your device using this software. If you are having issues with the free space then worry not as this app will keep cleaning the unwanted files and make space in the device.
Highlight Features:
This app is compatible with almost every iOS
It has a very simple and clean interface that can be adapted by beginners as well
You can add this app on your Mac as well as on Windows laptop/ PC
The app cleans up unwanted file very quickly and efficiently
---
10. iChecker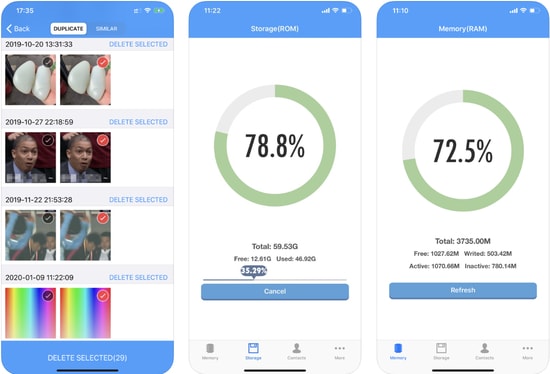 Our last pick on the list of top-rated phone cleaners for iPhone and iPad is iChecker. With this incredible tool, you can check the overall health and utilization status of your RAM.
 Highlight Features:
It optimizes RAM usage by removing similar and duplicate contacts from your phone book.
It can also scan and group similar photos and videos and remove them to free up space.
Apart from this, with this best iphone cleaner app you can also get real-time details of storage and memory usage.
---
11. iFreeUp iPhone Cleaner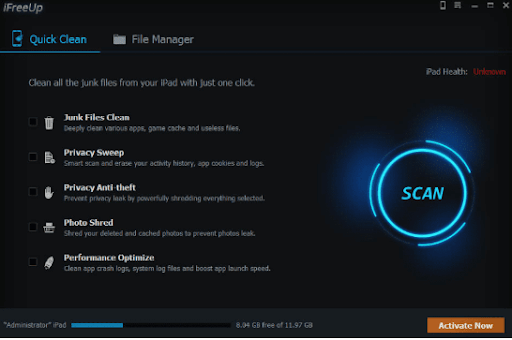 The next on our list of iPhone and iPad cleaner apps is iFreeUp iPhone Cleaner. It was designed by one of the largest companies for system care and cleaning i.e iObit. It has more than 250 million users across 220 countries around the globe. The smart cleaner scans your device and removes the files that are not required automatically.
Features on iFreeUp iPhone Cleaner:
The cleaner makes sure that it deletes private files safely to prevent your privacy.
You can easily export or import records from Apple or Windows devices.
Improves the speed of your iPhone by removing the hidden files that are not important.
Transfer media files such as images, music, videos, etc to your Windows or iOS devices.
Cleans cookies, caches, or other irrelevant files that are created by your applications.
---
To Sum Up: Best Cleaner Apps for iPhone and iPad to Free Up Space
So, these were the most efficient and reliable iPhone and iPad cleaner that you can pick to optimize the performance and speed of your iOS device. All of the above-mentioned iPhone cleaners help you clean and manage your device storage by deleting system junk and needless apps.
Weight your requirements and choose the best-suited cleaner for iPhone and iPad.
Prachi Dani is a technical content writer who specializes in areas of science and technology. She is highly up to date with technological transitions and transformations. Writing is not her passion but the only thing that carries satisfaction in life. If not writing, you may find her engrossed playing action games on her treasured smartphone.
Subscribe to Our
Newsletter

and stay informed

Keep yourself updated with the latest technology and trends with TechPout.
Related Posts