Buying a house is considered to be the investment of a lifetime, and thus it is very crucial to protect it. Home security is equally important as safeguarding your children.
Thankfully with technological growth, several smart home devices and home security apps are available in the market. These apps provide a perfect solution to working parents who are always on the move. They are concerned about their homes but cannot do anything to manage it in their absence.
Using a handy home security system offers the much-required solution to all such issues. Here, in this blog, we have prepared a well-researched list of some of the most robust and best security camera apps for you and your home.
Each app is evaluated adequately on various parameters, including usability, features, response time, cost, installation complexity, working mechanism, and more.
Read on to find out which are the Best Home Security System Apps For Android in 2020.
Top Home Security Apps For Android Devices:
If you are in dire need of a proper home security application, then our blog will surely be of help to you. Now, let's have a glimpse at some affordable yet useful apps that you can consider to ensure the safety of your house.
1. Home Security Camera WardenCam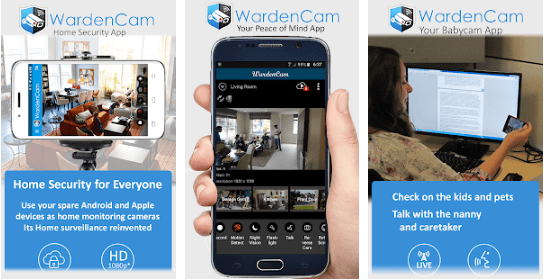 If you are looking for an affordable home security app that offers a perfect mix of features and usability, then "Home Security Camera WardenCam" can be a good pick. This power-packed tool is highly popular among the masses.
It comes with this mini CCTV camera, which you can access anytime from anywhere. The app works incredibly well on almost all versions of Android devices and provides round the clock video monitoring of your house.
Powered with an efficient alert system and motion detection capabilities, it can easily sync with all types of connections, including 4G, WiFi, LTE, etc.
With its smart alarming system, you get instant notification of all trespassing events and unauthorized entries. Last but not least, you also get cloud storage functionality, which means easy access from any location.
2. Surveillance & Monitoring – TrackView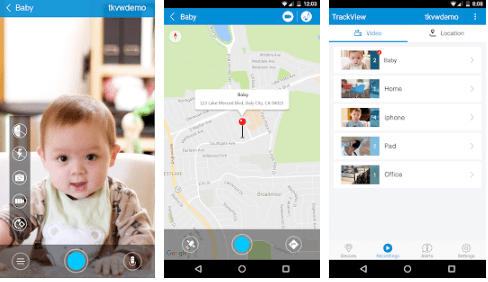 This Home security application provides a lot of convenience and ease to our busy routines. It is a compact and easy-to-use app that combines your IP cameras and smartphones with a 3G/4G or WiFi network for continuous monitoring.
Motion detection, GPS location services, night vision, two-way audio capability, and sound detection are few of its prominent offerings.
Enjoy real-time monitoring of your home with this top-rated home security camera app.
Read More:  10 Best Location Tracking Apps for Android and iOS
3. Presence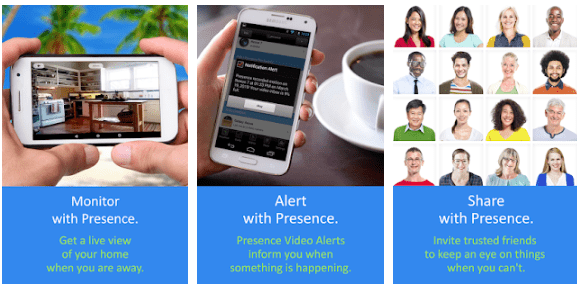 Presence allows you to be virtually present in your home even when you are away for some work. It offers a smart way of safeguarding your house and can be easily connected to your smartphone.
Developed by People Power Company, this incredible Home Security system uses your Cell Phones to monitor your home, workplace, and children's activities.
You can use a voice command to guide the system. It also comes with a motion detection feature that can send video alerts and can efficiently work on Android and iOS devices. It can store video recordings of up to 5GB.
It is definitely one of the top home security apps with you can enjoy high-quality video surveillance from anywhere.
4. AtHome Camera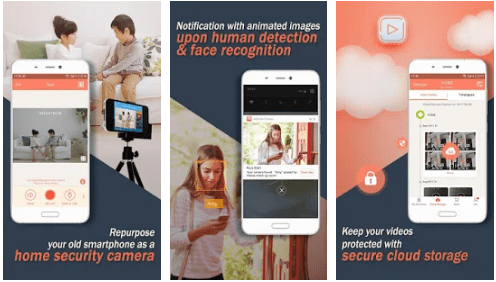 Whether you are at home or not, you can always rely on the Athome app to ensure the security of your home.
It comes with smooth working and a compact control, which can turn your Android device into a 24/7 live CCTV camera. Its advanced AI-based monitoring detects all unauthorized movements and sends notification alarms.
You can connect AtHome camera to your mobile phones, PC, tabs, consoles, and many other devices. It also incorporates a night mode and multi-functional display features for better observations during the night.
Download this remote monitor today to secure and safeguard your home from all unwanted activities.
5. tinyCam Monitor Free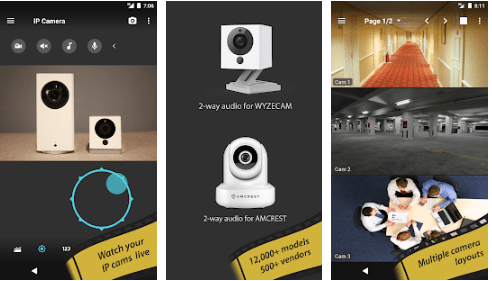 Enjoy class-apart remote surveillance on your Android devices with this free home security apps. Use it to monitor and secure both public and private places. It comes with a high-quality in-built camera which supports 27/4 monitoring for your space with an IP camera.
For enhanced services, it also gives you an option to share a group camera with others. Also, you can get access to many cameras, multiple layout options, an audio system, and a sequel model which can help you switch between cameras effortlessly.
6. Nest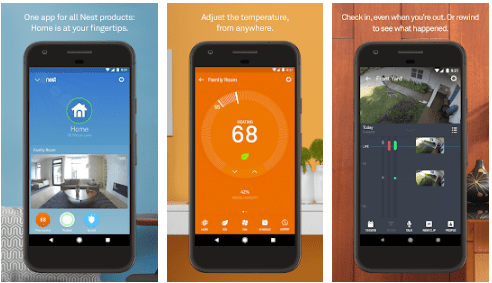 If you are looking for a high-end security alarm system, then Nest can be the best pick for you. Be it your business place, a casual location, or your home; you can monitor every corner with this unbeatable security app.
Setting it up and using it is exceptionally easy and can be easily linked with a WiFi connection or a powerful battery.
Its powerful sensor mechanism can sense even the slightest movement in your house and send notification on your android device. Get high-resolution video quality with Nest.
7. Mobile Security Camera (FTP)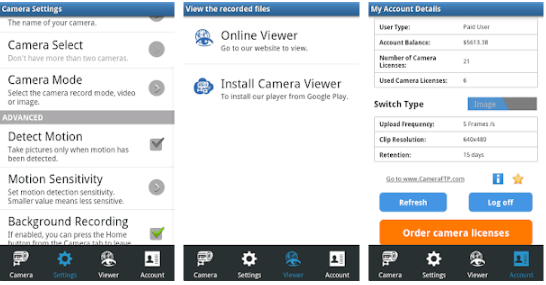 Turn your android device into a handy security camera with this excellent mobile security camera app. Unlike other security or surveillance apps, this application is extremely simple and easy to set up.
It comes with an array of useful features and can be easily integrated with different kinds of cameras and security systems. All the videos that it records get automatically saved on the device it is connected to.
8. IP Webcam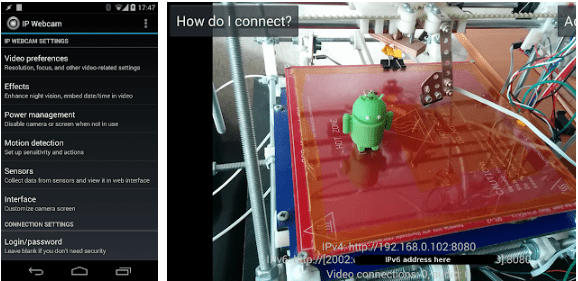 IP Webcam can effortlessly turn your smartphone into a network camera with which you can monitor your home and enjoy multiple viewing options. With its cloud supported broadcasting, you can easily connect yourself for instant Global access.
MKV, WebM, MOV are few platforms on which you can record videos and it also has a night and day mode to offer. Motion detection, pet and kids monitoring services, sound trigger, and tasker integration are few of the notable features of this multi-functional Best Home Security Apps.
9. SimpliSafe Home Security App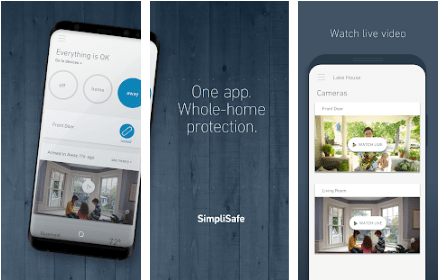 Next on our list of best security camera apps is this fantastic application. With this sound security system, you can monitor not only your home but also other private places.
It is one of the best options to track your pet's activities, kids' steps, and keep a check of all events going on in your absence.
Its efficient sensor system alerts you whenever the door is opened. It is quite easy to set up and use SimplISafe.
10. Security Camera CZ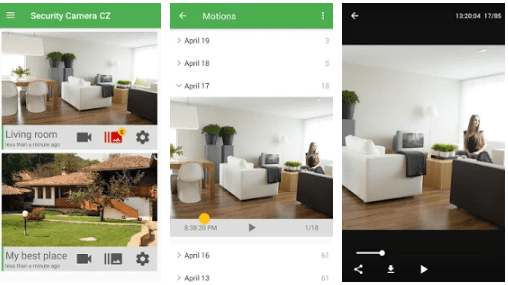 If you are looking for an app that can turn your smartphone into a home security camera, then this Security Camera would be an excellent option to pick. It can be installed directly from the Play store. Security Camera CZ is known to offer cutting edge functionality and comfortable working with is a compact and straightforward interface.
With its motion sensor, it can send an alarm notification if any trespassing is observed. To enjoy anytime and anywhere home monitoring, download this excellent home security app with the below link.
It can easily sync with the available internet connections and works well as a parental monitoring and security app. Night mode, video zoom, and photo-taking are a few features offered by this Security Camera CZ.
11. EyesPie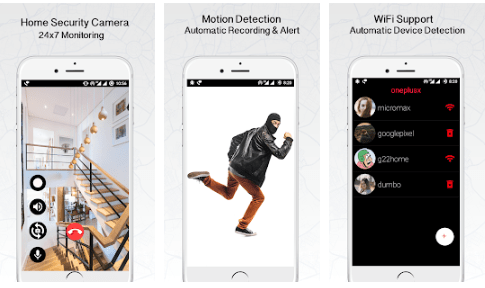 Enjoy enhanced family protection and on-demand working with this incredible home safety app. It offers a simple way to keep a check on who is entering your home and what your kids are doing in your absence.
It can support HD quality videos, motion detection, fully secure protection service along with a two-way conversation facility.
12. Smart Home Surveillance Picket – reuse old phones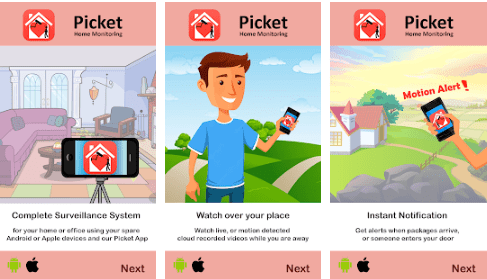 With this easy to use security app, you can access your home activities at your fingertips. Simply turn on the phone, and you are good to go.
With a good WiFi connection, you can monitor and use it from anywhere. Motion detection, HD quality video and audio system, cloud storage, notification alerts, and two-way communication mechanism are some of its few key functionalities.
13. Kuna Home Security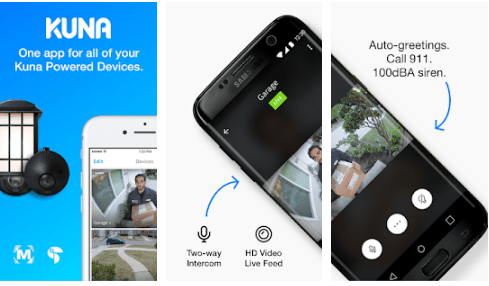 Last on our list of top home security apps is Kuna. It comes with compact features and high-end protection.
It offers two-way intercom, light on and off option, voice command, and high-resolution video quality. Take your home security to the next level with Kuna Home security. Download it using the link given below.
Concluding Thoughts
The apps mentioned above offer a perfect mix of features, safety, and usability. Choose your favorite app from our list of best home security apps to control and monitor your home activities from anywhere.
Stay connected to your home and enjoy an eagle view with these amazing home security systems.
Image Source: Google Play Store
Prachi Dani is a technical content writer who specializes in areas of science and technology. She is highly up to date with technological transitions and transformations. Writing is not her passion but the only thing that carries satisfaction in life. If not writing, you may find her engrossed playing action games on her treasured smartphone.
Subscribe to Our
Newsletter

and stay informed

Keep yourself updated with the latest technology and trends with TechPout.
Related Posts