10 Best Location Tracking Apps for Android and iOS
Do you often feel worried sick for your child's safety? Then, find some peace with the help of location tracking apps. In this intimidating world, it is obvious to feel anxious about the well-being of your loved ones. With the growth of technology, a great deal of problems related to human safety has been attempted to be dealt with in better ways and such an attempt paved the way for the use of GPS tracking technology at a commercial scale for everyday use.
In this post, we will inform you about the apps that can be used for location tracking. The Global Positioning System, commonly abbreviated as GPS, is a location tracking technology utilizing 24 satellites to physically locate and electronically record the movement of a device or people possessing such devices.
Top 10 Tracking Apps For Real-time Location:
We will look at the apps that are available for Android & iOS devices in the below segment.
1. FamiSafe – Location Tracker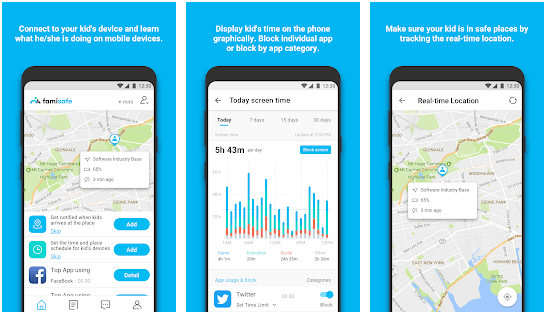 This is an ideal app to know your child's location whereabouts in real-time. It is basically a parental control app that has a lot of interesting features besides acting as an app to track location. The app has a trial period of three days.
Beneficial Features:
You can create an account. Then download the app on your child as well as your own phone from Play Store or the App Store. Further, you can connect to monitor your child's phone from your own device.
This app has a geofencing feature that can help you create safe virtual boundaries for your children like the school premises, playground or any other area that your child frequently visits. The set zone will be recorded in the app of your child's phone and you will be intimated whenever your child is nearing the boundaries. This will help you to connect with them or someone around them to prevent them from crossing over the safe zone.
You can also see the recorded history of your child's movements. Apart from this, the app also offers smart parental control settings, app blockers, web filters, screen time control as well as an emergency alert generator.
2. mLite – Phone Family Tracker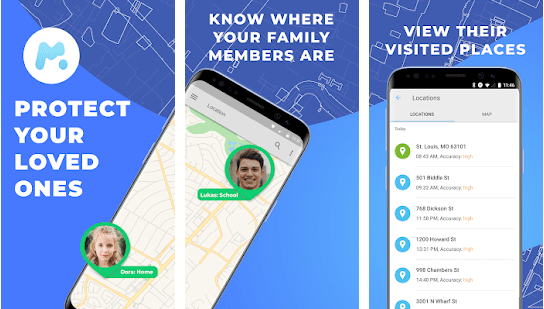 This is not just another app to track phone location. It is, in fact, a family control app that lets you remain connected virtually with your loved ones with the help of a map. The packages are available for a number of devices that start at $19.99 and are automatically renewable.
Beneficial Features:
This app lets you track the location of your children, old parents or any other loved one in real-time.
You can view the location history in detail.
Geo-fencing lets you create a customized virtual safety zone to safeguard your loved ones from treading on dangerous paths.
You can also monitor the apps installed on the tracked phone.
What more you can do is to add an alarm button to allow your child to notify you with just one tap on the button in case they confront any daunting situation or for any other emergencies.
Read Also: How To Use Google Maps And Get Traffic Updates
3. Prey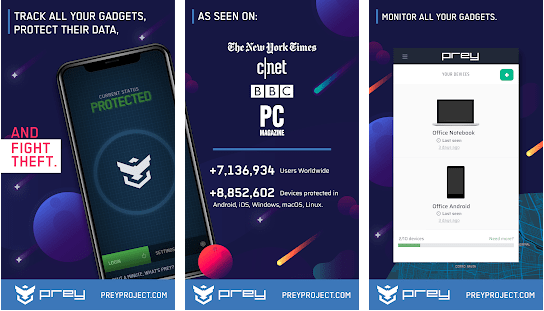 This is an amazing GPS tracking app available not only for Android as well as iOS devices but also for laptops and tablets operating on Windows, MAC and Linux systems. This is a popular app with 7 million app installs so far.
Beneficial Features:
Users can create a single account to manage multiple devices.
This app can act as a device locator with the help of GPS geolocation.
It supports the geofencing feature and also lets users access the location history of devices.
It offers several other functions like the anti-mute alarm when any suspicious movement is detected.
The app is very efficient in generating a Prey missing device report which is very accurate and detailed. It can be used as an anti-theft application to trace and find out the lost device with the app's ability to detect neighborhood Wi-Fi connection and thus detect its current location.
The app has a remote locking feature.
In case your child's device is lost, you can wipe off their personal data remotely. You can also encrypt data until the lost device is recovered.
4. Life360 – Find Family & Friends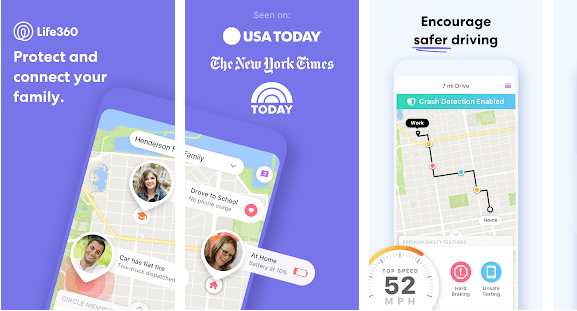 This location tracker app can help you cover all your family members and help you monitor their safety and well being. It offers great variants of membership plans ranging from a free version that can help you share locations as well as look at the device movement history to the Plus and Driver Protect membership that have more to offer.
Beneficial Features:
The app lets you create a private family circle.
You can receive smart notifications as well as share your locations to inform about your real-time location whereabouts to your family members.
The advanced sensors of this app are capable of detecting car collisions. Furthermore, the executives of Life360 can call for an ambulance and also notify the circle member's about the accident on your behalf.
The app can also be used to gain roadside assistance in case of an engine failure in a car or any other issues.
You can also monitor the driving speed of a vehicle in your circle through a Driver report.
5. Qustodio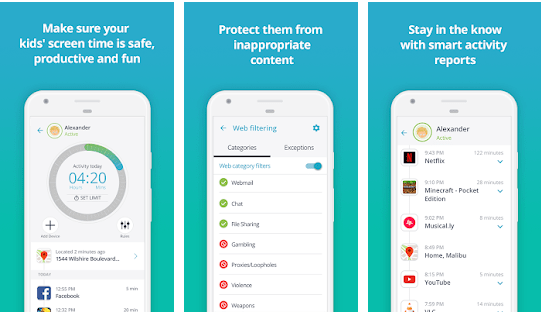 This is a beneficial GPS location tracker app that received PC Mag's Editor's choice rating award. This app provides free access to daily activity reports and also to the activity dashboard.
Beneficial Features:
The free version can enable you to monitor a single device of your child, whereas the premium version can let you monitor multiple devices.
You can block adult content, monitor YouTube activity, web activity, etc.
You can also locate your child on the map. Kids can also call upon help by pressing the Panic button.
6. Find My iPhone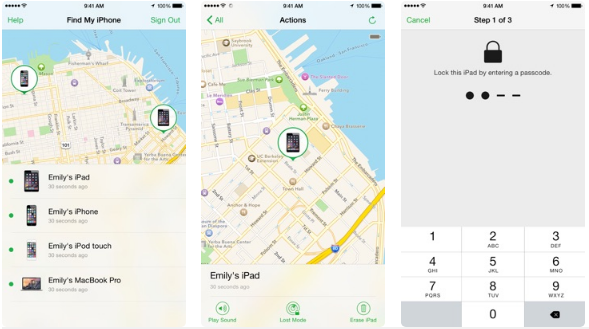 This is a built-in application across Apple devices that can be accessed with the help of the iCloud account. This app is offered free of cost on the App Store and can be used as a location tracking app for your friends and family.
Beneficial Features:
This app can detect the location of your family members with the help of the 'family sharing' feature enabled on their iPhones.
This app shows the following three tabs, which are People, Devices and Me.
It also helps to track and find your lost phone even in offline condition.
This app lets you erase the data remotely and also allows you to remotely lock the device with a passcode.
It can also be used to obtain navigation directions while driving.
7. Google Maps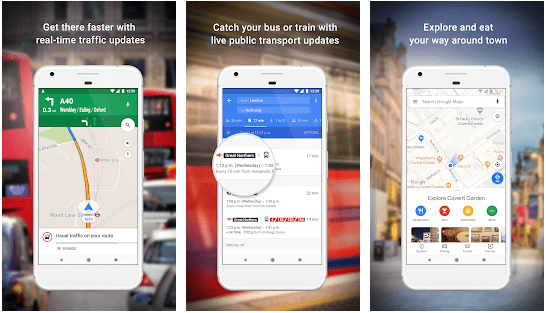 This is a free web mapping application available on the Play Store and App Store, which is developed by Google to detect locations, record location history and helps in navigation. This app is much more beyond the scope of a simple app to detect locations.
Beneficial Features:
The 'share location' feature helps in sharing your current location in real-time. You can also share your real-time transit information with the help of the ride-share function.
The app also lets you manage sharing options.
It also helps you receive an estimated time of arrival (ETA) of vehicles.
The app can be used to obtain real-time traffic updates and can be further utilized to seek diversion routes and a lot more.
8. FollowMee – GPS Location Tracker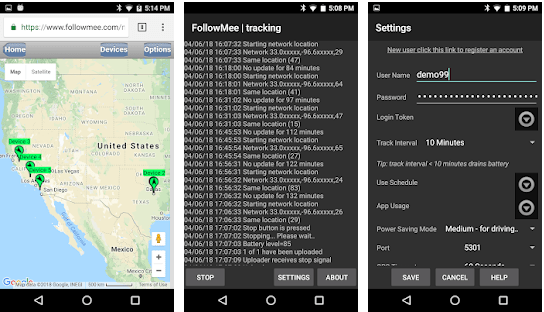 This is a great location monitoring app that is available free of cost to track your children's location and hence, ensure their safety. The unique feature of this app is that it is available in stealth mode and thus, you can monitor your child's activities without making them aware of it.
Beneficial Features:
This app can help in tracking many devices at the same time.
It provides a location history of three days.
Another attractive feature of this app is that it is not entirely dependent on internet connection all the time. Even when an internet connection is not available, it continues recording and tracking data. However, once the connection is re-established, all the data is uploaded. Thus, it can be useful even when your kids venture into remote locations.
9. Glympse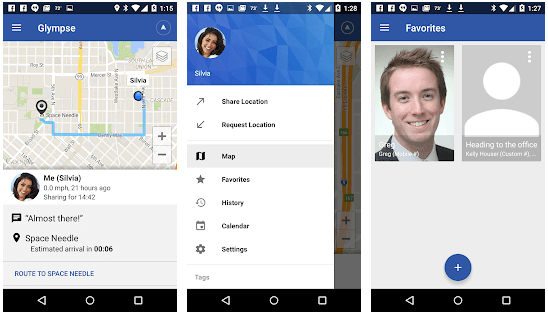 This is another popular app choice in the category of location tracking apps. This app lets users share their real-time location with their family, colleagues, and friends via a dynamic map.
Beneficial Features:
There is no need to sign up.
This app can run in the background and function anywhere in the world where internet connectivity is available.
You can share your location with anyone, even if they don't have the same app on their phones.
10. Location Tracker
This is an efficient location detection and tracking app. This is available on the Play Store for Android applications. This is a free application with a graphical user interface.
Beneficial Features:
This app can be used to track your location which ultimately gets saved on your Google account associated with Google Maps application.
You can also view your location history in chronological order.
Final Thoughts
Nowadays, location tracking apps can either exist as a built-in function in smartphones, tablets or your car's navigation system. It may also be embedded in small objects like pendants, dog collars, etc. Thus, these are handy tools to protect your loved ones from undesirable situations and can also be used to track and find your lost devices.
Image Source: Play Store
Snigdha is a technical content writer with expertise in the field of science & technology. Though she has a very diverse academic and professional profile yet she finds writing to be a creative form that she was unable to explore so far. When not writing, she can be found indulging in other forms of creativity like painting or travelling.
Subscribe to Our
Newsletter

and stay informed

Keep yourself updated with the latest technology and trends with TechPout.
Related Posts