12 Best GPS Tracking Apps for Android & iPhone in 2021

If you are also troubling while opting for the best GPS tracking apps then, we can help! Go through the below write up to know every bit in detail!
The fast-paced digital system is constantly making our life better and smoother than ever. In between all the discoveries, one is GPS tracking, surely you must have heard about it? It is an advanced form of technology that allows you to locate any place immediately whether it is a friend's location, place location, or anything where you want to go. What you need to do is – just turn on the GPS of your device! Apart from this, with the help of GPS, you can also track the location of your stolen smartphone. Sounds amazing no? No bit of doubt in admitting YES! 
In the present era of the digital world, there is a wide range of GPS tracking apps available on Google Play Store and App Store. But, it is a bit daunting to pick one of the best GPS tracking apps. If you are also experiencing the same then here we can help you. Below! we've suggested the 12 top-rated GPS tracking apps for both android and iPhone devices. So, before wasting a single jiff let's get started!
12 Top-Rated GPS Tracking Apps for Android & iPhone in 2021
To navigate anything in the unknown region GPS tracking applications are one of the handiest ways. With the help of such applications, we can easily track any location of an unknown place. As we know, choosing the best application is a bit confusing, for that, below we've rounded up the list of 12 best GPS tracking apps. Take a quick look at them!
1. Waze – GPS, Maps, Traffic Alerts & Navigation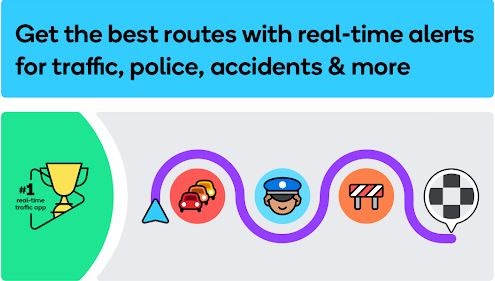 Read Also: How to Track Someone's Location by Using Phone Number
Want a companion for your drive? We got WAZE, it's the perfect app that can help you achieve destination with ease and enjoyment. This app is the best you can get while traveling, WAZE is loaded with tons of features that are designed with the sole purpose of serving its users. This app is really good as it tells you to live ETA, does quick re-routing and changing direction. The most prominent feature of this app is live alerts related to traffic, police, hazards, etc.
Download App: Android and iPhone
---
2. FollowMee GPS Tracker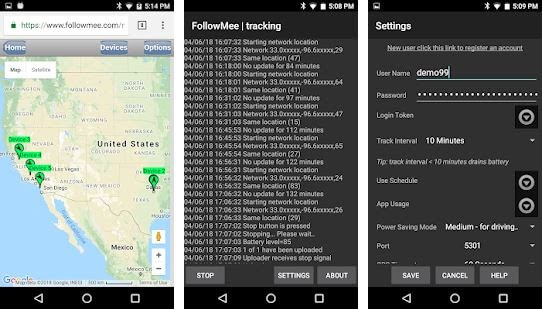 Ever thought to become a detective who wants to track and follow people and so on. But that, ridiculous and time-wasting but keeping a track of our family and employees is a must-do job which has to be done. FollowMee is a one kind GPS tracker that helps you to track people. This app is meant for tracking those people who have installed this app on their respective mobiles. Then you just have to log-in to the website and just enter the details and start tracking. FollowMee is the best GPS tracker apps that you can easily get from the App Store and Play Store. 
Download App: Android and iPhone
---
3. Glympse – Share GPS Location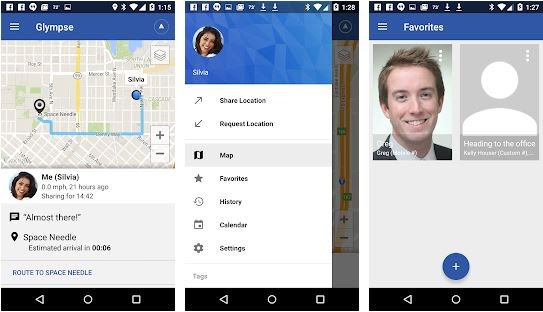 Sharing location was never so easy but now it has with, Glympse. Glympse is one of the best location sharing and tracking apps available for your phone. This app is just made for its user's service and satisfaction. This app provides features like no sign up for fast processing, auto deletes previous location histories, runs in the background, works everywhere in the world if you have GPS and internet, live ETA updates, and so on to enjoy Glympse for. It is the top-rated GPS tracking apps for iPhone and Android. 
Download App: Android and iPhone
---
4. Safe365
Read More: Best Android Secret Codes For Pro
Safe365 is not only the real-time GPS tracking app but also the very first mobile telecare app too, for senior citizens. Through this app, users can get to know everything about their closed or loved ones. For those individuals, who just want to know about every activity of their parents and grandparents, in order just to ensure their well-being, Safe365 is the one that fits the bill. Moreover, this app comes with an in-built button namely Emergency, that alerts you whenever your loved ones get into trouble. Isn't it so amazing? Of course, then hit the below link to get Safe365 now!
Download App: Android and iPhone
---
5. Life 360 – Family Locator & GPS Tracker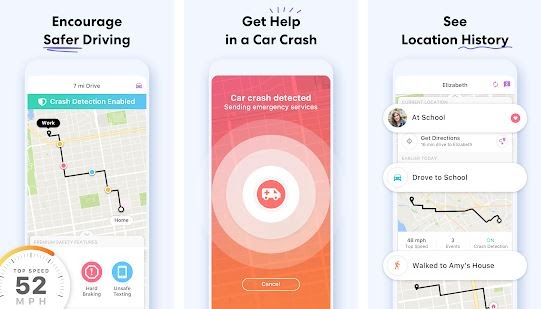 Another best GPS tracking apps for both platforms i.e., iOS and Android is – Life 360. One of the most leading applications for safety purposes. It comes with a ton of robust yet effective features including real-time location tracking & sharing, a personal chat facility,   complete location information, locates lost or stolen mobile phone's location, and many more. Apart from this, this safety and tracking application helps you in enhancing your driving pattern and shares emergency alerts too. 
Download App: Android and iPhone
---
6. Parental Control App & Live Location Tracker – FamiSafe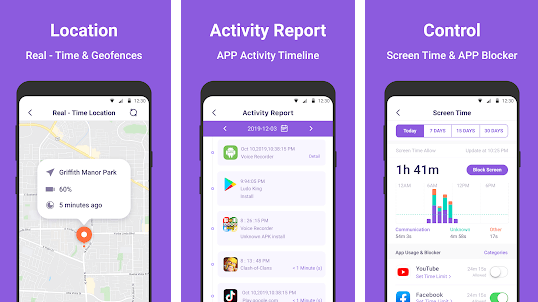 What's better than a multi-cross platform that lets you do multiple things simultaneously. FamiSafe is that application that completely proved the above line-up. FamiSafe is the combination of both the family app and the location tracking too. It is the best GPS tracking apps for Android and iPhone. 
Furthermore, this application can also be used as the guard for your kids 24/7. Equipped with lots of crucial features incorporating app locker, web content filter, screen time restrictions, and many more. It lets you track inappropriate content over the internet and allows you to block them.
Download App: Android and iPhone
---
7. Mobile Tracker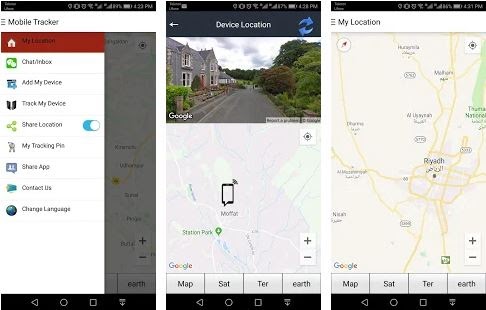 Way to next, you'll find Mobile Tracker, one of the best location tracking apps that lets you track even the location of the lost or stolen phone. After the arrival of Mobile Tracker, it has become a matter of moments to track and get easily connected with your loved or closed ones across the world. It lets you track the real-time live location of your loved ones. 
Read More: Best Ludo Game Apps for Android and iPhone
Moreover, this app allows you to keeps on check the traffic view over the streets, what's more, beneficial than this, when you'll get to know what is the right time to go to the markets. We don't know what you can afford or what you can't. But, what we know is you can't afford to drop Mobile Tracker. Thus, get it now!
Download App: Android
---
8. GEO Tracker – GPS Tracker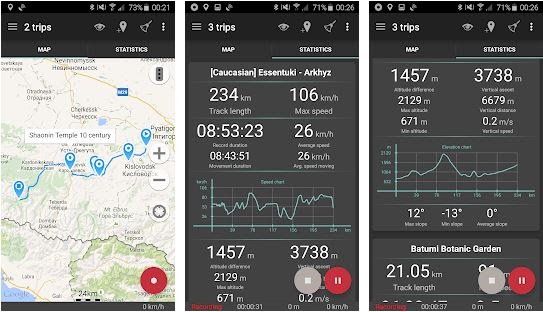 If you are searching for the best android apps for GPS tracking, then we must say you've arrived at the right destination. Yeah! you have heard right, Geo Tracker is the app that lets you share live locations, track the exact location of lost or stolen mobile phones, and many more. 
Geo Tracker helps your friends by telling them how to follow your directions or routes. Essentially, it assists you in marking the important or interesting points of your trip. Geo Tracker is the all-in-one app that helps you in the best possible ways to achieve your desired destination. 
Download App: Android
---
9. Family Locator – GPS Tracker App
 
Yet another GPS phone tracker that is presented on this list is – Family Locator. The app helps you stay connected 24/7 with your family members. Family Locator keeps you & your family safe side through linking. Moreover, it comes with in-built chatbox functionality. This application shows the location history over the past 7 days or one week. You can create accounts or several groups of channels in order to stay connected with your family and friends. Isn't it so helpful? Of course, without a single doubt, so, download it now!
Download App: Android
---
10. A-GPS Tracker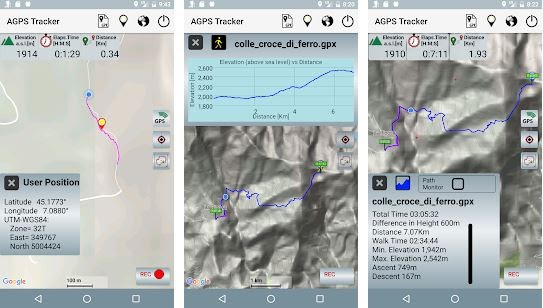 Read More: Best Cooling Apps for Android
Are you a hiker? If yes, then this app is specially designed for you. A-GPS Tracker is the best GPS tracking apps for mobile phones. When you are on tracking or hiking, you always need to track the paths, hence you need an rely on the best location application. Even, this app is extremely cool enough, if you want to measure the walked distance.  Moreover, it shows your latitude and longitude coordinates are available in degrees as well. 
Download App: Android
---
11. MapQuest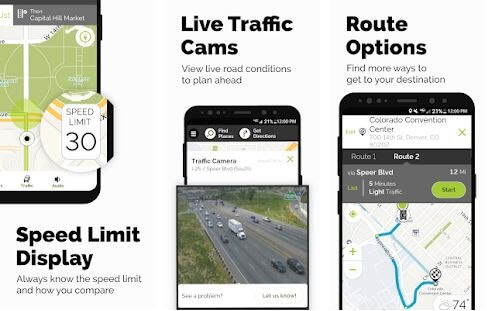 MapQuest, a brilliant GPS tracking app available on both platforms i.e., Play Store and App Store. It is nothing but a big treat for users. This advanced location tracking application turns your mobile phones into virtual assistance while you are on a journey. Offers lots of fascinating and effective features including live traffic updates, multi-point routes, weather forecast updates, quick navigation, an easy user interface, and many more. Basically, this application helps users to arrive at their destinations fastly and easily. 
Download App: Android and iPhone
---
12. Google Maps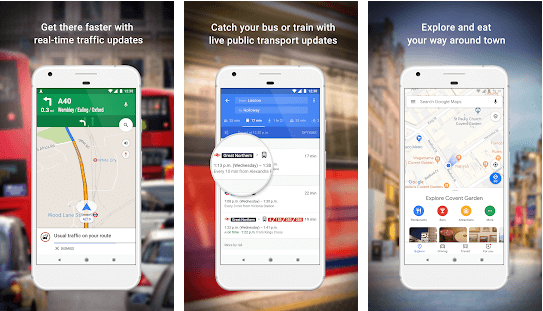 Read More: Best Google Maps Alternatives
When the discussion about the best GPS tracking apps is on board then no one can forget to mention Google Maps. Probably, the ultimate solutions of this app are the reason of grab the applauds of millions of users across the world. If you want to tracks the location then, nothing is better than Google Maps. Moreover, it provides the resources to make your journey easier. It offers instant real-time updates, offline maps facility, detects nearby places, displays the review & ratings as well.
Download App: Android and iPhone 
---
Which is the best GPS tracking apps for Android and iPhone?
So far, you are familiar with the best GPS tracking applications. Hence, now you actually know the ideal GPS match to navigate the locations. Still, if you are seeking expert advice, then we would like to recommend you the best GPS tracking apps for mobile phones, i.e., Google Maps and Family Locator. These both are the most high-rated apps available for both Android and iPhone devices. So, with all this, it is time to end the note, we expect that you must have liked the post and get exactly what you want. We'll feel glad to hear your suggestions on this, hence, feel free to share with us in the comment box below. We'll be back again with yet another fascinating yet informative tech bluff.
Harshita Sharma is a technical writer with quite a distinct understanding of the tech realm. She is a tech enthusiast who believes that tech knowledge should reach one and all and tries to convert the sketchy knowledge into the simplest possible form for making people understand the tech world better. When not playing with words, she loves to travel and explore new places. And, is a coffee & cricket connoisseur.
Subscribe to Our
Newsletter

and stay informed

Keep yourself updated with the latest technology and trends with TechPout.
Related Posts