10 Best Free PDF Split and Merge Software (Online & Offline)
Published Date :
Oct 06, 2021

Have various PDFs that you want to split or merge into a single document? Then, you have come to the right place, here you will find the best free PDF split and merge software in 2021.
Transferring documents in a PDF format has been widely used for a very long time and is one of the most common ways as well to transfer documents. But when it comes to extracting particular pages from the numerous PDF files and putting them together in order to make a new PDF document, we will be requiring dedicated software to merge and split multiple PDFs.
Now, if you are wondering, "which PDF merger and splitter deserve a try?" Then, don't panic, this typewritten discusses the 10 most popular and helpful software to get the task of splitting and merging the multiple PDFs completed. The listed-down software are suitable for both online and offline use.
What are the Best Free PDF Split and Merge Software in 2021? (Offline & Online)
With any of the below-explained software, one can make the PDF merging and splitting process effortless & quick. Now, without further ado, let's start discussing the best solutions to split and merge PDFs.
1. Adobe Acrobat DC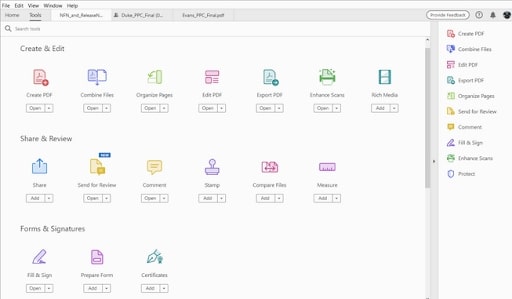 Supported Platforms: Windows and Mac
Price: $14.12
Available in: More than 60 languages
Want to split PDF pages or merge multiple PDFs into a single document? Whatever your desire is, Adobe Acrobat DC is a globally recognized PDF converter and editor software. More than 5 million enterprises, businesses, or companies all over the world have shown their trust in Adobe Acrobat DC.
The software lets you create, edit and convert PDF documents into the Microsoft document format and other PNG/ JPG formats. If you are working remotely and require robust PDF editor solutions for collaborating with your teams, then you should consider Adobe Acrobat DC. Some users may find it a bit expensive as it is not a freeware PDF editing software, but don't worry it provides a 14-day free trial for all users.
Key Features of Adobe Acrobat DC:
Provides in-built programs to create, edit, merge, render, split pages, and many more.
Allows you to fill up PDFs and sign them.
Offers robust and high-advanced security features.
Lets you add PDFs in bulk.
It has a user-friendly interface.
Offers Adobe Acrobat DC as a mobile application as well.
Advanced PDF OCR software.
Also Read: 13 Best Free PDF Editors for Mac in 2021

---
 2. EasePDF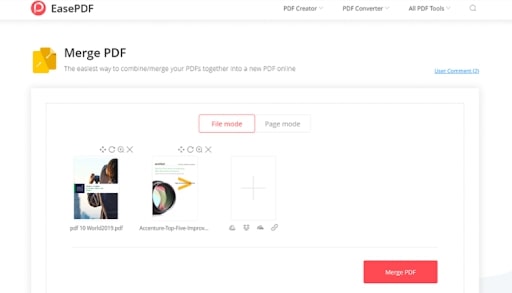 Supported Platforms: Windows, Mac, iOS, and Android OS
Price: Freeware
Available in: 16+ languages
Don't want to spend on software to create or edit PDFs? Then, EasePDF is a perfect solution for you. EasePDF is a complete freeware software available to create, combine PDFs, edit, split pages, and export PDFs. One of the best things about EasePDF is it offers more than 30 tools to meet all your possible requirements regarding PDF editor. It is a reliable, effective, and free PDF online splitter and merger software. The solution provides complete security to its users by automatically deleting the edited files from their server within 24 hours. EasePDF is one of the reliable and must-have apps for Mac.
Key Features of EasePDF:
Absolutely free to use.
Ability to run on any device and platform.
Offers a user-friendly and smooth interface.
Exports PDF in industry-standard quality.
Has 3 robust and unique splitting as well as merging modes.
All-in-one PDF editing software that has a plethora of much-needed conversion utilities.
---
3. PDFescape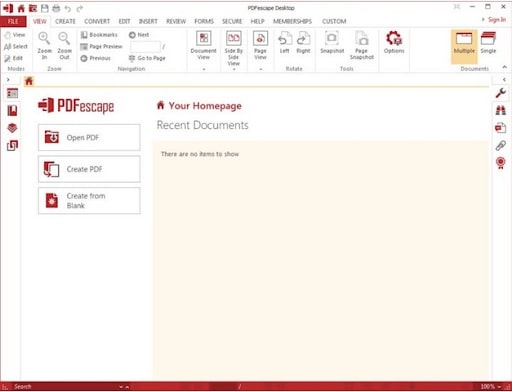 Supported Platforms: Windows
Price: Freeware
Available in: Multiple languages
PDFescape, another open-source and 100% free software to split or merge multiple PDFs on Windows PC. This software has numerous in-built tools including an online editor, reader, form filler, and organizer. With this online PDF merger software, you can open any PDF on your PC, see them on your web browser, merge them in one PDF, or split them into numerous PDFs. Apart from this, you can also insert shapes, texts, clips, and different objects into your PDF without any sort of hindrances. The most exciting thing about this solution is that it creates only password-protected PDFs.
Key Features of PDFescape:
Compatible with all popular web browsers including Google Chrome, Firefox, Microsoft Edge, and so on.
For a better viewing experience, it lets you rotate and zoom PDF files.
Create new PDF forms without any hassles.
Possesses a robust feature to fill PDF forms online.
Secure and encrypted PDF files.
Also Read: How to Edit a PDF on Mac (Complete Guide)

---
4. 7-PDF Split & Merge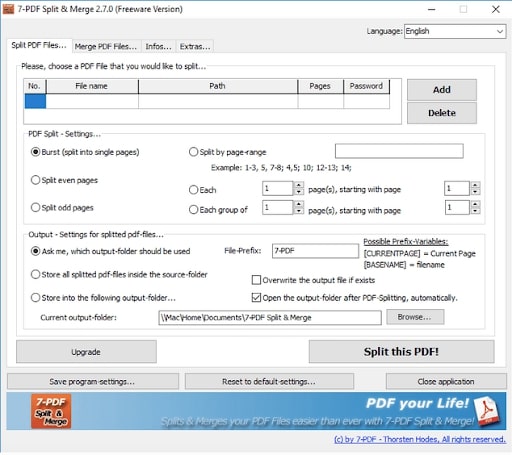 Supported Platforms: Windows
Price: Free
Available in: English, German and French
Next on this rundown, 7-PDF Split & Merge, a German-based software company that provides professional-level services to create, share, edit, and combine PDF files on Windows devices. Through this software, you can extract PDF pages by groups, ranges, and in any way you want. 7-PDF functions 3x faster than other free PDF editing software. The software boasts a built-in PDF combiner that lets you rotate PDFs clockwise or counterclockwise. It has an impressive user interface that makes the PDF splitting and merging process convenient for every user.
Key Features of 7-PDF Split & Merge:
Available in the portable version which can be accessible on USB sticks.
100% safe and accurate.
Simple navigation controls.
Rotate and extract PDF pages.
It has a drag & drops feature to split & merge PDFs.
---
5. iLovePDF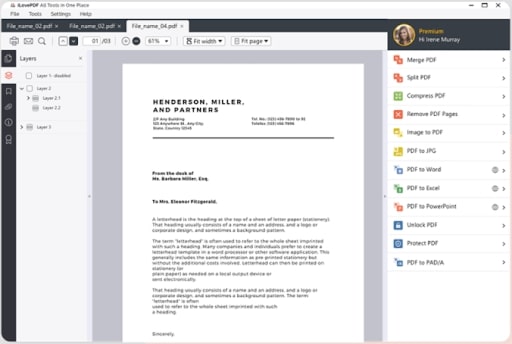 Supported Platforms: Windows, Mac, and Web
Price: Free
Available in: 24+ languages
Searching for web-based best free PDF split and merge software? Then, iLovePDF is an ideal solution for you. Just its name suggests you will love the software once you try it. It is one of the handiest ways to split PDF into separate or individual PDFs. In addition to this, you can also combine multiple PDFs into one big PDF.
The user can upload a PDF from their PC, Dropbox, or Google Drive. For splitting, you can select PDFs either by ranges or extract all the pages at once. The software boasts tons of unique yet needed options to split, merge, convert, extract, organize and compress PDFs as per your preferences.
Key Features of iLovePDF:
Completely free solution to edit and manage PDFs.
Has drag & drop functionality to quickly perform every operation.
Splits or extracts big PDFs into numerous files at once.
Equipped with several in-built utilities to convert, compress, rotate, and open password-protected PDFs.
Lets you add watermarks to files.
Also Read: Top 16 Graphic Design Software for Designers in 2021
---
6. Smallpdf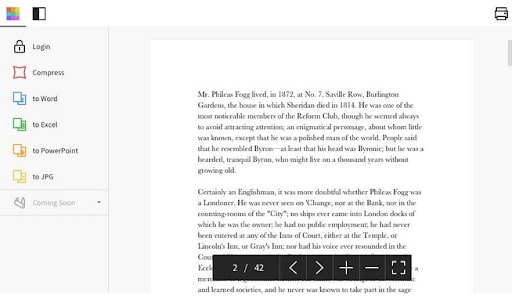 Supported Platforms: Android, Windows, Mac, Web, and iPhone
Price: Free
Available in: 24+ languages
Listing one of the easiest solutions for combining & splitting PDFs on Windows, Mac, and other devices. Smallpdf, a software where you will get all the possible tools that one needs to be more effective, proficient, productive, and work more actively with the documents. With SmallPDF, you can convert PDF to simple word documents, merge multiple PDFs into one large document, convert JPG, BMP GIF, or other images format into PDFs, sign PDFs, reduce the size of your file without hindering the original quality and do a lot more.
Key Features of SmallPDF:
100% safest merger and splitter, must-have software for Windows or other devices.
Simultaneous process support for unlimited documents.
A portable version is also available for Windows or Mac.
Offers more than 15 PDF solutions in 24+ languages including English, German, Espanol, and more.
Flexibility to add shapes, images, texts, and other annotations to the PDFs.
---
7. Icecream PDF Split & Merge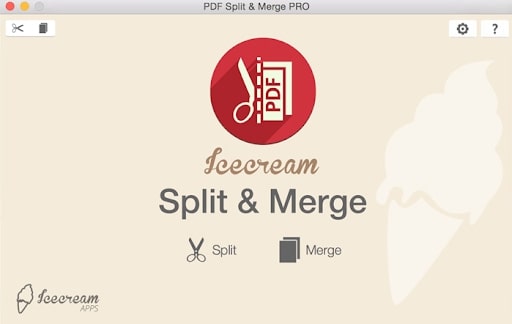 Supported Platforms: Windows and Mac
Price: $19.95
Available in: More than 50 languages
Icecream PDF Editor, a lightweight PDF merger and splitter tool for both Windows and Mac. The best thing about the software is that it works offline too. The software boasts four distinct modes for slicing PDF files, including by groups of pages, by ranges of pages, single-page files, and delete particular pages.
And, if you want to unlock the complete potential of the software then it is recommended that you should rely on the pro version of it that costs $19.95. Additionally, this solution doesn't hamper the original quality of the files.
Key Features of Icecream PDF Editor:
Drag & drop functionality for organizing the PDFs quickly.
Smooth, impressive, and easy-to-use interface, suitable for beginners too.
Can work even with encrypted or password-protected files.
With this PDF merger software, one can put hundreds of PDF files together into a single file at once.
Sustains the original quality of the files.
Also Read: Top 16 Best Adobe Acrobat Free Alternative in 2021
---
8. A-PDF Split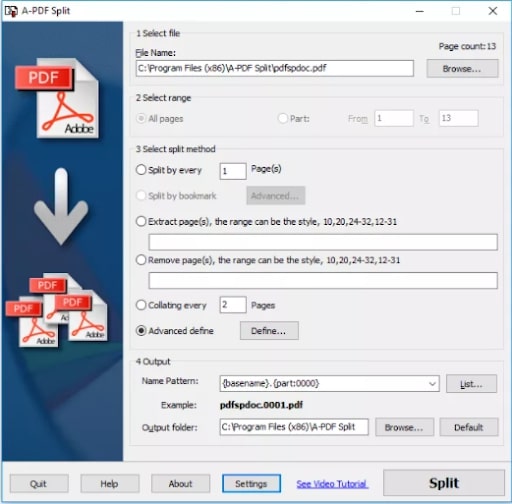 Supported Platforms: Windows and Mac
Price: $35
Available in: More than 15 languages
As its name suggests, A-PDF is a splitter software to slice PDFs into multiple chunks. Although, the program isn't suitable for combining the files into one document. But, it can be the perfect choice for the amateurs to extract pages from PDF.
A-PDF Split can work fine even with password-protected PDFs, also, has the potential to apply numerous security features to the split output documents. Apart from this, using this software you can also re-combine the produced split pages with different PDFs in order to create an all-new PDF.
Key Features of A-PDF Split:
Extract pages from PDFs either usually or applying a filter: by range.
Possesses 100% money-back guarantee but only within 60-days of the purchase period.
Simple user controls.
Drag and drop feature.
Free to download.
Robust split options.
---
9. PDF Split and Merge – Online

Supported Platforms: Windows
Price: Freeware
Available in: Multiple Languages
Meet PDF split and merge an online solution for managing all PDF files without any hassles. Using this solution you can easily and quickly combine numerous files into a single file, plus, split them into various pieces.
To get started, you need to tap on the area in order to choose PDF files from your machine and make a click on the split or merge option, whatever you want to do. Later on, you will be informed to download the modified PDF document. That's it! In addition to this, the tool is completely free to use, with no add-on purchases and tools for completing this task. Plus, the processed files are deleted instantly once merging or splitting is finished.
Key Features of PDF Split and Merge – Online:
Extremely easy to use.
Lightweight tool that merges or split PDF files with high efficiency and accuracy.
No sign-up or login is required, anyone can try it for free.
Uncomplicated and clean user interface.
Also Read: 10 Best Free Scanning Software for Mac
---
10. PDF to PNG/JPG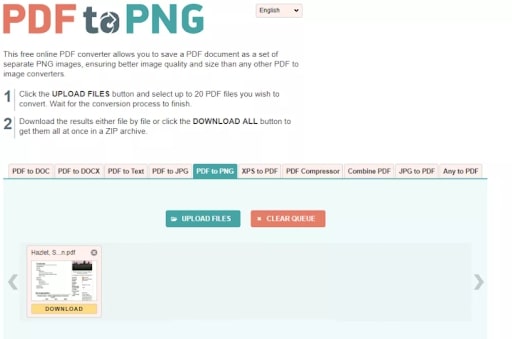 Supported Platforms: Windows and Web
Price: Free
Available in: 30+ languages
Last but not least, a free online PDF management software to split PDF documents into a set of PNG images. Unlike others, the software makes sure to offer way better image quality. Not only PDF to PNG, but the software also lets you split PDF into JPG image format.
There are no plethora of custom options available, only an upload and download option. And, downloaded files are saved to the ZIP archive. But, there is one drawback of using this that it can't have the support to merge numerous PDF pages into one image.
Key Features of PDF to PNG/JPG:
Capable of splitting more than 20 PDFs at the same time.
Supports two popular image formats.
Advanced yet easy PDF split and merge online.
All uploaded files are deleted automatically after an hour.
Multilingual support.
---
Which is the Best Free PDF Split and Merge Software in 2021?
So, this was our detailed list of best free & paid PDF split and Merge software in 2021 for both offline as well as online. After trying and testing the 30+ programs to manage PDFs, we have shortlisted the 10 that are absolutely worth giving a try. All of the above-mentioned software provides the best services, features, and controls to fulfill all your requirements regarding PDF splitting and merging. Furthermore, all of the referenced utilities have a lot to give including PDF conversion, compression, encryption, and more.
But, if you look for our opinion, you should consider Adobe Acrobat DC to split and merge PDFs. It is an excellent program that offers advanced modules and annotations. Apart from Adobe Acrobat DC, PDF element is also a great PDF splitting and merging application available offline & online.
That's all! Do tell us in the comments below which software you picked to split and merge PDFs. Additionally, comment below if you have any questions or further suggestions to make the list better.
Lastly, if you want to read more articles just like this one then don't forget to subscribe to our Newsletter. We often post troubleshooting & downloading guides related to the tech niche. Along with this, follow us on Facebook, Twitter, Instagram, and Pinterest for quicker updates.
Harshita Sharma is a technical writer with quite a distinct understanding of the tech realm. She is a tech enthusiast who believes that tech knowledge should reach one and all and tries to convert the sketchy knowledge into the simplest possible form for making people understand the tech world better. When not playing with words, she loves to travel and explore new places. And, is a coffee & cricket connoisseur.
Subscribe to Our
Newsletter

and stay informed

Keep yourself updated with the latest technology and trends with TechPout.
Related Posts