Best Free Logo Makers to Create a Logo in 2023
Published Date :
May 26, 2023

If you are building a brand you must be aware of the need and importance of your Brand Logo. However, since brand building is a complicated process, you might not have a separate budget to generate a timeless logo to depict your identity.
Are you tight on budget but still want a perfect logo for your brand? If this is the case don't panic, you are not alone.
Many users searched for the best free logo makers online but couldn't pick one from the available plethora of options. Moreover, some applications that claim to be available for free don't allow you to download logo after creating it without paying a specific amount. But thankfully, we got it all covered for you. The list below explains in detail the best free logo makers and their specialties. So without wasting any more time let's begin.
List of Best Free Logo Makers to use in 2023
Although the list of best free logo design applications can be endless, for your convenience we have made a comprehensive list. Go through the description of each and pick the most suitable free logo makers for your PC.
1. Canva

The first one on our list of best free logo makers is Canva. It has been existent for a very long time being design tool of choice for marketing teams. Canva is a fantastic tool overall, but also has other exceptional features such as logo maker, video creator, and social media content creator.
The Canva Logo Maker is a standalone online application for designing logos; it is located on the main page of the Canva website in the 'Design focus' section. Using this tool, you can make your own logo. The professional-looking logo only requires dragging and dropping elements from the huge library.
It works exactly the same as the primary tool that comes with Canva. You begin with a blank canvas, which may be filled up with pre-made templates or constructed from scratch using the standard graphics collection. After that, you may make adjustments to each component, such as the picture, size, format, font, or color, until the final product corresponds to the idea you had in mind. In general, the best logo creator gives you a considerable lot of control over the designs you create.
The usage of Canva Logo Maker is absolutely free of charge. However, if you are interested in growing your visual asset collection, switch to the Pro and Enterprise membership plans of Canva. Apart from creating logo free, it also provide access to more assets as well as helpful features such as the branding toolkit, which helps maintain a consistent corporate identity.
Best Features:
Real-time collaboration
Automatic logo creation
Huge template library
Also Read: Best Canva Alternatives for Graphic Design
---
2. Wix Logo Maker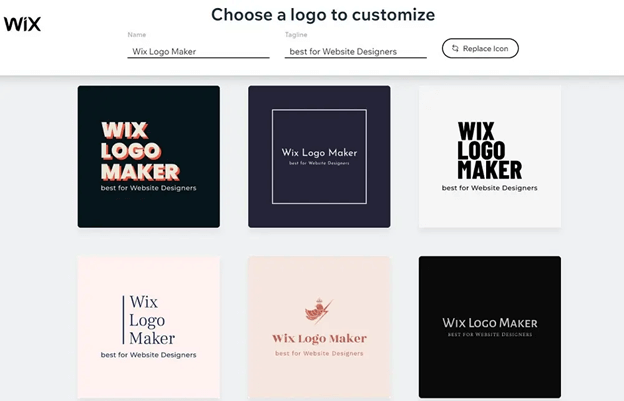 Wix is an artificial intelligence-powered best logo maker app that is free to use. Create your own logo for your company, or you can engage a professional designer to create one just for you. It offers a sufficient number of customization options and a user interface that is simple to understand.
The best online logo maker offers variety of design alternatives to cater to users of varying aesthetic, preferences, and other constriants. It will create free logo design templates for you to choose from, each of which will have a unique combination of design components.
Before you are able to download your logo from logo maker app, you will need to either pay a one-time cost or subscribe to the service. Wix Logo Maker is a best free logo maker that is of a decent quality.
Best Features:
Automatic logo generation
Variety of Customisation possibilities
Powered by Artificial Intelligence
Beginner Friendly interface
---
3. Design Evo

The best logo design company DesignEvo gives you the option of either utilizing a pre-made template or creating your own from scratch. This makes the tool suitable for both experienced graphic designers and those just starting out in the field.
If you want to use a template with this free logo design app, choose the category that corresponds most closely to the nature of your company. The templates consist of the most fundamental components: name, tagline, and element or symbol. However, after you've decided on a certain logo, you'll be able to search for other designs that are comparable to it or modify the one that already exists.
The rest of the steps are exactly the same. You are redirected to the logo generator free tool. Make changes to each component by adding or altering new icons, text, and components. Altering the background to fit the colors of your firm is another option.
The approach to everything is similar to that of Canva. This means no need for picture uploads. Nevertheless, this is not always a negative thing. This best free logo maker provides its users with the best of both worlds, making it an ideal choice for anybody searching for a fast method to design a unique logo.
However, the best logo creator restricts free logo design downloads to a low-resolution file of 300 pixels in width and requires copyright credit. Depending on what you want, there are two one-time payments that provide access to high-resolution files as well as more creative alternatives.
Best Features:
Simple and easy to use
Does not requires any Subscription plans
Huge template library
Also Read: Best Kitchen Design Software
---
4. Adobe Express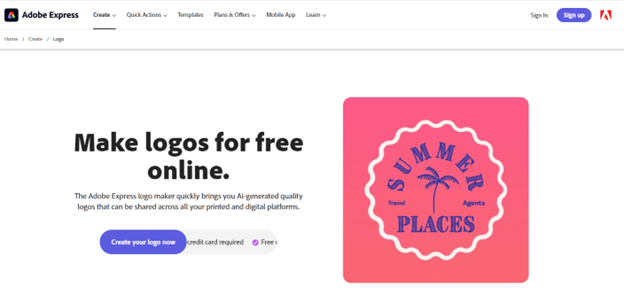 The developer of creative software, Adobe, has given some much-needed love to its Adobe Express. The website of best logo maker is much like Canva. It provides users with a variety of creative tools, such as an online video editor from Adobe Express as well as a picture editor. And the best part is you don't need any design skills to use this utility software.
When you first start the web-based tool, you will be requested to provide a few facts, like the sector in which you operate, name and your tagline. After that, you will be prompted to choose a design that complements your personality; the options are limited, but they cover the fundamentals. Simply choose a straightforward icon from the available stock library, and done. After a few of seconds, logo designs suitable for your company are displayed.
The primary reason why everything is so simple to use is because Adobe's logo maker handles all of the laborious work for you. You are free to alter the color scheme and the text in the design, as well as download the finished logo.
When you click the "Customize more" button, the logo creator free Adobe Express design software will launch, allowing you to make more changes to your logo. This operates very similarly to Canva, although with a broader selection of creative tools at your disposal. In addition, the Express version unlocks additional tools, features, and a branding toolkit.
Best Features
Smooth user interface
Automatic logo generation
Pro design tools
---
5. Hatchful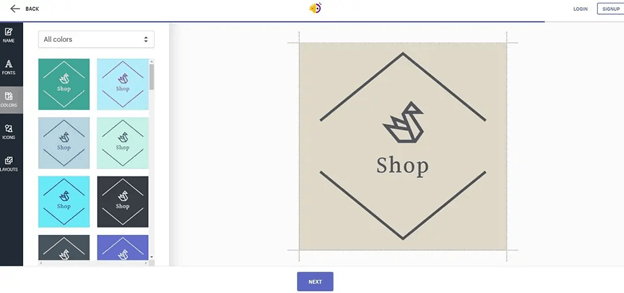 Since Shopify is the company that developed the free logo creator known as Hatchful, its primary target audience consists of people who wish to focus their attention only on operating their online stores.
Because it employs prompts to produce templated logos, much like Adobe, it is one of the best free logo maker for quickly developing memorable designs. Itis comparatively faster than the other alternatives available for this purpose. However, in contrast to Adobe, you have a far wider range of options to choose from in terms of designs and business space. Along with this the User Interface of the logo maker online is beginner friendly.
To begin, you will provide the business name and strapline. Further, define the industry you operate in and choose an aesthetic for your brand along with the purpose. This is a wonderful tool to have if you are confused about selecting the appropriate picture size and resolution.
This logo generator free provides an enormous number of alternative choices in no time. Scroll to find out multiple alternatives. After you've selected the one that corresponds to your concept the most closely, you may modify the logo. You have the ability to edit or replace any component. However, the amount of control and flexibility is limited in comparison to other free logo creators.
Once done download the logo pack. This pack will include assets in the appropriate sizes for all of the purposes that you have selected.
Best Features:
HD downloads available
Most suitable for Beginners
Vast template library
Also Read: Best Free Interior Design Software 
---
6. Tailor Brands Logo Maker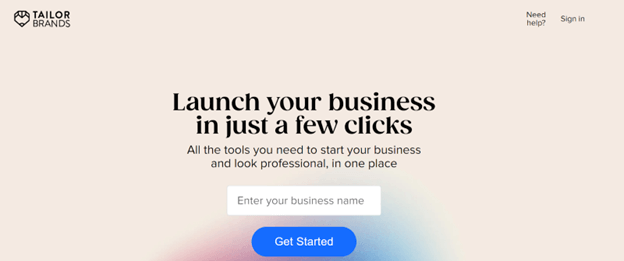 Tailor Brands provides a free logo maker online that is really simple to use. All you need to do is enter the name of your company along with (optionally) a slogan, click a few buttons to pick various choices, and then it swiftly produces a logo for you to use.
In order to access your logo, you will first need to join up. You will be presented with a selection of alternate logos to choose from, in addition to your primary one. If you decide that none of them are to your liking, you may click to generate even more options.
Apart froom this through this best logo design app you can personalize your logo by modifying aspects such as the design, fonts, text spacing, and color. After you have completed everything, you will be able to download the logo after making a single payment.
There is a possibility that you may notice pricing on a monthly basis; nevertheless, you do not need a membership unless you also make use of Tailor Brands' other services, such as their website builder or their social media management tools.
Best Features:
Beginner friendly
Logo creation and website design
Unique designs
Branding features
---
7. Looka's Logo Maker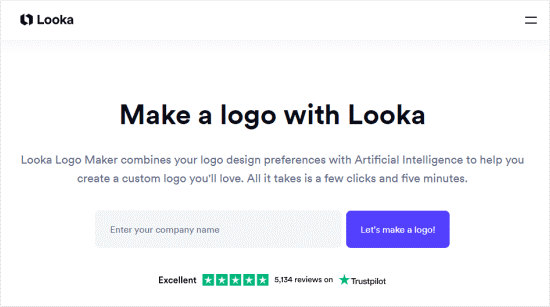 The procedure for developing a logo for Looka is one that is identical to other Tailor Brands apps. In order to create your company's logo, you will need to fill in your company's name, choose the category of business it falls under, and then tell Looka what design styles you like.
Through this best free logo maker, you can select up to three colors and symbols that you believe would be appropriate for your business. However, if you find yourself in a bind, you may just skip over this step.
To access your logos, you will need to log in or establish an account, just as you did when you used the Tailor Brands logo maker. You have the ability to browse through a large number of choices and choose the one that you would want to make changes to.
When personalizing a logo through this logo editor, it is simple and straightforward to play around with multiple fonts, colors, and style configurations. After that,simply  modify your design and choose the one that best suits your needs.
Best Features:
High-Resolution logo designing
Custom designing possible
Element templates
Also Read: Best Free Photo Editing Software for Photographers
---
Frequently Asked Questions of Logo Maker Tools
Q. 1 Which is the best free logo maker? 
Although there are uncountable options available for logo creators online, we have shortlisted the most efficient one's for you. Go through the aforementioned list of the best logo makers and choose the suitable option depending on your business requirements and skills. If you are looking for our recommendation,  we would suggest Canva due to the huge template library and simple user interface.
Q. 2 What are the key points to remember while building your company logo? 
While generating your company's logo via logo creator make sure you check the logo is simple, versatile, appropriate, timeless, and memorable.
---
Closing Lines Best Free Logo Maker
So that was it. Our comprehensive list of the best free logo makers can transform your business with a new label. Not every company can have a separate budget to spend on their design team to generate logos. Therefore, these best sites for logo design that are available for free can help you. However, if you are looking for suggestions we recommend Canva and Adobe Creative Cloud Express Logo Maker. Both software are easy to use and has a huge template library that can help users in their logo creation.
Do you think we missed out on your favorite logo maker? Please let us know in the comments and enlighten us. Also, if the listicle guide helped you don't forget to subscribe to our blog channel for similar guides and write ups. Follow us on Facebook, Instagram, Twitter, and Pinterest for tips & tricks and other tech related news.
Akshara is an Engineer turned Technical Writer. She is a tech reader who aims to deliver the best of her knowledge to the readers without complicating it. If not writing you can find her in the kitchen, because no place serves the good tea.
Subscribe to Our
Newsletter

and stay informed

Keep yourself updated with the latest technology and trends with TechPout.
Related Posts