10 Easy Online Video Editors to Try in 2021

Video marketing is a powerful tool that boosts engagement, understanding, and sales. Think of it – 84% of video marketers say video has helped them generate leads in 2021. This type of content helps brands unleash their creativity to achieve any goal.
If you still think that editing is a long and challenging process, you're wrong! Desktop software has recently been upgraded. Now you don't have to download any programs to work. There are dozens of alternatives available online.
Why are Online Video Editors Great?
Imagine a situation where you have been working on a project from your computer at home for several days. It's finally ready, so you download it on a flashcard and go to the office to show it to the team. Minutes before the presentation, you see that you forgot to insert an important detail in the material.
What would you do next? The fastest and easiest option would be opening an online editor from the office computer and fixing the issue ASAP. In several clicks, you save your material. It's all simple.
An easy online video editor is suitable for all kinds of people:
Professional editors;
Bloggers and influencers;
Amateurs, etc.
Just like desktop applications, online services may cover separate features or be full-fledged software. It's all like using a website. The best parts come here – user-friendly designs and faster processes.
Also Read: 14 Best Free Duplicate File Finder & Remover For Windows 10, 8, 7
---
A Fast-Paced Market
Editing video online is a novelty, so it isn't a surprise that many brands try to promote their software in a rush. Yesterday's applications are clouded by today's newcomers. This makes it hard to spot a decent choice.
Tracking the web-based software market is a real challenge. We understand that, so the list below will hopefully help you choose a service that would suit your needs.
---
10 Best Online Video Editors for Everyone
Here we shall cover the best web-based software for editing video content. The list will include key features, pros and cons, and pricing.
1. Wideo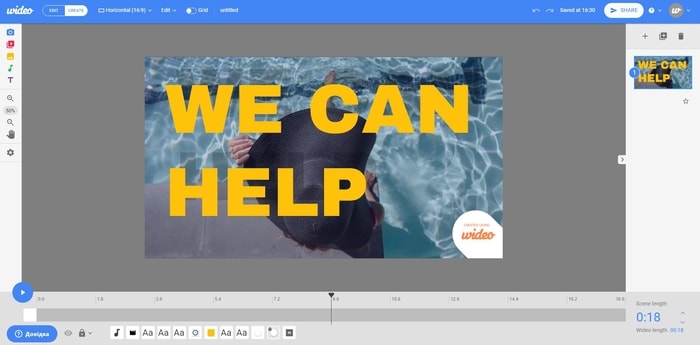 With Wideo, you can easily create an animated video or presentation in several minutes. The user interface is very simple. Even a child could cope with it. You may edit one of the available templates or create a project from scratch.
However, note that the software is pretty primitive. Its features involve aspect ratio editing, media insertion, text overlay, and applying transitions. The basic account type costs $19 per month when paid annually.
Pros
Up to 10 templates available for free
Very simple interface
Free stock videos, photos, and music
Optimizes PC for better and faster performance
Lightning-fast scan speed
Simple videos tutorials to instruct users about software
Awesome search filters to modify scanning process
Cons
No downloads unless you upgrade the plan
Video length limited to 1 minute
Only 50MB of storage
If you want to use templates for any area, Wideo could be the right choice.
Also Read: 17 Best Duplicate Photo Finder & Cleaner Software In 2021
---
2. PowToon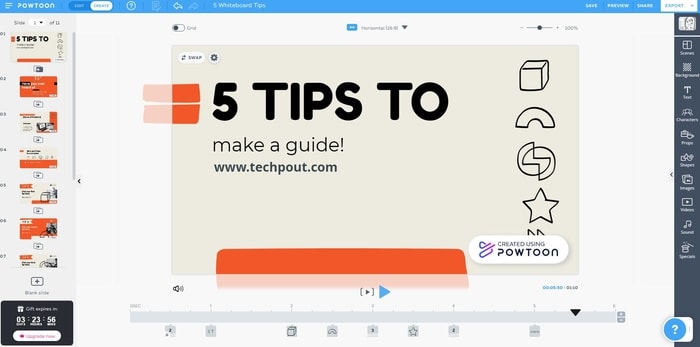 Once you register with PowToon, you immediately get a free 4-days trial of the Pro account type. The service is used to edit videos and create cartoons, infographics, comics, and other types of content. There are hundreds of templates available.
If you pay attention to the screenshot, you'll see that the design is very similar to the previous option. One thing is different – there is more functionality. Edit characters, texts, items and apply special effects to any project. The Pro version costs $19 per month when an annual package is purchased.
Pros
Free 4-day trial
HD quality
Up to 100 screen and webcam recordings
Great functionality
Cons
Downloads are only available in the paid package
Only 100MB of storage
Watermark
3 minutes video length limit
PowToon is an exciting choice, especially when the Pro account is on. It is definitely worth working with for marketing, blogs, and personal videos.
---
3. Fastreel Video Editor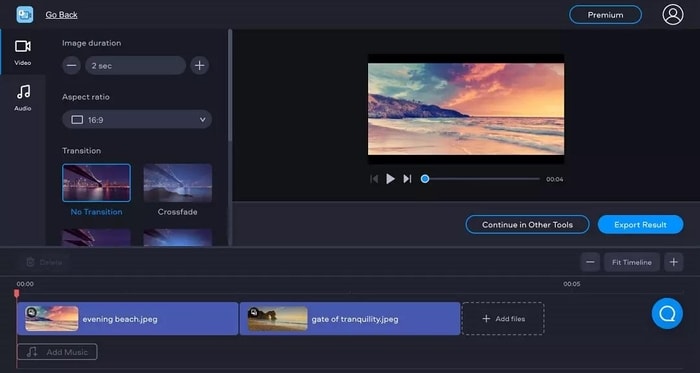 Editing videos and using templates online is possible with Fastreel Video Editor. This service is somewhat unique because each tool is a separate edit. You won't have to waste time searching for different buttons in the interface due to this feature. Also, there are over three dozen templates for almost any occasion.
The design of this editor is very simple. Getting lost in the interface is not an option because every tool is located separately. However, this feature turns out to be a drawback of the app. Switching between every tool is not always convenient. You can pay either $5,95 per video or $9,95 monthly with the annual plan.
Pros
User-friendly interface
Unlimited number of exports
All the features are available
Cons
Switching between tools when editing is possible with the Unlimited Premium plan
You may edit using 1 tool at a time
Watermark
If you are looking for software for easy online video editing, then Fastreel Video Editor is a decent choice. It's a great help when you have to apply some minor edits to your content.
Also Read: 16 Best Video Converter Software For Windows In 2021
---
4. HippoVideo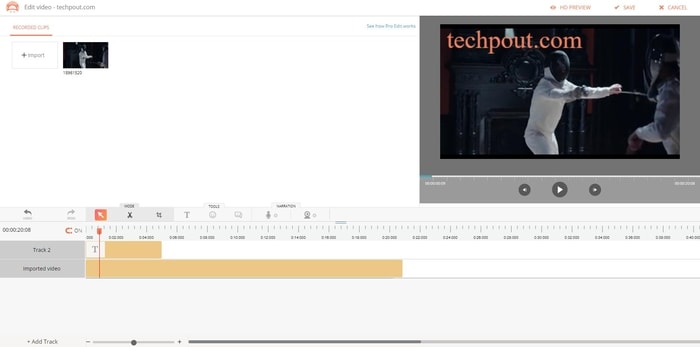 Using HippoVideo is a good choice when it comes to general video editing. The service provides different tools like cutting, cropping, overlays, audio and webcam recording, and other features. It has two ways of editing – quick and pro. In the first option, you get a simplified interface. The second one unleashes all the app's features.
Note that the price plans depend on your account role. If you choose that you're a student, it's $5 per month. A sales account will cost $48 per month. The pricing is really different, and it all depends on the type you've selected.
Pros
A 7-day free trial of the pro account
Unlimited HD recordings
100GB bandwidth
Integrations with Classroom, Docs, Slides, and other services
Cons
Watermark
Advanced features are blocked by a paywall
Professional editing is available since the Pro plan
HippoVideo is suitable for education, marketing, sales, and other areas. It provides plans with various features included. Pay for what you use!
---
5. FlexClip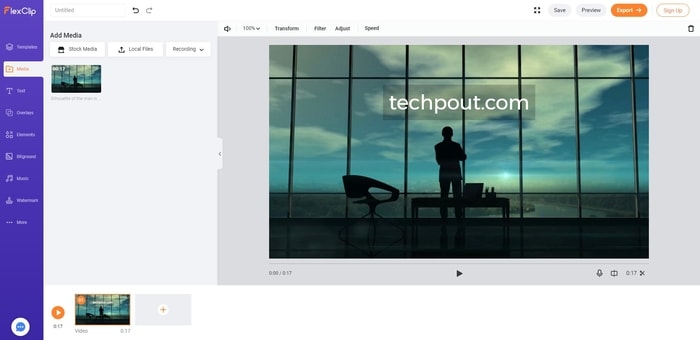 The most prominent thing about FlexClip is that you can start editing without registering an account. However, when you try to save the results, you will still be forced to create an account. This software covers dozens of templates, elements, overlays, filters, and basic editing tools. The best part is the simplicity of the application.
Speaking of the pricing, the Free Plan is enough for videos up to 1 minute long. The minimum upgrade costs $4,99 per month when buying the annual plan. It removes the watermark, increases video length and quality, and also adds more storage space.
Pros
Use any tool or template in the free version
Nice overlays and dynamic text options
Multiple elements and stock materials
Cons
Video length is limited to 1 minute
Video quality is limited to 480p
Only available via Chrome
A maximum of 12 projects
FlexClip is a decent choice for business and personal content. It is easy to use and has all the tools for amateur editing.
Also Read: 20 Best Free Video Sharing Sites Like YouTube 2021
---
6. Online Video Cutter
Like it is said in the name, Online Video Cutter's main feature is trimming and cutting content. The web application is a set of tools for video, audio, and PDF files. It is very user-friendly and provides access to all features for free. Cut your shots and add text – this is only one of the things this app can do.
While all 41 tools are available for free, there still are some restrictions. You can only download 10 files per day, and each can be no bigger than 500MB. By buying the premium version for $5 per month, you get unlimited downloads, increase the size limit to 4GB, and remove ads.
Pros
41 tools for free
Intuitive editing process
3-in-1 editing with video, audio, and PDF files
Cons
10 downloads per day
500MB file size limit
Ads
Online Video Cutter is a fast and easy option to edit any suitable video in no time. However, due to the size restrictions, it will only be helpful for short clips.
---
7.   Video Toolbox
Once you open Video Toolbox, the first thing you'll see is a statement that the service is absolutely free. It's true! There are no paywalls. This service will help you convert, merge, cut, crop, and record videos in no time. It also has several other features like text overlay and watermark creation; they are listed on the app's website.
While Video Toolbox is free, it appears to be somewhat tricky to use. You have to register an account, and only then will the features be unlocked. In the "Help" section, there are several tutorials and explanations about the service usage. Make sure to check them out!
Pros
Everything is available for free
Useful tutorials
Good service once you understand how to use it
Cons
Tricky interface
Requires registration
Files are deleted after 1 month
If you are ready to get used to this website's design, it will definitely be worth the effort. The resource is regularly updated.
Also Read: 16 Best Free Audio Editing Software For Windows in 2021
---
8. Clipchamp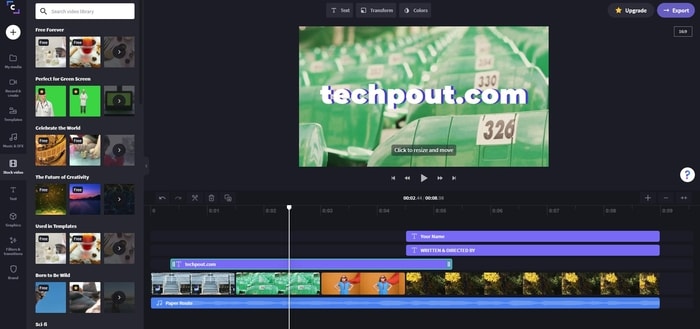 Clipchamp is very similar to most desktop video editors. It has a comprehensive timeline, lets you apply templates, special effects, filters, overlays, and all sorts of elements. Additionally, all the basic features are present too.
With the free version, you get unlimited exports and 480p resolution. The cheapest upgrade costs $9 per month. It improves resolution to 720p, applies cloud backups, compression, and provides unlimited audio stock.
Pros
Great design, the software is easy to use
Tools are not hidden behind a paywall
Full-fledged editing experience
Cons
Only available via Chrome or Edge
Higher quality exports require additional payment
Therefore, Clipchamp is the best solution for anyone searching for a desktop-like editing program online.
---
9. Kizoa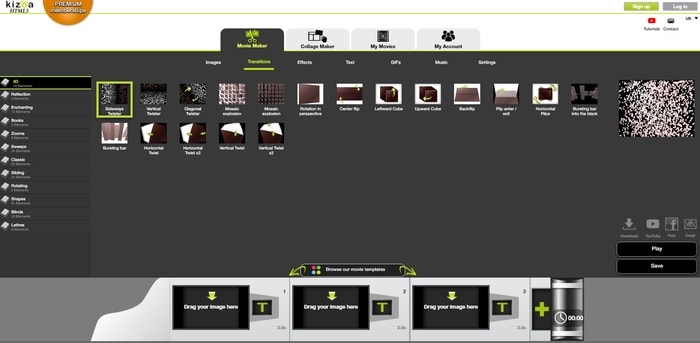 Kizoa claims to be an app suitable for both professionals and amateurs. The amount of tools proves it all. You can make collages, movies, apply transitions and effects, add text, and more. However, it will take a while until you understand how things work within this application.
The basic membership (available for free) limits videos to 1 minute, provides 1GB of storage space and 1080p resolution downloads. Upgrading increases the length and resolution of videos along with adding more storage space. The price starts with a one-time $29,99 payment.
Pros
A ton of features to try out
Full HD downloads available in the free version
Applicable for different types of video content
Cons
Difficult interface
Newcomers will struggle
1-minute limit
So, if you're a professional video editor, you will likely have no issues working with Kizoa.
---
10. Renderforest Video Maker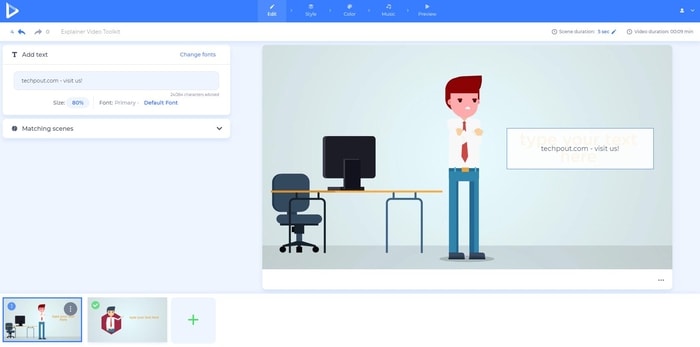 With Renderforest Video Maker, you can easily create different types of content, including explainer videos, logos, congratulations, Instagram stories, and others. While the editing itself is a bit limited, there are hundreds of fantastic templates and mock-ups for any occasion. The service also includes stock materials.
There are 5 different price plans at Renderforest. The free version limits quality to 360p, length to 3 minutes, storage to 300MB, and places watermarks on everything. It costs at least $6,99 per month to buy an increased account level. The upgrade brings improved quality, broadens the length to 5 minutes, removes watermarks, and more.
Pros
Unlimited exports
200k+ stock videos
Multiple great templates
Cons
360p resolution
Video length is limited to 3 minutes
Only 300MB storage
Renderforest Video Maker is a good choice for animated content, thanks to its templates and characters.
Also Read: 22 Best Free Driver Updater for Windows 10, 8, 7 in 2021 [Updated]
---
Bring on quality content!
Now that you know where to find an easy video maker online for free, choose one of the services that we have mentioned above and go for it! We suggest you try out more than one service because each is a good choice in a particular area.
Remy is a technical writer at TechPout. Being an IT enthusiast, he inclines to write about contemporary technology and growing security for machines. One steadfast follower of Baseball, Remy is an active social worker and a gastronome.
Subscribe to Our
Newsletter

and stay informed

Keep yourself updated with the latest technology and trends with TechPout.
Related Posts