Everything you Need to Know About Graphic Design Software Canva: Detailed Review 2022

If you are a beginner searching for the best Graphic Design tool, you must have come across the name Canva. The article below discusses everything you need to know about the end-to-end visual design tool. Read the complete review to understand why you should consider using Canva.
Canva has over 100 million users across the Globe, and 85% of Fortune 500 companies use it. Before Canva came into existence, Photoshop and Illustrator were the top designer picks, but Canva has made it easier for anyone to use and faster to create.
So without any further ado, let's learn in detail what Canva is and the features, Pros, Cons, and available Pricing models for the tool.
What is Canva?
Don't know the basics of designing? Canva is one of the most popular graphic design tools. With a vast template library, the software can create desired posts and bring your imagination to life.
Use the tool for the following creations:
Flyers, infographics, documents, presentations, Websites, Posters, or Card templates.
Custom posts for your Social media channels
Logo Designing
Resumes or portfolio creation
App Icons for mobile applications
Brochures and guidelines
Personal business cards, e-invites, or other promotional content
Product creation, with 35 different product options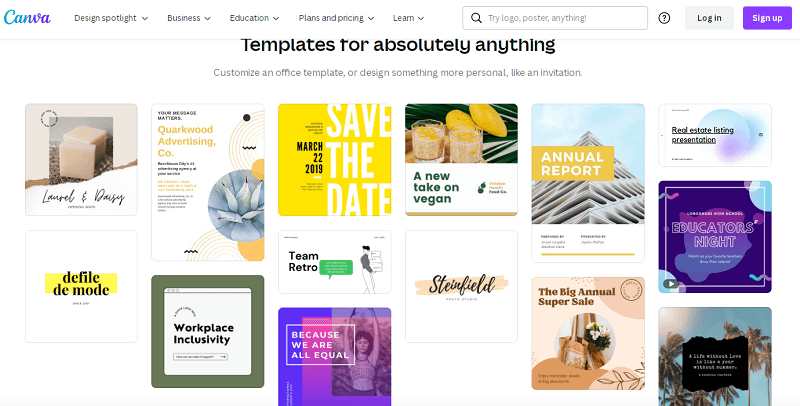 The tool is a feasible pick for anyone designing content for social platforms. Create vector files using templates and a pre-installed design library. The tool is platform-independent and can uncomplicate any design task you might have.

Also Read: Best Free Drawing Software/Programs For Windows
---
Remarkable Features of Canva
Anyone can use the designing software for a variety of purposes. Given below are the top features of the drag-and-drop tool.
Library: It provides access to more than 100 million images & videos with thousands of templates. Canva is launching a new AI image designer where you can write a description of your image content, choose a style, and generate an entirely new image. The tool has premium content and templates on the Pro version. Use these templates to create the most professional images for different platforms.
Editing Tool: Add effects to your photos by editing and creating collages to posts on your Instagram, Facebook, or other professional pages. Use the options to tweak images, use different backgrounds, and generate eye-catching backdrops. On Pro, you can resize designs or make them transparent to post cleaner content.
Cross-Feature Communication: Find the best format that works for your project without having to rebuild it, create a document or presentation, or use any tool on  Canva, and transition your design into another Canva format seamlessly. This is helpful if you want to change a presentation into a video or make social media posts for different platforms.   It will also offer recommendations for the information in the new format.
Font Library: With a vast font library to choose from, customize your posts, documents, and other creations.
Blending Tool: Another unique feature of Canva is that it has a tool that enables users to blend their images to make them appear like paintings.
Watermark: To keep images private, add a watermark to your posts so that it cannot be used without your permission.
Export Data to Excel: Canva allows easy export of your data as PDF, Excel, or other document file formats with just a single click. Additionally, you can resize the image if you accidentally created it in the wrong file format.
Video Creator: The simple editing feature enables users to animate objects and elements to create stunning videos. Use Canva's music, audio tracks, transitions, graphic elements, and other functional features to help polish your video.
Exclusively on Canva Pro and Teams
Content Calendar and Planner: Use the software to generate content to post online. Create new social media content and then schedule these posts through Canva. The Content Calendar can save you time and effort and is helpful for businesses and influencers alike.
Manage your Brand: You can create brand themes, implement templates, and set brand colors to streamline your content. Canva will automatically fit designs that work with your themes to help expedite your design process.
Collaborate on projects: Work with your team to make changes together or work on Canva whiteboards to brainstorm ideas.
Also Read: 
---
How to Use Canva?
The above section explains the notable features and capabilities of Canva. Here is how you can use the tool to create the specific image of your choice.
Step 1: Open the official webpage of Canva or launch the Desktop app on your device.

Step 2: Choose the type of visual from the dashboard on your home screen. Select from the available dimensions or create your own unique layout.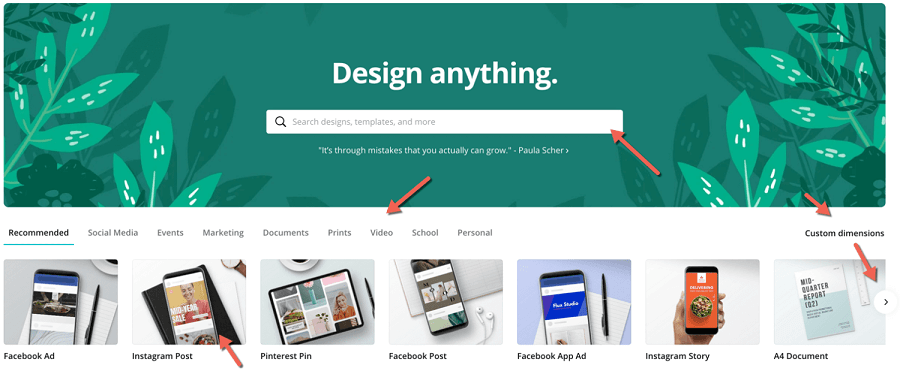 Step 3: Choose the template from the available options in the left panel. Use simple drag and drop to pick the template.
Step 4: Edit the template per your color theme, content, or element requirements.
Additionally, you can add pictures, overlays, elements, and text to your creation. Adjust the transparency of the images accordingly using the Transparency option's slider.
As the editing completes, download the image from the top right corner and share it. Along with this, you can link your social accounts to schedule updates. Use the three dots icon ( … ) and select the platform on which the image needs to be shared. Don't forget to add the time for upload.
Also Read: Best Free Photo Slideshow Software
---
Pricing Models of Canva
Depending upon the type of user and their demands, Canva offers multiple pricing models. These are Free, Pro, and Teams versions. Given below are the pricing details for each model.

Canva Free Version: 
With the Free version, the software has a library of over 250,000 templates, more than 100 designs, over 1 lakh images & graphics, Cloud storage of 25GB, and the ability to collaborate with your team in real-time.
Canva Pro: 
The Pro plan costs $12.99 per month and adds on to the available features of the Free version. Over 400k templates, with more than 100 million photos, graphic elements, and videos. Apart from this, the storage capacity of the Cloud is increased to 100GB. This variant can be shared by five people and allows users to resize images with a single click. Also, you can create your brand kit, schedule content for your social media platforms, and save templates for other team members.
Canva Teams: 
Collaborate with your teammates on projects using Canva Teams. You only pay for the team members using Canva. It's up to $149.90 a year for the first five people. It includes features of the Pro version and allows users to create multiple kits for their brands. Also, you can keep control of your team's performance, accessibility, and uploads. With the Team tool, you also get around-the-clock assistance from the technical support team and 1TB storage.
If it's still a tough decision to choose among the available plans, use the 30-day trial offer for Pro and Teams Canva.
Pros
The tool interface is user-friendly and easy to use, even for beginners.
Easy and quick navigation between the screens of the tool.
Easy drag and drop tool.
The template library is vast and offers a variety of customization options.
Available in the web version, desktop, and mobile applications.
Direct email address for technical support and guidance
Library of multiple fonts, colors, textures, and layouts is available to generate the desired results.
Schedule and handle social media posts for your organizations or businesses.
Create Visual projects quickly.
Freemium Tool
Tight integration with the photo bank.
Easy integration across features
Offer free tutorials and live online events for their users
Cons
Limited images, templates, videos, and edit features are available in the Free version.
Internet connectivity is required, i.e., no offline mode on the web version. You can use the Canva app to work offline on a desktop or mobile.
The desktop experience for Canva is comparatively better than the mobile version.
Also Read: Vector Graphics/Drawing Software
---
Frequently Asked Questions
In the following sections, we have addressed some of the most frequently asked questions by the users.
Q.1 Who can use Canva? 
Anyone can use Canva; there are options for every need.
Q.2 How much money do Canva Pro and Teams versions cost? 
The Pro version of Canva is $12.99 per month, whereas the Team's version costs $14.99 per month (or its equivalent localized pricing). A team of over six is considered Canva Enterprises.
Q.3 Is Canva available for Free? 
Yes, Canva is available for Free. But the Free version of the software has some limitations, such as restricted storage capacity, limited templates, and editing choices. However, to unlock Canva's full potential, you can switch to the Pro or Teams version.
Q.4 Is Canva Pro worth the money? 
Yes, undoubtedly the Pro version of Canva has a lot of Premium offerings to its users. You get unlimited storage capacity with remarkable templates, images, videos, graphics, and editing possibilities. These features help users in creating the best possible works without any interruptions.
Q.5 Is it possible to cancel the subscription to Canva Pro at any time? 
Yes, Canva Pro can be paused or stopped at any time. This can be done from the Settings of your Canva account. Click on the Tab for Billing & Teams under the Canva Settings. Then open Subscriptions and press the Cancel Subscription option
---
Closing Lines on Canva
That was it on our review guide on Canva. Hopefully, now you know which model to choose for your organization. Use the tool to edit photos, social media posts, flyers, and other relevant documents. Upgrade to the Pro or Teams version to unleash the potential of the graphic design software. Enjoy customer support, which is available 24*7 to get all your queries resolved. However, choose the desktop app for much easier navigation and ease.
If you think we missed out on something, feel free to write it in the comment section below. Also, for further questions or assistance, contact us via comments. If you found the guide helpful, subscribe to our blog for more technical guides, review articles, and news. Also, hit the Follow button on our Facebook, Instagram, Pinterest, and Twitter handles to never miss an update.
Akshara is an Engineer turned Technical Writer. She is a tech reader who aims to deliver the best of her knowledge to the readers without complicating it. If not writing you can find her in the kitchen, because no place serves the good tea.
Subscribe to Our
Newsletter

and stay informed

Keep yourself updated with the latest technology and trends with TechPout.
Related Posts