10 Best Kitchen Design Software in 2022 | Kitchen Layout Software
Published Date :
Mar 21, 2022

You can work online or download the full version of the best kitchen design software (free and paid) to make world-class kitchens even in the smallest spaces. Read this article to know more about these programs.
"Kitchen" is not just another room in your house. It is the place where you cook recipes of happiness (lip-smacking food!) with love for your near and dear ones. You can call it your house's heart that makes it a perfect home. However, designing this sacred corner of your abode is not a child's play. You need keen attention to detail and exceptional skills to do it without a helping hand, like professional kitchen design software.
Software for kitchen design helps you make an aesthetic, clean, and comfortable place to cook and bond over flavorful food with friends and family. With these programs, you can not only create a kitchen from scratch but also remodel your existing kitchen to suit your tastes.
Now, if you are wondering where to find the best kitchen layout software for your dream cooking arena, look no further than this article.
Through this write-up, we acquaint you with the best software for kitchen design, planning, and remodeling. We handpicked these programs after deep research and comparison based on factors, such as ease of use, available features (like 3D walkthrough and top-class renderings), pricing model, and many other aspects.
Without further ado, let's explore the best kitchen design software to assist you in making the perfect chef's paradise.
Top Kitchen Design Software to Make the Best Kitchens
You can pick from the below-ranked list of the best kitchen layout and design software for planning the kitchen of your dreams.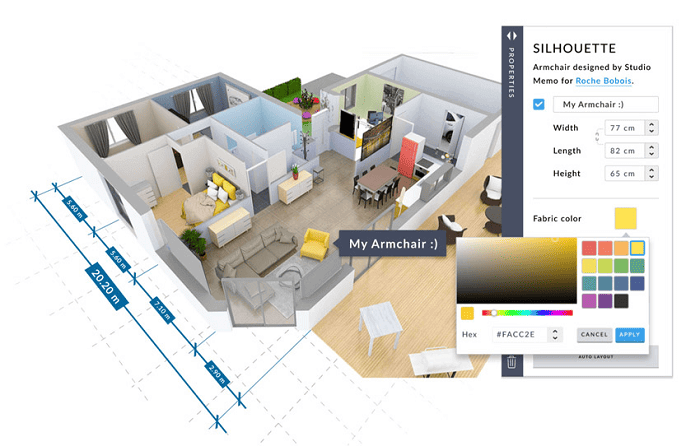 Best web-based software for kitchen design 
For those who want to unleash their designing skills without downloading anything, Space Designer 3D is among the best picks. With this web-based program, you can not only design your kitchen but also create an entire 3D home easily. It boasts some highly impressive features, such as CAD's precision, drawing imports for quick designing, and more.  Below we share all the key features that make Space Designer 3D one of the top kitchen design software for professionals and amateurs.
Features of Space Designer 3D
Options like copy and paste, duplication, distribution, component aligning for quick design.
Dimension tool for accurate measurement of each kitchen element.
Automatic calculation of area and linear quantities to measure the needed amount of cladding material.
Show Alternatives option to change wall/floor texture and furniture styles.
Dollhouse view for easy 3D visualization of your kitchen design.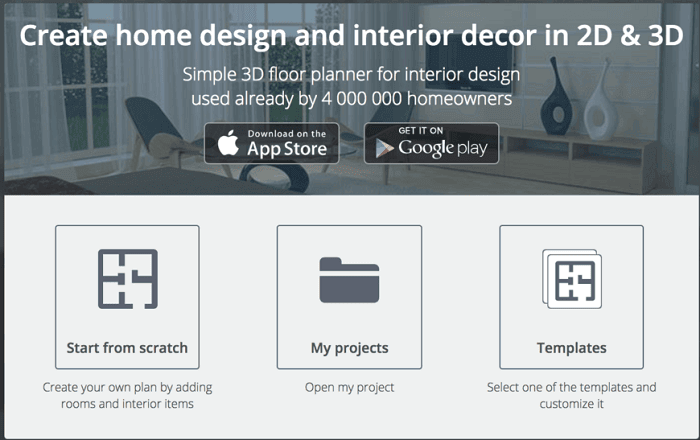 A complete interior designing solution with an incredible kitchen tool 
Let's now talk about a piece of software that functions as a complete suite for all your interior designing needs. With the Home Stratosphere's interior design software, you can design your whole home by making just a few clicks. The free and easy-to-use tool for kitchen planning and designing is what induced us to include this software in our list. To help you judge whether it suits your requirements or not, below are its key features.
Features of Home Stratosphere's Interior Design Software
Easy 2D and 3D interior designing (you need just a click to get a 3D view of your designs)
Cloud storage of your designs to keep them safe
Drag and drop feature to minimize the design time
You can archive and export your designs
Also Read: Graphic Design Software for Designers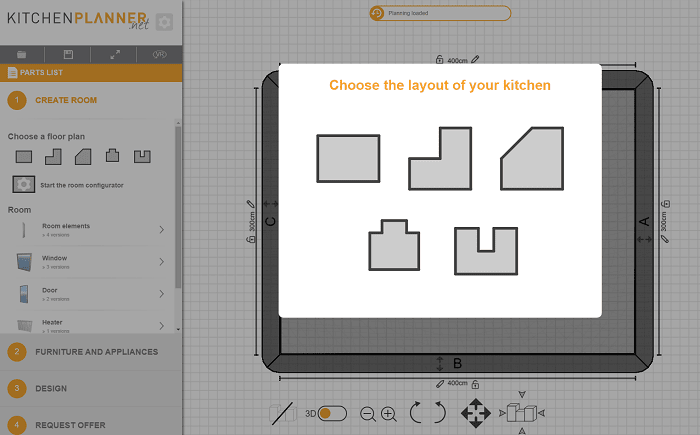 Browser-based best free kitchen design software 
Another free kitchen planning software you can use to plan your kitchen is Kitchen Planner. You can run it on your browser and arrange kitchen elements like appliances, furniture, cabinets, etc., without any tiring effort. Let's take a look at the features of this software that make it worthy of your attention.
Features of Kitchen Planner
It needs only email address registration to let you save or share the kitchen design
Five layouts for room planning with customization of windows and doors
A lot of materials to help you add the perfect appliances, furnishings, cabinets, colors, and finishes to your kitchen
There are over 90 countertops, 50 options for flooring, and around 100 cabinet fronts to choose from
A quick toggle to view your designs in 3D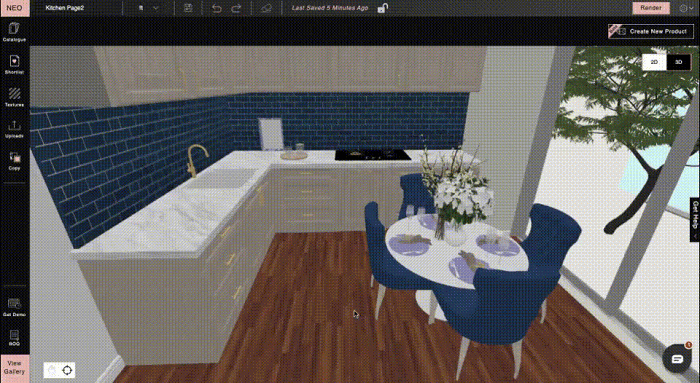 A super-intuitive kitchen design software for professionals and amateur users 
If you are looking for the best kitchen remodel software that does not have much of a learning curve, Foyr Neo is what you need. It boasts a highly intuitive interface to carry out complex kitchen designing tasks much easier than you may have thought. Apart from this, below is what else it offers to help you make a beautiful kitchen.
Features of Foyr Neo
Pre-built collection of over 60 already modeled products to make kitchen designing easier
Inspirational design ideas to fuel your imagination
AI-powered features, such as furniture drag and drop, auto docking, textures, etc.
Realistic 3D rendering with easy switching between 2D and 3D modes.
Foyr Neo also offers 4K rendering
Also Read: Best Book Design Software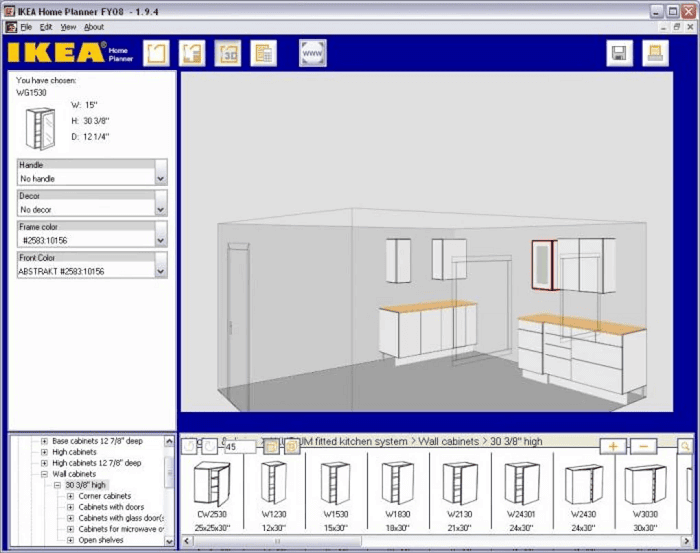 Free kitchen design software with a wide furniture selection
Do you want a one-stop destination for kitchen planning, design, and furniture? Then, Ikea can be the top solution for you. It boasts a wide range of furniture to choose from. In addition to this, the below features make it one of the most professional kitchen design software to make the best possible plans and layouts for your kitchenette.
Features of Ikea 3D Kitchen Planner
3D planner to get a realistic view of your kitchen
Simple and automatic kitchen planning where you only need to mention the kitchen's dimensions
A huge selection of appliances, cabinets, and other kitchen-related items to select from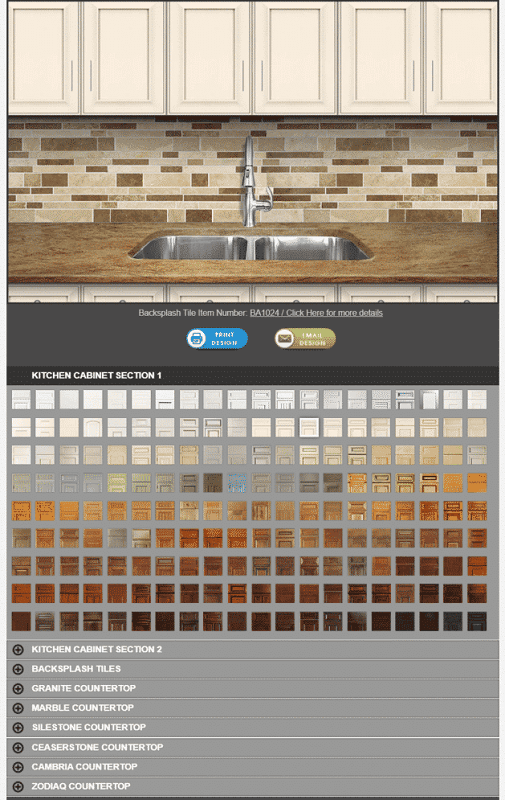 One of the best kitchen design software for designing cabinets and backsplashes 
If you are looking for free kitchen design software specifically for backsplashes and cabinets, you can pick Backsplash Designer. It is among the best free kitchen design software in 2022 with a variety of countertop designs, sink panels, and cabinet colors. Moreover, below are the other fascinating features of this software.
Features of Backsplash design software
Countertop designs, cabinet colors, and backsplash patterns that you can use easily
The basic interface, perfect for non-professional kitchen designers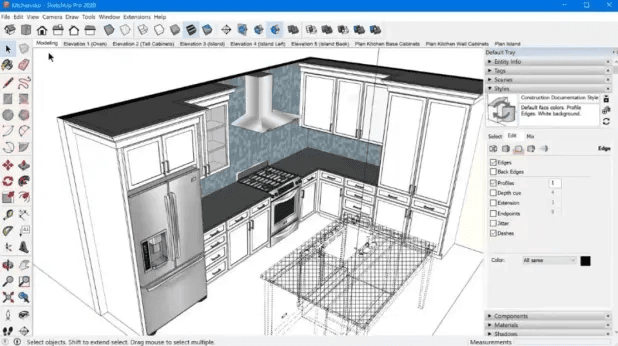 Best free interior design software with exceptional kitchen designing skills
In case you need free kitchen design software for Mac, you can choose SketchUp. With this single piece of software, you can create an entire home design, remodel your kitchen, or take up a woodworking project. Features such as the availability of over 10 GB of cloud storage make it one of the most unique software for kitchen design. Let's talk about all its key offerings.
Features of SketchUp
Video tutorials to shorten the learning process
Availability of both 2D and 3D rendering
Lightweight and flexible kitchen layout software
Options to customize the features and designs
Also Read: Best Free Drawing Software/Programs For Windows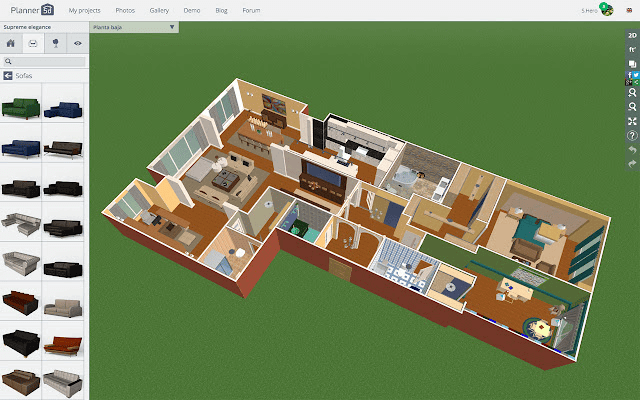 Highly customizable kitchen design software 
Next, we have Planner 5D on our list of the best kitchen design software available in 2022. It boasts a lot of options to customize the walls and other elements of your kitchen. Talking about the features of Planner 5D, we found them to be highly attractive. Let's take a look at them.
Features of Planner 5D
2D and 3D options to create and view kitchen designs
Availability of over 5000 appliances and other elements
Planner 5D has a mobile application that makes kitchen designing more convenient
The software has a simple and straightforward interface
Snapshots to create a realistic image of your design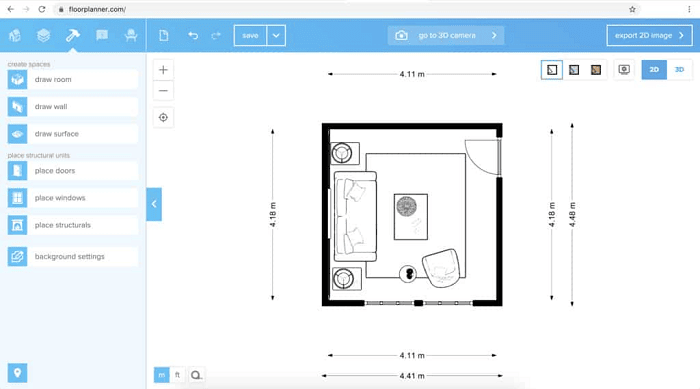 Software for kitchen design with room wizard 
If you are new to the world of kitchen layout designing and planning, you are going to find Floorplanner useful. It offers an easy-to-understand guide at every step of the designing process to make it simple. Apart from this, there are features, such as a library of nearly 150,000 3D items that justify its position on our list of the best kitchen design software. Let's take a look at all its incredible features.
Features of Floorplanner
Drag and drop feature to add items in your kitchen design
One-click option to get a 3D overview of the design of your kitchen
Room decoration with a single click
Easy design sharing with the cloud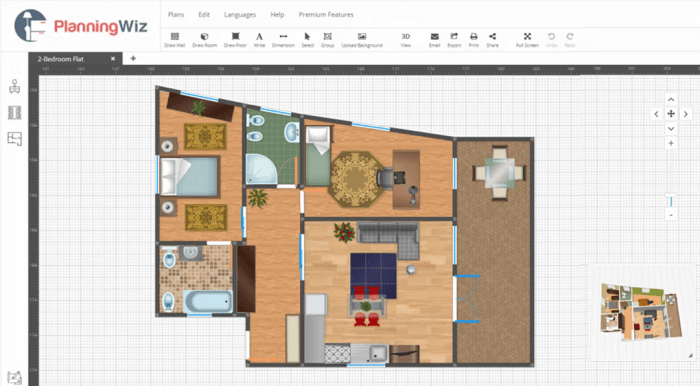 Free-to-download design software for compact kitchens 
Modern-day kitchens are compact and convenient at the same time. Hence, if you are also searching for professional kitchen design software that lets you have the best possible kitchen design for a small home, Planning Wiz may be a perfect choice for you. It has resizable objects that you can fit in your kitchen space easily without cluttering it. Moreover, it also boasts the following mesmerizing features.
Features of Planning Wiz
It works as a kitchen remodel software along with letting you design your kitchen from scratch
There are options to draw elements, such as doors, walls, windows, etc.
Planning Wiz allows you to uploads PDFs with plan's sketch or background photos for quick designing
You can view tutorials to learn how to use Planning Wiz
The drag and drop feature allows you to make 2D designs really quickly
It lets you have a 3D view of your design
With Planning Wiz, you can save your design for later retrieval
Also Read: Vector Graphics/Drawing Software
That's All for the Best Kitchen Layout Software
Above, we brought to light some of the highly professional kitchen design software you can use for your kitchen layout planning and designing. You can pick any of these programs depending on your requirements and the overall home style.
If you think we missed out on some excellent, feature-rich, and reasonably priced kitchen design software, kindly notify us via the comments section.
To get more software suggestions and other valuable tech information, stay connected with TechPout.
Naavya is a writer by both passion and profession. Her deep interest in the tech world drove her to become a technical writer. She constantly endeavors to learn about all things tech to convert her knowledge into words understandable to everyone out there, so all can become knowledgeable about the world of technology. When not composing tech articles, you can find her writing some fiction, reading a book, or spending time with her family.
Subscribe to Our
Newsletter

and stay informed

Keep yourself updated with the latest technology and trends with TechPout.
Related Posts