Best Free Asset Manager Software to Use in 2023

Are you looking for the best free asset manager software in 2023? Then, you have come to the right place. In this article, we are going to mention the 8 best software that you can consider to track your asset. Continue reading!
IT asset management is a cutting-edge business approach that is being utilized by all leading organizations & corporations around the world. It aids in the management of an organization's information technology assets across various businesses. These programs manage and connect inventory management, risk management, and the contractual & financial obligations of an asset to control the asset's lifetime.
If you are a business owner of a small or large enterprise you should think about relying on the best IT Asset Management software. It would help you in automating numerous back-office tasks, saving you a lot of time, money, and resources.
A List of 8 Best Asset Management Software in 2023
We have handpicked the top asset manager software available in the market currently. Have a look at the below-provided list and choose the best solution for your business.
1. ServiceDesk Plus

"The best end-user interaction solution is ServiceDesk Plus"
ServiceDesk Plus by ManageEngine is one of the most dedicated asset management systems and is used by over 100,000 users across the world. Your IT service requests are streamlined with ServiceDesk Plus, which enables you to provide first-rate support. Additionally, the customized templates make it very simple for consumers to select the appropriate services from the self-service portal.
Key Features of ServiceDesk Plus:
Creates a list of all company resources and IT services instantly.
The least amount of effort is needed from the user's end to modify templates to meet your needs.
Display the service catalog to users wherever they are and whenever they want to via the self-service portal.
Automatically assigning requests to the appropriate technicians to ensure completion on time.
SLAs, tasks, and multistage approvals can all be linked together to streamline the work of the service desk technicians.
Also Read: Best Free Library Management Software
---
2. Monday
"Ideal for professional partnerships"
Innovative software like Monday makes it simple to combine all your tasks, projects, and workflows into a single work environment. By automating mundane tasks with Monday, you'll be able to concentrate on what matters rather than doing the same thing or task every day. This asset manager is specially built for a new way of working.
Key Features of Monday:
Any tools utilized to manage assets can easily be integrated with Monday.
Offers a shared workspace that makes it simple for teams to collaborate with one another.
Supports integration of numerous apps you utilize for your business purposes, including Outlook, DropBox, Google Drive, and LinkedIn.
Enables the integration of any CRM program.
Adapt the workflow to your needs.
Utilize the virtual dashboard to get a comprehensive view of all the procedures.
---
3. AssetExplorer

"Best web-based asset manager"
ManageEngine's AssetExplorer is a web-based ITAM (IT Asset Management) software. It aids in keeping track of all the resources in your company network. You can also use it to manage and monitor your software and hardware assets. The platform provides you with a 30-day free trial and is compatible with Windows, iOS, and Android.
Key Features of AssetExplorer:
Verify that the software licensing is being followed.
Comprehensive analysis of an asset's cost.
A one-stop shop for managing an IT asset's whole lifecycle.
Possibility of placing and tracking orders.
Also Read: Best Free Property Management Software
---
4. InvGate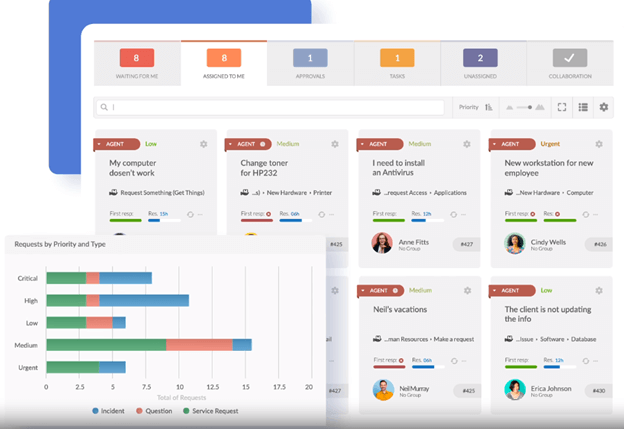 "Takes project management to Next Level"
InvGate is another asset management software to handle, communicate, and collaborate on tasks and projects in one location. Customizations, milestones, and many more features are available. It is a software that is highly reliable for companies all over the world.
Key Features of InvGate:
Access to controls and permissions is provided, along with a dashboard for activities that enables activity tracking.
Gives control over the approval process.
Enables business process automation and budget management.
Provides unique client portals to make client interaction simple.
Offers customization possibilities for templates, forms, and dashboards.
---
5. JIRA Service Management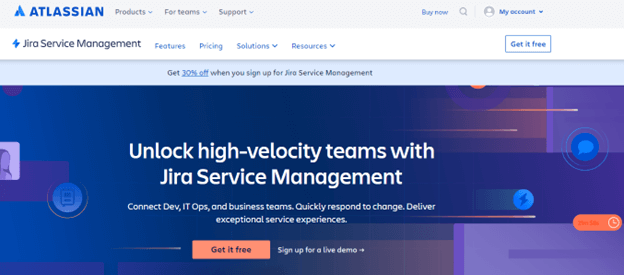 "Business-oriented digital asset management system"
Atlassian Jira is a dedicated and specialized ITAM that makes it possible to combine various workforces. It is specifically made to simplify functionality, workflow, and processes. The software, which was originally known as JIRA Help Desk, was renamed Atlassian's JIRA Service Management after considerable ownership changes caused the software to substantially expand its capabilities.
Key Features of Jira Service Management:
It provides proprietary Halp technology for quick and simple ticketing.
Opsgenie is a tool for incident management.
ProForma is created using the same technology as JIRA and with the assistance of ThinkTilt.
Also Read: Database Management Software
---
6. ClickUp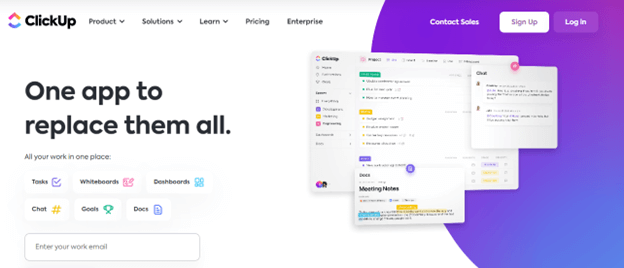 "Boosting team productivity to a new level"
One of the best asset management systems that aid in unifying every component of your business is ClickUp. It lessens the time needed to update company information across numerous applications. The software can be used on Windows, Linux, Mac, and Android.
Key Features of ClickUp:
Numerous different array templates are available to meet your needs.
Simplifies the process of importing documents from other programs.
To make maintenance easier, you can now categorize your tasks by projects.
The advanced filters make it very easy to search for a specific assignment.
Helps you keep better track of project schedules and deliverable deadlines by allowing sync with Google Calendar.
---
7. Asset Panda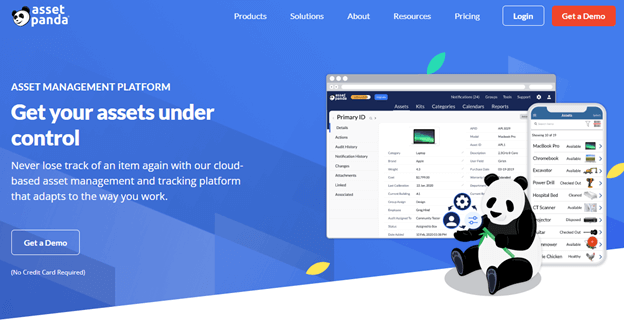 "Easily manage physical assets"
Asset Panda is another best digital asset management software and is well-known for assisting in merging IT assets. Numerous functions are available with the program, including audit, cost tracking, network device serial numbers, process modification, and cost tracking.
Key Features of Asset Panda:
It helps keep track of a big inventory of physical assets.
Logs the logistics of workflow, storage, and shipping.
Adjust the interface to your organization's needs and viewpoints.
Several video tutorials to guide you through the software's capabilities.
Also Read: Best Free Field Service Management Software
---
8. Spiceworks Help Desk

"Best Affordable IT Solution"
You can complete basic ticketing and reporting tasks with ease using Spiceworks Help Desk. Employees can utilize the self-service portal, and this is one of its most interesting and unique features. Spiceworks offers a free version that is specially designed for start-ups and other smaller businesses.
Key Features of Spiceworks Help Desk:
Offers a cutting-edge plug-in that enables sophisticated analysis.
Ticket cooperation enables you to discuss problems with a dependable peer.
Completely free asset manager software with an easy-to-use interface.
---
Final Words
So, these were the best asset manager software that you can consider in 2023. Hopefully, this detailed guide will help you in the best way possible.
Also Read: Best Free Reference Management Software 
Please feel free to drop your questions, doubts, or further suggestions in the comments section below. For more tech-related information, you can subscribe to our Newsletter and follow us on Social Media so you never miss any updates.
Harshita Sharma is a technical writer with quite a distinct understanding of the tech realm. She is a tech enthusiast who believes that tech knowledge should reach one and all and tries to convert the sketchy knowledge into the simplest possible form for making people understand the tech world better. When not playing with words, she loves to travel and explore new places. And, is a coffee & cricket connoisseur.
Subscribe to Our
Newsletter

and stay informed

Keep yourself updated with the latest technology and trends with TechPout.
Related Posts