Best Free Field Service Management Software for Small Businesses in 2023

Check out this guide offering some of the best field service management software and programs for small businesses. 
Field Service is of utmost importance to a lot of businesses. Whether the scale of business is massive or small, the dependence on field service plays an essential role in building optimal customer relations. Previously, the entire process of field service allocation and management was manual. However, with the advent of advanced field service management software, it's become quite easy for businesses to assign field workers for client support, installation requirements, repairs, and other services.
Additionally, as these field service management programs are becoming increasingly affordable for micro and small businesses, such organizations are enjoying a level playing field and competing with the big leagues.
On the internet, you will find various field service management programs for micro, small, and medium businesses along with the big ones. However, all of these programs may not be optimal for all as different platforms offer different features. Hence, we have curated a list of different tools for you that allow feasible management of field services. But before proceeding to the list of alternatives, let's know more about such software right below.
What are the Major Types of Field Service Management Programs?
Generally, field apps are divided into two major categories viz. Cloud-based services and On-premise services.
Under cloud-based services, FSM is achieved remotely via storing details and data remotely. Hence, this allows more and more users to access the services and manage them as required.
Alternatively, under on-premise software, you get additional flexibility in managing and customizing the plan of action. Moreover, the management can also integrate the software with other existing tools and get the desired results with ease.
Features of an Ideal Field Service Management Software
Before you go through the products provided in this list as field service management programs, the first thing you should know about is the basic features to expect from any FSM tool. Some of these features are
Easy management of the work order raised from various sources and offices.
Optimal scheduling of the tasks in hand as well as those demanded in the near future.
Optimal allocation of human resources and the assets required for the job.
Generation and sharing of accurate invoices and bills as and when necessary.
Portability of the solution via smartphone apps.
Reliable and accurate information related to price estimates and more.
If you are a business owner, then you may already feel that all of these attributes are actively required for optimum delivery and field service management.
Now that you know everything about the FMS tools, let's have a look at the most viable products that can help you manage your day-to-day field services.
Top 7 Best Field Service Management Software for You
The further sections of this guide will bring forward a deeply curated list of the best field service management software for a small business as well as various other operations. Our recommendation is that you go through the description and details of all the products and then use any as, and if, suited.
1. Skedulo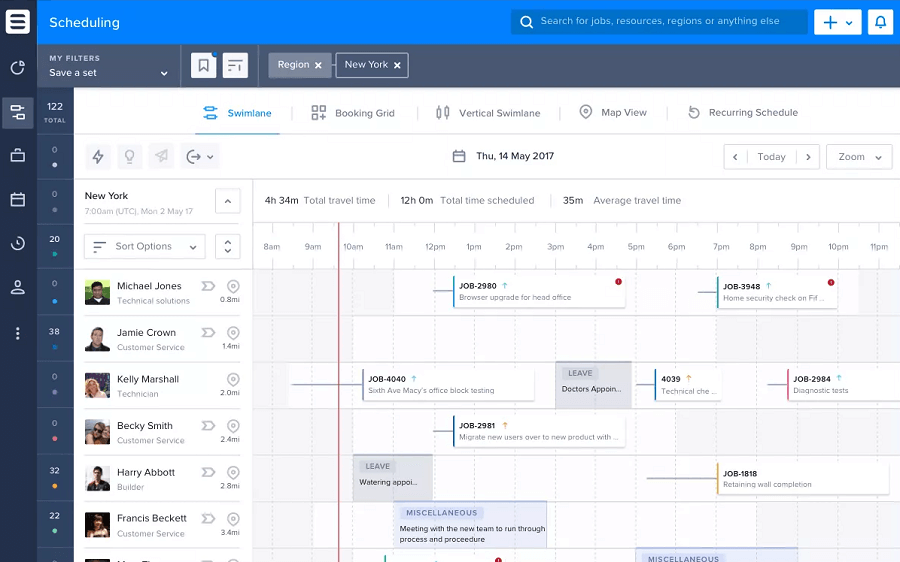 If you want a smart way to manage fieldwork, then Skedulo is the perfect field service management software for you. The tool is an advanced solution for businesses that allows them to manage and operate the day-to-day requirements of the business remotely. Apart from field management, the platform is also used for workforce management.
The creators at Skedulo have been "in the talks" for delivery and meeting the requirements of various kinds of industries. This includes healthcare institutions, non-profit organizations, the real estate industry, residential premises,  and other small and big public sector businesses. This Australian solution can easily help simplify your jobs.
Also Read: Best Expense Tracking Software | Expense Management Tools
---
2. Verizon Connect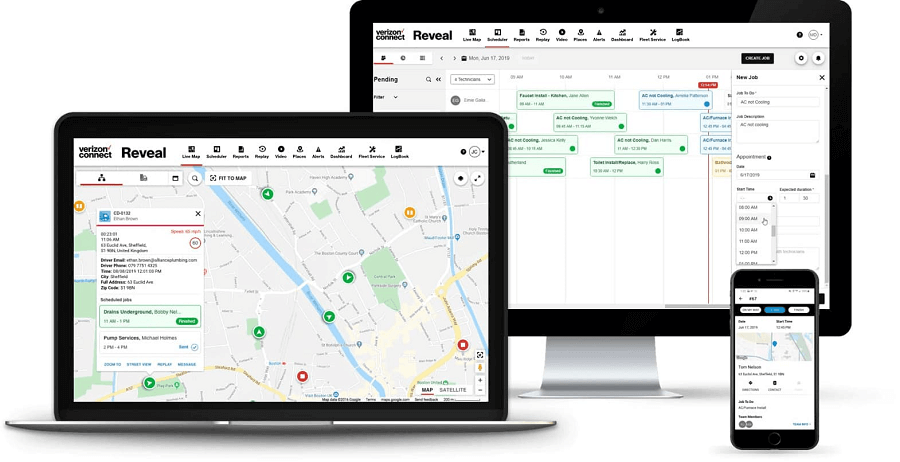 The next name on this list of the best field service management software for a small business is Verizon Connect. Its Reveal Filed solution allows the workers employed with your business to get real-time updates about the job in hand as well as those appearing in the future. As the workers are assigned by the tool automatically, workforce management becomes quite easy. This way, the chances of clashes and confusion among workers are minimized.
With Verizon, the managers and owners of the business can also monitor the movement of the force anytime they want. The platform is viable for small businesses as well because it offers flexible pricing and solutions as per your requirements and corporate size.
---
3. ServiceTitan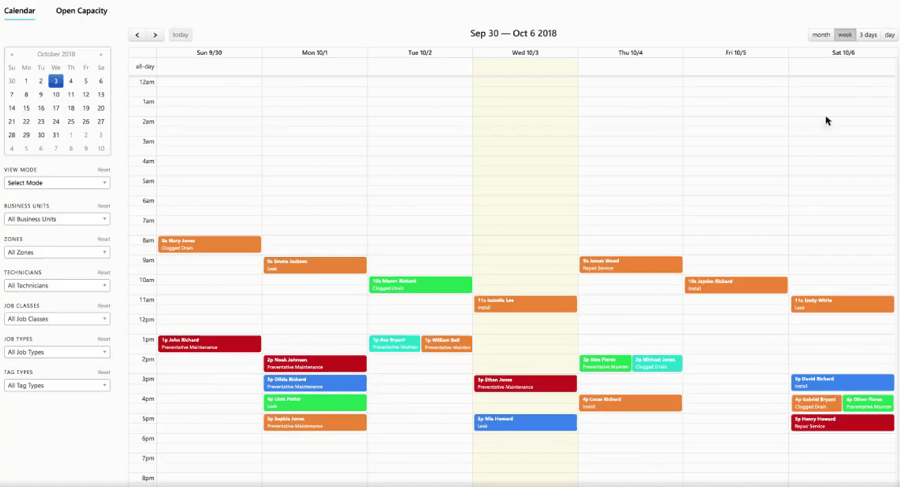 To make your trading and business operations easy, quick, and feasible, we have brought ServiceTitan for you. With the help of this field service management software, any business owner and manager can schedule and manage their business jobs with ease. The platform is suitable for all kinds of commercial and residential requirements. Additionally, the low cost of the tool makes it affordable for all.
This is one of the smartest field service management programs that streamline and simplify the most complex jobs. With the help of this software, businesses get all the collection of jobs in one place. You can then automate the allocation of jobs or do the same manually.
---
4. Salesforce Field Service
If you are willing to put in some effort to get better control over the field requirements, then the Salesforce Field Service is the best field service management software for you. Salesforce has been popular for offering cloud-based solutions that integrate the business and its related attributes and operations into one place. This is something that the Salesforce Field Service delivers to you.
This software, just like any others present on this list, is a cross-platformed solution. Hence, business owners and managers can easily manage field operations from the comfort of their homes or even while traveling. This is one of the most popular, readily, and widely used field service management programs.
Also Read: Best Free Reference Management Software
---
5. Intuit Field Service Management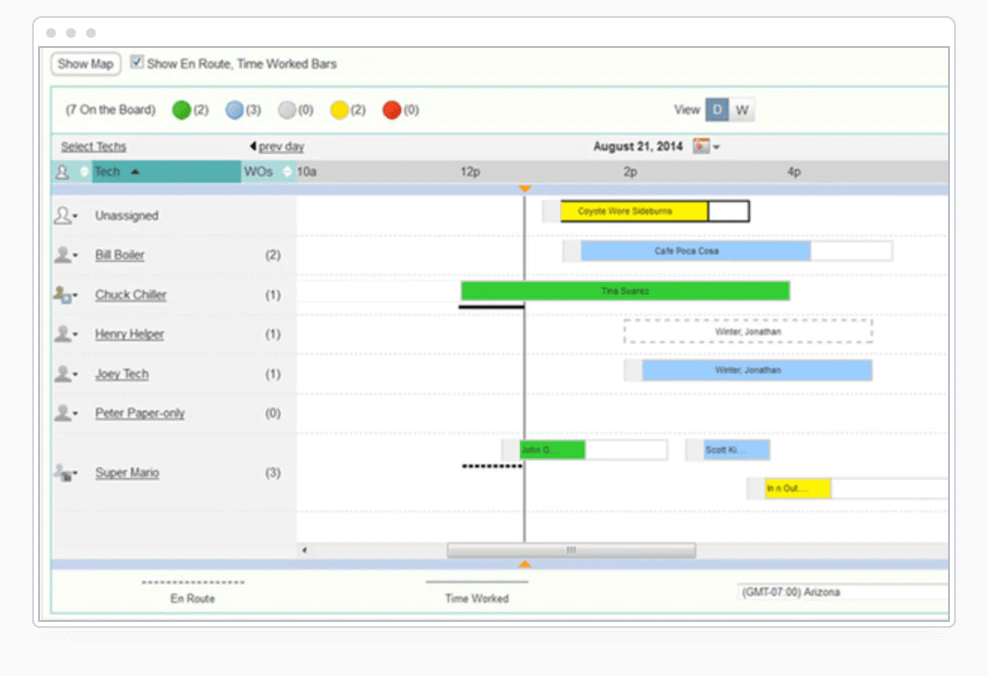 Intuit is a widely accepted business solution from the creators of QuickBooks. With the help of Intuit Field Service Management software, you can easily monitor the exact activity in the hands of the entire workforce. The platform notifies you via real-time updates and allows you to be attentive to the ongoing business and the force's movements constantly and readily.
The manager can easily use the Intuit software and schedule the tasks via automation or manual placements. The efficient job-scheduling features offered by this tool make it one of the best and most readily accepted field service management programs. The pricing of the platform is quite flexible and hence, allows different scaled businesses to get one that fits their work requirements.
---
6. Jobber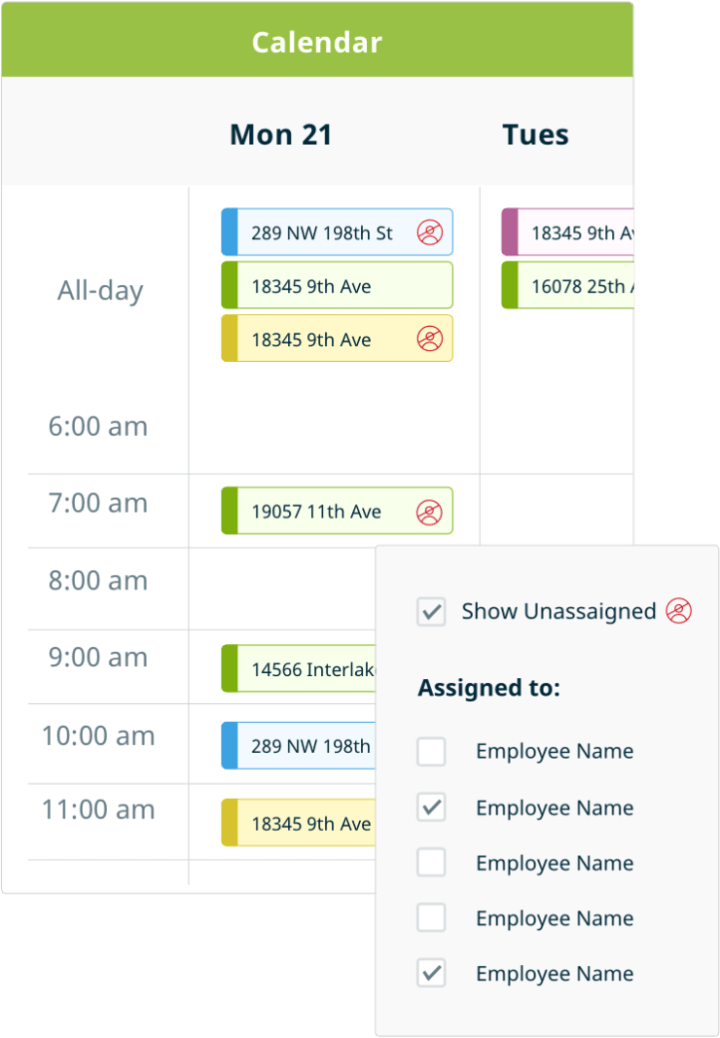 Jobber is a secure and easy-to-use business scheduling alternative that works quite well as field service management software. With the help of the platform, businesses can get the required details related to the jobs as well as create the required invoices automatically. With Jobber, you are always connected to active job requests. The platform offers real-time updates about upcoming jobs, completed tasks, new requests, and other operations.
The Jobber is an automated solution. Hence, whenever a customer tries to connect with your business for any job, he/she gets automatic quotes for the same. The customer can either proceed with the quoted price or connect the business for negotiation if available. This way the business can enjoy the flexibility of operations.
---
7. Oracle Field Service Cloud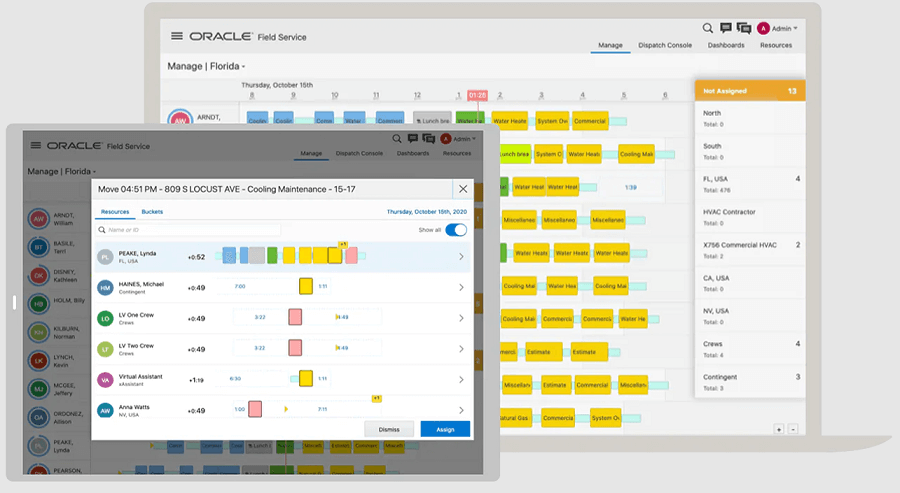 The last name on this list of the best field service management software for a small business is Oracle Field Service Cloud. Just like Salesforce, Oracle is also an easy way to manage the day-to-day and miscellaneous operations of any business. The platform provides a unified FSM platform to you that offers extensive services like the Internet of Things(IoT).
What makes Oracle Field Service Cloud better than most field service management programs is its advanced built structure. The platform is a self-learning solution that modifies and elevates itself with more and more businesses and jobs. This cloud-native is trusted by over millions of users globally because of its fast operating rates and highly-automated solutions.
Also Read: Best Email Extractor Online Tools
---
Top Best Field Service Management Programs for Businesses: Listed
That's all. We hope that by using at least one of the field service management software provided in this article, you would be able to manage the fieldwork of your business. We have tried to offer some of the best solutions that are perfect for small businesses and offer extensive services at lower rates to the big ones as well. The quality of services you get with these alternatives is quite competitive and hence, any of these solutions would be perfect for you.
However, if you want our help in determining the best field service management software for your business, we are happy to assist. Ask your queries in the comments section below. We will help you in every way possible as soon as we can. Do let us know which one of the above alternatives you liked for your business operations and share your experience with other readers.
If you liked this review of the top field service management software for a small business and other organizations, then subside to our newsletter. It will only take a minute. We appreciate your enthusiasm toward our blog and cherish it for life.
Devesh, being a technical writer, likes to research and write technology articles and solutions to help others. Having great knowledge about the tech world and its working, he likes to pour the same into his write-ups. Before starting any write-up, he likes to pen down his thoughts and flaunt a creative edge in the same. Apart from being a writer, his primary interests include reading books and poems, cooking, and playing video games.
Subscribe to Our
Newsletter

and stay informed

Keep yourself updated with the latest technology and trends with TechPout.
Related Posts