Best Free Reference Management Software for 2023

Here is a list of the best reference management software for you in 2023 that can make your work easier. 
Reference Management Software, just like its name, is software that allows you to add references and citations to any project with ease. You can use such tools to create numerous citations when due in different styles to make your content more reliable and trustworthy.
Such a reference management tool is used by teachers, students, and even independent researchers. Hence, such alternatives are quite popular amongst these sections of society. It's not an easy task to find the best reference management software. Hence, to help you within this domain, we have brought forward a list of tools that are trusted by thousands of users for reference management. So, without any further ado, let's have a look at some of the top alternatives right away.
Top 7 Best Reference Management Software for Windows and Mac
Below are some of the most viable alternatives for the best reference manager tools in 2023. You can try any of these tools as required and enjoy the ease of adding citations and references.
1. Docear- The Academic Literature Suite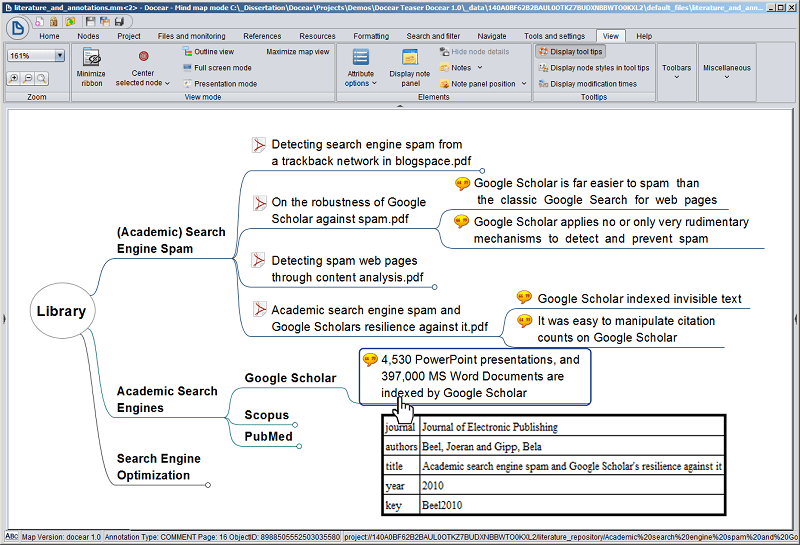 If you are a student, then you may already know about Docear. This is one of the most trusted apps used by students to create projects using mind maps. The tool also works as one of the best reference management software. You can download and use Docear on Windows and Mac devices. Hence, even if you create a project on one operating system, then the same can run on the other. Apart from reference manager features, the tool also allows you to add highlights to documents, bookmark, extract text from PDFs, and more. You can use this lightweight best reference manager for free with all the features unlocked.
Also Read: Best Email Extractor Online Tools
---
2. EndNote- Accelerate Your Research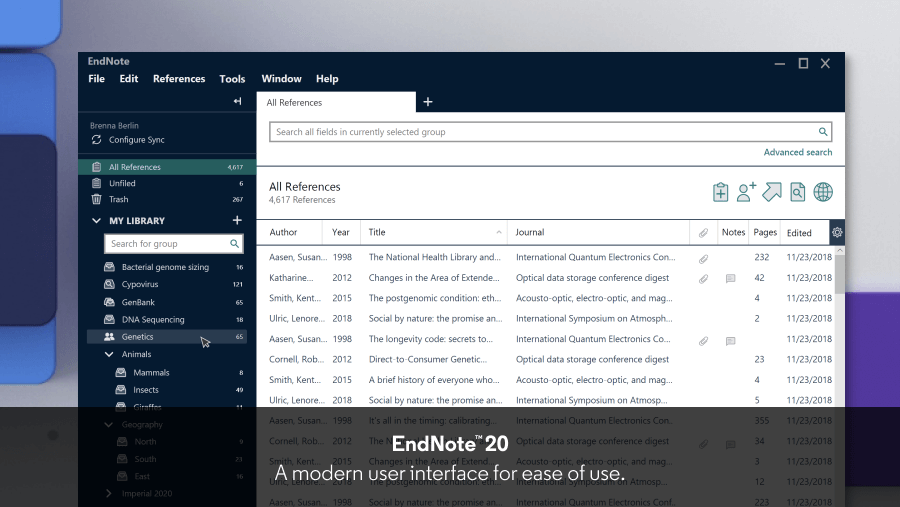 If you think that the interface of the previous tool was too basic for your use, then you should try EndNote. With the help of EndNote, users can create as well as collaborate with others very quickly and easily. The research features offered by this tool allow you to extract data from PDFs very conveniently. Hence, using this feature, you can get and use the precise data you want from a tonne of research modules. Additionally, this best free reference management software comes with an integrated tool called Manuscript Matcher that allows you to post your creations in different renowned journals as well. Apart from this, you will get an outstanding and unmatchable performance boost with this tool as it uses a multi-tab feature to work on and through multiple sources.
---
3. OneNote from Microsoft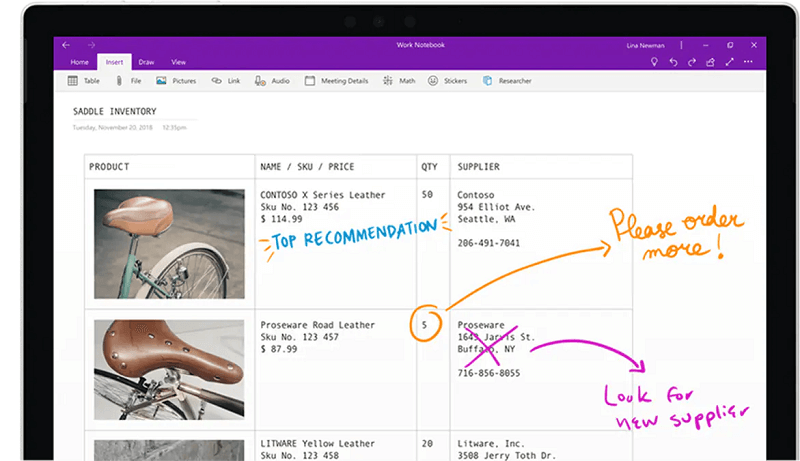 Another similar solution to EndNote as provided above and one of the best reference management software is OneNote. The tool from Microsoft is best for working professionals and students. Just like its name, OneNote makes it easy for you to take notes from loads of data. The tool works like a one-stop solution for all your needs. You can work on any idea on the go and preserve it for later. Additionally, you get a plethora of options to add citations and references to your work with OneNote. As this tool comes integrated with Microsoft 365 or Office Suite, you don't have to pay extra to get it. Hence, one of the best free reference management software of all time. If you are working with a team, then also you can use OneNote and share your creations for collaboration with others.
Also Read: Best Free PDF To JPG Converter
---
4. Mendeley- Easy Referencing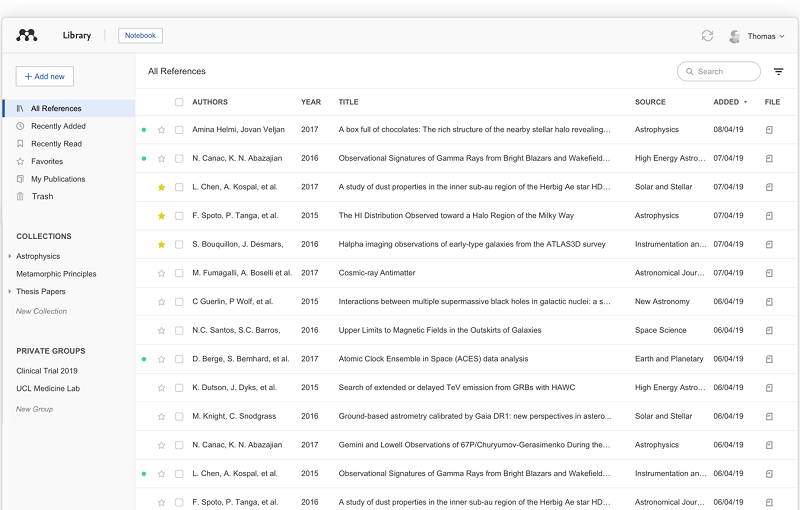 The next name on this list of the best reference management software is Mendeley. If you want a unified platform to research articles and write-ups, then this is one of the most reliable and helpful tools you can use. Apart from a standalone tool, you can also avail the benefits of this platform through your web browser. Hence, you can easily access and continue your leftover projects at any time and any place. Alternatively, you can download the tool for Windows, Mac, Linux, and other operating systems as well. Whenever a new addition or modification is done to the project, it gets uploaded for you to use later. To add citations using this best reference manager, you can also take the help of a free supporter named Mendeley Cite.
---
5. Zotero- Your Personal Research Assistant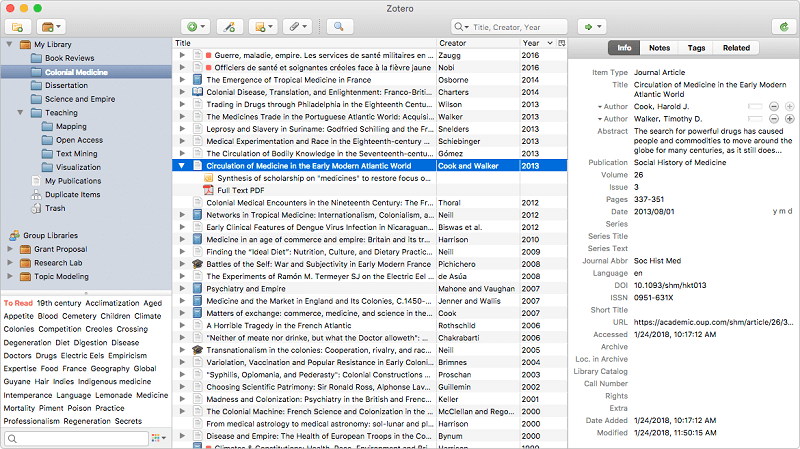 Next comes Zotero, one of the best reference management software for Windows and Mac. If you like to research and share the same with others, you should give Zotero a chance. The tool allows you to store and save all the content collected while researching with a single click. One of the best features of this tool is that it allows you to organize the reached data in a fine way as you desire. You can then share the entire research with others as well if you want. This is the best reference manager that contains over 10,000 different patterns to style the citations. Hence, this tool can not only make your document attractive but also helpful and easy to understand.
Also Read: Best Free PDF Split and Merge Software
---
6. Paperpile- A Modern Reference Tool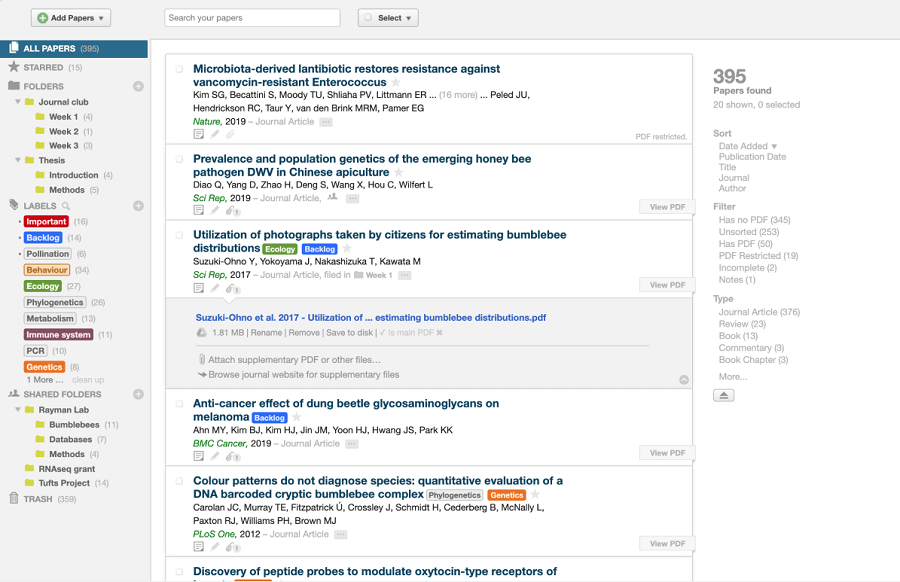 Let's present to you an easy way to cite, manage, and refer your documents and research. PaperPile is one of the best reference management software that makes it very easy for you to do all in a single tool. The interface of the tool can be said to be the best and the most intuitive out of the other alternatives listed in this article. Instead of offering a standalone tool that hogs up your storage, you can download Paperplie's light solution for Microsoft Word. Doing this will also allow you to access all the PDFs present on your system anywhere you want. Hence, Paperpile is the best free reference management software that retains and brings all your research in one place.
---
7. Sciwheel- Reference Manager & Generator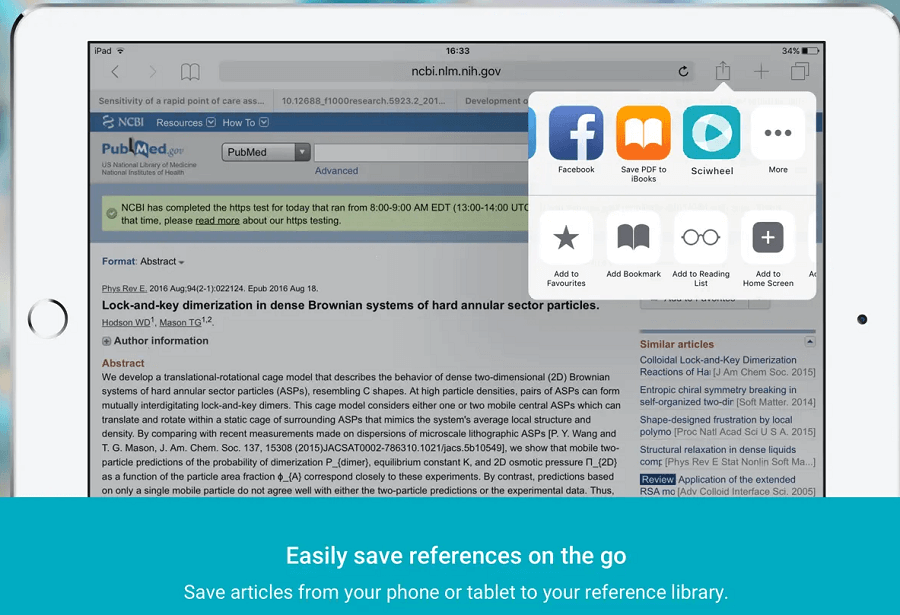 At last, we present to you the wizard in this list of the best reference management software. Sciwheel works as a scientific tool to manage and create annotations, citations, and research delivery. With the help of the tool, you can create fresh research projects from existing ones using collaborative tools. With a single click, the tool saves all the references and data from the websites on the tool. The simple drag-to-select feature of the tool allows you to cite references very easily using Sciwheel as the best reference manager.
Also Read: Best OCR Software to Extract Text from Images and PDFs
---
Best Reference Management Software in 2023: Listed
Here we conclude this article on the top tools as the best reference manager. With the help of any of the tools provided in this article, you can avail yourself of the ease of referencing and researching. The listed products are available for both professionals and students. Hence, any kind of user can manage the references in any of their projects with these best free reference management software.
If you have any queries related to the products provided above, write to us using the comments section below. If you have some suggestions for improvement or think that any other alternative is also the best reference management software, do let us know. We appreciate your time and effort. Subscribe to the newsletter from the TechPout blog to get instant updates about new blogs, guides, solutions, and other write-ups.
Devesh, being a technical writer, likes to research and write technology articles and solutions to help others. Having great knowledge about the tech world and its working, he likes to pour the same into his write-ups. Before starting any write-up, he likes to pen down his thoughts and flaunt a creative edge in the same. Apart from being a writer, his primary interests include reading books and poems, cooking, and playing video games.
Subscribe to Our
Newsletter

and stay informed

Keep yourself updated with the latest technology and trends with TechPout.
Related Posts