Top 7 Best Database Software | Database Management Software
Published Date :
Nov 29, 2022

This article acquaints you with the best DBMS software to create and manage databases effortlessly.
Databases have almost entirely replaced physical information storage in almost all organizations. Now, organizations and individuals keep information organized as tables digitally on their computers.
You may update these tables and modify them effortlessly as and when required. All you need is the top database software to create, manage, and update the databases.
If you are wondering where you may find the best database software for your requirements, you may go through this write-up.
In the following section of this article, we share a thoroughly researched list of the best database management software. We selected these programs after going through a wide gamut of programs and comparing them based on a multitude of parameters such as ease of use, availability, price, and features.
Well-Researched List of the Top Database Software
Below are our top picks for the best database software you may use for efficient management of your database.
1. Improvado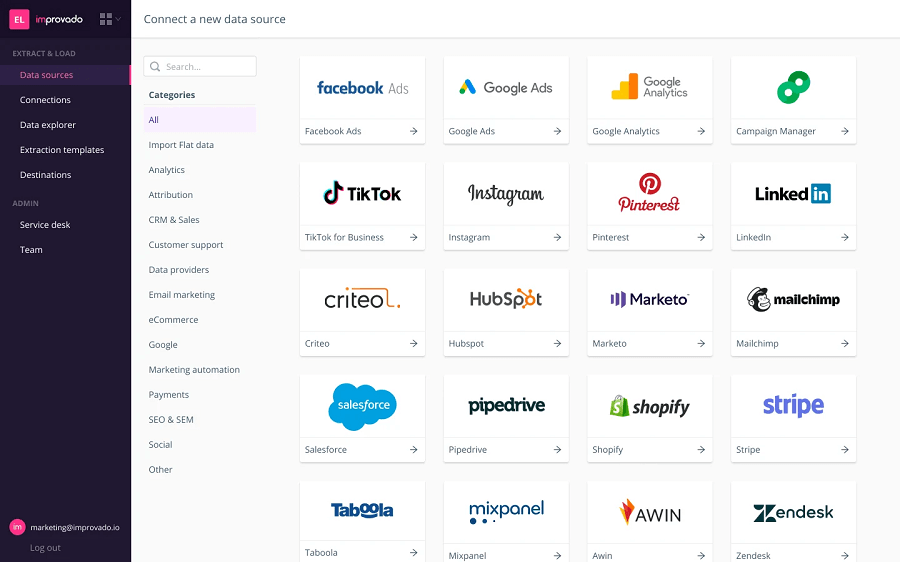 Kickstarting the list of the best database management software, let us introduce you to Improvado. The most attractive thing about this software is that it brings together sales and marketing insights from over 300 sources in a single centralized database.
Moreover, there are automatic data transformation and cleansing features to ensure high-quality insights for analysis in the future. Furthermore, the following noteworthy features contribute to making Improvado a popular DBMS software.
Key features of Improvado
You can access Click house DBMS, BigQuery, or Snowflake
Easy DBMS management using a spreadsheet-based UI that needs no coding experience
Improvado boasts integration with more than 10 visualization tools
Also Read: Best Free Data Recovery Software For Windows
---
2. InterBase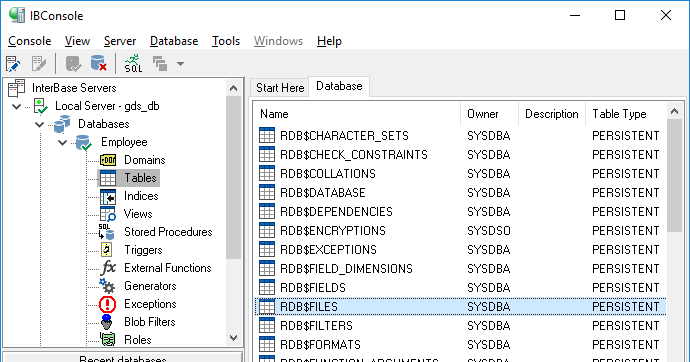 Next, we have InterBase as the best database management system. It is a feature-rich, lightweight, high-performance, and encryptable database.
We included InterBase in this listicle for its security features like cross-platform encryption, reduced risk exposure, encrypted backups, role-based security, and separate security login. Additionally, the following features are also worth noting about InterBase.
Key features of InterBase
Power-packed, zero-administration, and small-footprint database engine
Boasts a plethora of SQL features like Unicode and multiple join
Live-time event alerts informing connected clients about changes in the database
Change views feature that lets you identify changes in the database
Stored procedures to help you compile server-side operations into your database engine
Triggers to create correlated updates, enforce data restrictions, automatically transform data, notify applications of database changes, and execute cascading referential integrity updates
Generators that let you fetch sequential numbers used for primary keys
Option to raise custom exceptions from the server in case bad data is passed in
---
3. Microsoft SQL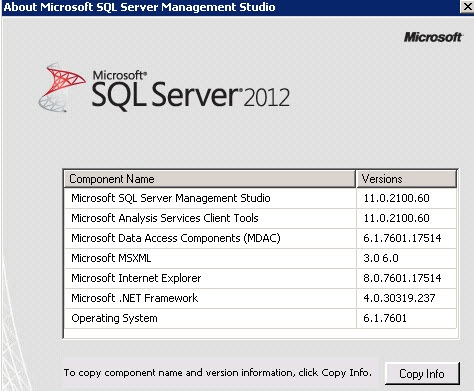 Next, we would like to talk about an RDBMS from Microsoft. Microsoft SQL is the correct choice for this list of top database software as it supports ANSI SQL language.
Moreover, Microsoft SQL boasts the following incredible features making it one of the best database management software.
Key features of Microsoft SQL
Integrates unstructured and structured data with Spark and SQL server
Boasts high-end security features for data protection
Its rich BI reports help you make quick and better decisions
Microsoft SQL has a cloud version
---
4. PostgreSQL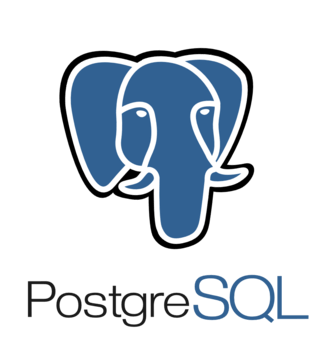 If you are looking for the best free open-source DBMS software, you may choose PostgreSQL. We found it attention-worthy due to its plethora of configuration and indexing options.
Moreover, PostgreSQL is among the best database software for small businesses involving a lot of data import and export. Furthermore, you should take a look at the following praiseworthy features of PostgreSQL.
Key features of PostgreSQL
Relational database but lets you create NoSQL databases
Supports a wide range of plugins to enhance the software's functionality
Data storage and management in high volumes
Secured data processing in comparison to others
Availability of tutorials to help you use the software
Also Read: How to Mask Data in Oracle
---
5. Amazon RDS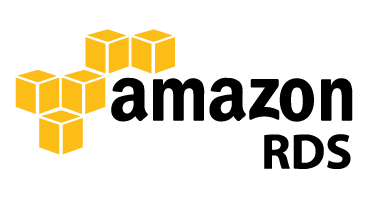 When discussing the top database software, we cannot skip Amazon RDS. It boasts a highly secure, dedicated connection. Moreover, there is an in-built option to create automatic data backups.
Furthermore, the following are a few other useful features of Amazon RDS.
Key features of Amazon RDS
In-built data recovery option
Easy to setup and use
High scalability and flexibility
Supports a lot of programming languages
Offers permissions and access controls for virtualization and data migration
---
6. RazorSQL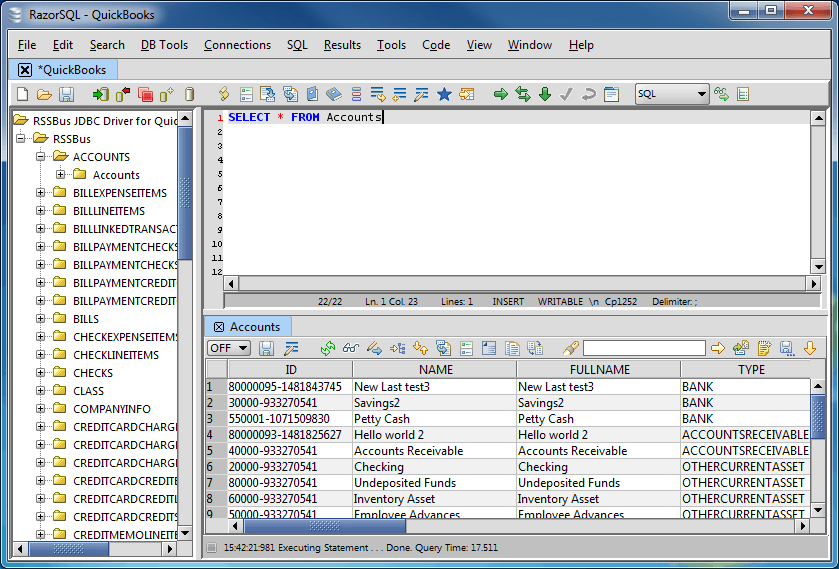 Here comes RazorSQL, another popular DBMS software. You may use it to check columns, schemas, structure indexes, unidentified keys, and tables. Additionally, the software is flexible enough to let you create, delete, and update the whole SQL statements according to your requirements.
Further, in addition to the above, these features are also a reason enough to call RazorSQL one of the best database software.
Key features of RazorSQL
Options to include extended files, fixed-width data files, and excel spreadsheets
Support for more than 20 programming languages
Lets you simultaneously compare the table data results and queries through more than one database
Needs no manual configuration so that you can effortlessly check a plethora of databases
Automatic data selection and copying
Supports the creation of custom project templates
---
7. EMS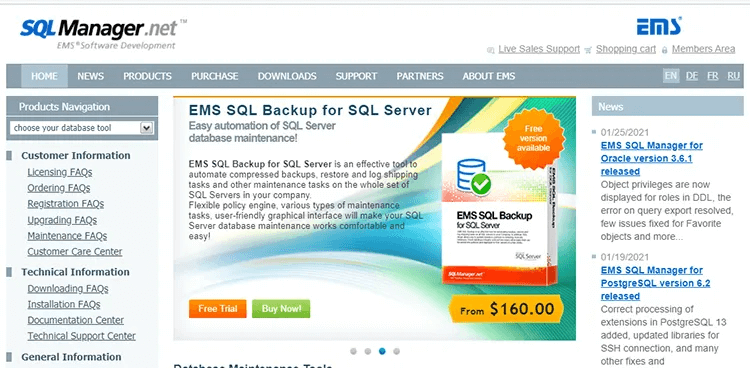 Lastly, we have EMS on our listicle of the best database management system. This software is particularly suited for people/organizations wanting to monitor their current databases.
It comes with a variety of features to help you with efficient database management. Let us look at some of them.
Key features of EMS
Integration with many SQL tools
Straightforward execution of multiple SQL queries
Strong vendor support
Also Read: Best Data Monitoring Apps For Android
---
Concluding the Top Database Software
This article brought to light the best database management software you may use to create and manage databases. You may go through the features of all the programs shared in the above list to select the best solution for your requirements.
In case of any doubts or questions, consider yourself free to contact us through the comments section.
Niharika is a passionate soul who finds immense satisfaction in putting all her thoughts in writing. Being a technology enthusiast, she loves learning new things about tech and making everyone technologically literate through her articles. When not composing tech articles, you can find her bringing characters to life in her fictional stories, reading something intriguing, or spending time with her near and dear ones.
Subscribe to Our
Newsletter

and stay informed

Keep yourself updated with the latest technology and trends with TechPout.
Related Posts