13 Best Disk Space Analyzer Software for Windows in 2023

In today's digital era, computers have become such an important part in our daily life. People who use computers every day at work, home and school to perform specific tasks must-have come across with the problem of low disk space.  
To resolve this issue, it is important to have an efficient disk space analyzer software installed on your computer. Disk Space Analyzer is a utility software which effortlessly scans both internal and external hard drives and gives you a detailed report on how storage space is used – so you can perform cleaning and file management operations accordingly.
With the plethora of disk space analysis and cleaning tools out there, finding the perfect one for your Windows machine is an extremely painstaking task.
And if you don't know how to shortlist the best one, you don't need to worry about it anymore as we've got you covered. To help you with the process, we've prepared a well-researched list detailed around the best Windows disk space analyzer tools so you can make the right decision.
Best Disk Space Analyzer for Windows 10/8/7/XP
Finding how your device storage space is being used has never been this easier, thanks to the arrival of awesome Disk Space Analyzers! Without further ado, let's have a look at these excellent tools and get to know the perfect one for your Windows machine:
1. Glary Disk Explorer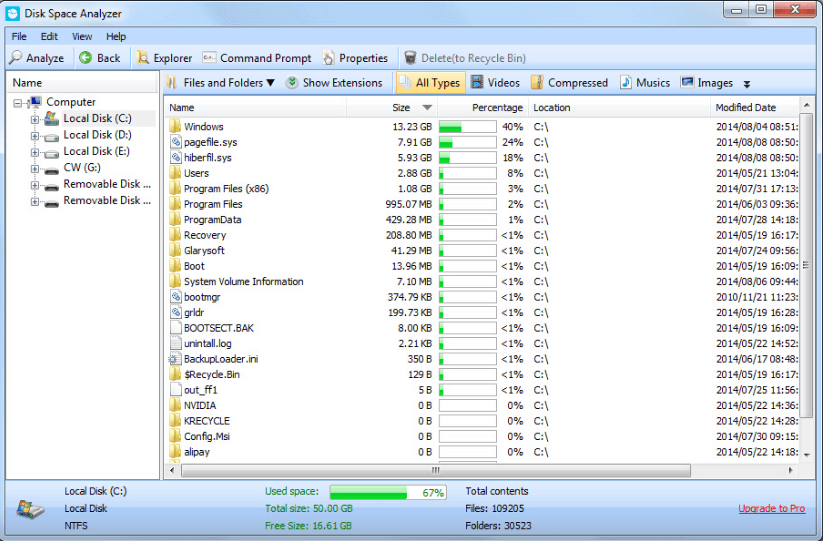 Price: Free
Supported OS:  Windows 7, 8, 8.1, and 10
Many people have the question, 'Which is the Best Disk Space Analyzer Software for Windows?' and the plain answer to it is Glarysoft's Disk Explorer. It analyzes all local and network drives, individual device drivers, multiple directories on your computer and provides you with a detailed report of your entire disk usage in a percentage form, sorted by size. 
Now, let's take a quick look at some of its other prominent features: 
Notable Offerings: 
Fast and intuitive interface
Performs a complete PC scan and analyzes disk space usage
Displays the occupied space in percentage or graphical form
Automatically create a catalog of all files and folders kept on storage devices
Includes plenty of filter options to organize your files

---
2. CCleaner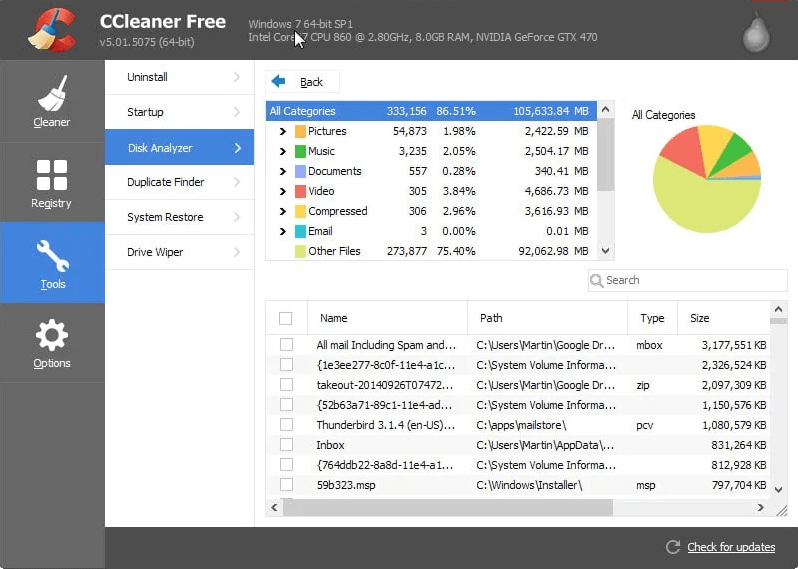 Price: Free version, $19.95 (Professional version) and $29.95 (Professional Bundle).
Supported OS: Windows 7, 8, 8.1, and 10
You can't talk about the best free disk space analyzer tools without including the Piriform's CCleaner. Now some of you might be speculating how a Windows optimization software has managed to get into this list. 
Well, the majority of people are not aware of the fact that CCleaner holds strong capabilities to analyze hard disk space usage. CCleaner comes with a powerful built-in utility, Disk Analyzer which aims to provide insight into how the hard disk space is used and which files or folders are eating up most space on your computer.
Notable Offerings: 
Beautifully designed interface with easy to manage tools
Displays space used by each file format in percentage form
In-depth analysis of how disk space on your storage drive (both internal and external) is being used
Allows users to delete junk file to manage storage space

---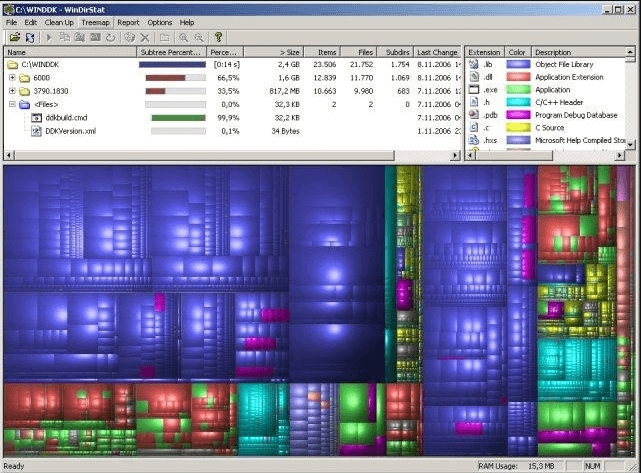 Price: Free
Supported OS: Windows 95(IE5), 98 SE,ME,NT4 (SP5), 2000,XP,Vista, 7, 8 and 8.1
WinDirStat is undoubtedly one of the best Windows disk usage analyzer software, trusted by millions of users around the world for optimizing computers for peak performance and fixing low disk space related problems. The best thing about this tool is that it's completely free, making it an ideal choice for any computer user out there.
It scans your entire computer and shows a report of disk usage percentage in a colorful graphical form (treemap) indicating various file types. Once the analysis is complete, it allows users to clear out junk and duplicate files using its cleanup tool.
Notable Offerings: 
Open-source utility software for Microsoft Windows
Fast scanning results
Removes all kind of junk files and cached data  
Easy to analyze disk space due to treemap and colorful statistics
---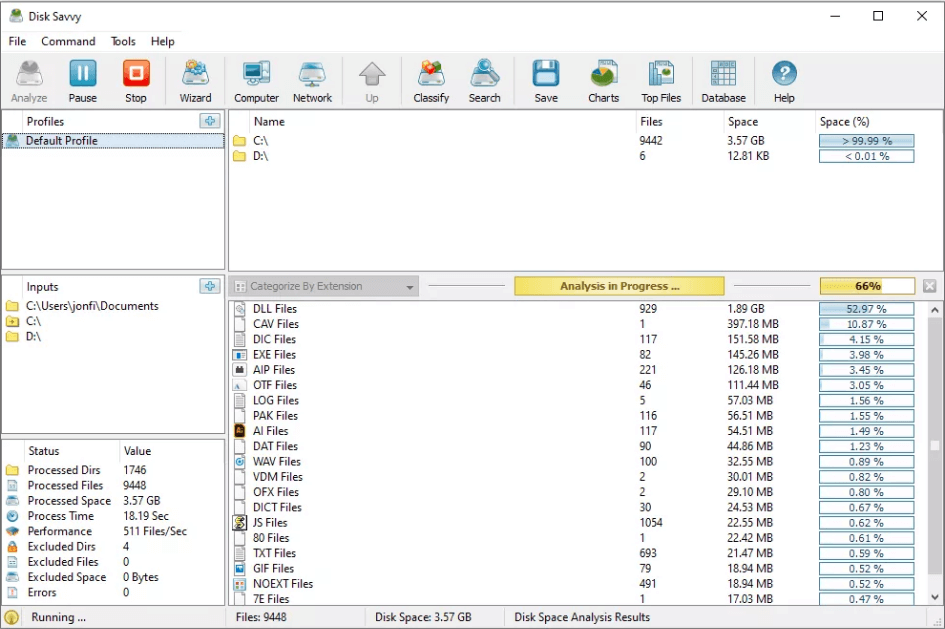 Price: Free
Supported OS: Windows XP, Vista, 7, 8 and 10
DiskSavvy is another highly-rated disk space analyzer for Microsoft Windows. It auto-scans and analyzes hard disks, network attached storage devices (NAS), servers to help you remove files or folders that are chewing up to GBs of disk space in your computer.
Apart from effective disk space analyzing capabilities, the interface of this tool is so clean and easy-to-understand that even the novice computer users will have no trouble. Unlike WinDirStat, DiskSavvy is not a completely free disk space analysis tool as it is available in both free and paid versions.
Read Also: Best Free Disk Imaging Software
Notable Offerings: 
Fast and easy to use tool with efficient PC scanning features
Allows users to sort disk space reports using various File Filters
Powerful file management tools
Shows disk space analysis results via pie chart
---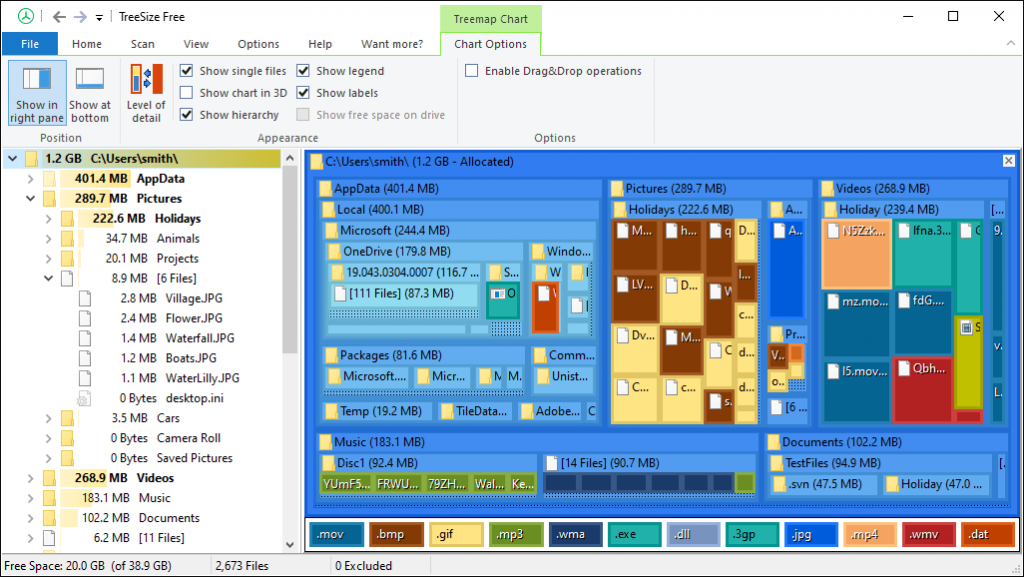 Price: Free
Supported OS: Windows Vista, 7, 8.1, and 10
Developed by JAM Software, TreeSize occupies a prominent position in the list of the best disk space analyzer software available in the marketplace today. After analyzing system drives, it displays information about the used disk space via an easy to understand treemap chart.
Besides the effective disk space management options, the application has an intuitive user-friendly interface which is available in more than 16 languages, including Chinese, Portuguese, French, Ukrainian, Spanish, and Russian. 
Notable Offerings: 
Relatively lightweight application and uses fewer system resources
Excellent data visualization feature
Comes with the Windows Explorer to quickly remove junk & unnecessarily large files
It fully supports all Microsoft Windows editions (both 32-bit and 64-bit)
---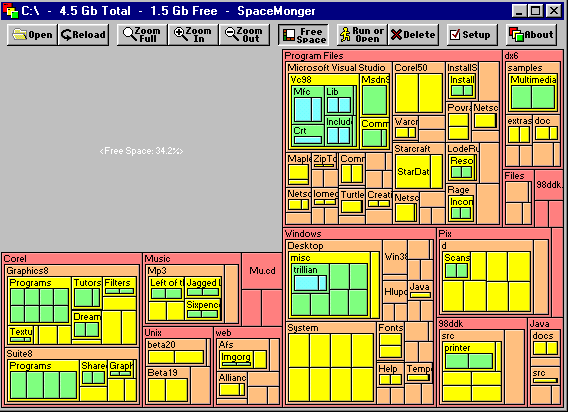 Price: $19.99
Supported OS: Mac, Linux and chrome OS
SpaceMonger is a freeware for Microsoft Windows users. Computer users who are facing low disk space problems can download this excellent utility software to save a valuable amount of storage space within a few minutes. The tool effortlessly scans and analyzes each file or folder stored on your computer and then presents the disk analysis results via treeview or pie chart.
Notable Offerings: 
Simple, fast, and easy to use software
Results are quite easy to understand due to colorful visualization 
Customize aesthetic settings of the tool
Multilingual support
---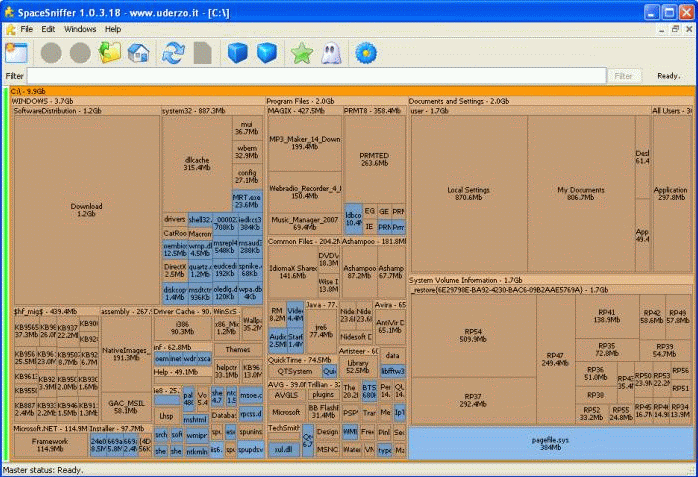 Price: Free
Supported OS: Windows 8,7, Vista, and XP
Developed by Uderzo software, SpaceSniffer is an open-source, disk space analyzer for Windows. It uses a treemap visualization structure to display disk space usage report. With the help of these analysis results, you can restore ample amount of storage space by removing files that are consuming extra disk space on your computer.
Read More: Best Disk Defragmenter Software for Windows
Notable Offerings: 
Users can assign colors of their choice to different file formats
Supports alternate data streams (ADS)
Allows users to categorize files on the basis of name, size, etc.
Compatible with Windows 8,7, Vista, and XP
---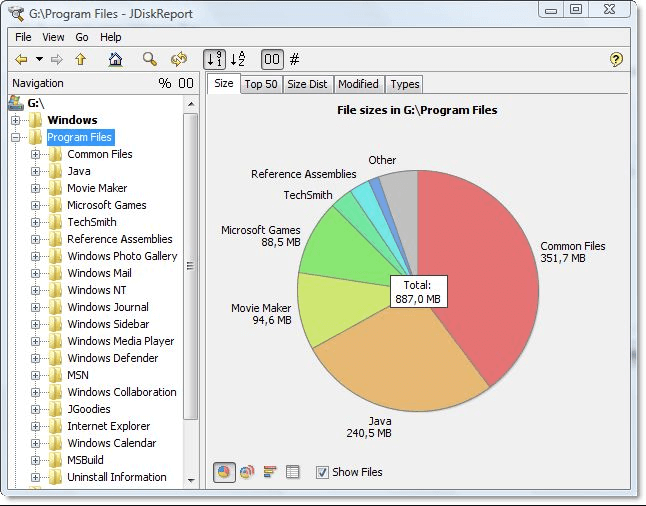 Price: Free
Supported OS: Windows 7, 8 and 10
JDiskReport from JGoodies is another freeware for Windows that shows you information about your hard disk space usage with the help of a pie chart, tables, and bar graph. The best thing about this Windows disk space analyzer tool is that it's completely free of annoying ads and toolbars, making it a pretty great option for managing storage space.
Notable Offerings: 
Lightweight app with modern interface
Plenty of file management options to restore lost disk space
Highly-compatible with Windows, Mac, and Linux
---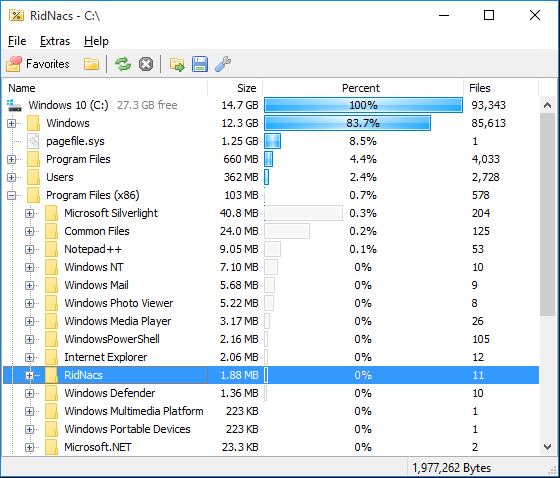 Price: Free 
Supported OS: Windows XP, Vista, 7, 8, 8.1 and 10
Are you looking for an easy way to fix low disk space problems on Windows 10 PC? Well, your quest ends here! RidNacs with its fast and effective analysis results ranks among the best disk space analyzer for Windows 10. It auto-scans multiple directories, network/hard drives, and displays a detailed disk usage analysis report through a multi-column tree view.
Notable Offerings: 
Users can open or delete obsolete files directly from the RidNacs app
Shows used file space in a percentage form
The program has low memory footprints 
Fast scanning and analysis results
Allows users to clean up the junk files to boost Windows performance
---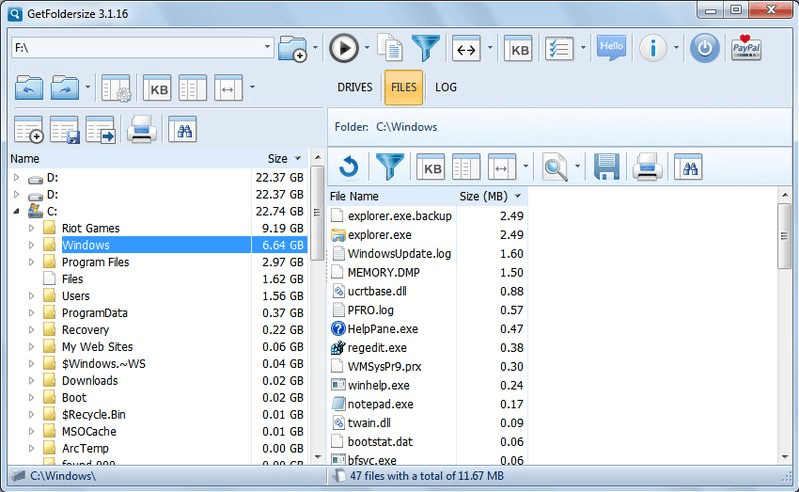 Price: Free 
Supported OS: Windows Xp, Vista, 7 ,8 and 10
GetFolderSize is another excellent tool to analyze disk space. It scans the entire PC and presents the list of folders along with the disk space usage data. Similar to TreeSize freeware, it only displays the information about the disk space consumed by folders on the hard drive. However, it uses a dual panel that lets you view the list of all files inside the selected folder. It shows the size of scanned files and folders in GBs, MBs, and KBs units.
Notable Offerings: 
Freeware for Windows desktop or laptop with 32 bit and 64 bit versions
Displays the disk space analysis results via 'tree view' structure
It doesn't consume much system resources
---
Price: Free
Supported OS: Windows Xp, Vista, 7 ,8 and 10
Tired of low hard disk space problems? Want to know what type of files are eating up your storage space? If your answer is yes, then HDGraph is what you need. The tool displays the information about the hard disk space usage through a circular, multi-level pie chart to help you easily identify the largest files, folders, or directories on your drive.
Notable Offerings: 
Quick and easy to install
Interactive and easy to understand pie charts
In-depth information about how disk space is used
Supports all popular Microsoft Windows editions
---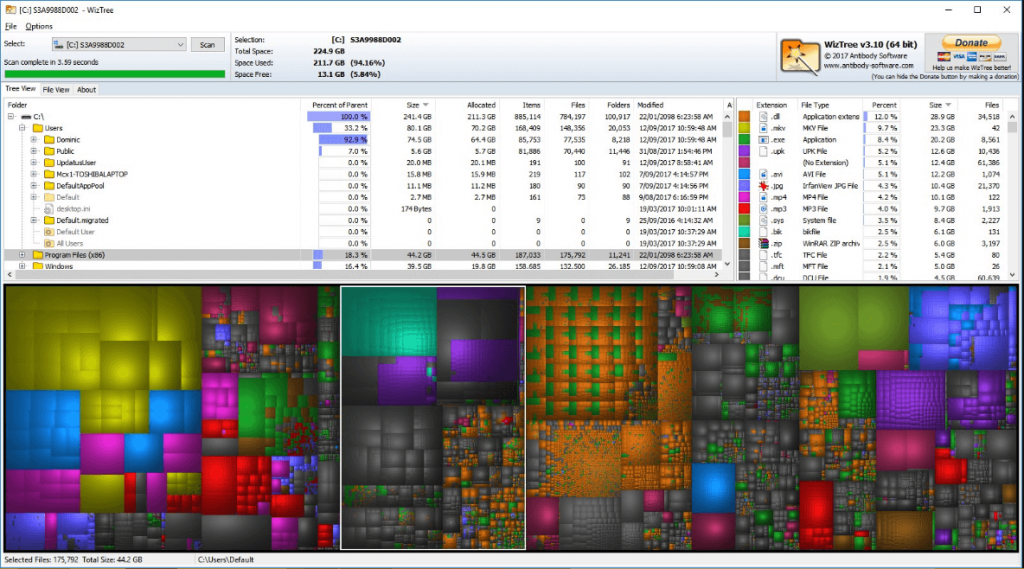 Price: Free 
Supported OS: Windows 10, 8,7, Vista, and XP (both 32-bit and 64-bit)
Developed by Antibody software, WizTree is another excellent program that helps users identify the files using the most disk space on your computer. It is a freeware for Windows. However, the application has a 'Donate' button and urges large businesses to purchase its Enterprise plan.
WizTree might come last in our list of Windows disk space analyzer tools, but it's still worth a shot.
Notable Offerings: 
Extremely fast and easy to use program
Visual Treemap structure to quickly identify the large files and folders
Allows users to sort and categorize the hard drive contents
Compatible with Windows 10, 8,7, Vista, and XP (both 32-bit and 64-bit)
---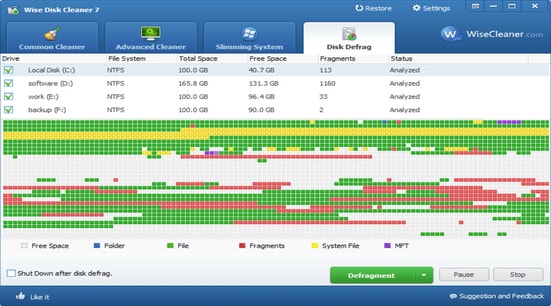 Price: Free
Supported OS: Windows vista, XP, 7, 8 and 10
Wise Disk Cleaner analyzes the files and then categorizes them accordingly in a file folder. The software offers various viewers to analyze, like common cleaner, advance cleaner, disk defrag, and slimmer system. After all the analysis, the user can proceed to clean up by just clicking the 'clean' button. Wise Disk Cleanup offers great features which makes it the best disk space analyzer software for Windows.
Notable Offerings
With its wise analyzer techniques, it detects useless files for cleanup 
Disk defragmentation is also offered by Wise Disk Cleaner. 
With a simple and user-friendly interface it clears the privacy traces on the computer.
Wise Disk Cleaner is compatible for Windows Vista, XP, 7, 8 and 10
The software is free to use
---
So, this was all folks! These are some of the best disk space analyzer software in 2023 on the basis of popularity, powerful features, and ease of use.
All of these aforementioned programs offer a wide range of file management tools to help you clean up your disk and reclaim lost hard drive storage space.
So, download any of these tools for your Windows machine now and get rid of low disk space problems in just a matter of seconds!
Monil is a professional writer whose forte is absorbing a lot of data and help large technical organizations convey their message clearly across multiple products. An engineer by qualification, his affinity for design enables him to write to inspire, energize, and influence various audiences to uncover their true potential. When not writing, Monil is likely to be found listening to music, traveling, or simply excavating into his favourite cuisines.
Subscribe to Our
Newsletter

and stay informed

Keep yourself updated with the latest technology and trends with TechPout.
Related Posts