15 Best File Compression Software in 2023 [Top File Archiver]
Published Date :
Dec 28, 2022

File compression software is the need of the hour, especially when we are running on low disk space and memory space.
Frequent sharing of large files like sending work documents, sharing pictures and videos with friends makes it even more important. Apart from this, compression software also ensures that you always have enough space in your system.
There are countless options available best file compressors in the market, but selecting the right option that is not only feature-rich but can also ensure lossless quality file transfer can be a highly difficult and time-consuming task.
To assist you in choosing the best compression software, we have picked out some of the best available options for you. Let's have a look at them.
What Are the Best File Compression Software in 2023?
Here's a curated list of the best file archiver and compressor software to help you shrink the size of your large files with ease.
1. WinZip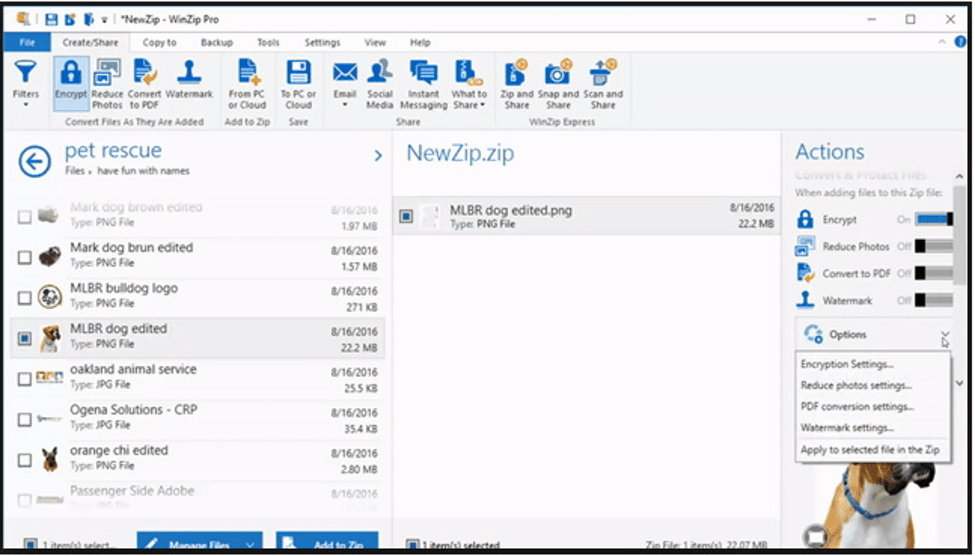 WinZip is undoubtedly the most popular and highly recommended compression software available in the market currently. It is a perfect way of compressing and decompressing files. Apart from it, you can also use it to share, protect, manage and backup files.
With WinZip, you can compress files in multiple formats including VHD, RAR, XZ, Zip, 7z, Zipx, VHD and many more.
This incredible software deploys encryption mechanisms to ensure the safety and security of data and information and can smoothly connect with cloud storage accounts. Apart from this, you can also use it to send Zip files as email attachments.
WinZip is compatible with the Windows platform and promises ease of usage and high-standard services to all its users. To start with you can choose its 45 days free trial period. Its standard package comes at an affordable price of $35.34.
---
2. WinRAR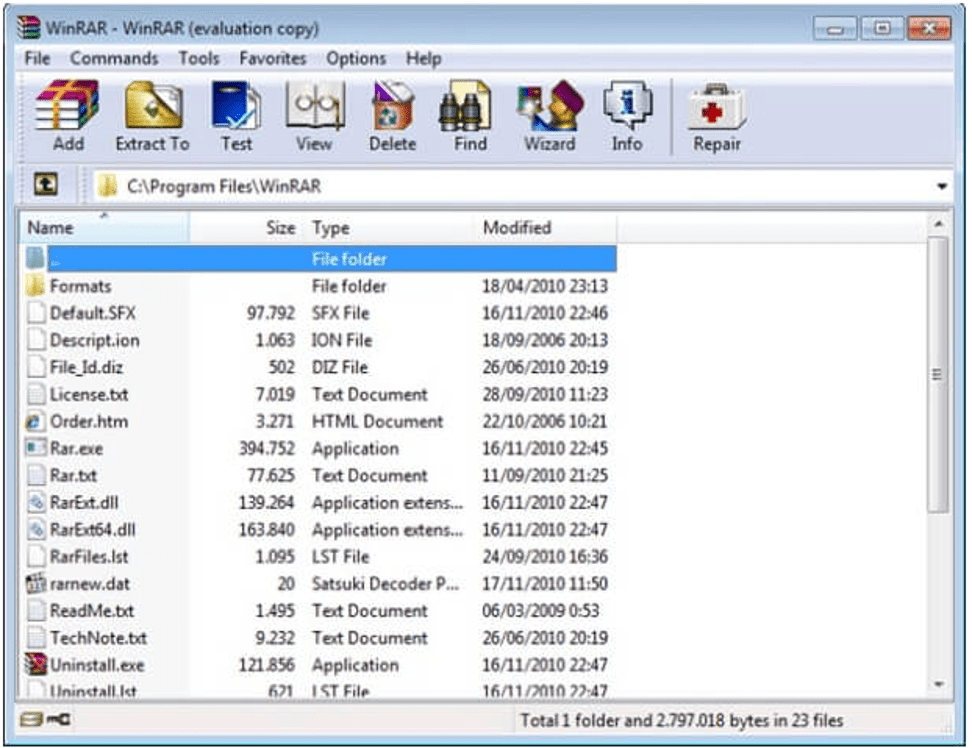 Next on our list of most popular and best compression tools is WinRAR. It enjoys a rich user base of around 500+ million users worldwide. It can support multiple compression formats like CAB, RAR, TAT, UUE, ZIP, ACE, etc.
Read Also: Best Folder Lock for Windows PC
WinRAR is one of the best-suited tools for compressing files for easy transfer, organized data storage, and faster email transmission. Also, its 256-bit AES encryption ensures a safe and secure transfer of files.
With its ability to split archives into multiple volumes, you can save files on multiple drives for better management of storage space.
WinRAR offers a free trial pack for 40 days after which you can opt for its paid version at $29 per user.
---
3. PeaZip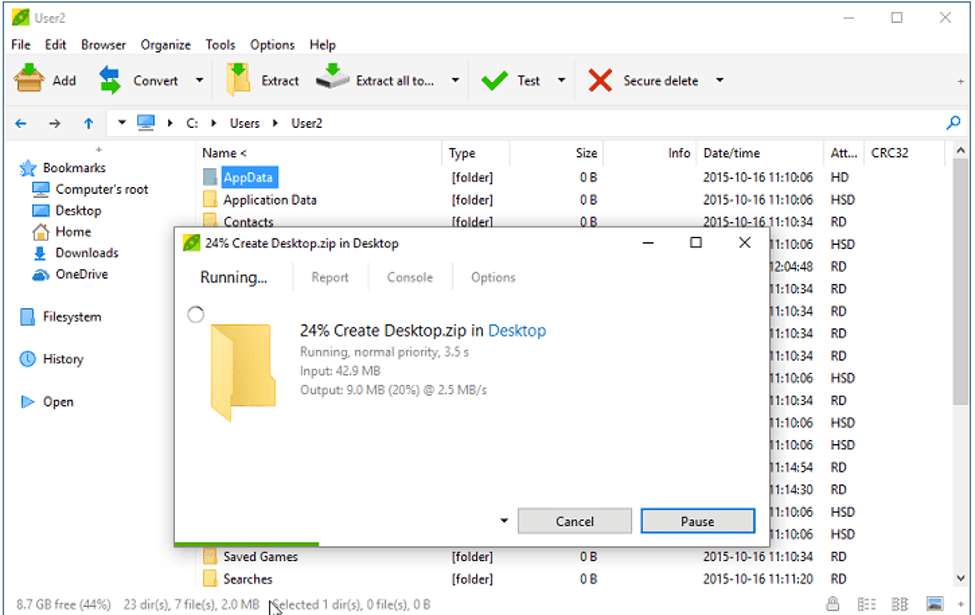 If your daily work requires frequent dealing with zipping, then PeaZip is a tool that you should try. It can support almost all compressed file formats that one may probably think of, including 7z, chi, chq, pk4, pup, pet, rar, vhd, Java, Open Office, Microsoft Office files and many more.
Enjoy easy file compression and archiving with this incredible software. Apart from this, it also comes with additional features like schedule archiving, encrypted password manager, searching duplicate files, splitting archives into different files and 2 Factor authentication.
Choose this fast and powerful compressing software to enjoy file zipping with ease.
---
4. 7-Zip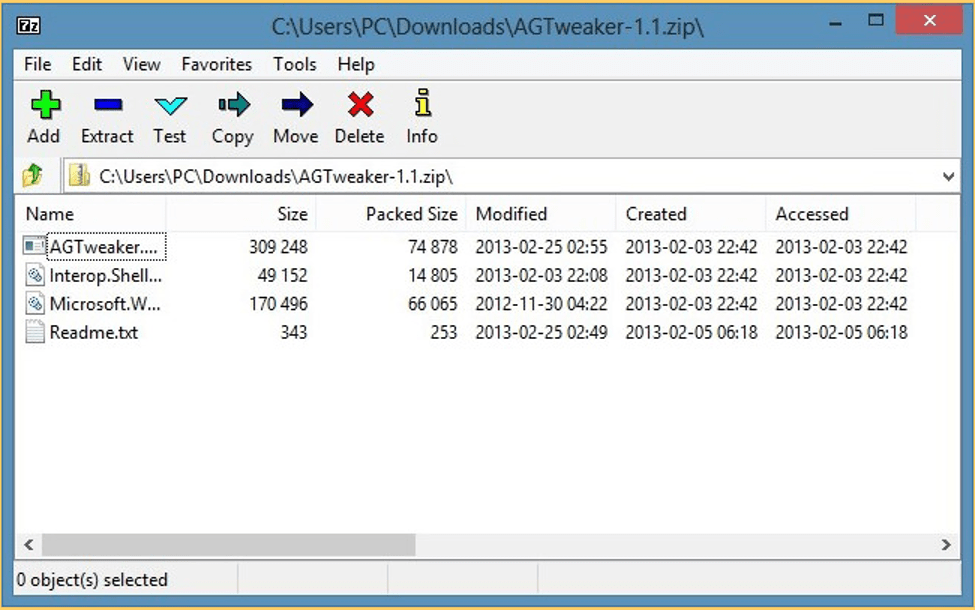 7-Zip is one of the best and free file compressor software. It's open-source software and comes in a light-weight 1MB size. Loaded with an array of extensive features it can zip and unzip almost all compressed file formats that are thrown at it.
With its sleek-interface, it gives tough competition to all its paid competitors. Strong AES-256 bit encryption, self-extracting capabilities, integrated file manager, a plugin for a FAR manager and integration with Windows Shell makes it highly suitable for both the commercial sector and business use.
It can also split your archived packages into multiple volumes for better space management. All-in-all 7-Zip is truly an exceptional unzip program.
---
5. Zipware
Zipware is known to offer simply working with efficient file compression capabilities. It comes with an intelligently designed interface and an integrated- virus scanner that can support archive files up to 32GB.
Besides various file archiving functionalities, it can also create password-protected files and split archive files into different volumes.
Zipware is a free file compressing tool that can support multiple formats like RAR, ISO, ZIP, WIM, CBR, PPMd, TAR and many more.
It is worth a try for all Windows users.
---
6. Ashampoo ZIP Free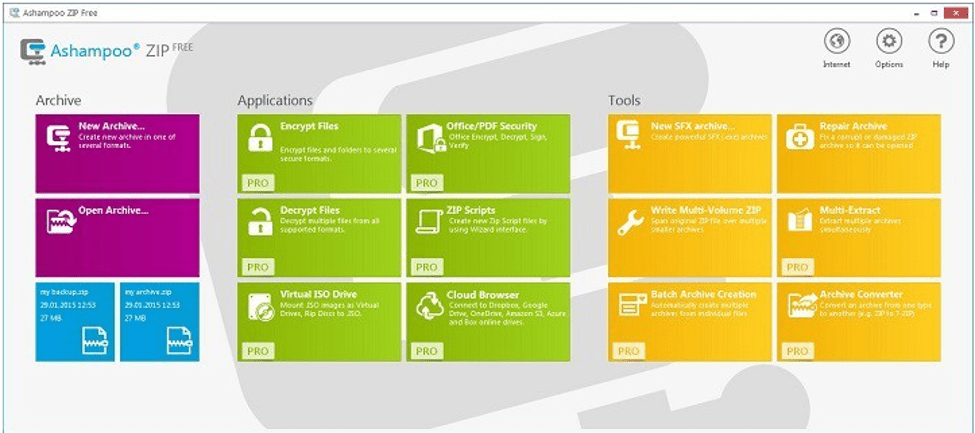 Nearly all computer users need a zipping tool from time to time, not only because they limit your file size but also because they support easy and convenient file-sharing capabilities.
Read Also: Duplicate Photo Finder and Remover Software for Windows
Ashampoo ZIP free is fully compatible with Windows devices and can support both the reading and writing of archive files. It comes with a strong file encryption mechanism with AES 256-bit strength.
It displays the progression report of file zipping on your system screen and allows quick access of important features with its tile-based design. You can also rearrange the tiles to give your screen a personalized look.
Enjoy easy compressing and decompressing features with Ashampoo ZIP free. Use this free tool to create, convert and repair archive files.
---
7. Bandizip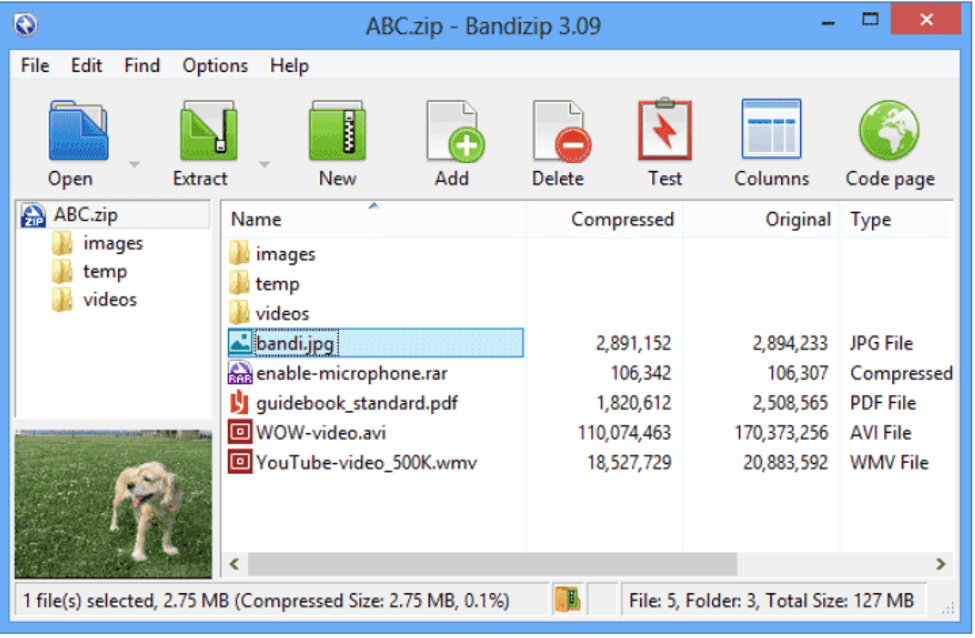 Next on our list of best unzip programs in Bandizip, It can not only compress but also open and extract zip files in various formats. It's a lightweight tool that supports fast file zipping, multi-core compression and high speed archiving.
The only downside of this incredible tool is that it can support only a few compression formats. If you want a handy and powerful compressing tool that costs you nothing, then Bandizip is a perfect choice for you.
---
8. Hamster Free ZIP Archiver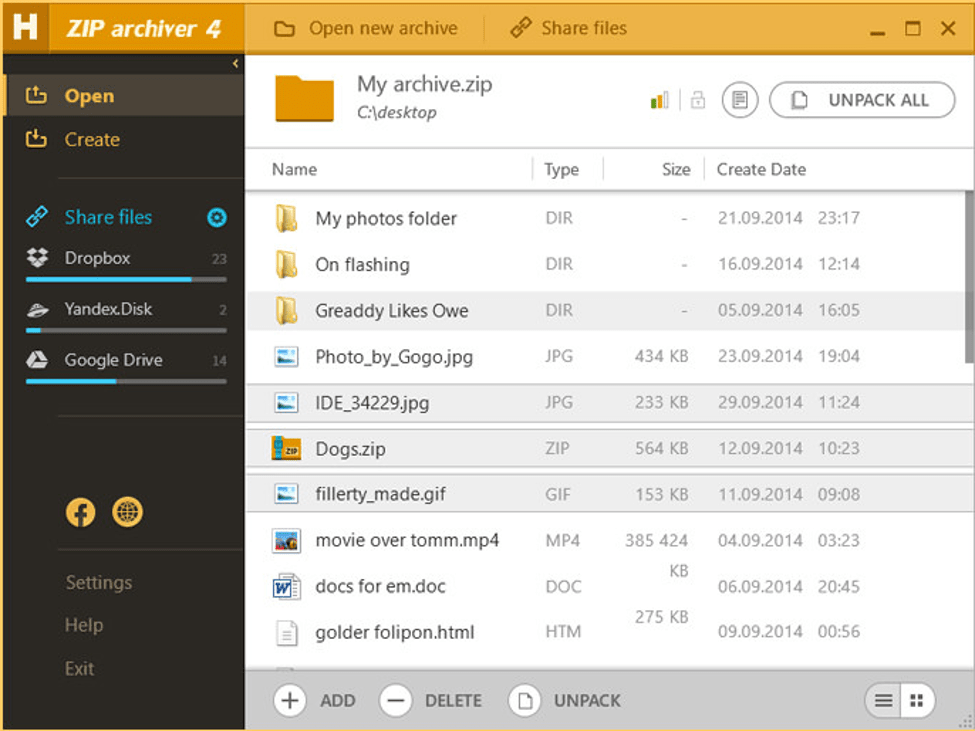 Hamster is a modern and powerful archiver tool that deploys a fast ZIP algorithm for easy compressing and extracting of files. It is fully compatible with cloud accounts like Google Drive, Dropbox, OneDrive, etc.
It supports all popular formats, APM, MBR, pmd, scap, xar, chm, XR, lit, odt are a few to name. Use it to create direct links to your zip files, enjoy a high- compression ratio and share zip files with your friends.
To download this free compressing software for your Windows system use the below link.
---
9. IZArc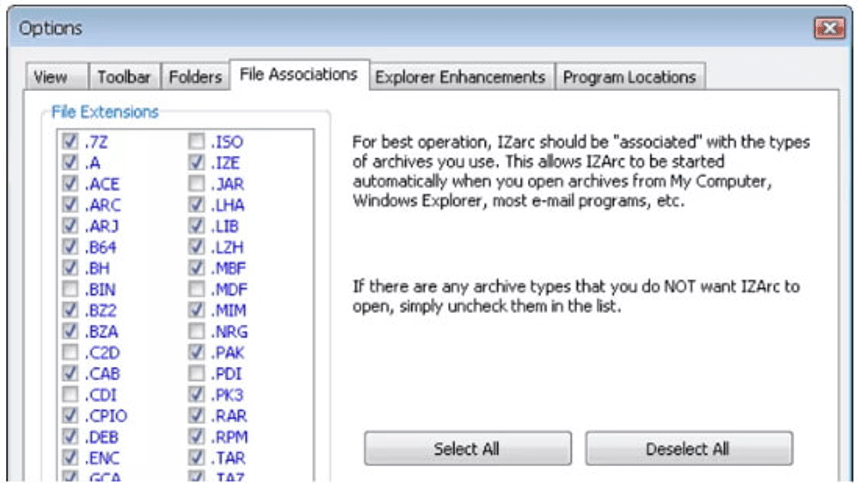 If you are looking for a free and best compression software that can support multiple formats then IZArc can be a good pick for you. Creating ZIP files with IZArc is incredibly easy, just drag and drop various files to and from your Windows Explorer.
Multi-language support, 256-bit AES file encryption, multi-language support, creating self-extracting zip files and repairing broken zip files are some of its notable features.
It can easily integrate with Windows platforms for easy working.
---
10. B1 Free Archiver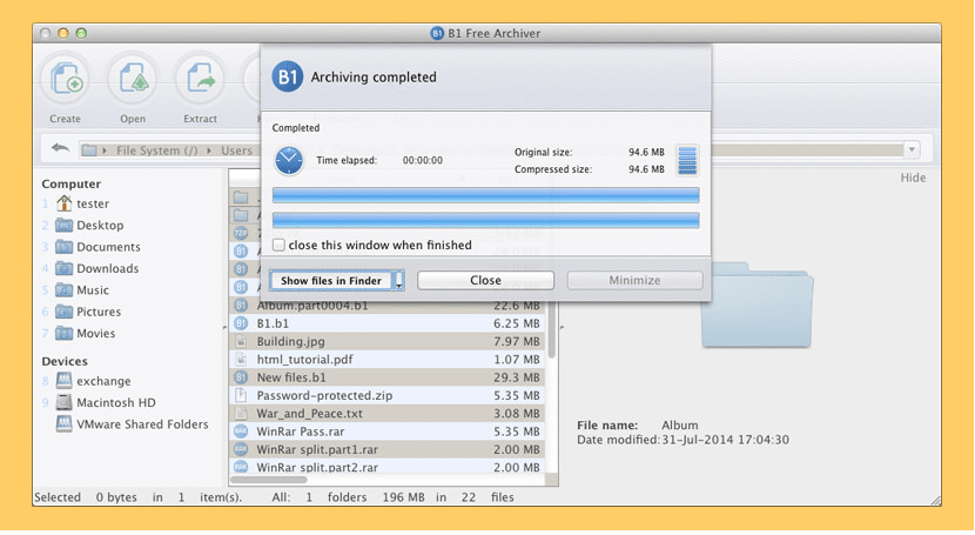 If you are looking for a multi-platform universal archiver software, then there is no better choice than B1 Free Archiver. This open-source tool is fully compatible with Windows, Linux, Android and Mac platforms.
Read Also: Best Automatic RAM Cleaner for Windows 10
It uses a 256 bit AES encryption to password protect your files and provides the best speed to compression ratio.
---
11. File Roller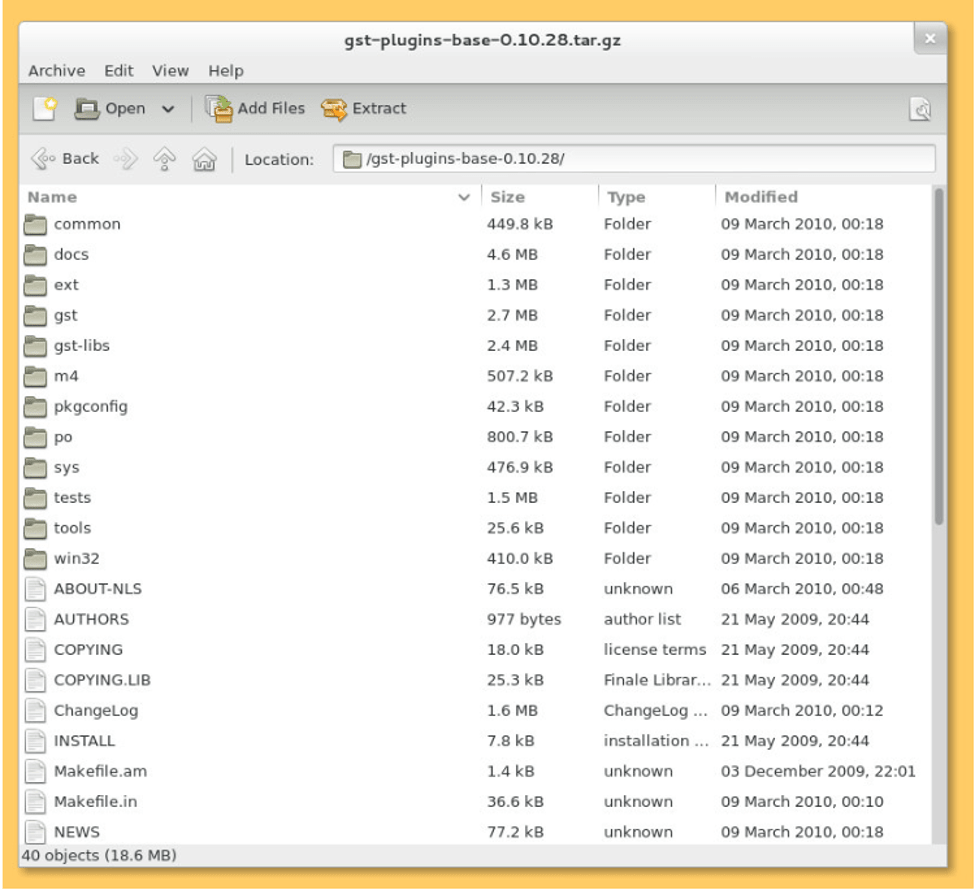 Another compression software that you can consider picking is File Roller. It works well on Linux and GNOME platforms and can create, modify, extract and view archive files with the utmost ease.
It can zip files in majorly two formats: Zip and TAR.
---
12. ZipGenius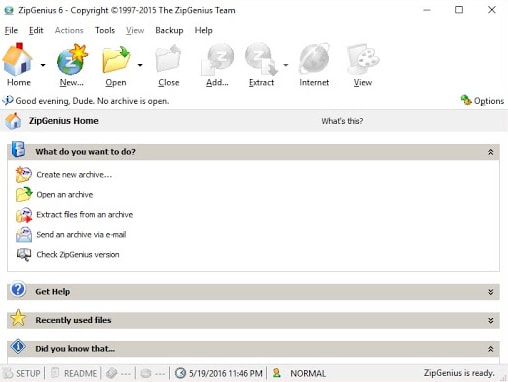 The next free file compression software for Windows on our list is called ZipGenius. It is an extremely powerful yet easy to use program, designed with keeping simple and intuitive interface in mind. Anyone who wants to create and share ZIP files securely using strong encryption algorithms should definitely try this versatile utility from The ZipGenius Team.
If you want to give this renowned file compressor tool a try, you can download it for free by clicking on the button below.
---
13. NXPowerLite Desktop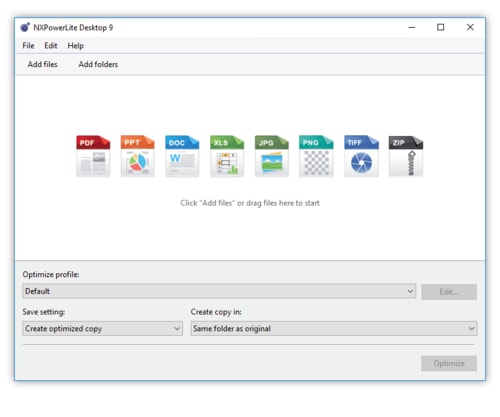 NXPowerLite Desktop is a great software that can compress various files without even affecting the original quality of the file. Using the software you can easily compress Excel, PowerPoint, JPEG, Word, and PDF files. While other software may compress a little and can affect the original quality but with this software, you can compress the file up to 95%. The software maintains the ratio between compression and quality. 
After compressing the file you can still get it back to the original quality and can also edit them. Moreover, it automatically compresses the files sent through email. It is a very effective software for people having office and multimedia work. 
---
14. Express Zip File Compression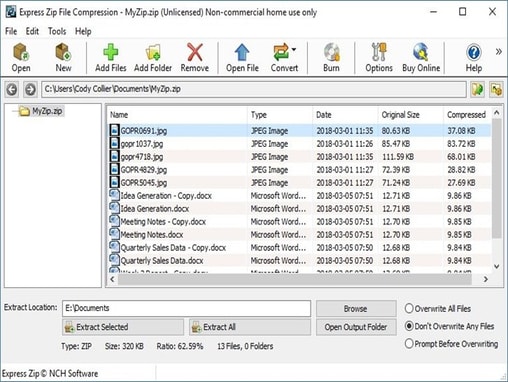 The free version of Express Zip File Compression is best to work on daily file compressing. With this software, you can perform tasks like zipping, unzipping, compressing. Other than this you can also open the compressed files using software like RAR, TAR, 7Z, and CAB.
The software support many file formats including .zip,.zipx,.rar,.tar,.tgz,.tar.gz,.gz,.gzip,.7z,.cab,.iso,.img,
.dmg,.arj,.jar,.bz2,.tar.bz2,.tar.xz,.wim,.xz,.z,.bkz,.nco,.apk,.lzh,.pkpass, Multidisk (.zip.00x), and Multidisk (.7z.001)
15. CAM UnZip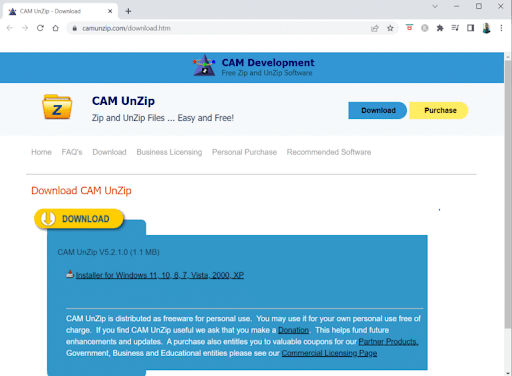 ---
Wrapping up
Listed above are some of the best file compression software that is currently available for use. Each one comes with a unique set of features and can support multiple compression formats.
Pick the best-suited tool and enjoy advanced compression features anytime, anywhere.
Prachi Dani is a technical content writer who specializes in areas of science and technology. She is highly up to date with technological transitions and transformations. Writing is not her passion but the only thing that carries satisfaction in life. If not writing, you may find her engrossed playing action games on her treasured smartphone.
Subscribe to Our
Newsletter

and stay informed

Keep yourself updated with the latest technology and trends with TechPout.
Related Posts