13 Best File Copy Utility Software for Windows PC in 2021
Cut, copy, paste. Sounds familiar?
Millions of us, transfer and copy files almost on a daily basis. Let us find out thus, some of the best file transfer software and file copy software for Windows.
If you notice, there might be typical days when we have spent not just one but a few hours in transferring files and copying files. But, let's say a typical file is quite large, then what happens? Of course, it takes a longer time for transfer. Several developers have come up with different data copy software applications that help you avoid the errors coming up during the transfer or copy of large files/folders from one system to another in Windows.
What Are the Best File Copy Utility Software for Windows?
Let's look at the detailed features of each of these best file transfer tools below: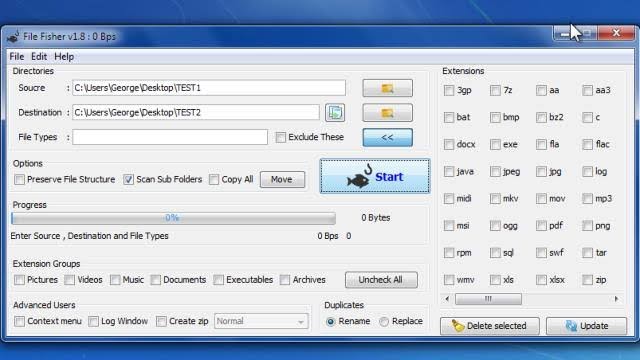 This is one of the most portable file copy software that can be used for copying and transferring the files from one system to another. This is also one of the fastest file copying apps available in the market.
The best part of using this app is that you don't have to download the app at all; instead you have to just drag it to your desktop and then simply run it in your system. In addition to it, you can also keep the app in your pen drive or your flash drive for smooth installation into your PC anytime. The interface is highly easy-to-use and quite interactive.
Since it supports a huge number of file formats, you can copy any file into your PC comfortably with the help of this app. Newcomers and experienced PC users can all use it easily and effectively.
Read Also: Best Bluetooth Software for Windows 10
---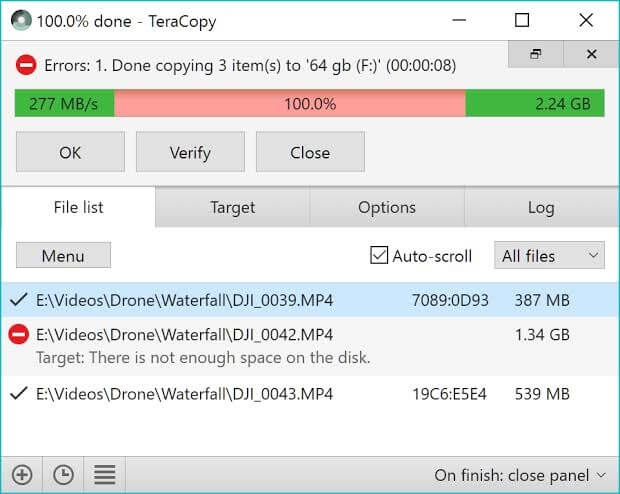 Use TeraCopy as data copy software to copy files comfortably within folders or into Windows desktop. TeraCopy provides a robust and interactive interface. This app is extremely flexible and is one of the most fast running apps. TeraCopy is available freely as well as in a paid version. The free version of TeraCopy also has a lot of features that help successful copying of files from one system to another.
With TeraCopy you can comfortably evade those files that seem to be troublesome and still continue copying rather than stop for some corrupted files. If you're wondering how would be the transfer over a network then let me tell you with the use of TeraCopy it is a lot easier and faster. You can drag and drop files that can prevent moving folders accidentally.
---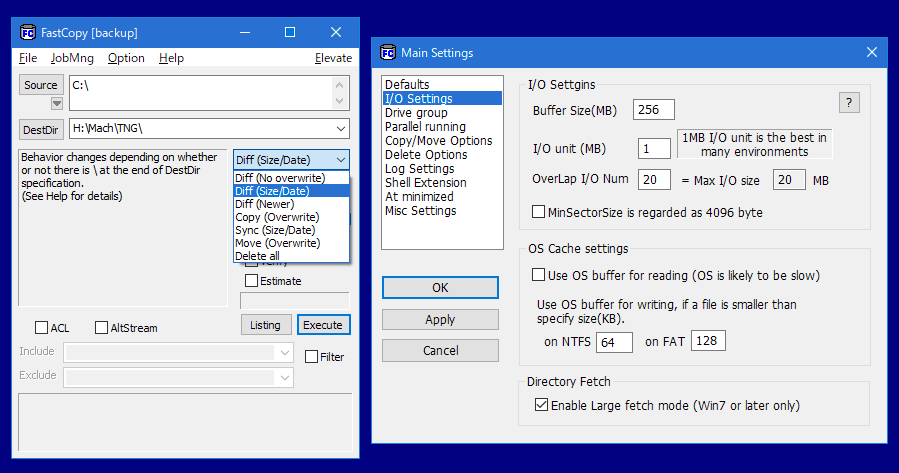 The interface of Fast Copy is not one of the most efficient ones but the app is definitely one of the most efficient fast copy software for Windows. Fast Copy is freely available as a program and helps you move the files rapidly from one network to another.
To ensure enjoying the best speed, it employs multiple threads to read, write, verify and also uses the overlapped and direct I/O systems.
Due to the interface not everyone can use the app comfortably especially if you're a novice, however, for an experienced PC user; it is indeed a wonderful copy software for Windows.
---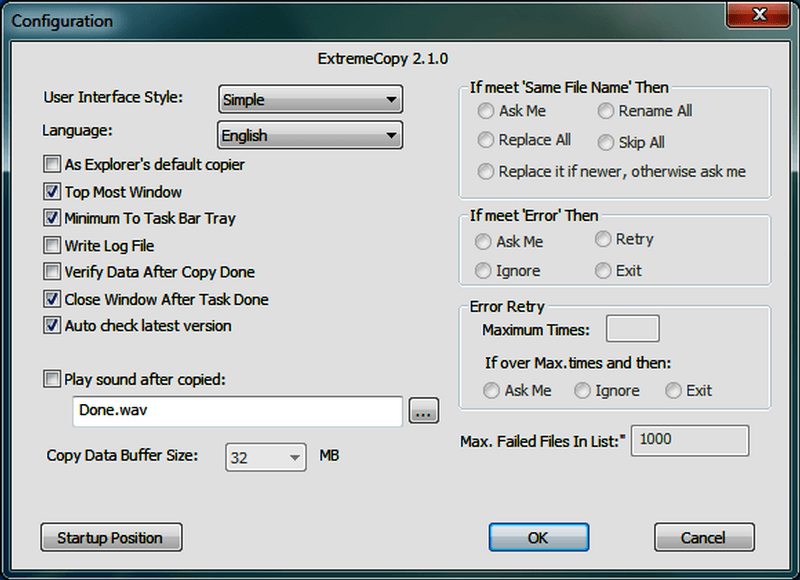 ExtremeCopy can help copy files from one system to another quickly. It can enhance the speed of the machine based on the physical structure of the machine. There are a lot of user-friendly features in the app. However, it would not support copying files from the network.
The program is capable of integrating with the Windows Explorer making it easier to use. Extreme Copy is not a software that supports file syncing but is one of the best file transfer software available.
---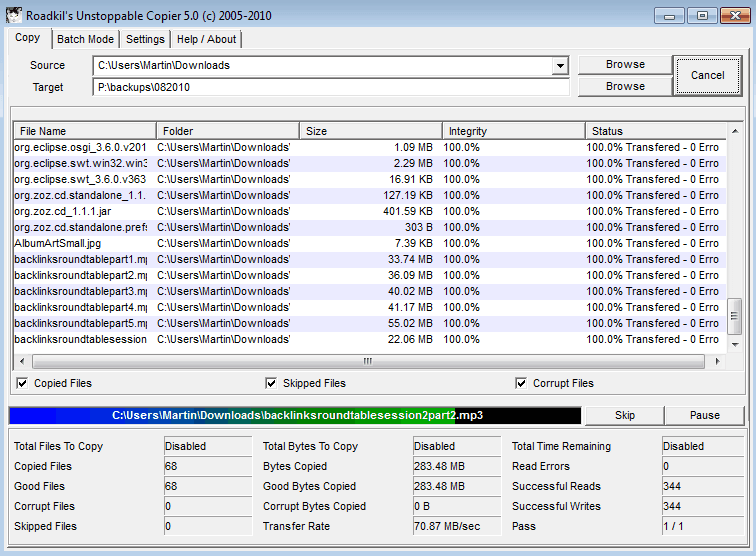 This app has been in use for a very long time. This file copy software functions at an enormous speed. Unstoppable Copier is a recovery solution that copies and transfers all your files from the directory.
The best part of it is that they also try to repair the faulty and damaged files. It works on any of the Windows operating systems except Windows 10. This is one of the best interactive Windows copy software that one can obtain.
Read More: Fix Copy and Paste Not Working Issue in Windows
---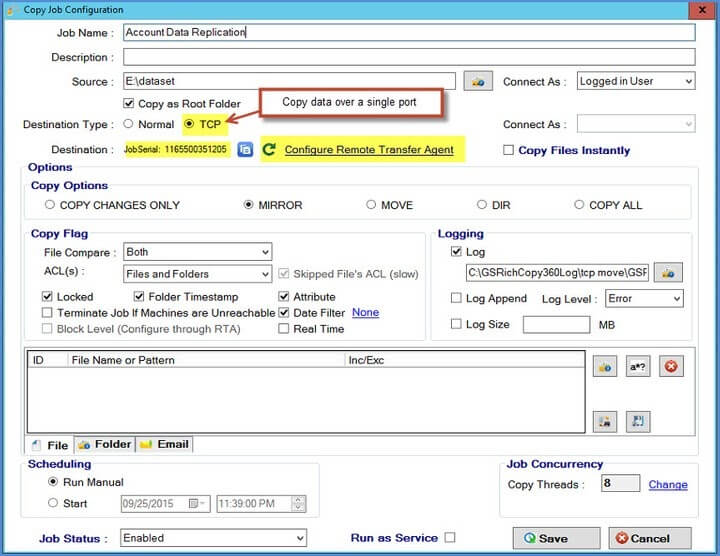 With GS RichCopy 360 copying many files from one system/folder to another is swift and quite easy.
In fact, there is a backup software with GS RichCopy 360 for MS Windows operating systems. This backup software can allow you to synchronize through the servers, Windows OS and also through various networks. You can always know and see all the copied tasks through a special Wizard interface available only with this tool.
---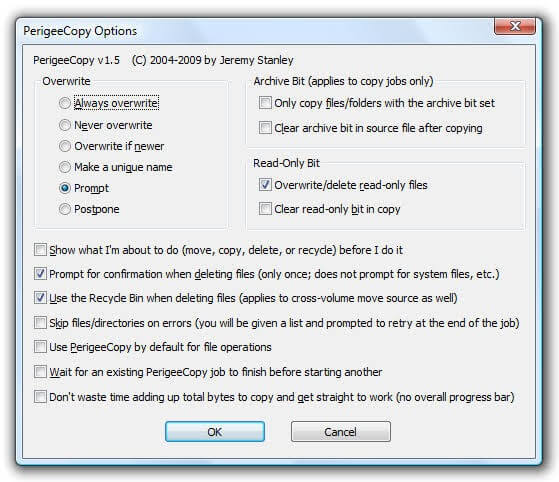 You can use this tool to copy the files from one system to another in the shortest amount of time.
If there are many files to copy from one server to another, then you know very well how long it takes to copy, if you use the default Windows copy function. Therefore, the Perigee Copy tool can offer a quicker solution.
It is an easy-to-use software with an interactive interface that is effective in so many ways. However, the drawback with Perigee is its incompatibility with Windows OS versions 8 and 10.
---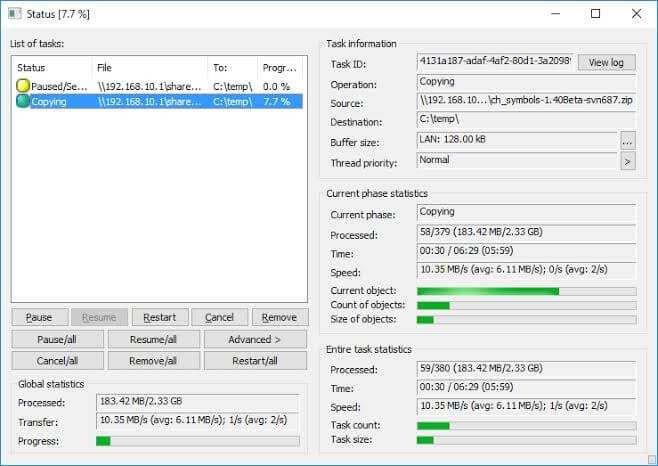 For those users who are always transferring multiple files from one system to the other, Copy Handler can help immensely in transferring bulk files in less time.
It is a free to use app. Copy Handler operates at a faster rate, and aids in pausing, resuming, restarting and cancelling the different functionalities. It supports many languages at a time. You can transfer files between drives and computers in quite a less amount of time.
Drag and drop functions are also supported by the copy handler. To note, Copy Handler would resume the paused and unfinished copying of all files with a system restart. It is an extremely easy-to-use app and its effectiveness and flexibility is worth applauding.
---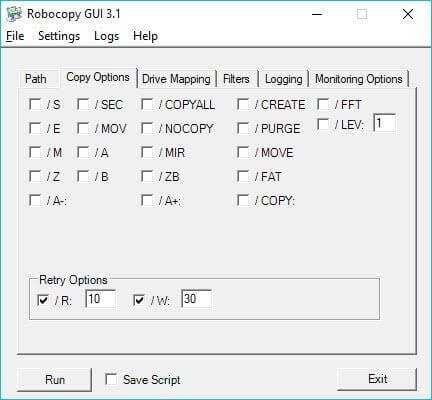 Robo Copy is not an app in actuality but rather a command-line utility to copy and transfer files from one server to another many times. Robo Copy replaces XCopy and has more offerings as a data copy software. If you have to run this utility, your command would be called Robo Copy.
It can work on Windows Vista and also on Windows 8. Robo Copy does not work on all PC's as it does not have an interactive GUI.
Read More: Best Proxy Servers For Windows
---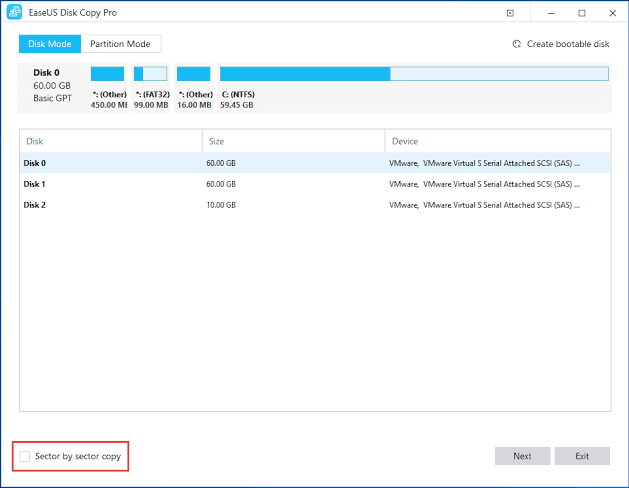 Are you planning to copy an entire drive?
You can call it more like a drive cleaner since it copies a drive to another drive. EaseUS disk is quite fast as a data copy software and the best versions for file copy are available for Windows 7, 8 and 10.
It is an extremely precise app and can clone the entire disk with perfect precision and accuracy.
---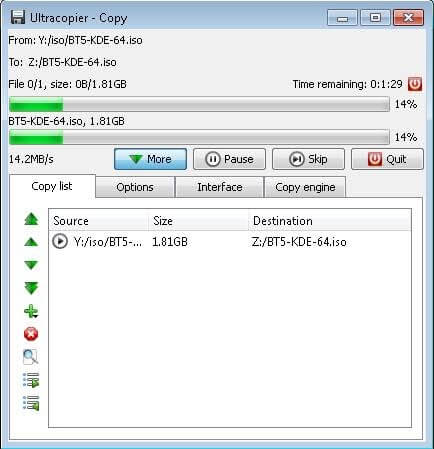 UltraCopier is an open source file copy software used to copy files. UltraCopier is very simple to use and has a multitude of premium features at your disposal for free. No matter how less versed you're with a computer, you can always use this particular software without any difficulty.
There are some features like start, stop, resume that you can navigate through comfortably. You can perform a multitude of copy tasks from one server to another. It is also compatible with Linux and macOS.
---
MiniCopier, a super-fast utility to copy files very quickly. It is a completely automatic utility for copying files. All you need to get started is – just drag and drop the files that you want to copy, in the red basket presented in the software's window. And, then it will begin the rest procedure automatically. It has the standard buttons as well such as Pause and Start. 
Though the user interface of this application is very simple, at the same time, it is very effective and productive too. Apart from this, it also keeps records of those transfers as well which gets dismissed. Overall, it is the best way to copy or paste files and folders in no time. 
---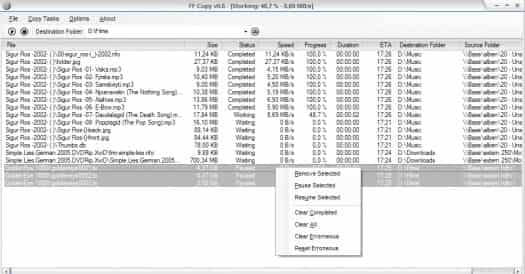 The next best file copy utility software for Windows in our list is FF Copy. It is a file transfer utility for Windows users. With this, you just only need to copy or paste the file to a transfer queue and then it will be copied in the sequence. Comparatively, it is way faster than other such kinds of utilities. FF Copy lets you transfer multiple files or folders simultaneously. 
Just in case, if the source becomes unavailable then FF Copy automatically re-generates the source and starts transferring the files after a while. It allocates the disk space and eliminates disk fragmentation. FF Copy is highly capable of boosting the speed of the entire process. Undoubtedly, if you are searching for the best way to copy files pretty instantly then you should rely on this amazing utility. 
---
Final Words
These are some of the best file copy utility software available for Windows in 2021. Most apps are quite efficient in handling the speed with which the files are transferred from one server to the other or from one network to the other.
Bulk file transfers and copying is possible with some of these apps as well. Some can also help you transfer an entire folder from one server to another. With some apps you can avail many premium features whereas with other open source platforms you can enjoy splendid features free of cost.
Snigdha is a technical content writer with expertise in the field of science & technology. Though she has a very diverse academic and professional profile yet she finds writing to be a creative form that she was unable to explore so far. When not writing, she can be found indulging in other forms of creativity like painting or travelling.
Subscribe to Our
Newsletter

and stay informed

Keep yourself updated with the latest technology and trends with TechPout.
Related Posts