Read this detailed post to learn which are the best Fan control apps for Mac available in 2023 that you can try in order to keep your device running cool and smooth. 
Many Mac devices, including laptops, have great performance, adequate storage, and good RAM power. On these devices, it is simple to manage various activity types and run larger apps without problems. Yet, the issue of a system overheating during prolonged usage or as a result of high-power application performance is critical.
You can use the best free Mac cleaner software to shut down background processes, remove unnecessary files slowing down the system, and enhance performance to prevent the Mac device from overheating. Or, you can monitor and manage fan speed by using the best fan control apps for Mac.
But, before we start, it would be great to know how the fan-controlling program is useful for your Mac.
Why is it Necessary to Use Fan Controlling Software?
Games and other applications like photo and video editing tools put excessive pressure on the GPU and CPU. They produce more heat than other applications and consume a substantial amount of power to function.
The best fan control apps for Mac are primarily used for this purpose since they allow the system's extra heat to be released. Afterward, there is no hardware damage and the CPU does not overheat significantly or quickly.  The internal fans' speeds can be effectively managed with the aid of fan control apps.  It's crucial to remember that Mac devices' fans are helpful for controlling system temperature and power.
A List of 7 Best Fan Control Apps for Mac in 2023
Numerous programs actually use fan speed control to solve the issue of a Mac device overheating. We examined a variety of Fan control apps for Mac available online and tested them out. And, to help you out, we came up with a list of the top seven options. Without further ado, let's get started:
1. Macs Fan Control
Macs Fan Control is one of the greatest solutions for the problem of Mac devices overheating. It has reliable monitoring sensors that use the SMART method to monitor temperature and fan speed. To automatically change fan speed based on device actions, you can create and set up specific options in your device.
By using this fan control software, you may view a list of all active temperature sensors and fans in two tabular formats. Moreover, there are two fan control features available here: Custom and Auto.
The user has complete control over the software for the former, utilizing sensors & RPM numbers to control fan speed. The system regulates the fan speed when the Auto fan setting is selected, and you receive real-time information.
Key Features of Macs Fan Control:
Real-time monitoring of fan speed and temperatures.
Manually controls the fan speed.
Customizable and unique fan speed presets.
Also Read: Best Image Viewer for Mac
---
2. TG Pro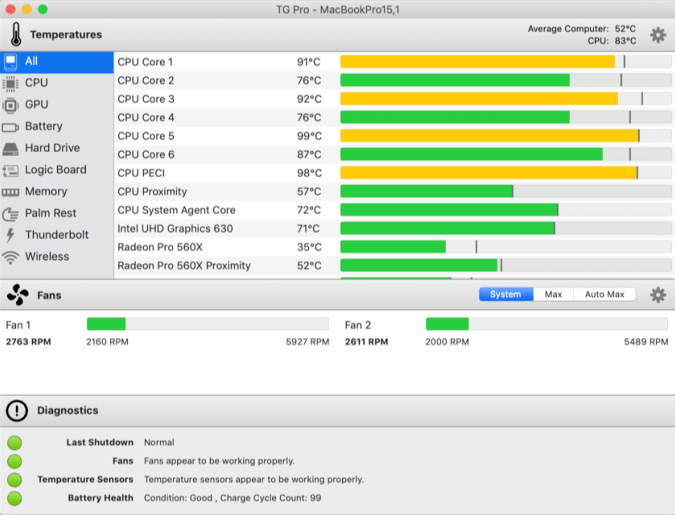 TG Pro is another one of the top Mac fan control tools that is useful for carefully controlling fan speed and system power. It is simpler to access all important information regarding the logic board, GPU, CPU, HD temps, and battery power when using this application.
Strong diagnostic capabilities in the software allow it to identify the causes of issues like the Mac device overheating. When the system temperature is cooler, users can either manually adjust the fan speed or let the software do it automatically.
You can anticipate extensive information about the occurrences after this procedure for your future reference. The TG Pro program is a useful tool for performing further maintenance and assessing the overall health of your Mac.
Key Features of TG Pro:
Uses sliders in order to control fan speeds more efficiently.
Effortlessly links fan speed to temperature.
Automatically saves your diagnostic logs.
---
3. iStats Menus 6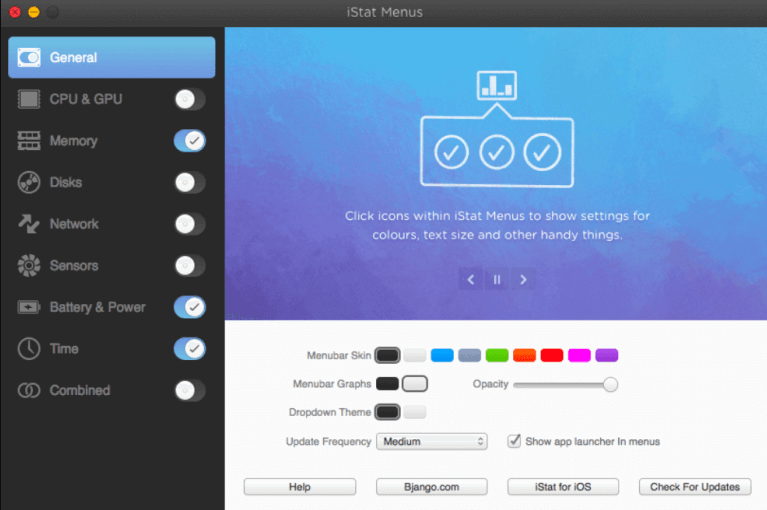 One of the best fan control apps for Macs is iStat Menu 6 available in the market currently. The user experience is excellent with a modern, user-friendly design that is compatible with newer models, a variety of theme and color options, and customizable dropdown menus.
Depending on your preferences, you can adjust the background settings from dark to light. It is simpler to access the app, check the status of the CPU, disc, RAM, and other components of the system, and get detailed graphs. You can suspend the application and temporarily turn off menu bar functionalities.
For easy understanding, the software accurately captures and analyzes GPU and CPU data, including individual core utilization, load averages, frequency, and uptime.
Key Features of iStats Menu 6:
Provides detailed information about the temperature and weather.
Real-time notifications on the CPU, network, disk, battery, and more.
Controls the fan speed according to the current rate of temperature.
Hotkeys for easy and quick keyboard access.
Also Read: Best Uninstaller for Mac
---
4. SmcFanControl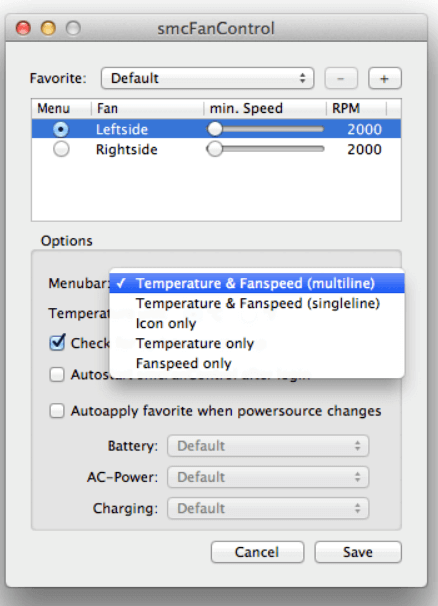 Another excellent tool that Mac users can use to monitor and control the fan's speed is SmcFanControl. You can change the minimum speed limit for the built-in fans with this program. You can boost the fan speed to cool the system when it gets really hot.
Users are not permitted to set the minimum fan speed to be less than the industry standard for Apple products. This action helps prevent hardware deterioration during the fan speed switch. You may examine the specific information about the boot disc, CPU, and GPU conditions with this software, and you can control their fan settings. It is one of the best free fan control apps for Mac that you can consider to ensure smooth operation.
Key Features of SmcFanControl:
The invisible text feature is available on any macOS Sierra device and can be accessed even in dark mode.
Its Sparkle Updater function contains upgraded and advanced features.
Compatible with macOS 10.7 or higher versions.
---
5. Temperature Gauge
The fan speed control app called Temperature Gauge was created by the same company that created TG Pro. Temperature Gauge is sufficient if you don't know much about technology. Then you can update to TG Pro without charge if you later change your mind! Similar to TG Pro, Temperature Gauge notifies you when something is overheating and provides all the information you require about the temperatures of your hardware. Whenever you like, you can also manually raise the fan's rpm. In sum, Temperature Gauge is the best free fan control app for Mac that you can try.
Key Features of Temperature Gauge:
Monitors the fan's RPM and current speed.
Gives customizable fan speed values.
Quickly exports/renders diagnostics data.
Notifies you when overheating is detected.
Also Read: Best Free Partition Software for Mac
---
6. HDD Fan Control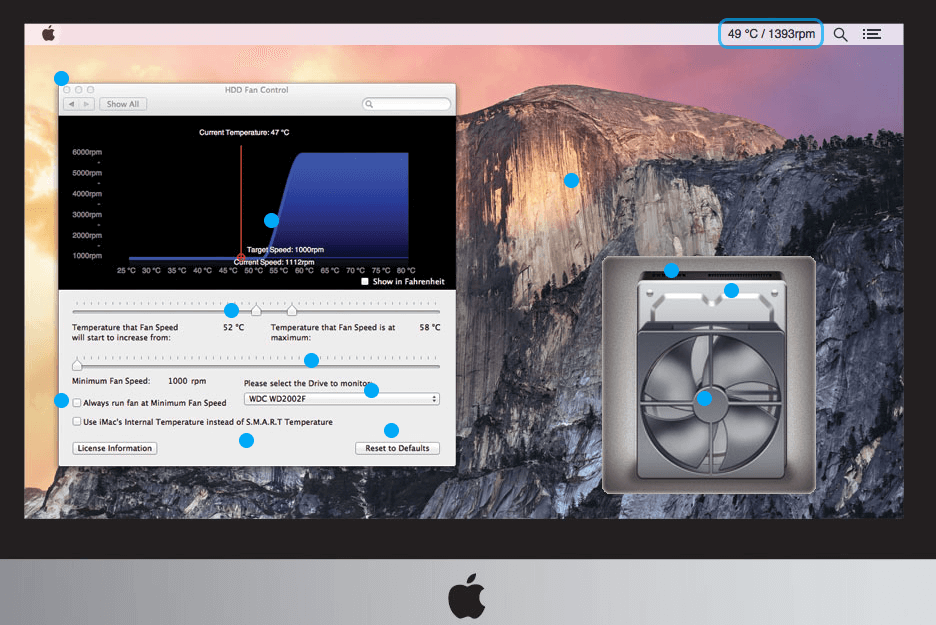 The easiest way to maintain ideal temperatures for the HDD and SSD in your iMac is to use HDD Fan Control. By optimizing the fan's rpm, the fan noise will be greatly reduced. Moreover, HDD Fan Control is safer for non-techies to use because it modifies the fan speeds based on how hot your drives are to prevent unintentionally overheating your gear.
The best feature of this tool is that it does not rely on Apple's default temperature sensors. Instead, it obtains the information it needs using the built-in SMART interface of the hard disc. The program will still make an apt guess as to the temperature of your hardware based on the other sensors even if your HDD or SSD doesn't have a SMART interface.
By configuring a unique relationship between fan rpm and HDD temperature, you may strike the ideal balance between temperature, cooling, and noise.
Key Features of HDD Fan Control:
Shows a status bar with the current speed of the fan and HDD temperature.
Eliminates fan noise.
Access data from the SMART interface.
Automatically controls the fan for optimal SSD/HDD cooling.
---
7. Hardware Monitor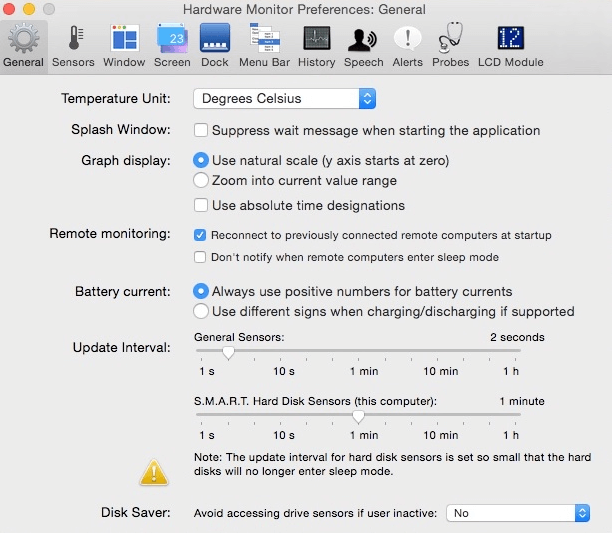 Last but not least, this Mac utility gives you full access to comprehensive data regarding the present condition of your machine. The app provides complete information about battery, processor type, disk drives, temperature sensors, physical & virtual memory, and several others. This fan control comes with an integrated manual guide that teaches you how to handle it and what capabilities are available. The software also displays the current ambient temperature on your Menu bar and Dock.
Key Features of Hardware Monitor:
Various display modes are available.
Powerful and unique control options.
Real-time power usage monitoring.
Quick and efficient customer support.
Also Read: Mac CPU Temperature Monitor Apps
---
Final Words on Fan Control Apps for Mac
Your Mac laptop's life may be shortened if the device's fan is constantly running at full power. Overall, how much pressure you put on machines and how you support them will largely determine how long they endure. Using the best fan control software for Macs is one surefire approach to increase their durability.
We hope you found this article informative and helpful. Please let us know in the comments box below if you have any questions or better suggestions regarding the Mac fan control apps. For more tech-related information, you can follow us on Social Media and subscribe to our Newsletter.
Harshita Sharma is a technical writer with quite a distinct understanding of the tech realm. She is a tech enthusiast who believes that tech knowledge should reach one and all and tries to convert the sketchy knowledge into the simplest possible form for making people understand the tech world better. When not playing with words, she loves to travel and explore new places. And, is a coffee & cricket connoisseur.
Subscribe to Our
Newsletter

and stay informed

Keep yourself updated with the latest technology and trends with TechPout.
Related Posts