18 Best Windows 10 Customization Software In 2023

Over time the performance of your computer system can degrade and requires few tweaks and adjustments for smooth running. A regular touch-up of your computer is what you need. Stay tuned to learn about the best powerful tools to customize your Windows 10.
But adding a personal touch to your Windows 10 PC can be highly difficult, you might need to make regular visits to the control and settings panel of your device to boost the overall health and working of your PC. 
Windows is by far the most used operating system in the world but fails to meet the varied customization needs of its users. Thankfully, the technology market is filled with an ocean of best Windows 10 customization software. 
If you are a user who spends hours in front of the computer screen and is wondering what is the best desktop customization software, then you are at the correct place. 
In this article, we will discuss various tools to customize the desktop of Windows 10. Let's have a look at them one by one.
What Are the Best Tools to Tweak & Customize Windows 10 Devices?
Shortlist the best customization tool for your Windows computer from the list below!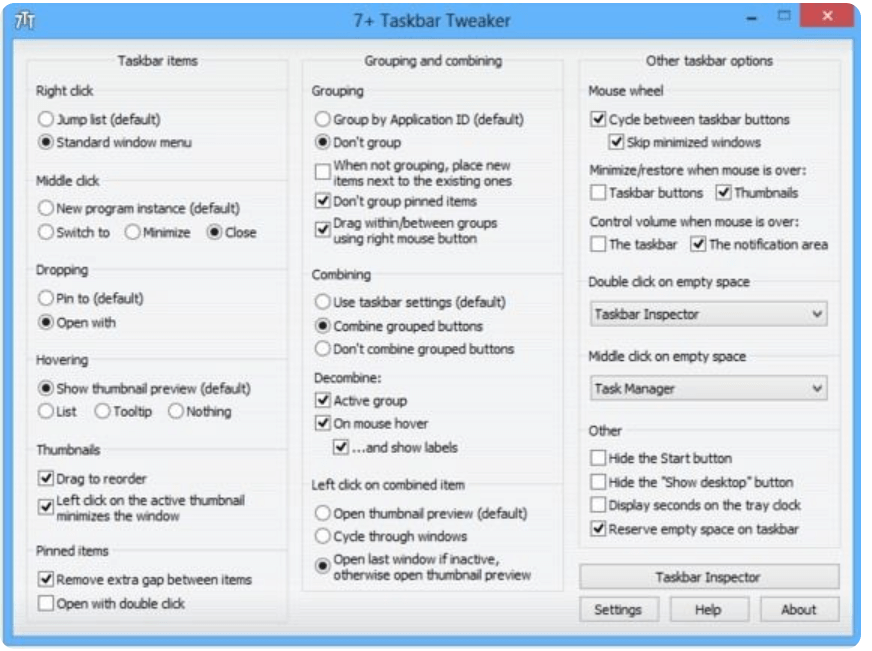 7+ Taskbar Tweaker is one of the best Windows 10 UI customization tools for fairly good reasons. It comes loaded with several customization options with which you can easily alter and set different settings and aspects of your Windows Taskbar. 
The tool is fully compatible with various Windows versions including 7/8/8.1 and 10 and has close to 30 different settings to tweak the default setting of your device taskbar.
Read More: Best Program Launcher For Windows 10
The best part of this Windows 10 taskbar customization software is its highly elaborate and descriptive interface. Its taskbar is categorized into simple actions including the action of mouse buttons, group management, and much more. Enjoy effortlessly and interactive tweaking with this amazing tool.
Key Features of 7+ Taskbar Tweaker
The software lets you change various things on your computer display including taskbar options
Using the software you can even change the role of right and middle-click
It has a very simple yet descriptive interface which will not take much time to adapt
The software is lightweight and doesn't use much of your computer resources
---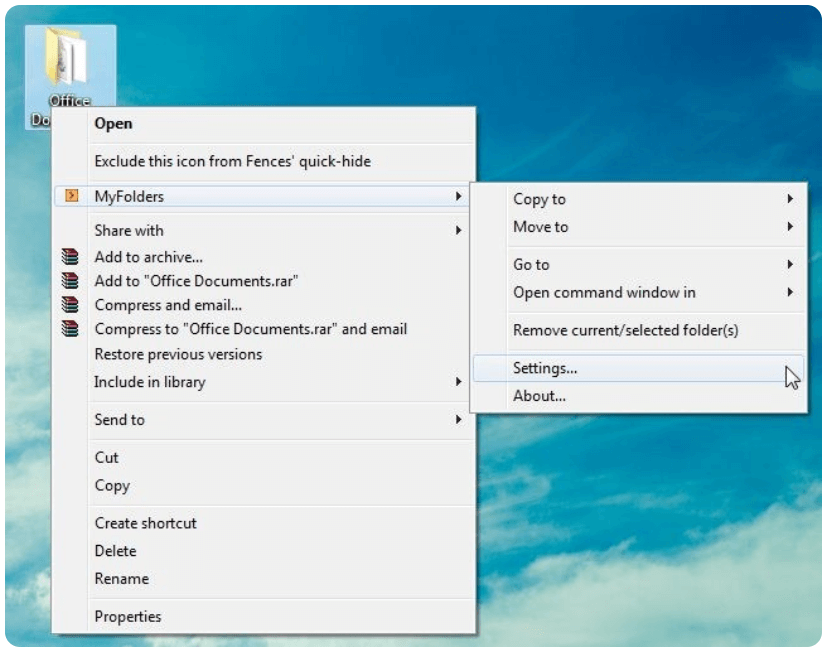 This lightweight and handy tool is our next pick for the list of Windows 10 tweaking tools. The tool is powered with a class-apart working methodology and adds a context menu entry to your device. Easily access various folders and manage their location using the context menu. 
Once you have added the folders to the menu, right-click on the blank space on your desktop and hover your mouse on the MyFolders option. Next from the displayed list choose the Go-To option to access and open the folders that you have added.
A simple right-click will help you add/remove and access multiple folders. Enjoy easy access and management of multiple folders with MyFolders, the best Windows 10 tweak tools.
Key Features of My Folders
This is free to use software that keeps on getting regular updates
The software makes your work easy but adding an option on your right-click menu
You can easily add a folder which you use mostly for copying or moving files
Setting up this software is also very easy
---
If you are searching for a handy yet efficient Windows customization software, then Winaero can be a good pick. The tool comes with a simple and clean interface focused on fixing the nuisances in your Windows 10 device. You can use it to alter and tweak registry settings, hidden settings, and much more. 
It is powered with a massive list of customization options that can help you change icon style, prevent your device from restarting after the update, configure update settings, change and disable the lock screen, color title bar, view the last login time, and much more. 
For a better user experience, each customization option comes with a detailed description.
Key Features of Winaero Tweaker
The interface of the software feels like a Device Manager window which is easy yet simple
You can easily fix the irritating new updated option with this software
It can be used for altering the registry and hidden settings
You can even change icon style, default settings, change the color of the title bar, and other things that can be adjusted
---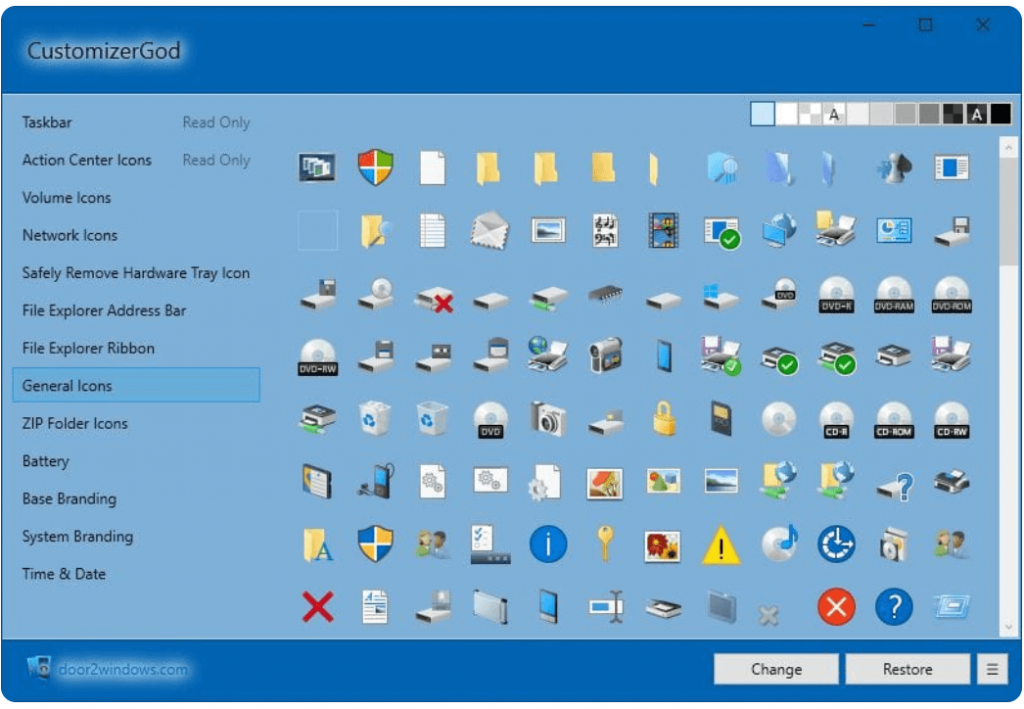 If your search for the best Windows 10 customization tool in 2021 is still going on then try CustomizerGod. Use this incredible application to tweak the toolbars and taskbars of your device as per your taste and requirements. In addition to this, it also allows you to change the icons.
It comes with easy-to-use functionalities and is known for its effortless working style. Choose this Windows 10 tweaking tool to customize third-party files, retake and restore system backups and much more.
Key Features of CustomizerGod
The software has a great Windows 7-like interface which includes icons more
You can change single as well as multiple resources at once using CustomizerGod
If you by mistake choose the wrong option then you can simply restore it
The software offers you features that you can use to add shortcuts
---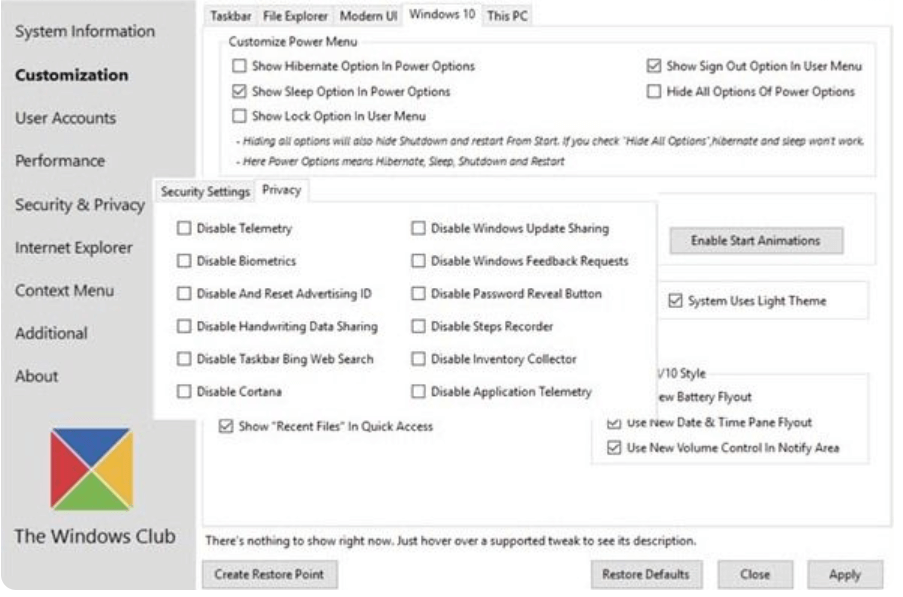 Next on our list of best Windows 10, UI customization tools is Ultimate Windows Tweaker. Just as its name it is an ultimate tool that users can use to make changes in their Windows device. 
Its clean and convenient UI helps you effortlessly tweak Windows 10 settings and comes with around 200 tweaks that you can try. Privacy tweaks, context menu tweaks, security tweaks, and performance tweaks are a few of its highlight offerings.
Key Features of Ultimate Windows Tweaker
The software gets regular updates to avoid bugs and error
The software doesn't even take MB space as it needs 680 KB
It has more than 150 tweaks and settings to help you customize your PC according to the needs
The recent update for the Microsoft Edge tab for the browser section
---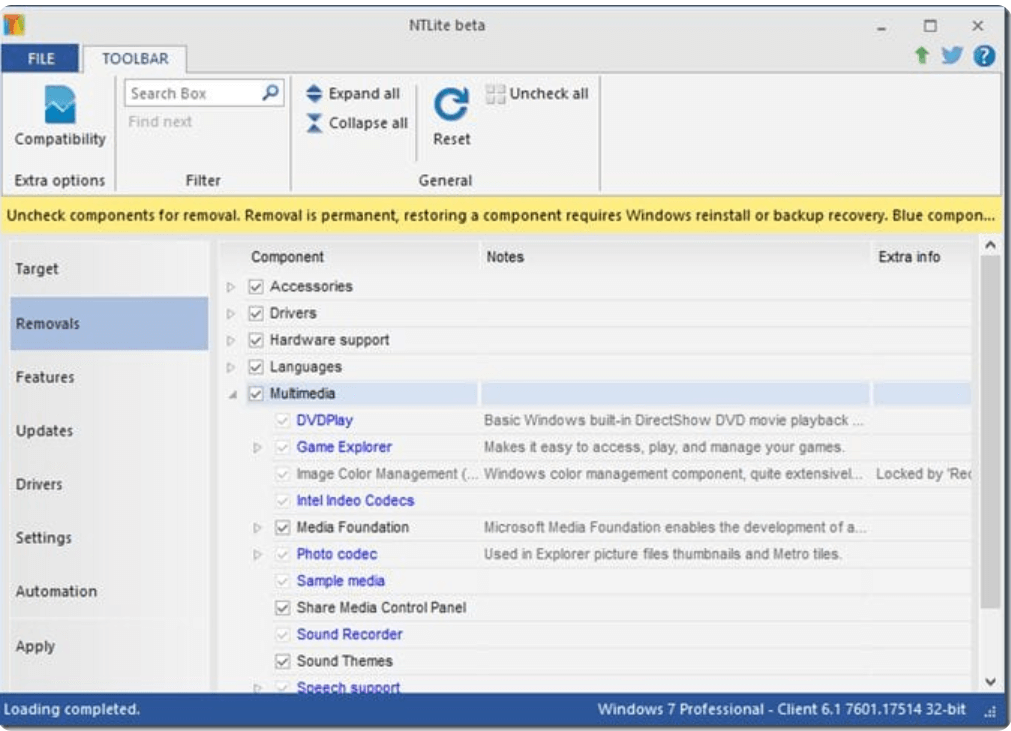 Read More: Best Disk Space Analyzer Software for Windows
NTLite is an indirect tool that can assist you in customizing your Windows 10 installation. Add a personalized touch to your installation setting by creating a custom integrated driver, adding new device drivers, themes, DVDs, wallpapers, etc. 
With this incredible Windows 10 UI customization tool, you can also update downloads, edit registry settings, use live edit mode, and set language integration.
Key Features of NTLite
It has a separate image management section where you get an image list, presets, and many other details to help you be more productive
You can check Windows updates along with languages integration
You get options for app integration and unattended setup to manage your downloaded apps
It does not require a great PC to run it, you can have it on 32 and 64-bit OS.
---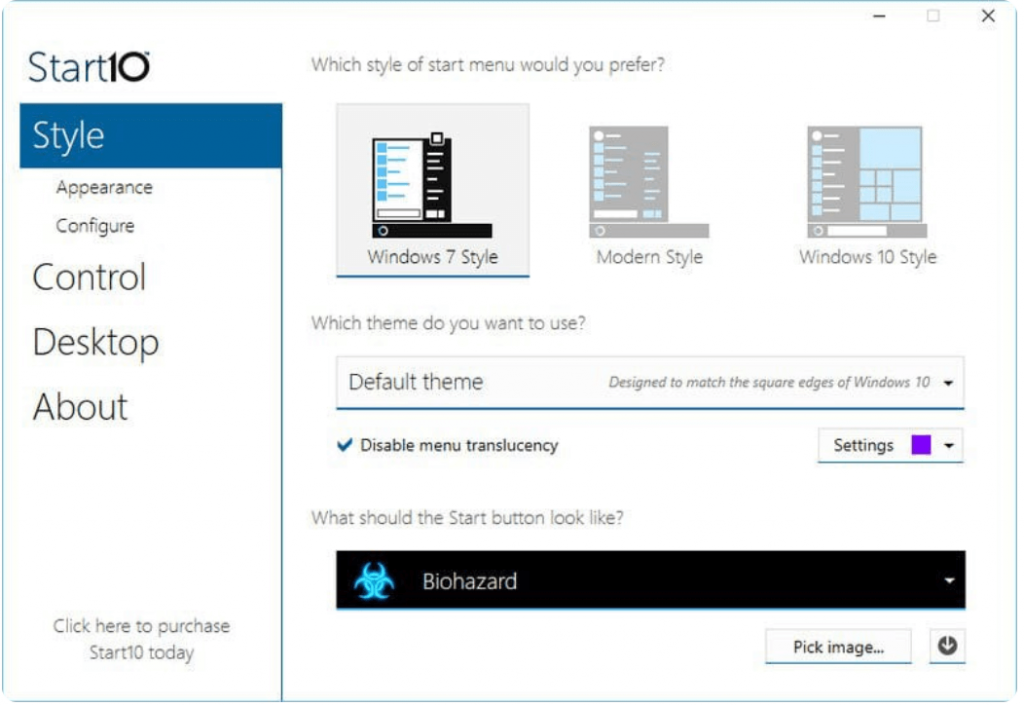 Start 10 is an all-in-one and best Windows 10 customization tool. With this powerful tool, you can tweak your start menu by adding images, icons, and colors of your own choice in a hassle-free way. 
Using it is quick and easy and it comes with an intuitive interface. Take the control of the Start menu in your hand and change the location, size, and items to be displayed on your desktop. Use it to tweak the overall appearance and configuration of your Stadt menu with Start 10.
Key Features of Start 10
The software supports multiple languages other than English
You can add a quick access menu on your start menu to be more effective
It lets the user customize according to the needs
You can even replace the start menu with the classic version
---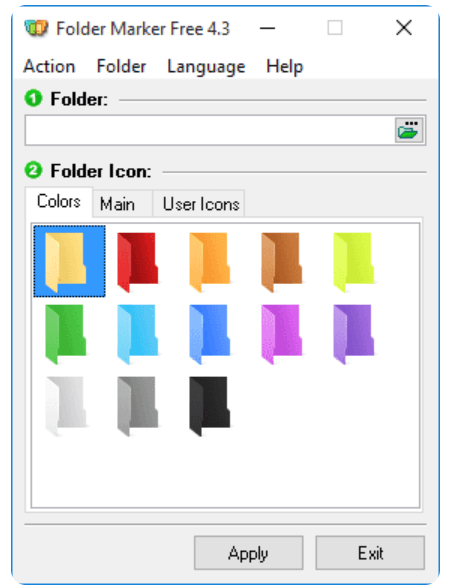 Customize the default of your folders with Folder Maker. It is a freeware application and can be used to set different icons for various folders. Apart from this, you can also use it to change the color of your folders and interchange the defined icons. 
Personalize your workspace and get it organized in a hassle-free way with Folder Maker. You can also add labels to your folders based on their status, importance, and priority.
Key Features of Folder Maker
This program lets you organize all you task and program process easily and on the basis of importance
You can easily identify the folder which are important and whose deadline is near
It offers many options to change the icons of the folder along with color options
It takes seconds to adjust the folders and their icons
---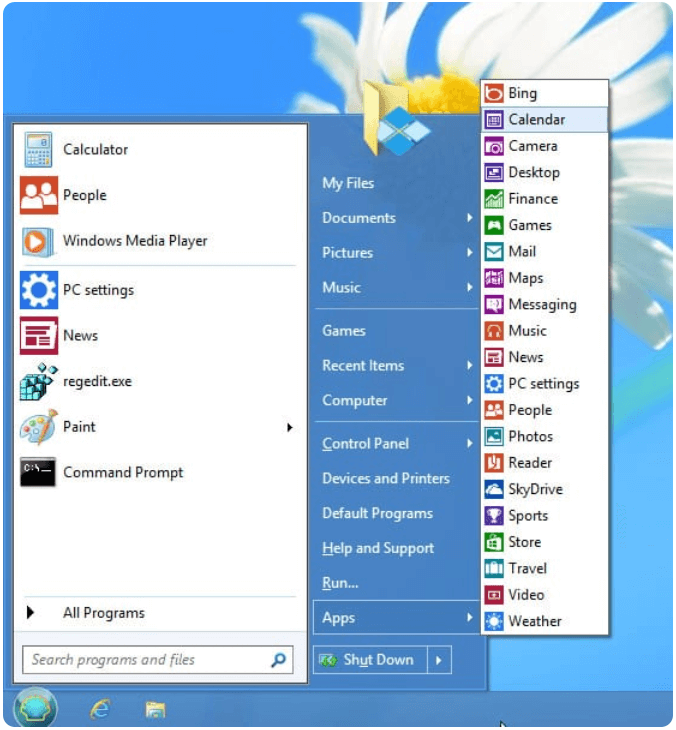 The Start menu in Windows is by far one of the most perfect menus, but still has a lot of scopes. It is a powerful and easy-to-use tool which can help you tweak the Start menu of your Windows device. 
For instance, if you have recently upgraded your Windows 7 system to Windows 10, then use Classic Shell to customize the start menu of your recently updated device. It is loaded with plenty of settings and customization options. You can also use it to make your taskbar transparent.
Key Features of Classic Shell
This is customizable software with a variety of skins and styles to offer
Add programs to the list so that you never miss them
Adjust the caption and status bar for Internet Explorer
Change the start button in Windows 7 and newer versions
---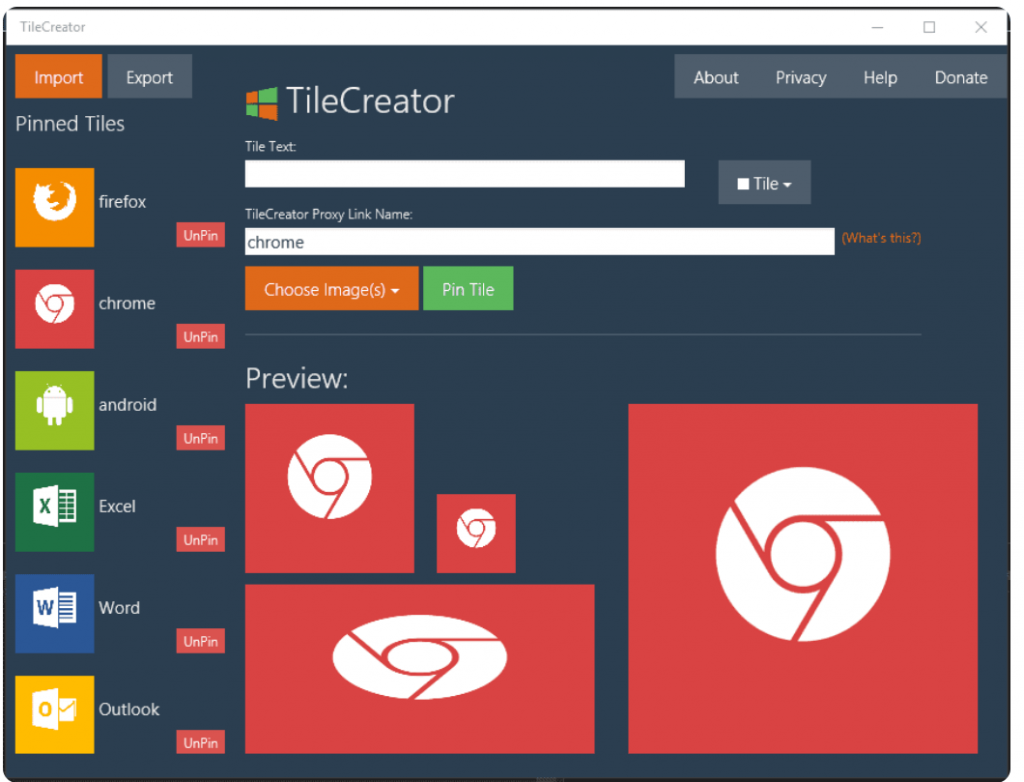 With the advanced Windows 10 device, you can easily add your favorite links, app, and programs to your start menu. But if you wish to customize it to a different level by adding a new tile to it, you will need a dedicated Windows customization software for it. 
Read More: Best Free Spyware Removal Tools For Windows PC
Tile Creator is one such software that can help you create and add a new tile to your start menu. Doing this will support quick access to various files, and help you alter the tile background color and include custom icons. 
The only downside of this incredible tool is that it only works on Windows 10.
Key Features of Tile Creator
This software makes your start menu similar to Windows 8 menu
You can add programs, links, and favorites for easy access
It is very simple to use this tool and add a new tile to your menu
---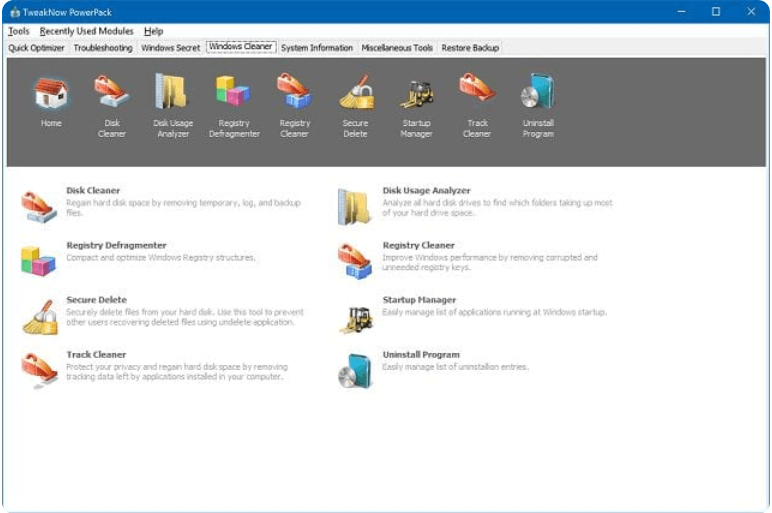 Tune up the various aspects of your windows device with this best Windows 10 customization app. In addition to the basic tweaking features, it also allows you to recover disk space, remove registry entries, and optimize memory space. 
You can also use it to check the overall health of your hardware devices and enjoy a massive array of exclusive Windows settings. Enjoy easy and seamless system tweaking with our Windows 10 UI customization tool.
Key Features of TweakNow Power Pack
It offers great customization options to the user
You can organize your folder and files by removing unnecessary folders
It also shows the overall health of your device components
---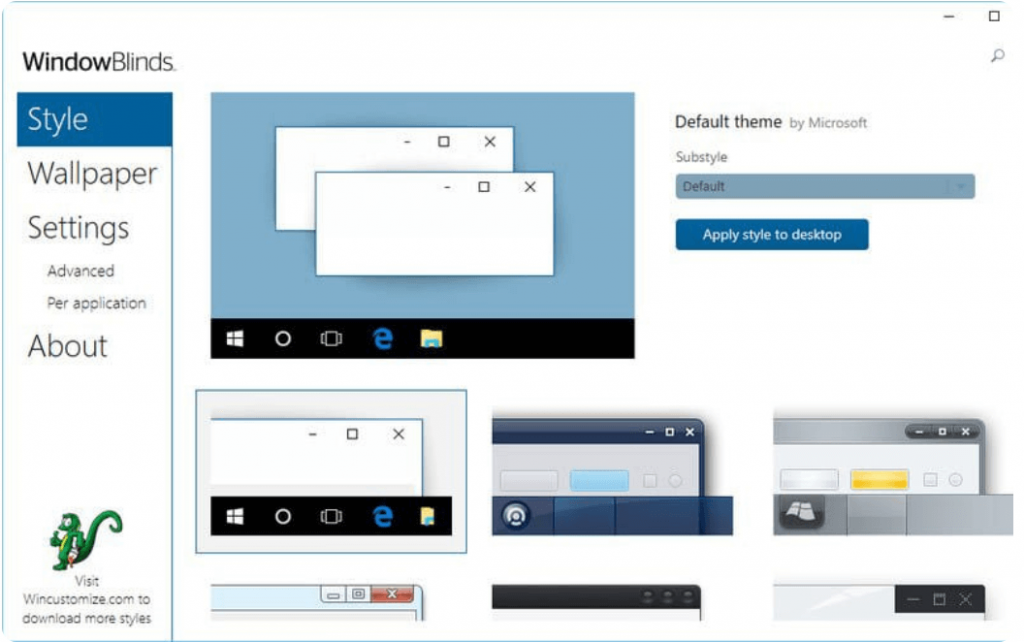 Want to give a new look to your Windows PC? Use the custom skins of WindowsBlinks to wrap your device in a new look. Change the way your system looks by altering the appearance of various buttons, apps, and fonts. With WindowBlinds, you get access to various custom skins, background textures, titles, and buttons. 
Adjust the transparency level of your taskbar, start menu, and apply colors and background to your skins with this best Windows 10 taskbar customization app. 
While most of the skin options are free you might need to pay for using some high-end features.
Key Features of WindowBlinds
It offers high-end features that can be used to modify each and every default settings
You can change fonts, apps, and buttons to a new design
You can even adjust the transparency level of your taskbar
You get most of the skins for free
---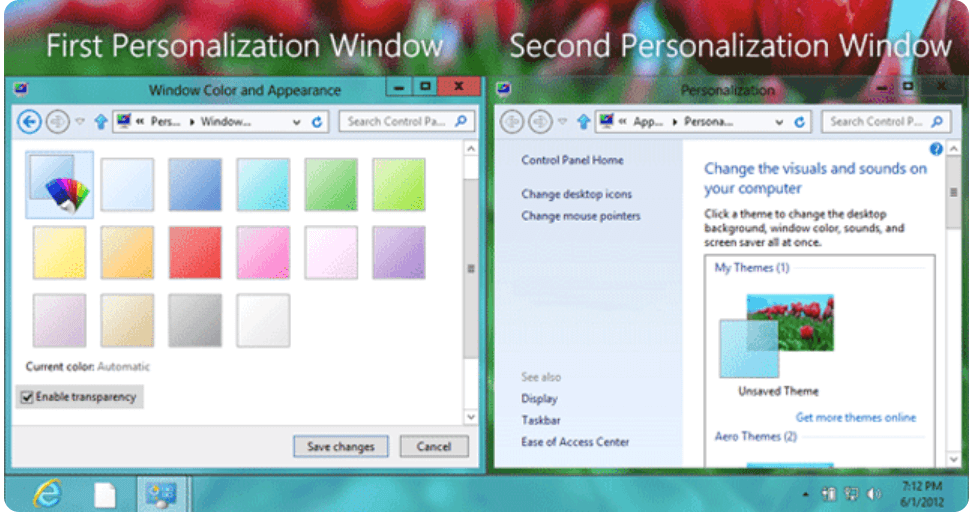 Are you still struggling to find the best Windows 10 customization software for yourself, the Aero Glass is a worthy option. Add a modern touch to your windows device and enjoy a shiny glass effect. 
With this feature-rich tweaking tool, you can add a shadow or glow to your screen and blur the background icons and content. Apart from this, you can also change the transparency level of your control panel with Aero Glass. 
Use this lightweight tool to experiment with the appearance of your Windows frame.
Key Features of Aero Glass
You can apply a glass look to the borders of your screen using Aero Glass
You can add glow, shadow, and many other skins on the border to make it look aesthetic
It uses very less resources on your PC
You can even adjust the transparency levels
---
Alter and change the OEM information displayed in the system properties window with Windows OEM Info Editor. With it, you can change the model name, OEM logo, and contact information in a hassle-free manner. 
The tool is fully compatible with Windows 10. 
Key Features of Windows OEM Info Editor
This is free-to-use software that can be used to customize default credentials
This is a portable tool that requires no installation
You can easily change the names and save them permanently
The interface feels like a default Windows application
---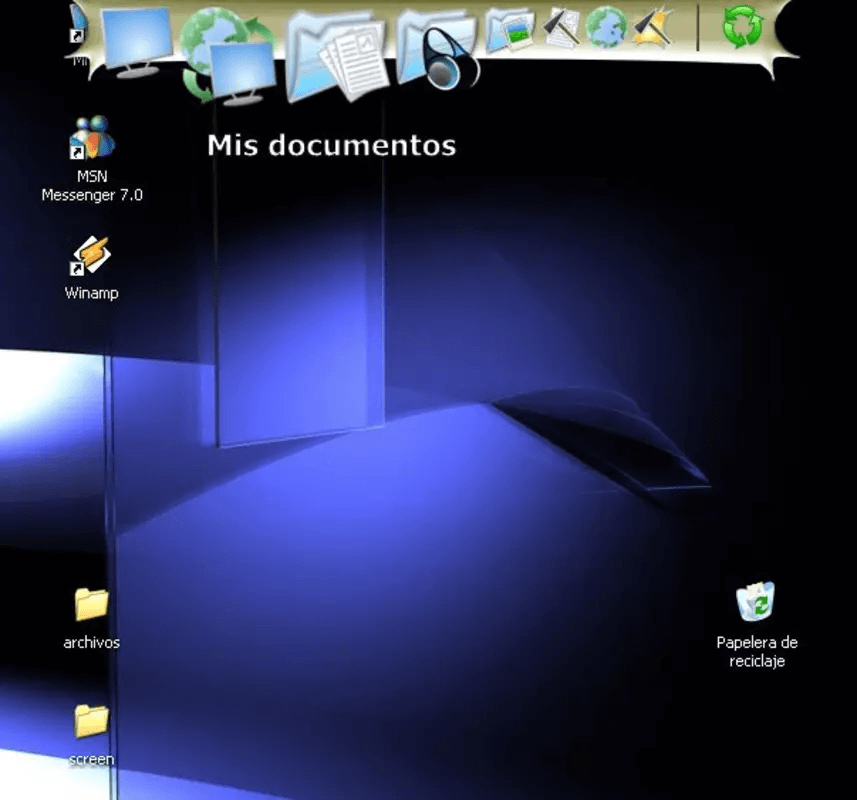 Having docking software makes life easier for any user as it helps you to switch between applications from anywhere. But finding the right docking software which gives freedom of customization is rare. 
RocketDock is by far the best docking software that offers you to customize your dock according to your choice. It also offers great customization themes and options to choose from. You can adjust and place the dock where you want. The software also offers third-party addons, which can make customization easy.
Key Features of Rocket Dock
It offers a uniques display of all the programs at the top menu
You can add your icon to the taskbar located on the top screen and as you move the cursor every icon moves and expands
The software offers multiple customizable themes for a better look
You can also add third-party software to the list
---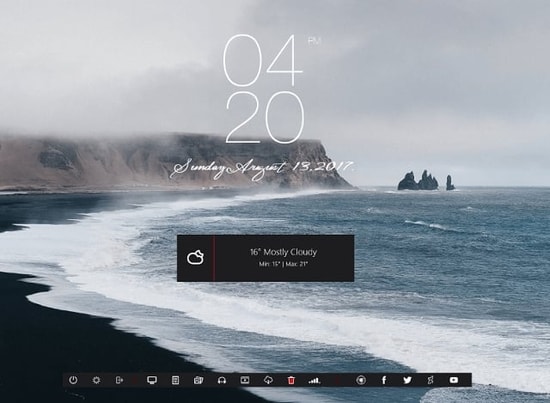 Rainmeter is one of the best Windows 10 customization software as it offers the best skins with customization options. Apart from offering skins for desktops, the software offers skin for every window whether you want to change the hardware usage meter or audio visualizer you can easily do that. The best part about this software is that it is free and requires no license to use. It offers all the features that you would need to make your computer according to your requirements.
Key Features of Rainmeter
The software doesn't use many resources on your PC but runs very swiftly
It offers various tools to customize the skin and to use your preferred language
The community makes it easy for you to connect with other users and get help from them
You get to choose from thousands of options under the discover tab
---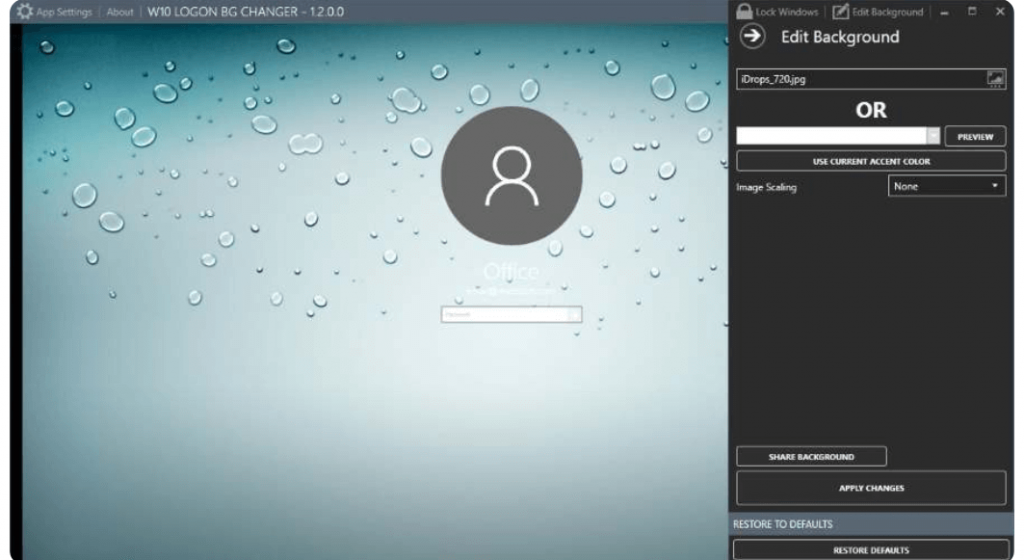 Last but not the least, our last pick for the best Windows 10 customization tools is Login Screen Background Changer. This power-packed tool can help you give a personalized look to your Windows screen. It allows you to change its background and even add a custom image to it. 
It is a free tool that can help you tweak your screen with solid colors and background options.
Key Features of Login Screen Background Changer
This is an easy-to-use software that can be used by novice as well as professional users
You can change the background of your lock screen according to your needs
You can even add custom images to the background with your favorite options
---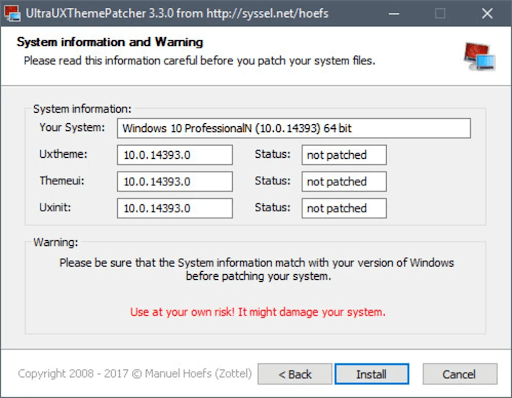 Last but not least, our last pick for the best Windows 10 customization tools is UltraUXThemePatcher. This is a great tool that provides a plethora of options for you to customize your Windows 10 interface and its attributes. The tool is free to use for all. Additionally, UltraUXThemePatcher is one of the lightest tools ever created.
With the help of this free alternative, you can easily tweak your Windows as per your requirements.
Key Features of UltraUXThemePatcher
The tool has a straightforward interface that's easy to use for all.
Users from any geographic can use the tool.
You can use the extra add-ons and enjoy even more customization options.
---
Wrapping Up
So, this brings us to the end of our list of best Windows 10 customization software. We hope that the tools mentioned above will help you customize and tweak every corner of your device. 
Pick the right tool for yourself and add a personalized look to your Windows device in no time. 
Prachi Dani is a technical content writer who specializes in areas of science and technology. She is highly up to date with technological transitions and transformations. Writing is not her passion but the only thing that carries satisfaction in life. If not writing, you may find her engrossed playing action games on her treasured smartphone.
Subscribe to Our
Newsletter

and stay informed

Keep yourself updated with the latest technology and trends with TechPout.
Related Posts