10 Best Coding Apps for Kids in 2021 (Android & iOS)

Learning coding at the initial stage is great but choosing the right platform can be difficult. So to help you with the best coding apps for kids we have shared 10 options to choose from.
Earlier coding was not introduced to school kids. But the time has changed and even parents want their children to learn coding for a better base. If you are a parent and also want your child to excel in the field of development then you need to use the top coding apps for Android and iOS to help your child grow.
Below we have shared coding apps for children where they can easily learn and grow in the same field. The apps are shortlisted on the basis of their performance, interface, and user reviews. Now without any further delay, let's take a look at the apps that you can use to help your child learn coding.
Top 10 Best Coding Apps for Kids on Android and iOS
Here are some of the top-rated coding apps for children that can help your child learn how to code.
1. Hopscotch-Programming for Kids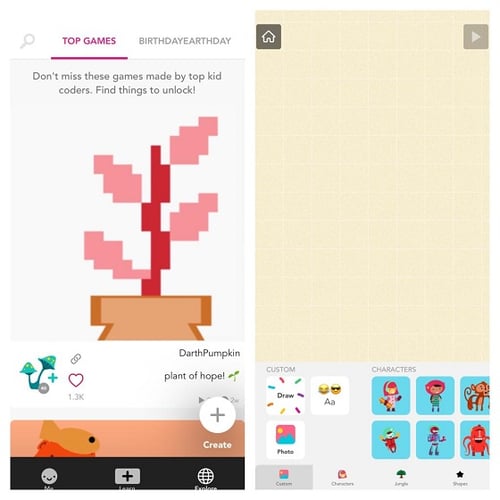 For learning, you need to have the perfect companion. Here is the best coding app that can stay with you as a companion till you succeed. This app offers various games that will increase interest as well as knowledge in kids for programming. The unique approach of this application makes it the top coding app for Android and iOS.
Moreover, the app gives freedom for coding whatever you want. It helps in empowering the imagination with games and stories to help them create new and unique programs. Apart from this, it has many tutorial videos for learning.
Also Read: 8 Best TimeTable Apps For Android in 2021
The apps have a huge community where you can easily publish your creations and get feedback/ appreciation from others. Apart from that you can even play games with others and connect with them. However, this coding app for children is not available for free. You need to pay $9.99/ month or $79.99/ year to use it.
Features of Hopscotch
Loads of tutorial videos to learn and grow
Huge game library to make learning fun
Easy to use and interactive interface
You can easily remix with any project on the app
---
2. Mimo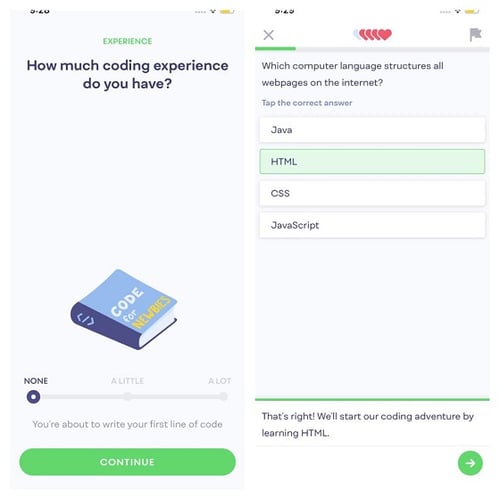 Mimo is another one of the best coding apps for kids. The reason why this is most preferred is because of its customizable exercise. According to the pace of your child, you can customize the exercise and let them learn. Unlike others, your child doesn't have to change the pace of learning. Apart from this, you can even set the level of difficulties like beginner or intermediate.
It along with the lessons has challenges which makes it more interesting for the kid to learn and compete. You can effectively monitor the progress and then collect badges for their performance. It has a large community for interaction and learning, you can easily connect with others and interact with them.
Mimo is the top coding app for iPhone and Android because it offers a free trial too which is very rare to find. After the free trial ends you need to pay $8.99 monthly to use the premium version.
Features of Mimo
You can create fully customizable exercises
It has a huge list of exercises to choose from for learning
The app offers programming languages like CSS, HTML, SQL, Python, etc.
You get instant feedback from the customer support
Download for Android / Download for iOS
---
3. Google Grasshopper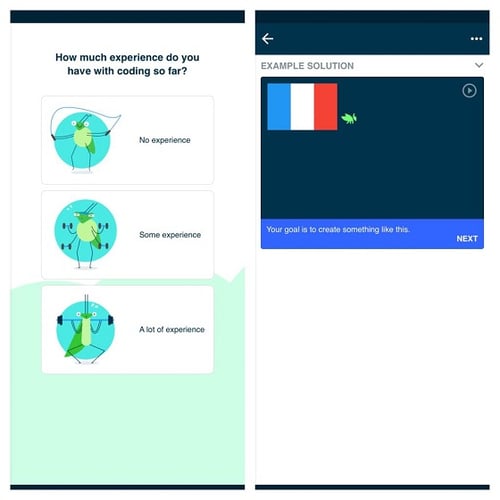 Google has created apps for every purpose and here too we have an entry of Google application for coding. Google Grasshopper is among the best coding apps for iOS and Android devices. The app has a different set of exercises and programs for every level of user. You can choose the level depending on your experience and then proceed with the work easily.
It offers coding games to help kids learn JavaScript. As you move forward the level of challenges even increases. There are some visual puzzles that make it even interesting. It helps in improving skills as well as concepts of coding.
For every event or challenge, you complete you earn badges. The best part about this app is that it is available for free. You can simply install and use this top coding app for Android and iOS.
Also Read: 7 Best Toddler Apps for Android and iPhone in 2021
Features of Google Grasshopper
You get tons of visual puzzles
Games offer great entertainment and knowledge through the process
It helps in offering overall growth of the child
For encouraging users it offers awards
Download for Android / Download for iOS
---
4. SoloLearn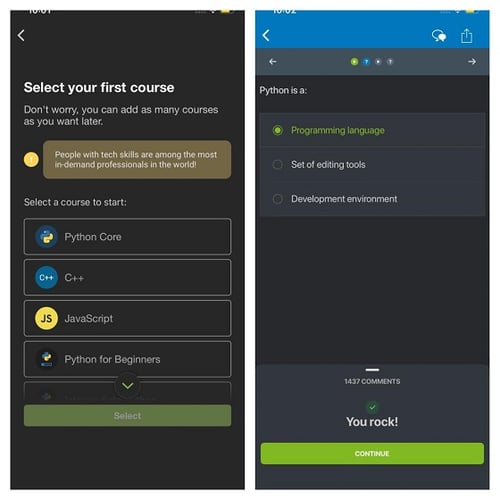 Next up on our list of the top coding apps for Android and iOS is SoloLearn. The app offers one of the largest collections of free courses. You can learn various languages on this application like Python, JavaScript, C++, Java, machine learning jQuery, and data science. After completion of every course, you get a certificate.
Other than just offering the course it keeps you updated with all the trends in the market related to programming. This is a great pick if you wish to learn coding while computing with others. The competition brings out the best in you and it even helps you to learn more. Apart from this you can even connect with the community of users and learn from them.
In our opinion, this is a great option to pick if you have a bit of knowledge. For beginners, we would not recommend this application. The pro version of SoloLearn costs $6.99 monthly.
Features of SoloLearn
It offers a list of programming topics to learn
You get to compete with others and learn from them
A large community of users for connection and interaction
After completion of every course, you get a certificate
Download for Android / Download for iOS
---
5. Programming Hub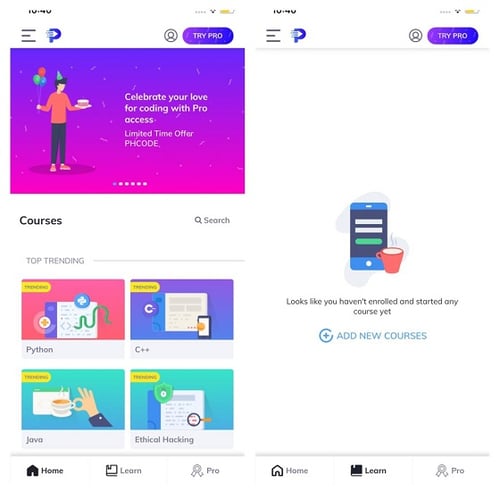 As the name suggests Programming Hub is an application that can offer you all the programming courses. There are many reasons why this application falls under the list of best coding apps for children. One of the best features of this application is that it offers small lessons to help you learn in a very short duration of time.
Every lesson on this coding app for kids aims to teach core concepts in a simple manner. To make it more fun the app has games. In the app, you get more than 5000 programs and 35 courses to learn. The app offers courses to learn code with JavaScript, C, C++, C#, Python, Swift, HTML, Java, R Programming, AI, and others.
You can easily find the language you want to learn from the list and then start the process. The best part about the app is that it keeps on getting regular updates which makes it the best. Apart from this, you can provide feedback and request support from the experts related to the app. Though it is not a free app you need to pay $6.99 per month for using it.
Also Read: Best Data Monitoring Apps For Android User
Features of Programming Hub
It offers a huge list of programs and courses
You get concept based instructions for better understanding
The app keeps on adding elements for a better learning experience
You can get feedback and support from the experts
Download for Android / Download for iOS
---
6. Codeacademy Go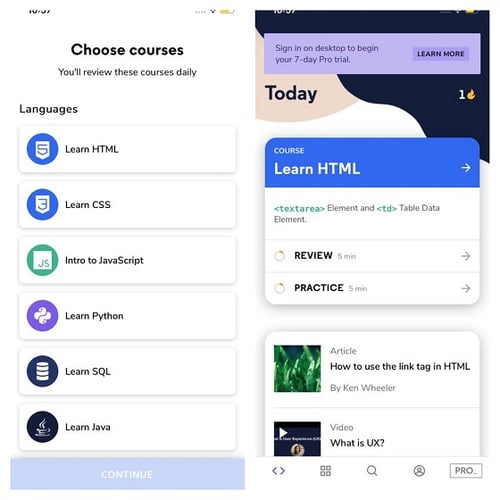 This is a great app for those who want to learn and excel in their skills in coding. The app lets you easily practice the coding syntax on your phone. This is the reason why it is considered as the top coding apps for iPhone and Android. You get to review your progress in the courses.
There are many courses that you can learn through the apps, some of them are SQL, Python, Web Development, data science, and JavaScript. To keep you moving ahead in the course the app motivates you by maintaining streaks and performance tracking.
You can easily find out the things which you are lacking and then overcome them. Just like Google Grasshopper, Codeacademy Go is also a free-to-use app.
Features of Codeacademy Go
The app offers daily flashcards
You can easily practice coding syntax with this app
It lets you maintain a streak for motivation and continuity
Your progress and performance is monitored and a detailed report is offered to you
Download for Android / Download for iOS
---
7. Coding for Kids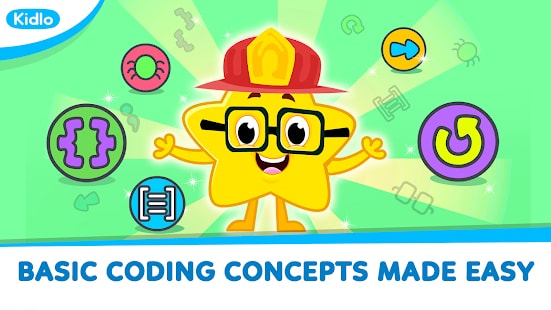 The name is enough to state the functionality of the application. Here in the list of top coding apps for Android and iOS, our next entry is Coding for Kids. This is a great application that offers various kinds of games to help you in learning coding. Overall the app has more than 200 games, every game has different learning to offer.
The games are designed to offer problem-solving and logical thinking abilities. The level of the games keeps on growing as there are almost 1000 levels starting from basic and reaching to advanced level.
This coding app for children has both free as well as the paid versions available. Though the free version has some restrictions. You can have an unrestricted version by paying either $4.99 monthly or $29.99/ year.
Features of Coding for Kids
You get more than 200 games to help you learn in an easy way
The game has levels that keep on increasing the difficulty level
The interface offers a unique yet interesting playful learning experience
Download for Android / Download for iOS
---
8. codeSpark Academy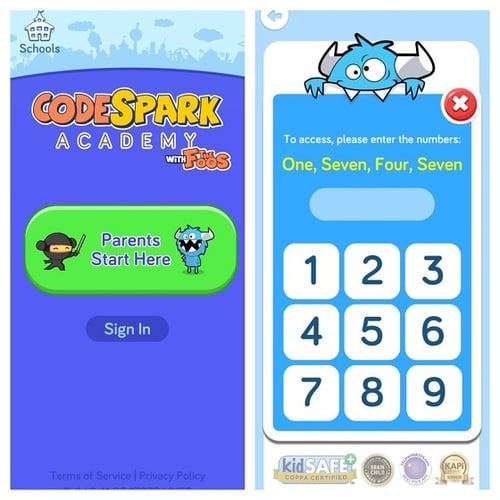 Next is another top coding app for iPhone and Android that you can use for an interactive learning session. The app has a 'no words' interface that is designed to attract the user. Apart from the interface, there are many games, puzzles that make the app more interesting for learning.
The app is designed for kids aged 5-9 years. You can easily set the activities which you wish your child should perform. It moreover keeps track of the performance and offers a report to check how your kid is performing.
The app supports 3 profiles, so you can easily monitor all your kids separately. Though the app is available for free download but to unlock the premium features you need to pay $3.99.
Also Read: 12 Best Phone Usage Tracker Apps for Android & iOS in 2021
Features of codeSpark Academy
The application supports three individual profile
You can easily customize and personalize the activities
The interface is very interactive as it has a 'no words' interface
It offers games and puzzles for easy learning
Download for Android / Download for iOS
---
9. Daisy the Dinosaur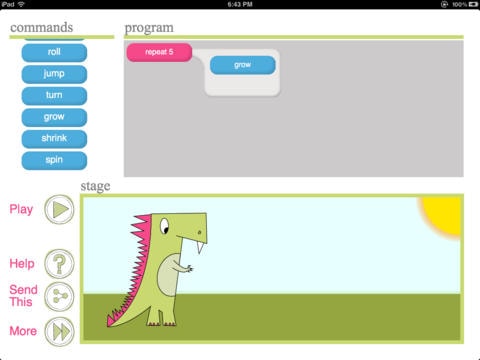 Daisy the Dinosaur is one of the top coding apps for iOS. This is a free app that you can download and learn coding. It helps in clearing basic concepts of computer programming. The app can be used by even a four-year-old kid. It offers an easy way to learn concepts with a drag and drop interface.
Features of Daisy the Dinosaur
A great option for primary school kids
All features are available for free
It has a separate challenge mode which will enhance the ability of the kid
---
10. Tynker: Coding Games for Kids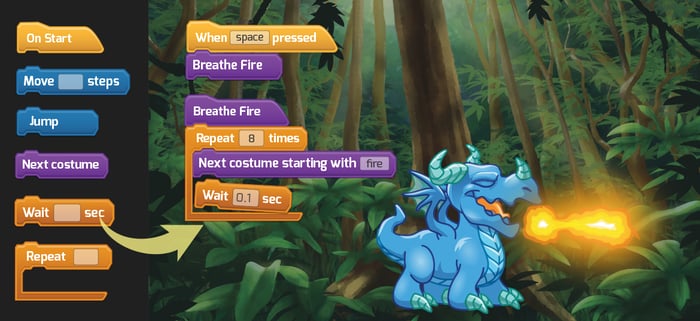 Last app on our list of the best coding apps for children is Tynker. The app has a very unique concept to help children learn. It uses visual code blocks that help in understanding the programming concepts. It offers 2000+ activities that offer languages like JavaScript and Python.
The app has story-based challenges along with learning modules, mini-games, coding projects, and puzzles to make the learning interesting. Above all the reason you can consider using this app is that it is available for free and has no in-app purchases.
Also Read: 13 Best Educational Apps For Android Smartphones
Features of Tynker
The app can be used by kids aged seven and above
You get many interesting games and puzzles to help you learn
For assistance you get tutorials
---
Concluding the List of Best Coding Apps for Kids 2021
These were some of the top coding apps for Android and iOS devices that you can use for learning how to code. Apart from just offering basic knowledge, some applications have various courses and programs which can help in building a strong base for the future. The reason why we have kept these apps on our list is their unique approach to teaching and explaining courses. We hope that you will also like the coding apps for children, if not please mention what we missed. Write your suggestion in the comment section below. We will try and add them to the article.
Tanmay is a technical writer from the field of mass communication. He aims to communicate the best of the technology to the readers through his write ups. If not writing you can find him with his camera capturing nature and exploring the unexplored world.
Subscribe to Our
Newsletter

and stay informed

Keep yourself updated with the latest technology and trends with TechPout.
Related Posts