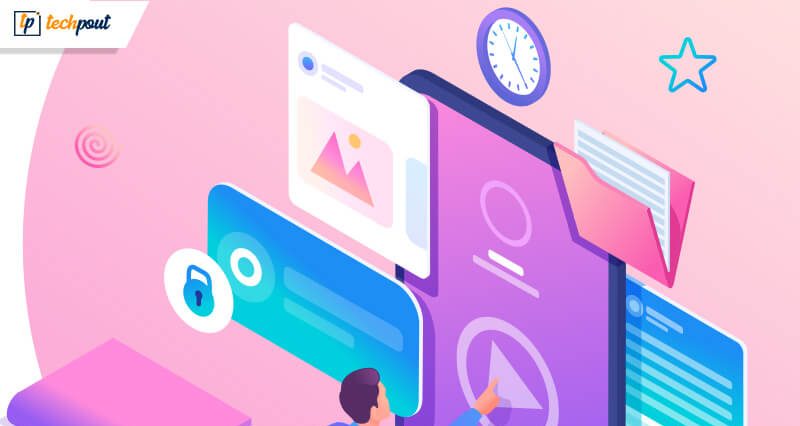 Technological development has changed the entire meaning of Education. Unlike previous times, knowledge is no longer confined within the four walls of the classroom and can now be accessed anywhere with the help of educational apps. 
A wide variety of apps offers educational services and works seamlessly well on both desktops and smartphones. These apps come with various features and benefits. 
Education apps offer a mix of multiple functionalities, including learning apps, organizing tools, games, learning simulation.
One can find several educational apps for Android in the play store, but what's crucial here is to pick the most suited app as per your requirements. 
From school going kids to college students, these apps cater to all levels and tutoring needs. However, no app is genuinely tailored to serve global and individual needs. 
Here, in this article, we have shortlisted some of the most focused apps for students learning needs. Pick one for yourself today. 
Educational Apps For Android Smartphones 2020:
1. Amazon Kindle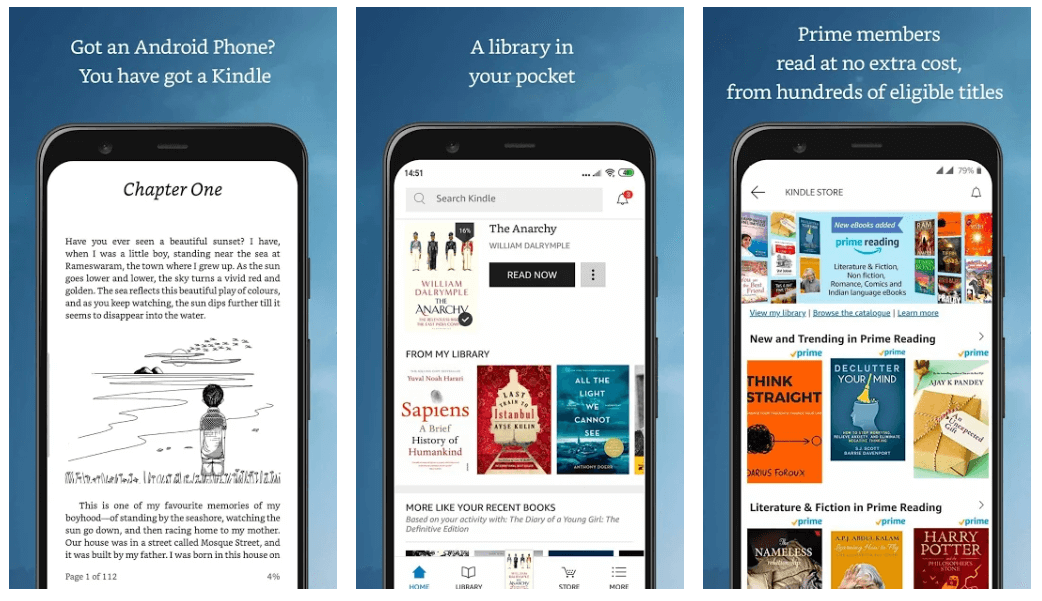 Reading is a good source of knowledge, and we cannot deny this fact. Strong reading skills are beneficial to all levels of age. 
Amazon Kindle is one such Android education app that offers a stable EReader platform to kids. Both kids and adults can use it to access its massive directory of books and topics. 
It is a perfect tool for people who want to develop their knowledge bank through reading. Use can use it anywhere, while traveling to school, in bed or on the bus. 
Download it using the link mentioned below and get your kids some E-books. 
Must Read: The 10 Best Reading Apps For Android & iOS
2. Fluent Forever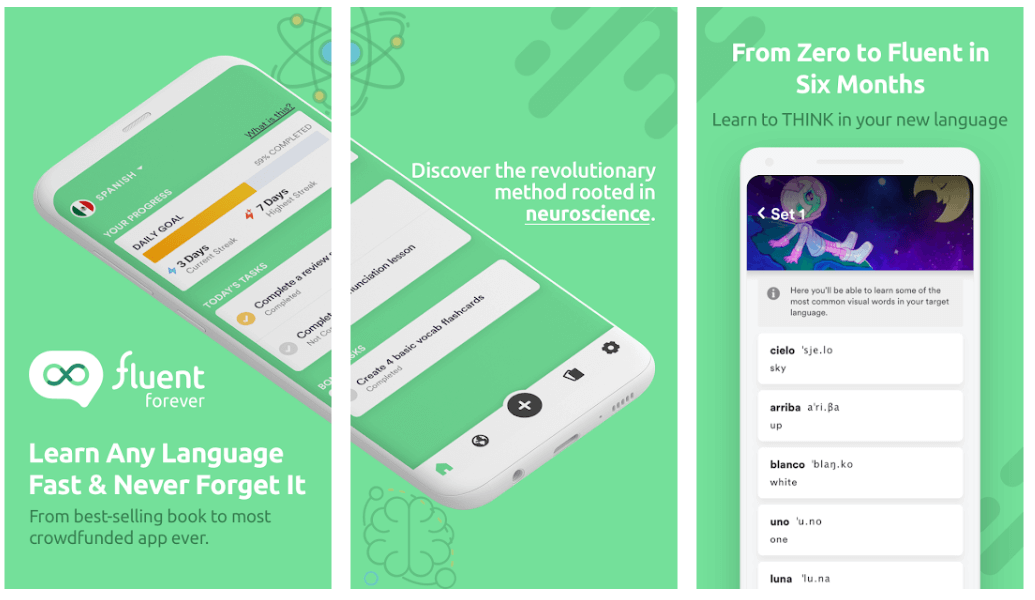 Next on our list of best educational apps is Fluent Forever. Unlike other language apps, it is quite severe in its approach and work. 
It is a must-have tool for serious learners and offers an array of self-learning benefits, including explainer videos, personalized flashcards, pronunciation lessons, along with grammar and word tutorial. 
It is available in various languages like Italian, Korean, Portuguese, Spanish, Russian and French and comes with a two-week free trial.
3. Cram.com Flashcards
Cram.com Flashcards is a revolutionary learning app. It aims at providing study aid to almost everyone and works in both online and offline mode.
Use it to access over 75 million different flashcards on various subjects. Moreover, you can also use it to create your flashcards. 
It comes in both a free and paid version. With the free version, you get access to over 100 flashcards. However, if you wish to enjoy a never-ending list, you may consider the paid version. 
4. ClassDojo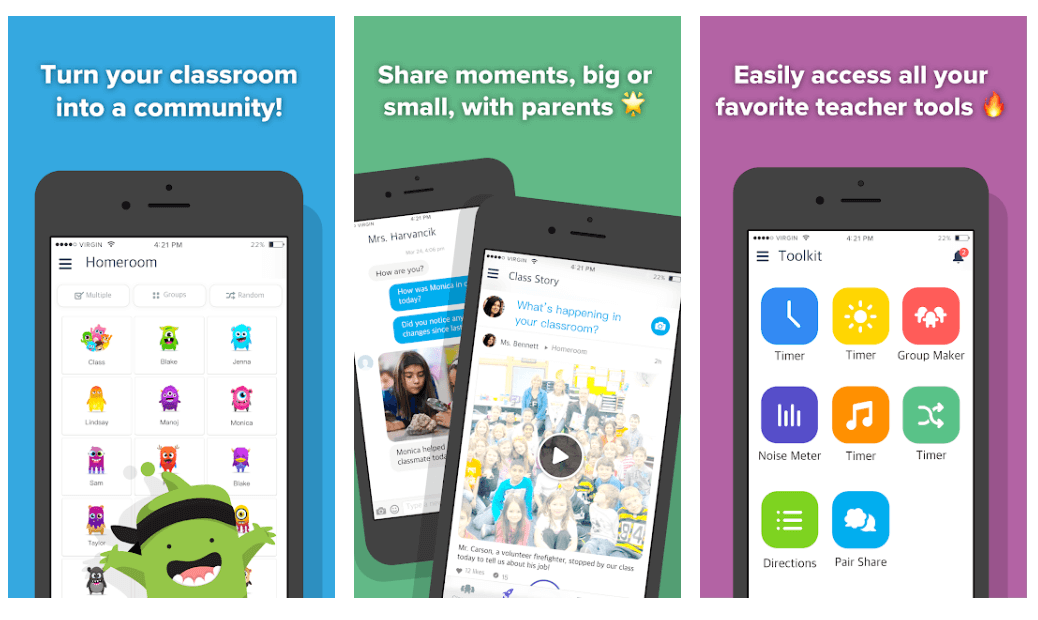 If you are looking for a virtual classroom-style learning app, then ClassDojo can be the right choice for you. It's a perfect, beautiful and straightforward educational app for kids, parents, students, and teachers. 
More than a mere learning tool, it also works as a communication and positive enforcement tool. All-in-all it is exceptionally high at what it does. 
5. Duolingo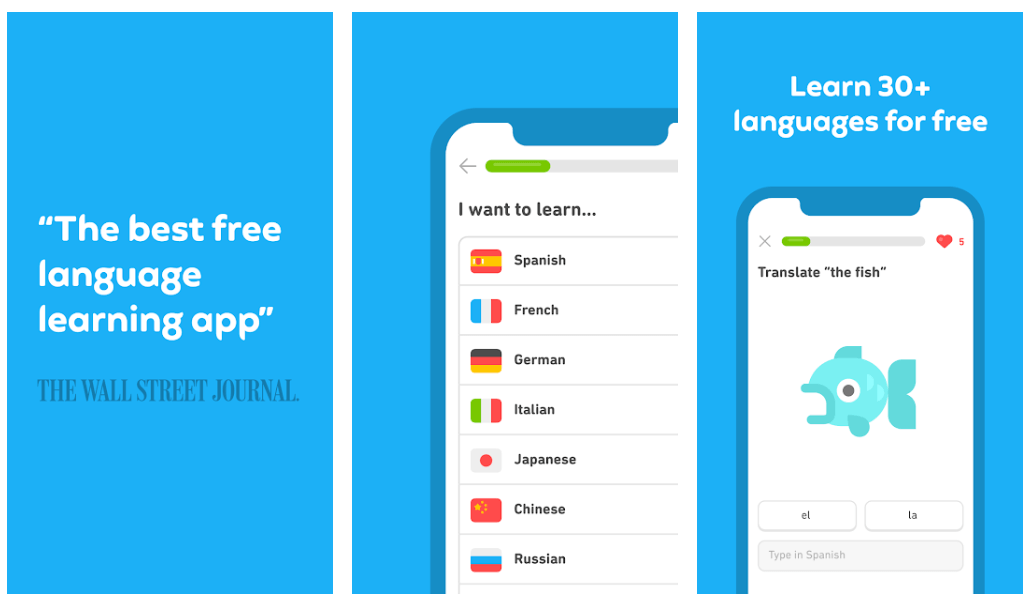 If you want to learn a new language, then there is no better app than Duolingo. It supports a variety of languages and is completely free for download. 
French, Italian, Dutch, English, Spanish are few languages that you can learn using it. 
It's free, It's fun, and it's useful. If you wish to download this incredible app, you can do it with the below-mentioned link. 
6. Learn Java Pro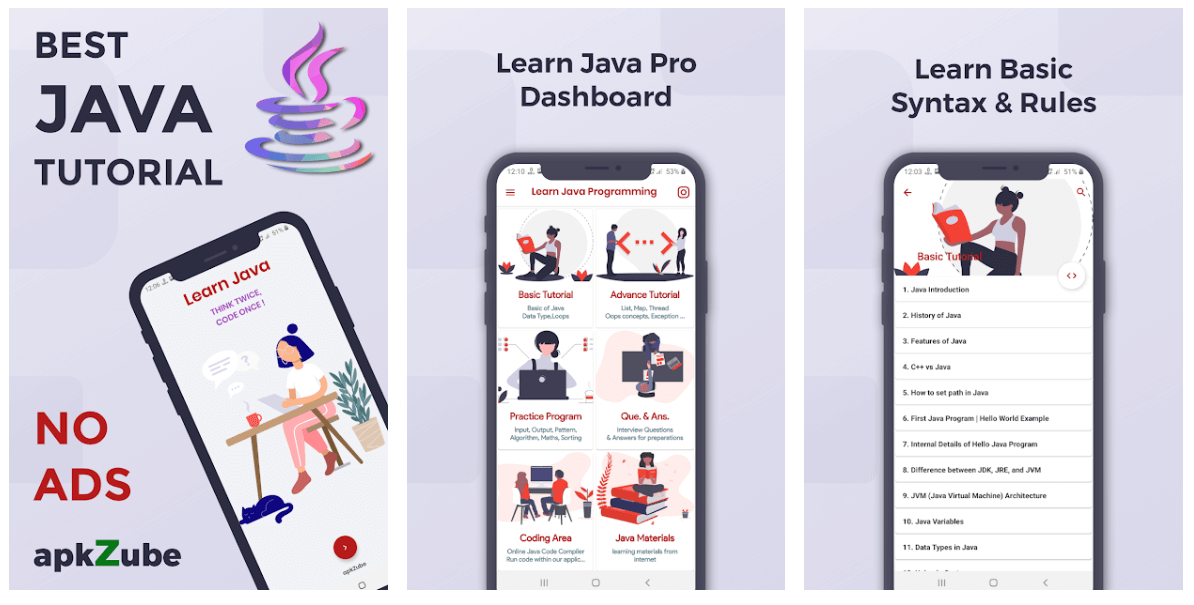 Learn Java Pro is a highly focused app that can help you learn Java. It comes with an extensive library and bite-sized exercises that you can use to learn to code and practice Java. 
Use it to acquire knowledge of advanced Java along with its basic concepts. You may also refer to its practice programs and question and answer section to clear your doubts. 
Overall it is a low priced and generous Education app. 
7. Google Classroom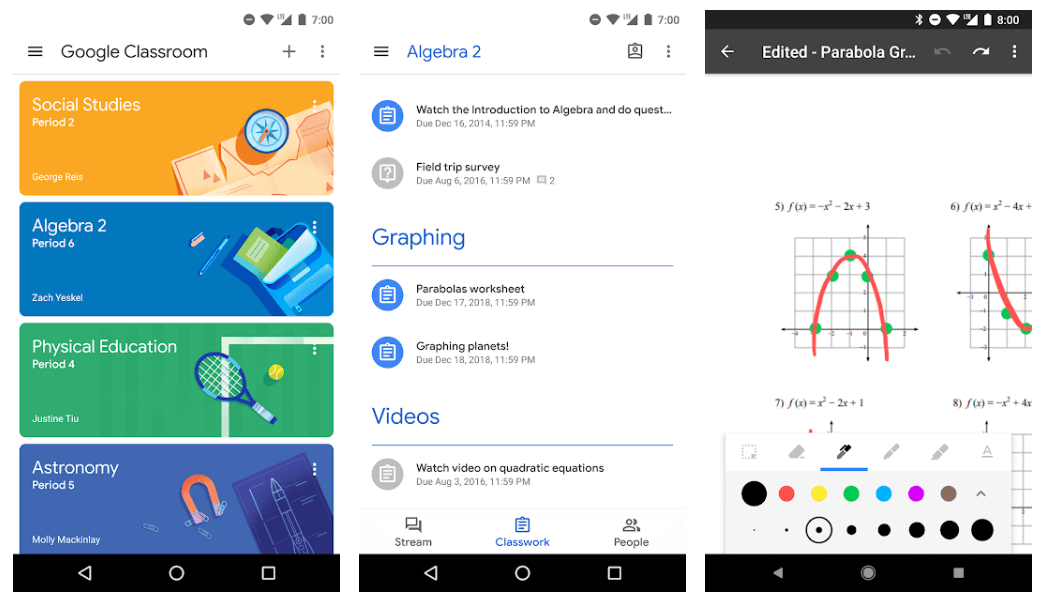 Next, in our list of virtual classroom apps is Google Classroom. Parents, teachers, and students can use it to interact with each other and share knowledge. 
Since it's connected to Google's classroom web platform, it is known to deliver high-quality services. Its an excellent platform for large scale classroom teaching and learning. 
Use it to distribute assignments, create classes, communicate with each other and stay organized with your learning routine.
Read More: The 9 Best Free News Apps For Android & iOS 2019
8. MasterClass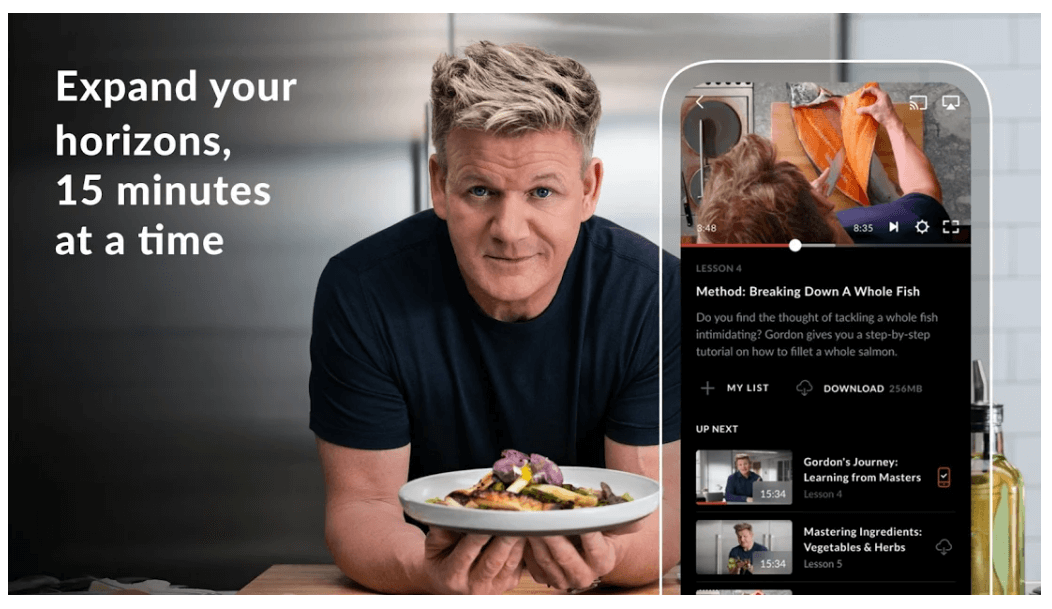 Interested in developing your cookery, acting, and creative skills. You can learn tennis from Rafael Nadal, cooking from Vikas Khanna and filmmaking from Steven Spielberg. 
Since its an app, you do not get to interact with such people, but you can still access their learning tutorials and video lessons. 
If you are serious about top-class tutions and want some dedicated learning, then MasterClass is sure to try. 
9. Khan Academy Kids: Free Educational Games & Books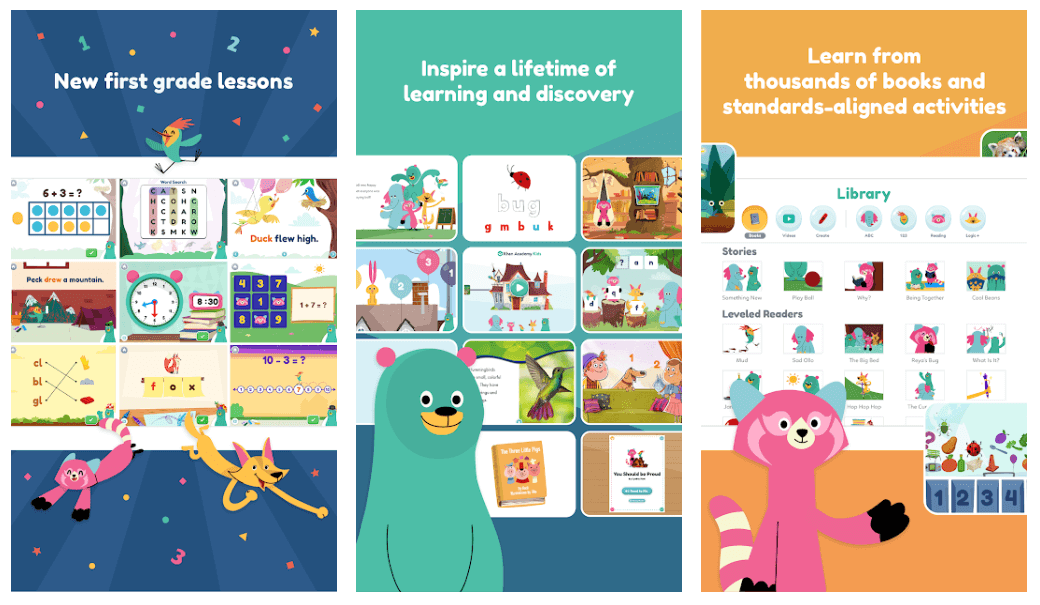 Have you heard about the famous Khan Academy? Well, it's now available as an online learning application also.
From simple math to motor skills and from language to reading, you can use it for all your learning requirements. 
It is undoubtedly one of the most preferred Educational apps for Android that one can find on the Google Play store currently. 
10. Pocket Code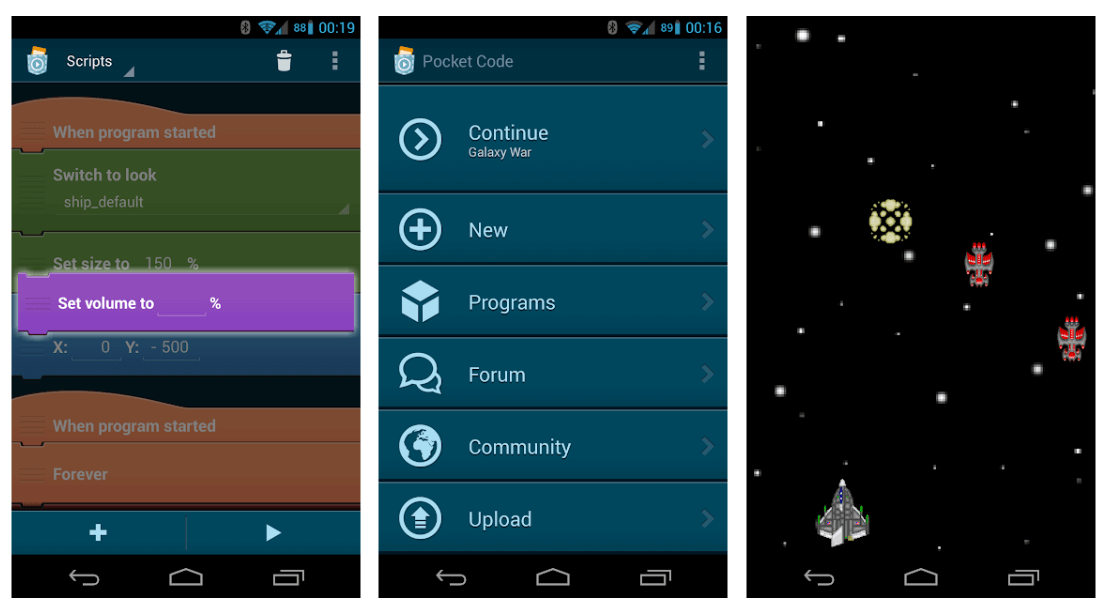 If you want your kids to learn to code, then Pocket Code can be quite a helpful application for you. Being a technical app, it is not meant for small kids. 
You can use it to learn to programme, along with some basic programming logic and theories. If you enjoy technology, then Pocket Code is a must-have app for you. It is free to download. 
11. Youtube Kids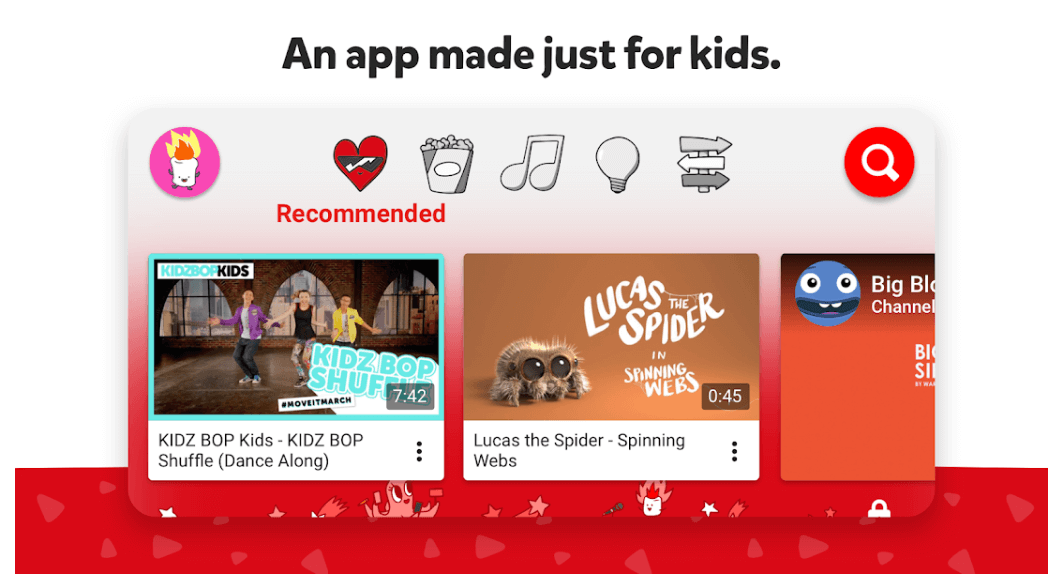 Youtube kids a uniquely curated Educational app for kids. Its primary focus is on knowledge growth and brain development. 
It is a great learning platform that offers educational videos, online classes and entertainment videos for your kids. 
All in all, it an exceptional online learning app for your kids. 
12. PBS Kids Video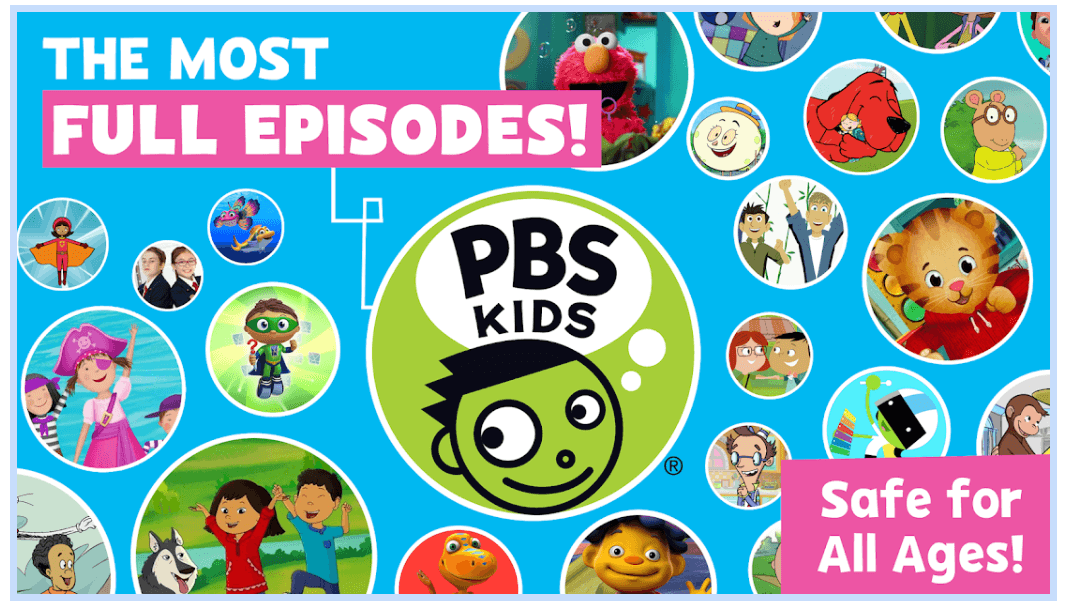 PBS has a long known history in useful educational apps. It is a fun application to use, and everything is described in a cartoon form. 
Parents can also use it to track the learning curve of their children using this app. It's one of the most used and loved the app for kids.
13. DragonBox Numbers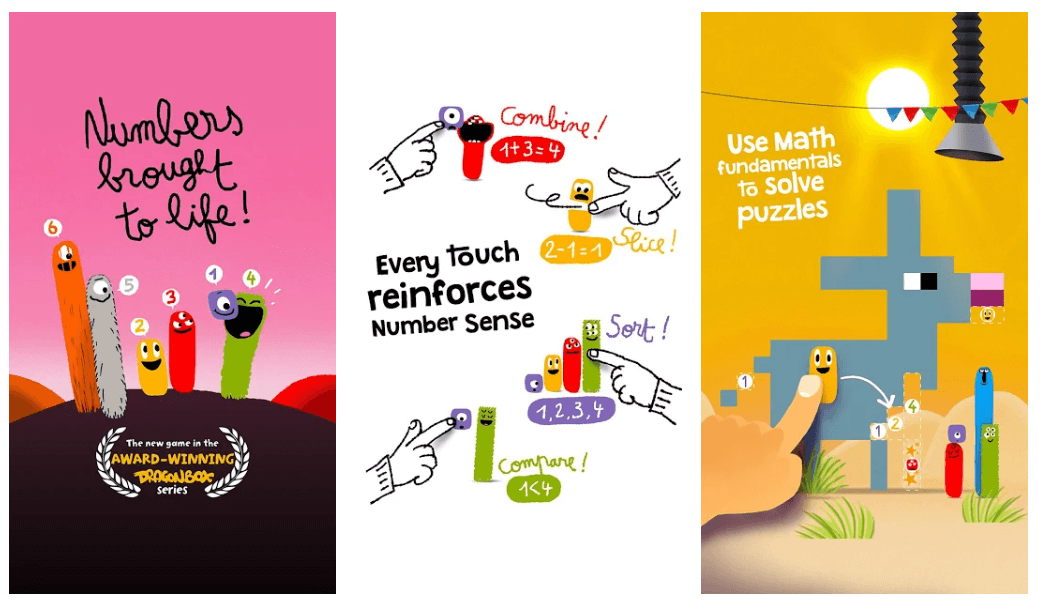 DragonBox Numbers comes with five different educational and learning games. It is used to make your kids learn the fundamentals rules and practices of maths. 
All five versions deal with numbers and formulas. If you want to teach your kids some math-related concepts, then it's an excellent series to check out.
Concluding Words: Best Educational Apps
So, these are some of the best Educational apps for Android gadgets. Make your kids learn new concepts and theories with these stunning education apps. 
These tools offer a quick, engaging and effective way of learning and development. 
Image Source: Google Play Store
Prachi Dani is a technical content writer who specializes in areas of science and technology. She is highly up to date with technological transitions and transformations. Writing is not her passion but the only thing that carries satisfaction in life. If not writing, you may find her engrossed playing action games on her treasured smartphone.
Subscribe to Our
Newsletter

and stay informed

Keep yourself updated with the latest technology and trends with TechPout.
Related Posts