7 Best Toddler Apps for Android and iPhone in 2021

Struggling to catch that one perfect app to help boost your toddler's progress. Well, there are tons of apps with child-friendly functions present on Android and iOS devices. Yet, it still remains a challenge to find the right game app for the little one. A good toddler app helps improve your little one's language skills, boosts their learning and keeps them engaged. In this article, you will come across 7 best toddler apps for Android and iPhone that spark the best learning experience up for your adorb. 
Best Toddlers Learning Apps For Android & iPhone
The rule is to mix fun and learning in the most impeccable way possible. After all, moulding the little one's consciousness can be one of the most challenging tasks for parents. Here are the best apps for iPhone and Android devices that make a proper check on the essential aspects of a child's learning their own designed way. 
Note: As much of a convenience and engagement these apps for toddlers render, you should also promote a good time away from screen. Indulging in screens for long hours are not favourable for a child's brain and their utmost capabilities.
Here are the best apps for toddlers:
1. Khan Academy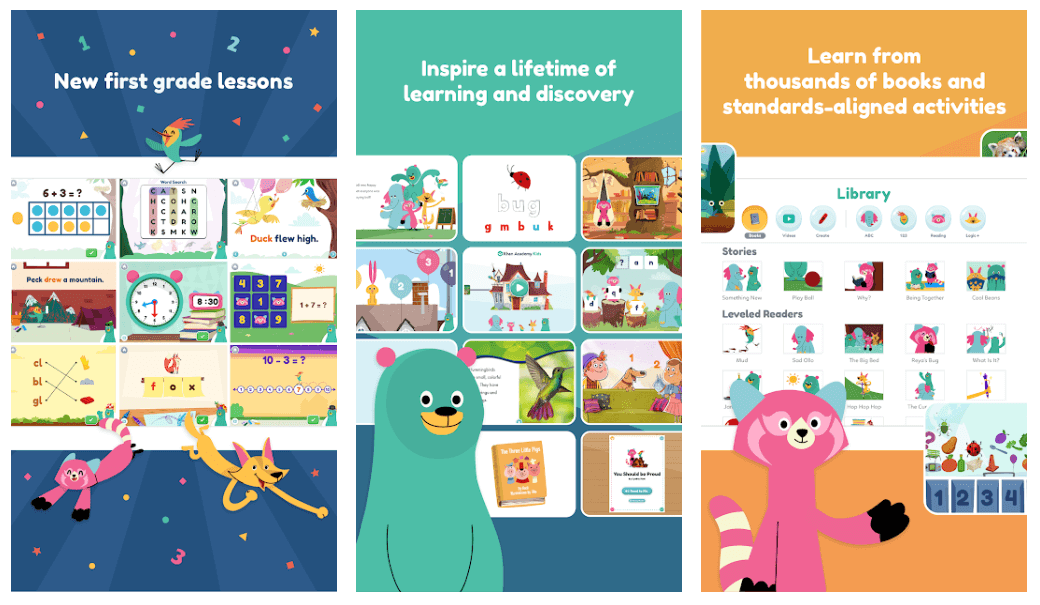 Availability: Android & iPhone
Read More: Best Ludo Game Apps for Android and iPhone
Khan Academy is one of the best free toddler apps for iPhone and Android smartphones that most users prefer their little ones to use. This app allows you to access interactive sessions for the age group of 2 to 7 years. You get beautiful fictional stories as well as different offline activities that your child can participate in with you.
There are multiple little animals that greet your babies and the important activities including reading, writing and drawing are played the best way possible. The process is easy and apart from that, the content on this app keeps updating from time to time. What's even more important is that this app allows you to monitor your little one's growth.
Download App: Android and iPhone
---
2. Colours and Shapes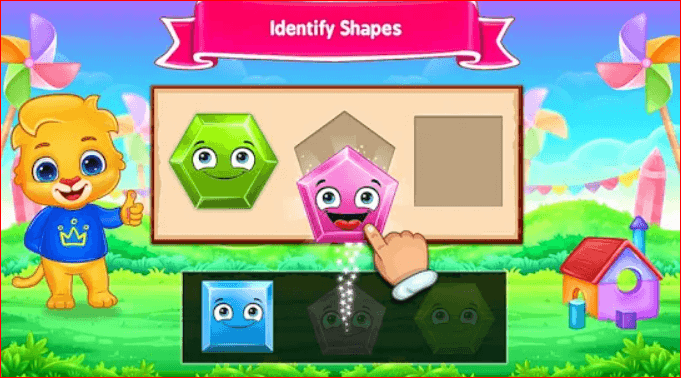 Availability: Android & iPhone
Your little ones start learning colours and shapes at an early stage of their growth and once they begin to know different shapes and colours, they don't take a hard time catching them. Colours and Shapes is one of the best free toddler apps that ensure this basic learning to be done with fun-filled activities that make it even more interesting for a child to indulge in knowledge.
It brings multiple games that challenge your child to recognize colours and shapes and thus, boost their capabilities. The little one is asked to recall the names as well as match the shapes with their pieces. To encourage learning, this app offers stickers for rewarding the child. There are no in-app purchases in this app and you can have your child to revel in this app without any interruption.
Download App: Android and iPhone
---
3. Fruits & Vegetables for Kids
Availability: Android & iPhone
Yet another best free toddler app for Android and iPhones to light up your child's learning experience. This app does it with fruits and vegetable lessons for your child. It allows your child to learn names of fruits and vegetables using colorful pictures. Your child is offered different demo cards in multiple categories and this app also helps them engage in some fun quizzes, accelerating their learning for better. It is one of the best free game apps for toddlers with excellent sound and graphics. Promoting interaction and knowledge among children of aged between 1 to 4 years, this app also supports Russian, German and Ukrainian languages. 
Download App: Android and iPhone
---
4. First Words for Baby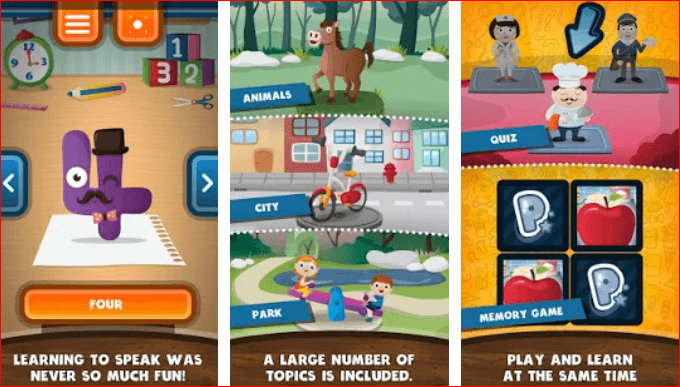 Availability: Android & iPhone
It is time for your adorb to get involved in the dictionary element and First Words for Baby, as the name says it, knows where to get started from. It is another best toddler app for Android and iPhone that invites your child to take the first step towards the initial words of their life. It provides decent vocabulary with over 100 words that involve the surroundings.
Read More: Best Free TV Streaming Sites To Watch Online TV Shows
This app actually lets your child touch the objects and also encourage parents to participate in these sessions to eventually boost a child's interest in education. There is never a boring moment as this app features amazing games and graphics. On the top, this app supports over 15 languages and has an ever-updating nature.
Download App: Android and iPhone
---
5. 123 Numbers-Count & Tracing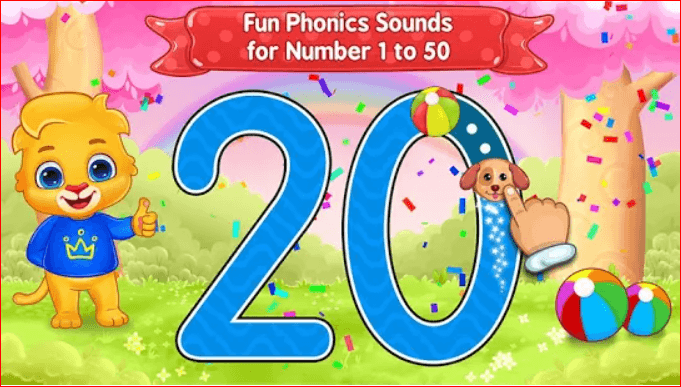 Availability: Android & iPhone
When it comes to learning numbers, your little one deserves to wink their shot at this one. 123 Numbers is yet another best toddler app for Android and iPhone that goes well for the preschool and kindergarten kids. This number game app brings options for tracing, counting and spotting numbers. Your child can pave their way in the zone of number learning by finishing the number games as well read them aloud and trace them for an effective learning.
When children complete these numbers games, this app sends stickers to complement and boost their enthusiasm. Here's one of the best game apps for little ones with a plethora of colorful activities, encouraging environment and an incredible learning experience. This all-in-one app is worth a try. 
Download App: Android and iPhone
---
6. Kids Doodle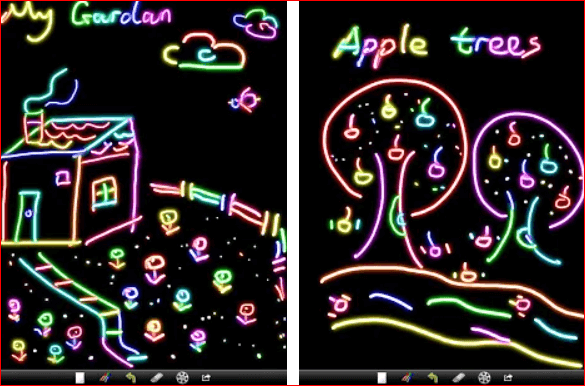 Availability: Android
Expose your adorb to their artistic genius. We all adore doodling even if we don't have enough space in schedule to fit a few moments of moving your hands creating something. But here's the one for your little one. Kids Doodle is proba the best doodle app for your child to unleash their artistic capabilities and that happens in a neon charm.
This app offers hundreds of doodles in several bright and beautiful neon shades alongside the variety of brushes. It has a movie mode to let your kid view their work and it allows them to undo the artwork. Kids Doodle comes with an easygoing interface and saves your little one's artwork in its in-built gallery. On the top, the work can be shared on social media platforms including Facebook and Instagram. This one certainly deserves a try. 
Download App: Android
---
7. Fairy Tales

Availability: Android & iPhone
We have got to admit this: We all are fascinated by fairy tales. No matter how old we have grown and how far we have come, there are some tales that still live in that heart of a child. Complimenting this timeless concept of widening the horizons of a child's imaginations, Fairytales is certainly one of the best toddler apps that provide a selection of fairy tales as well as different games.
Read More: Best Manga Reader Apps for Android and iPhone
From Cinderella to Snow White to what not, this beautiful app has it all together. What makes it special is a feature which allows your child to meet the characters they read in stunning animations. This app offers read to me as well as read myself modes. Besides, the offline reading is available on this app. This one's the best reading app out there with a thing for that fancy bedtime ritual. 
Download App: iPhone
---
Wrapping Up
There you were reading about the best toddlers apps for iPhone and Android devices. While these apps help your child excel in learning, let's not let the thought of keeping the screen-time limited waver. Which toddler app is your go-to? Tell us about your experiences with apps for children and let us know if this article was helpful. 
Jyotsana is a technical writer with a non-technical background. An eye of detail and a knack for writing helps her to write technology related content.Apart from writing, she is a coffee connoisseur and an aesthete who rejoices in poetry and music during leisure.
Subscribe to Our
Newsletter

and stay informed

Keep yourself updated with the latest technology and trends with TechPout.
Related Posts