Best Apple Photo Editor Apps for Editing Photos in iPhone 2023

This guide will help you in finding the best solutions, regardless of whether you're searching for free picture editing applications or are willing to pay for more sophisticated capabilities.
The iPhone camera is a fantastic tool for photographers, but to get the most out of it, you'll need to modify or edit the image. And, here comes photo editing applications to help you with the process. But before we explore the available options for Apple Photo Editors we must learn about the default photo editor for Apple.
What is the Default Photo Editor for Apple?
Photos app comes with in-built tools to edit pictures & videos. So, after capturing a photo or video, you can use these default editing tools to rotate, add a filter, crop, or adjust the color & light and more. And, if in case, you do not like the edited photo, you can revert back to the original photo just by tapping on the Cancel option.
How to Pick the Best Apple Photo Editor Apps?
With so many alternatives, selecting the best software to edit images may not be a simple task. You must first decide why you need the application. Posing for selfies? Editing photos or beautifying landscape photos? There are numerous picture editing applications available in the market that are worth noting for basic editing or more professional editing, you can choose depending on your requirements.
In terms of features, most of the photo-editing applications on our list have advanced and basic features. These applications on our list offer both a free version with a variety of functions to test out and a premium edition with more features that can be accessed by subscribing on a monthly or yearly basis.
Therefore, without any further delay let's move on to our pick of the top Apple photo Editors that you can consider in order to edit your pictures.
A List of 8 Best Apple Photo Editors in 2023
Check out the most popular Apple photo editors available in the market to make your picture more stunning.
1. PhotoDirector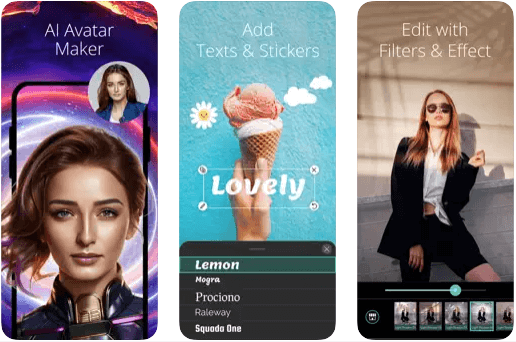 Use PhotoDirector, the best free Apple photo editor app to add animated stickers or crop individuals from images. Full creative control, a user-friendly interface, and a royalty-free image library from iStock and Shutterstock are all combined in PhotoDirector. PhotoDirector's professional-grade tools can turn a quick snap into a spectacular image whether you have spent years mastering the ins & outs of advanced editing approaches or are just starting your creative path.
You can experiment with color grading, creating custom collages, object removal tools, and AI-powered background replacement to add beautiful sunsets to your photographs in addition to all the standard editing tools.
Its creation tools for AI avatars are also included. The caricatures & magic avatars that are currently popular on social media are produced by PhotoDirecor using AI picture identification and modification effects.
Key Features of PhotoDirector:
Tools for self-caricature and making caricatures.
AI technology to take objects and people out of photos.
Tools for photo editing, teeth whitening, removing eye bags, and other cosmetic adjustments
To improve photos, denoise and unblur them.
Background-removing AI software.
With preset collages, filters, and stickers, editing images is simple.
Tools for lighting and color.
Instruments for replacing the sky and light rays.
Apps for animation and animated overlays.
Integrated stock library.
---
2. YouCam Perfect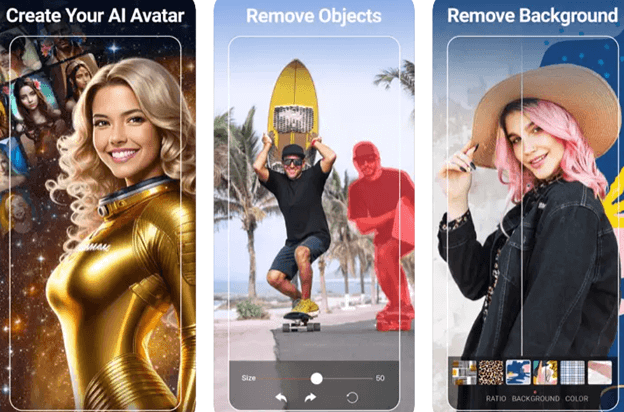 One of the best free Apple photo editors with AI-powered features for editing and enhancing photos is YouCam Perfect. With a range of effects, animations, collages, and other features, you can edit images either on an iPhone or an Android device.
Additionally, it features cutting-edge technologies like AI Object Removal, which enables you to quickly remove undesirable things, quickly change your backdrop, and quickly obtain lovely skies with Sky Replacement. YouCam Perfect contains a number of face-editing tools and Body Tuner capabilities if you want to change the contour of your body or retouch your face.
One app can handle all of your editing needs! Try YouCam Perfect today by downloading it for free!
Key Features of YouCam Perfect:
Robotic Object Removal.
Changing the sky and the background.
Tools for body and face editing.
Animations and stickers.
Several hundred pre-set filters.
Collages and design templates.
Background removal in one tap.
---
3. Pixlr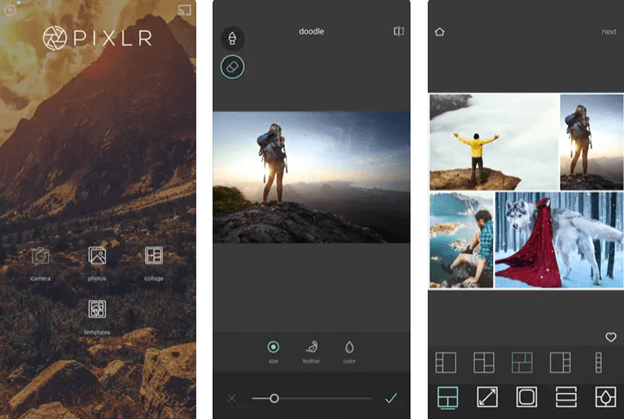 Pixlr specializes in offering users exactly the right amount of diversity. You may convert your images to sepia, black-and-white, or film tones using straightforward brushes in addition to pre-set effects, overlays, and style filters. Pixlr is available for free download, but the free edition of the program features advertising and has fewer editing tools.
The Pixlr app's simplicity may appeal to casual users, but anyone looking for complete editing features and cutting-edge effects may find that Pixlr falls short in a number of crucial respects. However, Pixlr's Premium subscription does grant access to more editing tools.
Key Features of Pixlr:
The free version has some basic editing tools, filters, and overlays.
The application includes a number of collage templates for simple creation.
Its user-friendly interface helps those who have little or no experience using editing tools.
---
4. PicsArt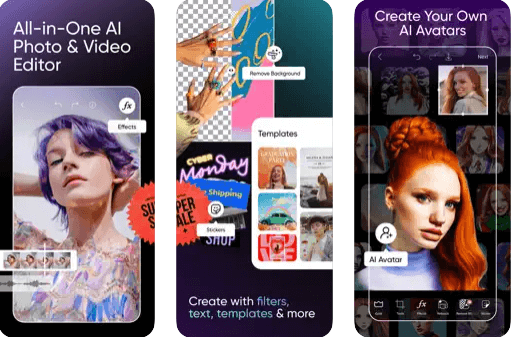 PicsArt offers a fun, creative experience without a lot of bothers by connecting the community with an easy-to-use editing program. Even individuals who are completely new to photo editing can access all the fundamental tools while enjoying stickers, collage templates, and text functionalities in the free software, which contains pop-up adverts while working.
Additionally, you can use PicsArt with your camera to edit photographs beforehand by adding filters, effects, and overlays. Use the "Effect" menu on PicsArts to quickly crop, resize, flip/rotate, and enhance photos. You can also use the Dispersion tool to instantly produce dramatic images.
The tools in PicsArt can assist you in making modest edits and alterations to your photographs if your passion for photography extends to documenting everyday moments for your family. The "Motion" effect in PicsArt even lets you animate your photographs, unlike some other free editing programs.
Key Features of PicsArt:
A good selection of editing programs for amateur photographers.
Numerous sticker options, filters, and custom collages.
Stylish filters, vibrant lettering, cloning tools, and an eraser tool to eliminate items from your images are also available.
A simple, user-friendly design makes it possible for beginners to edit pictures immediately.
Also Read: Best Photos Cleaner Apps for Android and iPhone
---
5. Snapseed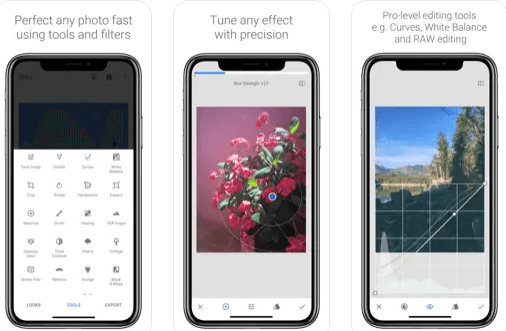 Snapseed might not be the right program for you if you're looking for a simple, enjoyable photo-editing tool for occasional use. Snapseed's potent features make it perfectly suited for skilled content makers and photographers looking for a mobile editing interface. It offers a lineup of professional-quality editing tools, options to change color and exposure, and selective editing tools to improve each image.
Although the editing interface is straightforward and efficient, beginners who only wish to make a few minor adjustments could find a variety of editing options. These include curves, imagination tweaking, selective brushes, and precise lighting and color scales. In sum, Snapseep is an ideal Apple photo editor that you can use.
Key Features of Snapseed:
More than 30 high-quality editing tools, filters, and presets for quick editing.
The app is entirely free to use.
The portrait mode in Snapseed may also be used to enhance the appearance of the image and generate smoother skin and brighter eyes.
---
6. Adobe Photoshop Camera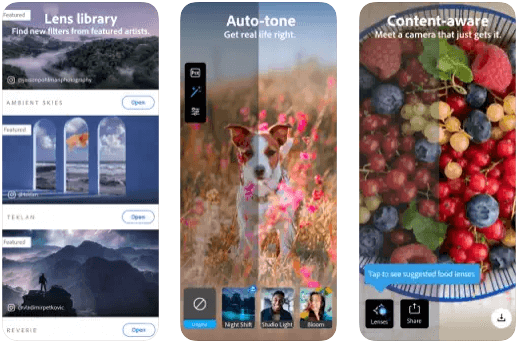 Adobe Photoshop is another one of the best Apple photo editors and it adds masks, special effects, and some photo repairs using an AI feature called Adobe Sensei. The "lenses" on the app's filters provide a wide range of colors, lighting settings, and unique effects to completely change the look of your shot with just one click. Additionally, some lenses have animated components like moving smart objects or shooting stars.
Every new lens that Adobe adds to the app has a number of modifications that allow for highly styled images. Despite this, the program is more suited for casual users than serious content creators because it lacks complex features like animation, sky replacement, and the Bokeh effect.
Key Features of Adobe Photoshop Camera:
Depending on the type of photo, Adobe Sensei creates customized masks and effects.
For beginners, the simple, point-and-shoot method of editing is effective.
Capture studio-like portraits in a snap and discover new filters from featured artists.
---
7. Werble
Werble is a good option for social media material because of its entertaining visual effects and straightforward design. Although the animation effects won't produce results of a professional caliber, the app's numerous effects packages and animated overlays can give your photographs a special touch.
Key Features of Werble:
Numerous visual effects templates.
A good selection of animation movement settings.
Enables layers for distinctive animation.
---
8. Canva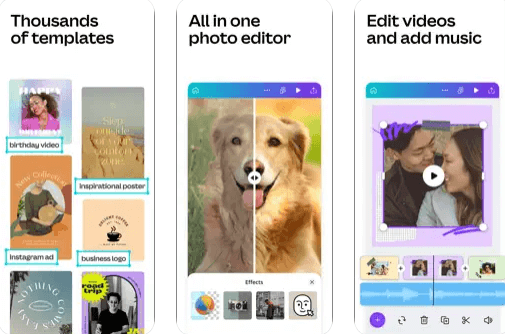 Last but not least, Canva is a popular Apple Photo editor which comes with a collection of adaptable, customizable templates. You can browse Canva's library of templates, pick one that matches your style, and make customized changes.
Additionally, the app offers graphics you may incorporate into your Instagram story creations. You can use the Canva library of elements to build a post of your own design if you'd rather not make a narrative using one of the app's themes.
While Canva does include a small selection of picture effects, you will need to choose a more sophisticated program if you want to create any professional-level photographic changes. The only picture effects available on Canva are photo resizing, color correction, and filter overlays.
Key Features of Canva:
Provides several templates.
Allows you to add effects in text.
A variety of different image filters are available in this Apple Photo editor app.
Also Read: How to Blur Photos on iPhone
---
Closing Words! 
Hopefully, these best Apple photo editors will help you make your photos more beautiful and stunning. That was all about! We hope you found the information provided in this comprehensive guide useful. Please feel free to share your questions or better suggestions in the comments section below.
For more tech-related information, you can subscribe to our Newsletter and follow us on Social Media!
Harshita Sharma is a technical writer with quite a distinct understanding of the tech realm. She is a tech enthusiast who believes that tech knowledge should reach one and all and tries to convert the sketchy knowledge into the simplest possible form for making people understand the tech world better. When not playing with words, she loves to travel and explore new places. And, is a coffee & cricket connoisseur.
Subscribe to Our
Newsletter

and stay informed

Keep yourself updated with the latest technology and trends with TechPout.
Related Posts