Best App for Share Market News | Stock Market Watch App

Do you want to invest in stocks? Then, here is a list of a few best share market apps that will help you begin and understand everything you need to know about the stock market.
The stock market is a lucrative place to invest your money and watch it get tenfold in several years. Such a fallacy is common among general folks who don't know much and want a scheme that can make them 'easy' money without any diligence or hard work.
Investing unarmed with research can make you poor instead of making you rich. So, it's better to research and do your homework before starting your investing journey.
Our goal is not to hold you back from investing in the stock market, we just want to make sure you make a well-researched decision that increases your chances of a hefty return. But, first, let's understand what a stock market app is all about?
What is a Stock Market App?
A stock market app is an application that is developed with the sole purpose of enlightening its users about the stocks they invest in or want to invest in. These apps contain all data about a company, their documents, analytics, and whatnot! By getting a view of these pieces of data, an investor can shortlist better stocks and gain insight into the stock's future.
The stock market tracker app is a good option if you want to make a good decision and take a calculated risk rather than shooting arrows in the dark. Okay, it's better to use a share market news app to stay updated with the market and select better stocks. But, how can one choose the best app for share market news?
Key Traits Of The Best Stock Market App
There are many apps present on the internet that label themselves as the 'best' financial news app or 'best' app to track the stock market. But, best does not need to call itself best, right?
So, let's discuss some key factors or traits that must be checked while getting a share market news app. These are:
Up-to-date: A stock market watch app must be up-to-date always. Cause even the smallest updates might come in handy o a skillful investor and help them in making a good choice.
Simple Interface: It is not common for an average investor to be a tech-savvy individual. So, it'll be good if your 'best' app to follow the stock market should not be too complex, but user-friendly. Having a stock research app with a simple interface will help you in saving your time and effort a lot.
Access to market analytics: 'Numbers never lie' as they say. To befriend numbers make sure that your app should have all the access to market data and analytics. So, figures, charts, and graphs can help a person in making a better judgment.
Notifications and alerts: Your share market news app should also have a notification and alerts feature that can tickle you if an event or incident happens in the market. This feature will also keep you updated with what's going on in the market.
So, these were some important traits that make up a 'best' stock market news app, best.
A List of 10 Best News Apps for the Stock Market
Now, after we've discussed what's a stock market watch app? And, what features should it contain? Let's share with you the 10 best news apps for the stock market that'll help you to stay ahead of your peers.
1. Moneycontrol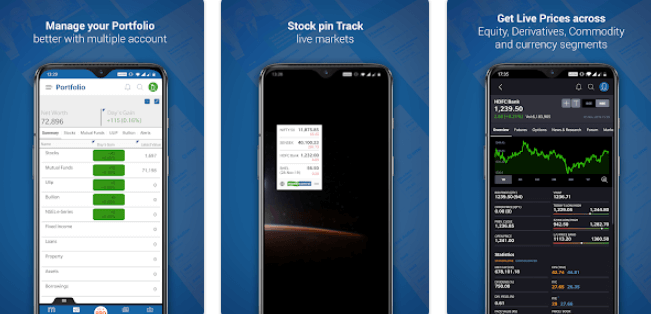 What if we tell you that you can track all of your investments in one app? Feels convenient, right? With Moneycontrol, you can track stocks, indices, mutual funds, commodities, futures, options, and so on. Phew! That's a lot, isn't it?
Moneycontrol gives you insights not only into the Indian market but into global markets as well. Money control is a renowned name in the digital world of finance and stocks. Rated 4.2 on the Google Play Store, this app is your one-stop solution for researching Options, Stocks, Mutual Funds, Commodities, Futures, and Currencies as well.
Reasons to Use Moneycontrol
A simple interface makes it easy to use the app like a pro.
An exceptionally popular and trusted name on a worldwide scale, with more than crore users.
Get live stock market updates, tips, and reports of technical and fundamental analysis.
'Text to speech' feature enabled for enhanced performance.
Also Read: Best Call Recording Apps For Android 
---
2. Economic Times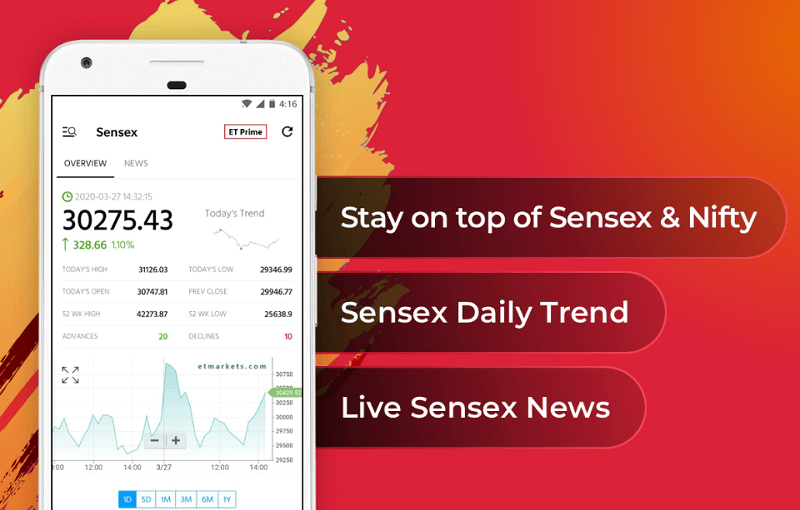 This platform was created only to inform its consumers about the stir in the business world. A venture of Times Internet Limited, this app has helped millions of users in forming better and more informed decisions.
Economic Times app provides info by using slideshow presentations in various sectors such as Corporate & Industry, Consumer & Legal, Economy, Entertainment, Events, Advertising & Marketing, and much more. One can even monitor everyday stocks in this app as well.
Reasons to Use Economic Times
A trusted source of information with more than 135 million users.
Keeps you updated with every up and down of the business world.
Helps you to know about the economy as a whole
Offers premium services for users who want to access premium features.
---
3. Mint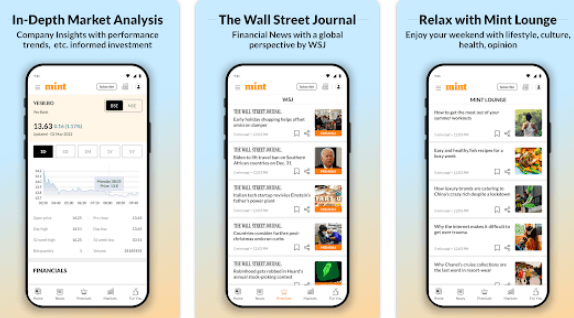 Mint may not look like a revolutionary tool for researching the stock market, but it is. You can have a customized news feed at your disposal, which means you can choose what you want to see.
There are multiple options to choose from. From podcasts, stories, articles, plain facts, news, updates, and so on. You can select the type of content you want to consume and then add it to your watchlist.
There are lots of research materials, reports, market policies, and other resources to help you in your stock market journey.
Reasons to Use Mint
Offers IPO details of the existing and upcoming IPOs.
Rated 4.7 on Google Play Store with more than a million users.
Want to access exclusive content? Mint also offers a premium service for willing users.
Helps you in tracking live prices of shares. Industry data is also present at your disposal.
Also Read: Best Hacking Apps For Android
---
4. NDTV Profit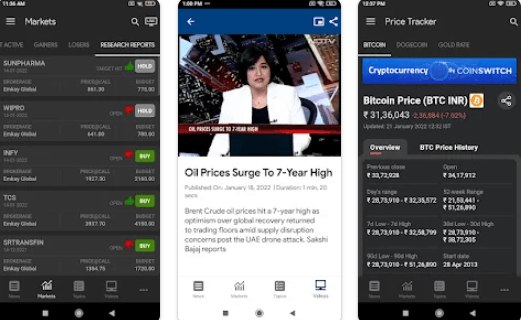 Being one of the early stock market news apps, NDTV has gained a consumer base of more than 5 lakh. This app was a breakthrough in the financial world at the start of the digital era.
It is one of the most news-focused apps available today, putting aside all the crap to deliver value to its users. NDTV Profit shows live stocks and charts. With its interactive charts with a custom timeframe from one day to 3 years. One can find company-specific news, screeners, indices, P/E ratio, and so on.
Users can also find useful video content such as live interviews, market analysis, and live TV streaming on their devices.
Reasons to Use NDTV Profit
Simple yet effective platform to have you equipped with what's going on in the financial world.
A wide range of content libraries to choose from.
One of the best resources to keep yourself updated through the stock market and other financial aspects of modern society.
---
5. TradingView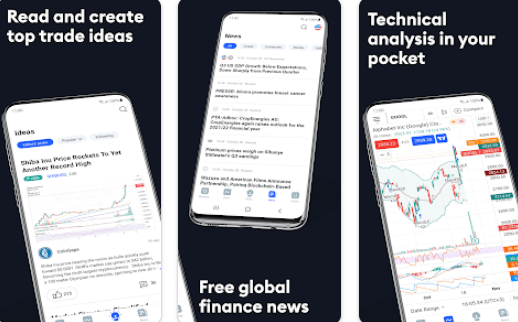 TradingView is among the best trading and analytical share market news apps one can get. It's not good to be picky with your food but with your stocks. TradingView helps its users to pick really good stocks with its various analytics and tech features.
This app consists of numerous charts that one can analyze and polish their technical analysis skill. In addition to that, there are many other price analysis tools, other than indicators.
One can also form their own trading strategies on TradingView.
It also offers multiple watchlist features too. One can use it to manage stocks of different industries. Other than stocks, users can also keep an eye on currencies, commodities, and cryptos as well.
Reasons to Use TradingView
TradingView shows real-time share prices, which one can track on its screen widget.
It's user-friendly, whether the user is a beginner or a skilled technical analyst. One can use it as per their caliber.
Best app for technical analysis, loaded with various price analysis tools.
Also Read: Best Android Emulators For Windows
---
6. Investing.com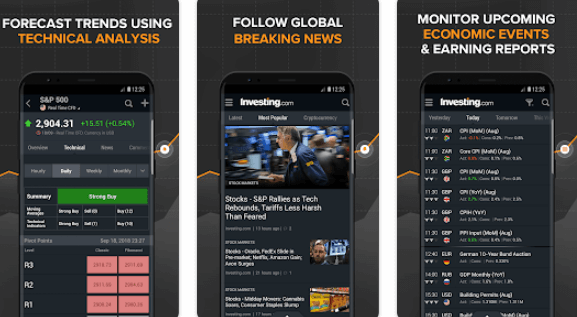 Just as its name suggests, Investing.com is a complete package when it comes to investing, stock market, and financial news. With a fabulous rating of 4.6 on the Google Play Store, this app is loved and used, globally.
Investing.com might come in handy if you like to keep an eye on international markets or global indices. Being one of the best stock market watch apps, Investing.com possesses infinite knowledge of stock markets, economics, and each aspect of capitalism.
Well, it also has a wide array of technical analysis tools which makes it a favorite for intraday traders.
Want to stay updated with every stir in the financial world? Investing.com will help you.
Reasons to Use Investing.com
Provides ample tools for price analysis and technical analysis.
Have a notification and alert feature that pings you if any important event, price change, or incident occurs.
Provides many intraday indicators which can be crucial for intraday trading.
Tracks global indices, stocks, bonds, commodities, currencies, and what-not.
---
7. IIFL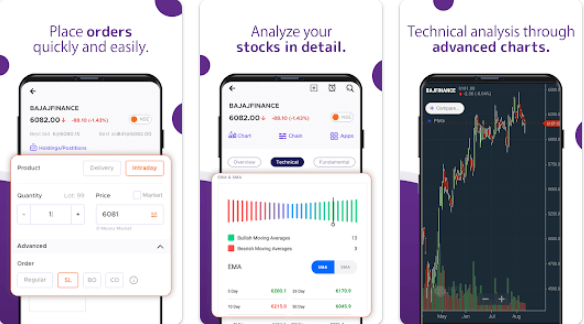 IIFL is a big name in the stock market as it has over a million downloads on the play store. IIFL provides a gamut of features that can help you to stay updated and make a better stock selection.
With all the features of every other app on this list, it also has something more.
IIFL has an expert opinion option. If a person gets stuck at any point in their investment journey, they can talk with an 'IIFL expert and have their doubts resolved.
IIFL securities app received the 'best mobile app' award by Zee Business Awards. With more than 5 million users, it's a nationwide phenomenon.
Reasons to Use IIFL
Price alert utility pings you if any important price change has occurred in your pre-selected stock, commodity, etc.
Tracks all financial aspects of the modern world whether it is of national or international level.
One can check the prices of stocks, commodities, mutual funds, currencies, and much more.
Inform the user about many risk management techniques they can adopt.
Also Read: Best Free Video Calling Apps For Android
---
8. Zee Business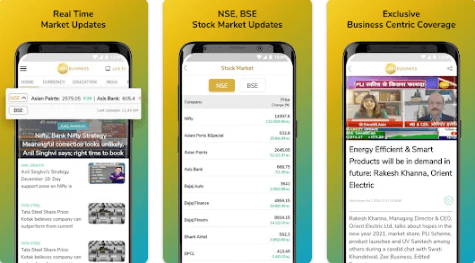 Zee Business is a well-known name for every financial geek. Being one of the most loved business news channels, Zee Business has gained massive popularity in our country. Now, your favorite business news channel has come to your mobile; Zee Business App.
Zee Business app covers all the financial aspects of the modern world whether it is business, economies, global markets, or geopolitical effects, Zee Business app has got it all.
And, it just does not cover the news. In addition to that, it also provides analytical reports, research reports, reviews, and so on. There are many experts present on the web to help you in your trading and investing journey. One can also have a peek at the best and worst-performing stocks in the markets.
Reasons to Use Zee Business
This app also provides ample learning material for anyone who wants to learn about stocks, strategies, analysis, and much more.
One can also find stock market tips and trading calls in this app.
Learning is the best thing this app can do. So, if you want to learn about concepts and fundamentals of the stock market, then this app can be a boon for you.
---
9. StockEdge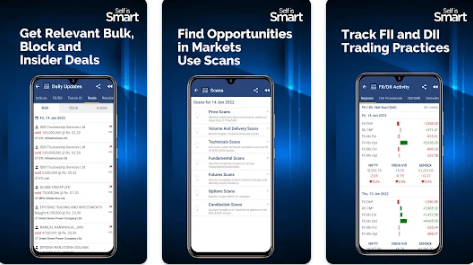 StockEdge is a well-versed stock market news app with an emphasis on research and analytics. StockEdge works with the purpose of giving knowledge and information to its users. So, they can do some research of their own and make wiser and better decisions.
This app is famous for getting you your share of financial buzz, whether it is NSE and BSE, corporate events, all possible future events, corporate buzz, market indices, and many such info to boost a customer's intellect.
StockEdge provides a special sector for stock research which contains a list of companies based on their sector or industry.
With a rating of 4.3, it is loved globally among the people who like to stay updated with what's going on in our and the world's economy.
Reasons to Use StockEdge
Provides a Sector-based look of the market, with companies of a specific sector or industry.
The scanner feature of this app lets you see what you want, just by a simple scan.
Real-Time updates, price changes, news, etc help you to stay ahead of your competitors and peers.
---
10. Tickertape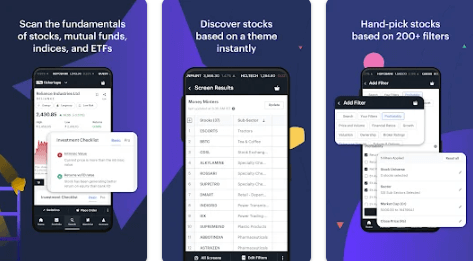 Tickertape was released 2 years ago but it made a name for itself in such a small timeframe and became a favorite of investors and traders both.
With a wide array of services provided, Tickertape offers various analysis tools which you can use to capture the trend of the market and be benefited from it.
This app deals with almost all financial securities, whether it is stocked, mutual funds, ETFs, indices, and much more.
Tools like screeners, market-mood index, baskets, and watchlist, help you in making a well-informed decision backed by your own analysis and Tickertape's tools.
Rated 4.4 with more than 50 lakh users, Tickertape is also dominating the share market news domain with its unique features and tools.
Reasons to Use Tickertape
The screener allows you to seamlessly screen stocks and mutual funds with 200+ filters for the former and 50+ for the latter. One can also create a custom filter to get metrics that matter.
Get your hands on news of massive dealing such as insider trades, dealing between promoters, top employees, and all the crucial information.
With the watchlist feature, create multiple watchlists and sort the stocks as per your need and convenience.
Also Read: Best Cloud Storage Apps For Android
---
Best Apps for Share Market News in 2022: Closing Words
So, these were some best stock market apps that you can use to make better decisions and make your money work for you, rather than going another way around.
You should look for specific features which you might be needing in your' best' share market news app and then select the ideal app for yourself.
Harshita Sharma is a technical writer with quite a distinct understanding of the tech realm. She is a tech enthusiast who believes that tech knowledge should reach one and all and tries to convert the sketchy knowledge into the simplest possible form for making people understand the tech world better. When not playing with words, she loves to travel and explore new places. And, is a coffee & cricket connoisseur.
Subscribe to Our
Newsletter

and stay informed

Keep yourself updated with the latest technology and trends with TechPout.
Related Posts