Win Riser Review: Features, Pros and Cons, Pricing, and Much More

Here's a complete and thorough review of Win Riser, the best optimizer and booster for Windows, listing features, pros and cons, and other details that will help you easily judge the tool. 
A slow-performing PC is one of the worst situations you will ever encounter. With time, it's quite natural for the device to slow down. One of the most common reasons why this happens is because, over time, a lot of temporary and junk files collect on the system. This accumulation of junk, paired with invalid Windows Registry entries, affects the performance of the device.
This is why users take the help of some Windows optimization, cleaning, and booster tools. These tools allow you to get rid of junk, fix Registry files, delete temporary files, and execute various other tasks that help you improve the performance of the device.
One such Windows PC cleaner and optimizer is Win Riser. The tool is quite popular and readily chosen by Windows users. The multitude of features and functionalities of the tool is the main reason supporting this popularity. But is the tool actually worth the hype?
This is something that we will try to answer using the Win Riser review. In the coming sections of this review, you will find multiple details related to Win Riser. This includes features of the tool, its reliability as an optimizer and performance enhancer, pros and cons, usage procedure, and more. The entire review will help you analyze whether Win Riser is beneficial or not. So, without any further ado, let's initiate the review right away.
Win Riser Review: Noteworthy Features of the Tool
Let's give a head start to this review and have a look at the best and most noteworthy features of Win Riser.
Lower System Requirements
One of the best features of Win Riser is that you can download this tool on low-end devices as well. The system requirements to run Win Riser are quite limited. Below are the system requirements required to run and use Win Riser on your device.
Operating System: Windows 11, Windows 10, Windows 8.1, Windows 8, and Windows 7
OS Built: (Both 32-bit or 64-bit)
Storage Space: 13.4 MB
Integrated Driver Updater Tool
Here's one of the best features of Win Riser. It comes with an integrated Windows driver updater. Drivers help the system in running various devices connected to your system by establishing a stable flow of communication. Hence, your device needs up-to-date drivers to perform optimally.
Win Riser helps you ensure the same. With a single click, the tool will start scanning your system for faulty drivers. When you update all the missing, outdated, faulty, broken, or damaged drivers, the performance of that particular device, as well as the system as a whole, will improve. This feature is not common in other system optimizers.
Malware Remover and Tracker
The tool also offers an integrated feature to look for malware and malicious files, seated deep in the system. With a single click of the tool, you can easily remove all kinds of malware and improve the performance of the system. Once the malware is removed, the performance of the system will improve as such malware takes up unnecessary RAM and power to run; thus, affecting the system.
Also Read: Best Free Malware Removal Tools
Junk Removal
Apart from driver updates and malware removal, Win Riser also offers the feature of Junk cleaner. The tool deeply scans the system for junk and temporary data that your system may not need. However, removing junk files does not mean that it will affect or delete your personal data. Once you clear the junk, you can store more data; and get an improved system performance.
Invalid and Faulty Registry Remover
Yet another great feature of Win Riser is the removal of invalid and faulty Registry. Windows Registry entries are entries that contain various settings, values, and other information related to the connected hardware. Hence, registries are also important in maintaining and enhancing the Windows performance.
Win Riser looks for all kinds of invalid and faulty entries. Once these entries are found, the tool will allow you to delete such performance-affecting entries. Doing this will mean that you get an amazingly fast OS with ease.
Deep Scanning
Whether it is the scanning of the system for driver updates, junk files, or any other kind; Win Riser conducts thorough and deep scanning. This allows you to get accurate information on the system status. Various Windows system optimizers do claim to scan the system deeply but fail to do it. However, this is not the case with Win Riser.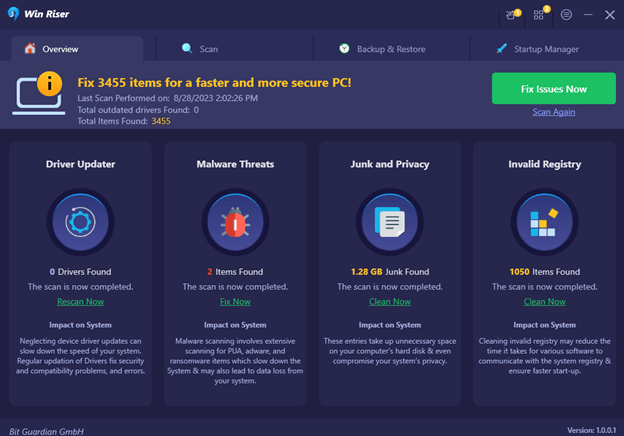 Driver Backup and Restore
Another great feature that you get with WIn Riser is driver backup and restore. Sometimes, you may need to retain a backup of the existing drivers for future purposes. Win Riser understands this requirement and thus offers a feature to create small backups of individual drivers and allows you to restore them as well whenever necessary.
Create System Restore Point
Windows can come across any problem at any time. This is why it's better to have a system restore point. The system restore point is exactly what it suggests, an old point in Windows from which you can restore the present system. This means that if you ever come across any problem on Windows, you can restore the OS to an older state.
Win Riser is an amazing optimization tool that also supports the creation of System Restore Points. Using the same, you can restore the present system to an old restore point whenever necessary.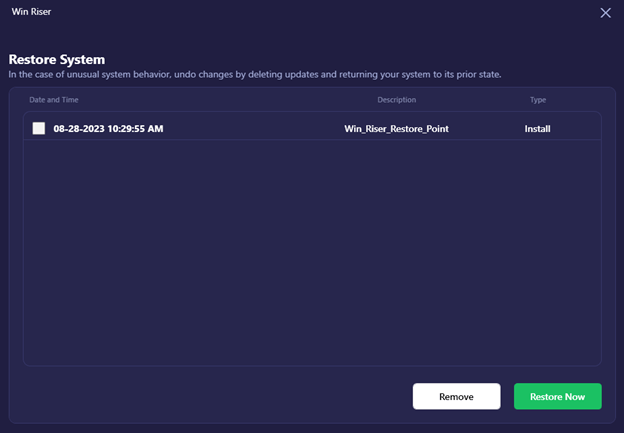 Integrated Startup Manager
Win Riser also offers an integrated Startup Manager. This startup manager helps you take control of your device's startup programs. When there are too many apps running during the startup, the OS takes more time to load and launch. Hence, it's better to use the manager and turn off the launch of some apps on startup. This startup manager is quite more advanced than the one in the Task Manager.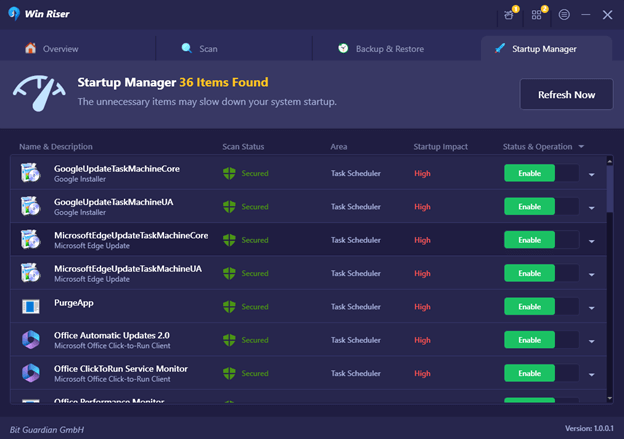 Customizable Scan Path
Another amazing feature of Win Riser is that it allows you to select different paths, locations, apps, etc. for scanning. This allows you to get advanced control over the performance of the tool. You can select the areas and aspects that you want to scan and get personalized results for the same.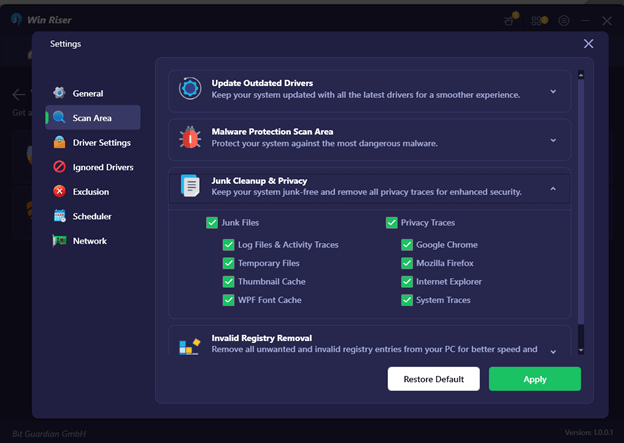 Registry/Driver Ignore List
Sometimes, a particular driver may not work for your OS. In such cases, you can restore the system driver using the driver backups created earlier. However, sometimes you may not want to update a particular driver. In such a case, you can add such a driver to the Driver Ignore list.
This ignore feature is also available for Registries. If you feel you want to retain certain registry files, you should add the entry to the Win Riser's exclusion list.
Also Read: Best Registry Cleaner Software For Windows 10, 11
---
Scanning Scheduler
You are not free at all times. There may be times when you need to focus on some important task at hand but can not take the risk of ignoring and postponing the updates. In such cases, you can take advantage of the integrated Scan Scheduler. Using the scheduler, you can set the desired time and intervals of the scan and allow the system to act accordingly.
Win Riser is a comprehensive Windows optimizer that offers multiple other features to you. The ones listed and explained above were for mere reference. Now, let's have a look at the pros and cons of the tool for detailed information.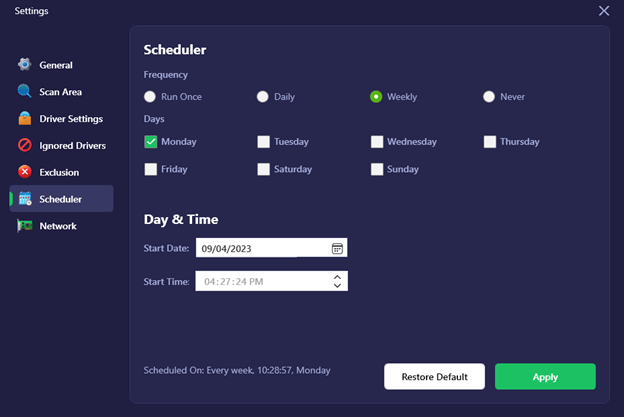 ---
Pros and Cons of Win Riser
Below are some of the pros and cons of Win Riser that will help you know whether to download and use the tool or otherwise.
Pros
Launch at startup for controlled performance
Enabled notifications for real-time status
Options to create restore points for drivers as well
Enhanced download speed for outdated drivers
Enhanced performance
Deep scanning of the system even in hidden folders
Active and efficient support services
Simplistic yet attractive user interface
Cons
Does not help you clear the RAM
Does not support multilingual UI
Now that the pros and cons of Win Riser are straightened out, let's have a look at the pricing of the tool to know whether its value for money or not.
---
Win Riser Pricing
The pricing of Win Riser is quite affordable. As compared to other performance enhancement tools, Win Riser offers much more at a low price. The price of Win Riser is $49.95 for every 6 months. The premium subscription allows you to fix all the problems shown by the tool with a single click. Moreover, with the premium version, you can also access the support features.
If you are comfortable with the pricing structure of Win Riser, then let's have a look at the usage procedure of the tool.
---
How to Download, Install, and Use Win Riser?
Win Riser is quite easy to use. Even a beginner can get the most out of the tool using some simple steps. The same are listed and explained below:
First, download the setup for Win Riser using the download link below.
After this, install the tool and run it on your Windows operating system.
When the tool appears, use the Scan button to start the deep scanning of the system for malware, outdated drivers, junk, and more.
Wait while the scan results appear. When the issues appear on the tool, use the Fix Issues Now button to get rid of the same.
Also Read: Best PC Optimizer Software For Windows 10, 11
---
Download and Use Win Riser or Not: Summing Up
So, this was all that we had to share with you in this Win Riser review. As you must have understood from the above guide, Win Riser is quite effective in optimizing Windows and improving the performance of the device. With a single tool, you can get improved performance with ease.
The tool, as compared to other alternatives, is quite advanced yet affordable. Many Windows optimizers do not feature an integrated driver updater or malware remover. Thankfully, Win Riser is a single tool that helps you with multiple requirements. Moreover, the tool is quite affordable as well. With an affordable price of $49.95, you can take home a premium subscription to the tool.
If you want to know more about Win Riser or have any doubts, you can connect with us. Use the comments section below for all the required information and queries. You can also present your suggestions related to this Win Riser review. Also, if you liked our guide, do subscribe to our newsletter. Follow Facebook, Instagram, Twitter, or Pinterest for regular updates.
Devesh, being a technical writer, likes to research and write technology articles and solutions to help others. Having great knowledge about the tech world and its working, he likes to pour the same into his write-ups. Before starting any write-up, he likes to pen down his thoughts and flaunt a creative edge in the same. Apart from being a writer, his primary interests include reading books and poems, cooking, and playing video games.
Subscribe to Our
Newsletter

and stay informed

Keep yourself updated with the latest technology and trends with TechPout.
Related Posts